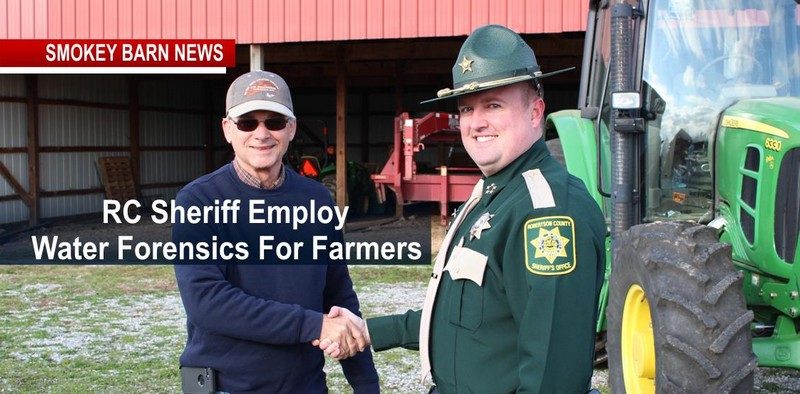 Stolen Chainsaws Recovered With SmartWater Forensics
ROBERTSON COUNTY TENNESSEE: (Smokey Barn News) – Finding stolen property became a little easier following the development of SmartWater CSI technology. In 2017 Robertson County became the first police agency in Tennessee to employ the technology. (see demonstration videos below)
It's been a year and ten months since the Robertson County Sheriff's Office employed SmartWater CSI technology, now that decision has led to its first arrest.
SmartWater CSI contains a chemically unique forensic code which acts like DNA and is registered to a property owner. Anything marked with SmartWater CSI can, therefore, be traced back to its original location. Additionally, offenders marked by the liquid can be placed at the scene of a crime.
With the use of SmartWater technology, 47-year-old Christopher Scott Thomas was developed as a suspect by the Robertson County Sheriff's Office for the alleged theft of chainsaws in Robertson County. According to the Robertson County Sheriff's Office, Thomas was identified as a suspect and the stolen property was located by using SmartWater CSI technology.
On July 9th, 2019, investigators received a report of two stolen chainsaws. The owner advised that the chainsaws were marked with SmartWater CSI. Investigators were able to locate two chainsaws that had been pawned in Clarksville, TN by Christopher Thomas that matched the description of the stolen chainsaws. A sample of the SmartWater CSI was collected from the chainsaws and sent to the SmartWater CSI forensic lab for analysis.
The results of the analytics produced a positive match between the SmartWater collected off the stolen chainsaws to the registered owner. A warrant for theft under $1,000 and a warrant for theft over $1,000 has been issued for Christopher Thomas of Adams, TN who is currently incarcerated in another County on separate charges.
In November 2017, the Robertson County Sheriff's Office launched a new program called Farm Watch in order to deter crimes against agriculture. The Farm Watch program offers SmartWater CSI to the agricultural community free of charge. Participants in the program are given a bottle of SmartWater CSI that contains a chemically unique forensic code that is registered to them specifically. Anything they mark with the SmartWater CSI can be traced back to the owner.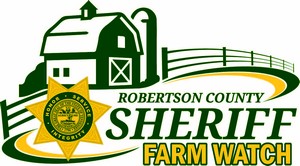 "I was excited to be the first agency in Tennessee to utilize SmartWater CSI technology when we launched Farm Watch back in 2017. I am very excited to see how this case was solved using this new forensic technology. Our use of SmartWater CSI and the continued education of its use to all inmates booked into the Robertson County Detention Facility has had a positive impact in reducing property crimes across our County. We encourage all our agriculture producers to join this program because it does, in fact, work as both a deterrent and reuniting victims with their stolen property," stated Sheriff Michael Van Dyke.
If you would like more information about Farm Watch, or how to get involved, please contact the Robertson County Sheriff's Office at (615)-384-7971, or visit our website at www.RobertsonSheriff.com.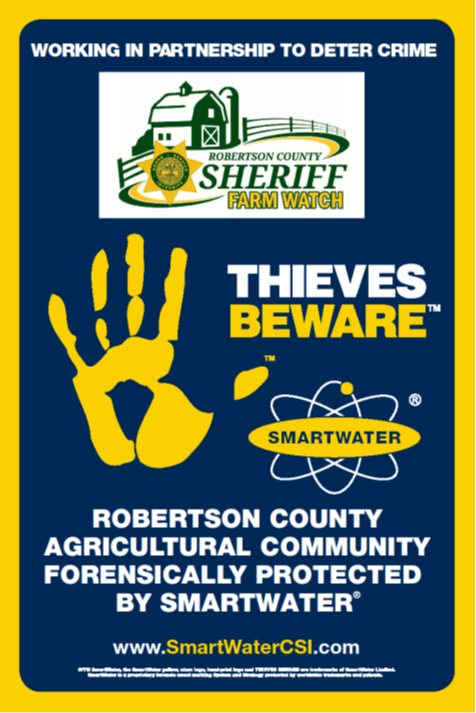 Smokey Barn News (Advertisement)
Smokey Barn News (Advertisement)


We bring you ALL the News in and surrounding Robertson County, Tennessee.