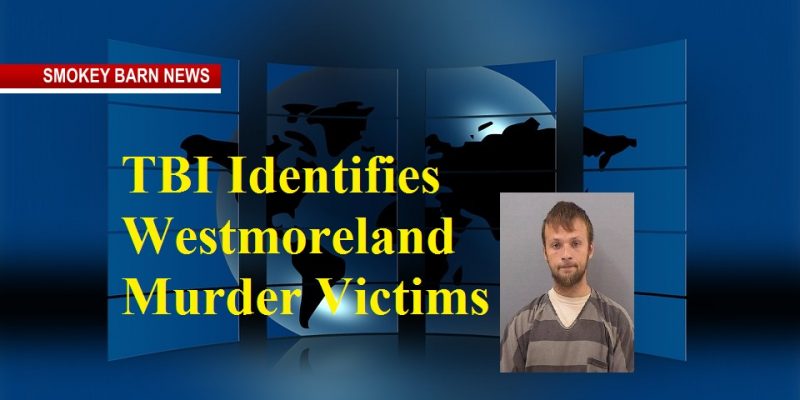 TBI Identifies Westmoreland Murder Victims
WESTMORELAND TENNESSEE: (Smokey Barn News) – The Tennessee Bureau of Investigation has confirmed the identities of the seven victims killed on Saturday in Sumner County over the weekend.
The six individuals found deceased at a home located on Charles Brown Road have been identified as:
David Carl Cummins (DOB: 1967), the father of Michael Cummins
Clara Jane Cummins (DOB: 1974), the mother of Michael Cummins
Charles Edward Hosale (DOB: 1973), the uncle of Michael Cummins
Rachel Dawn McGlothlin-Pee (DOB: 1975) Efforts to clarify her relationship to Cummins remained ongoing at the time of this release.
Sapphire McGlothlin-Pee (DOB: 2006), Rachel's daughter
Marsha Elizabeth Nuckols (DOB: 1955), Rachel's mother
The victim found deceased in her home at 1555 Luby Brown Road has been identified as Shirley B. Fehrle (DOB: 1949). She has no known relationship to Michael Cummins.
An eighth victim, also a relative of Michael Cummins, remains in critical condition.
REPORTED EARLIER
Smokey Barn News has confirmed with Sumner County officials that seven people have been killed at a location in Sumner County. The murders occurred at a residence located at 1177 Charles Brown Road in Westmoreland Tennessee.
Charles Brown Road sits about 15 miles east of Robertson County, 10 miles east Of Portland.
Sunday, April 28th, 3:15 PM TBI Forensic Scientists, processing the scene on Charles Brown Road, have found two more bodies in the home. This brings the total to seven deaths and one critical injury. Efforts to identify the victims remain ongoing at this time.
The primary suspect, Michael Cummins, 25, is in custody. Sources say he was shot on Keen Rd and is now being treated at Skyline Medical Center in Nashville. No officers were injured in his capture.
During the course of the investigation, authorities developed information leading to Michael Cummins as the suspect in the crimes. TBI employed its aircraft and located activity in a creek bed approximately one mile from the first scene. More than a dozen law enforcement officers from the county's joint SWAT Team went to that location where they encountered Cummins. The situation escalated and resulted in at least one officer firing his service weapon, striking Cummins. Medics transported him to a local hospital for treatment with injuries that were not immediately believed to be life-threatening. No law enforcement officers sustained injuries in the arrest effort.
Official say, Michael Cummins is a person of interest in the killings, later calling him a suspect. Police initially thought he may be in a wooded area near the scene at Luby Daniels Road and could be armed.
A message from the Westmoreland Police Department told citizens to be alert and keep doors locked until Cummins was captured.
Around 9 pm Saturday evening the TBI held a press conference indicating that 25-year-old Michael Cummins was now a  "person of interest" in the killings.
According to the TBI, before his capture, Cummins was to be considered armed and dangerous. "This a massive law enforcement effort to find Michael Cummins. We would urge residences in this immediate area to be on the lookout. We would urge them to be on alert, to use caution and to make sure they know what this individual looks like. – Make sure people that live in this immediate area know about this situation, know who this individual is and know what he looks like but most importantly know what to do if they spot him, and that is to simply call 911 immediately."
The TBI, the THP as well as authorities from across Sumner County as well as federal agencies assisted in the search for Cummins.
The TBI also has a team of forensic scientists on scene processing evidence.
UNRELATED SHOOTING………
There was also an unrelated shooting in Hendersonville around 9pm Saturday night.
Shortly after 9 PM, Hendersonville Police responded to a reported shooting at 1090 W. Main St., Waffle House.
According to police, one victim sustained non-life-threatening injuries and the confrontation took place in the parking lot.
This is not related to the events in Westmoreland.
Please contact the Hendersonville Police Department, 615-822-1111, if you have any information relative to the shooting incident at 1090 W. MAIN ST.
Smokey Barn News (Advertisement)
Smokey Barn News (Advertisement)
We bring you ALL the News in and surrounding Robertson County, Tennessee.