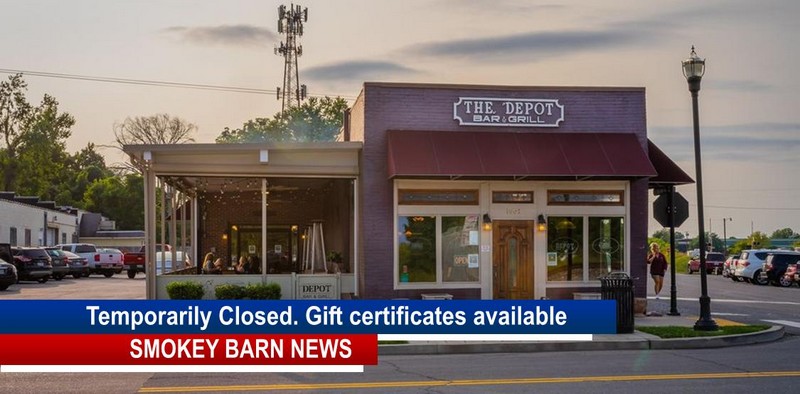 The Depot Temporarily Closed, Gift Certificates Still Available
SPRINGFIELD TENNESSEE: (Smokey Barn News) – The Depot in Springfield has temporarily closed after discovering that a staff member tested positive for COVID-19. According to a Depot representative, the employee is doing well and did not interact with patrons but the store has closed to give the popular eatery time to implement a deep cleaning of the facility and provide testing for the staff.
Unless you're selling gas or groceries, COVID-19 has put an incredible strain on local businesses all across Robertson County and the nation as well. Restaurants, hotels, and small retailers are being hit especially hard. To have to close up shop during the week just before Christmas hits hard for any retailer but all is not lost. The Historic Perk, a local coffee shop just up the road from the Depot, is stepping in to help.
Gift certificates from the Depot have always been a popular gift item in Robertson County and even more so during the Christmas season. With the Depot closed, Springfields most popular coffee house, the Historic Perk, has stepped in to help by offering to sell Depot gift certificates. Just head over to the Historic Perk on Main Street MAP and tell'em you want a great cup of coffee and (of course) gift certificates for the Depot Bar & Grill.
"We have got to say, we have some of the best small business neighbors in the entire world. Upon hearing we were shut down due to an employee having COVID-19, the Historic Perk reached out and offered to sell our gift certificates for us at their store while we are closed so you can still give the gift of the Depot this Christmas." Depot Bar & Grill
Depot Bar & Grill–>"We plan to be back as soon as we can, and we're truly sorry for any inconvenience this may cause. We believe it's important that we let you know, have our team tested and deep clean before we allow guests to re-enter the restaurant for our safety and yours." 
"Thank you for the outpouring of love. We are so supported by this community." Depot Bar & Grill
The Historic Perk is open Monday-Wednesday 7-2 and Thursday 8-12. It will be cash only and exact change for the gift certificates.
"Thank you for supporting the Depot and Historic Perk this holiday season, as well as the rest of our incredible downtown merchants." Depot Bar & Grill