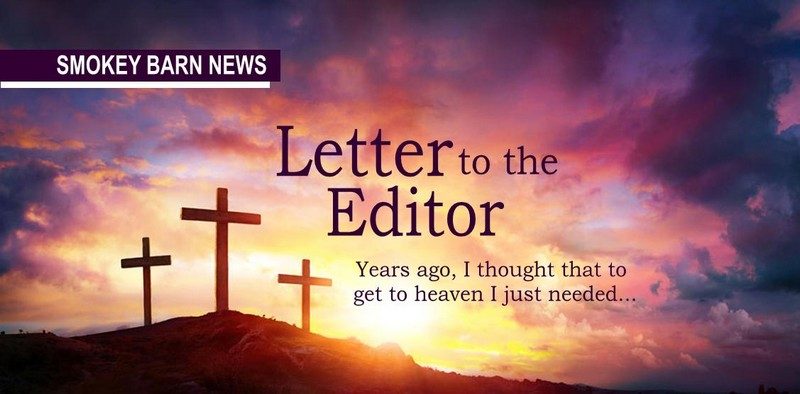 The Resurrection: A Letter To The Editor & "The Sunday Post"

ROBERTSON COUNTY TENNESSEE: (Smokey Barn News) – Easter Sunder 2019.
Dear Editor;
Years ago, I thought that to get to heaven I just needed to believe in God and be a good person.
However, the definition of "good" is to be "morally excellent." The Bible says that God is good, and the Ten Commandments are his standard of goodness. Getting into heaven by good deeds demands absolute perfection.
When I honestly looked into the mirror of the Ten Commandments, God's law, I realized I was guilty of breaking them and had sinned against the Holy God. Breaking even one of the Ten Commandments makes us a sinner. On Judgment Day every sin we have ever committed (even secret sins) will come out as evidence of our guilt.
God originally, created a perfect world, without sin. But Adam and Eve disobeyed God and the world became a sin-cursed world. We all are descendants of Adam and Eve. The Bible says in Romans 3:23, "for all have sinned, and come short of the glory of God.
But God, motivated by love, became a man, as Jesus Christ, through a virgin birth. He later died on the cross to take our punishment and rose from the dead. He paid the penalty for our sins in full. All we have to do is confess and turn from sin and trust in Jesus Christ, and God will forgive our sins and grant eternal life with Him in Heaven.
My hope is that everyone will see the true significance of what God did on Easter.
-Ken Blinco
Portland, TN



Question 1: How many followers of Jesus were at the tomb that 1st Easter morning awaiting the resurrection of Jesus?
Question 2: In John 18:4-6 Jesus responded to the question of those who came to arrest Him with "whom do you seek?" The men said: Jesus of Nazareth and Jesus said I am he. Notice the word (he) is italicized in the KJV which means it was inserted by the English translators. So when the Lord gave His name He said not "I am he," but rather "I AM." – Today's question is what happened next to the men who
came to arrest Jesus?
Scroll to the bottom for the answers…

The Cross Was His Own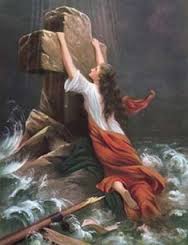 They borrowed a bed to lay His head
When Christ the Lord came down;
They borrowed the ass in the mountain pass
For him to ride to town;
But the crown that He wore and the Cross that He bore
Were his own—-
The Cross was His own!
He borrowed the bread when the crowd He fed
On the grassy mountain side,
He borrowed the dish of broken fish
With which He satisfied.
But the crown that He wore and the Cross that He bore
Were his own—-
The Cross was His own!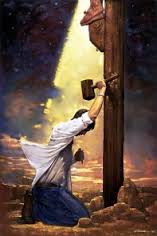 He borrowed the ship in which to sit
To teach the multitudes;
He borrowed a nest in which to rest—-
He had never a home so rude;
But the crown that He wore and the Cross that He bore
Were His own—-
The Cross was His own!
He borrowed a room on His way to the tomb
The passover lamb to eat:
They borrowed a cave for Him a grave,
They borrowed a winding sheet.
But the Crown that he wore and the Cross that He bore
Were his own—-
The Cross was His own.
-Unknown
GREAT POEM, BUT IT'S NOT TRUE. THE CROSS WAS NOT HIS BUT YOURS AND MINE.


Saved!, How?
Examine what is taught in the Holy Scriptures for yourself and see
All have sinned—

"For all have sinned and come short of the glory of God" – Romans 3:23
Sin must be paid for—

"For the wages of sin is death but the gift of God is eternal life" – Romans 6:23
Jesus Christ paid for our sins—

"But God commendeth His love toward us, in that while we were yet sinners, Christ died for us" – Romans 5:8
What we must do—

"For whosoever shall call upon the name of the Lord shall be saved"  – Romans 10:13
Then he called for a light, and sprang in, and came trembling, and fell down before Paul and Silas, And brought them out, and said, Sirs, what must I do to be saved? And they said, Believe on the Lord Jesus Christ, and thou shalt be saved, and thy house. (Acts 16:29-31)
For by grace are ye saved through faith; and that not of yourselves: it is the gift of God: Not of works, lest any man should boast. (Eph. 2:8-9)
He that believeth on the Son of God hath the witness in himself: he that believeth not God hath made him a liar; because he believeth not the record that God gave of his Son. And this is the record, that God hath given to us eternal life, and this life is in his Son. He that hath the Son hath life; and he that hath not the Son of God hath not life. These things have I written unto you that believe on the name of the Son of God; that ye may know that ye have eternal life, and that ye may believe on the name of the Son of God. (1 John 5:10-13)
How we can know we are on our way to Heaven—

"He that believeth on the Son hath everlasting life…" – John 3:36
How To be Sure We are Saved—

"But as many as received him, to them gave he power to become the sons of God, even to them that believe on his name"  – John 1:12
Prayer is our most powerful resource and our direct line with Heaven! You can call on the Lord any hour of the day or night no matter where you are. Pray honestly and openly with the Lord in your own words from the heart. Richard Sibbes Once said, "God can pick sense out of a confused prayer!" And The angel fetched Peter out of prison, but it was prayer that fetched the angel according to Thomas Watson. So pray!!!, God is listening, he knows you, He knew you before you were born according to Jeremiah 1:5.
It will change your life, and you will NEVER be the same!

Answers To Quiz
Answer 1. is  Zero! Not one follower was at the tomb when Jesus arose.
Answer 2. They all went backward and fell to the ground.
Smokey Barn News (Advertisement)
Smokey Barn News (Advertisement)
We bring you ALL the News in and surrounding Robertson County, Tennessee.