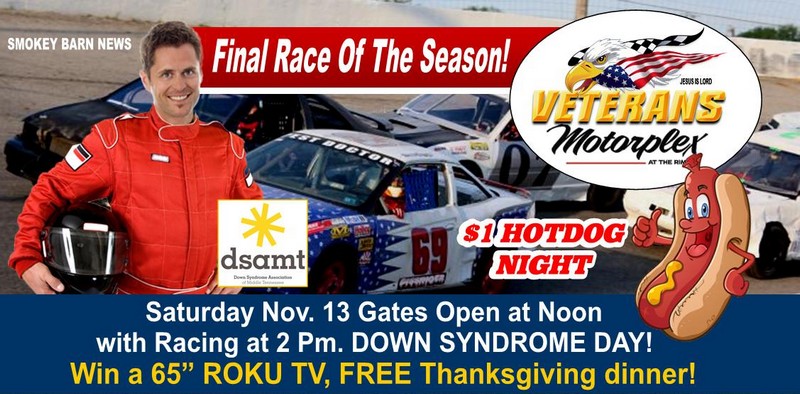 This Sat->Racing [email protected], Win 65″ TV Or Thanksgiving Dinner & Down Syndrome Auction, All At The Rim!
GREENBRIER TENNESSEE: (Smokey Barn News) – Coming this weekend, it's the Veterans Motorplex FREEZE your (you know what) off Season Finale for Down Syndrome day. WHEN: This Saturday, November 13, 2021
The weather will be sunny but chilly with a high of 47. This will be a day race with Stands opening at noon and races beginning at 2 pm to try and beat some of the cold.
8 Divisions 300 LAPS OF RACING… Last Race of the Season. Grandstands Open at NOON GREEN FLAG DROPS at 2 pm Pit Pass $35 for all Drivers & Adults. Non-Driving Minor Child $20
$1 Hotdogs (until dogs run out)
Win a 65" Largest we have ever given away ROKU TV
FREE Thanksgiving dinner for a needy family to be given away
Everyone come on out one more time this season as we have 300 laps of that Great racing action the Rim is known for…
Also featuring… King of the ¼ mile cars Bobby Joe Rippey
…as he makes his debut in a Late Model driving the Down Syndrome Awareness #21 machine as he races for the $1500 to Win!
WHERE:
6801 Kelly Willis Rd, Greenbrier, TN – Call (615) 643-8725
TICKET INFO:
FAMILY PACK – $30 for 2 Adults and up to 6 minor children! OR $12 for adults; $10 for seniors (62+), military and students 13-17; $5 for youth 6-12; 5 and under are free $35 for the pits.
ANYONE UNDER THE AGE OF 18 MUST HAVE A SIGNED AND NOTARIZED MINORS RELEASE TO ENTER THE PIT AREA… SORRY, NO EXCEPTIONS.
$1500 To Win Late Model 50 Lapper
Up to $1000 To Win 75 lap Legends
Up to $800 to Win 75 lap Pure Stock
Bandoleros 15 Lap Feature Race
Road Warriors 20 Lap Feature
Pest Doctor Ridge Runners 30 Lap Feature
Pro Four Asphalt Series High Rollers Payout 25 Lap Feature
Late Models High Rollers Payout 50 Lap Feature
Powder Puff 10 Lap Trophy Dash
One last time before winter sets in to get your RACING Fix!
Helpful Reminders to keep our Racers and Fans Safe
#1 We highly recommend everyone come to the main grandstands to watch a race.
#2 When standing on the ramp you must remain behind the steel guard rails or concrete walls on the ramp surface
ANYTIME cars are on the track. You CANNOT stand in the open area in between guard rails and concrete walls.
#3 Failure to stay behind the guard rails and concrete walls can result in a fine and or suspension.
Minor Children in the Infield MUST HAVE Parental Supervision at ALL Times or they will NOT be allowed in the Infield
#4 Minor Children MUST be accompanied by a parent or guardian at all times especially in the infield
#5 Minor Children are ONLY Allowed in the Grass area in the Infield where the bleachers are for their safety
#6 Speed Limit in the infield and pit area is 5 MPH.
Great Concessions and FREE PARKING!
Everyone can get great souvenir items as well as photos and videos of the racing action at the Souvenir Alley Souvenir Stand!
Follow Veterans Motorplex on FaceBook for info on racers, divisions, winners, photos, action-packed videos and announcements on 2022 season events!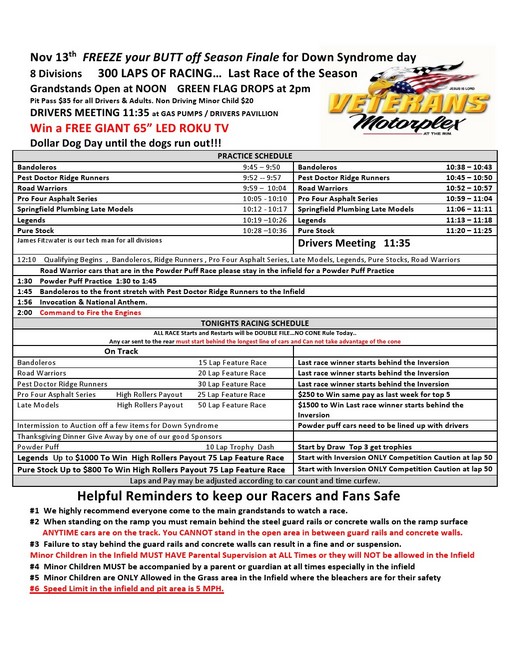 Mobile: To See The Latest Stories or to share this article, scroll below