Twice Daily Job Fair – Guest Service Reps- All Shifts  Assistant Managers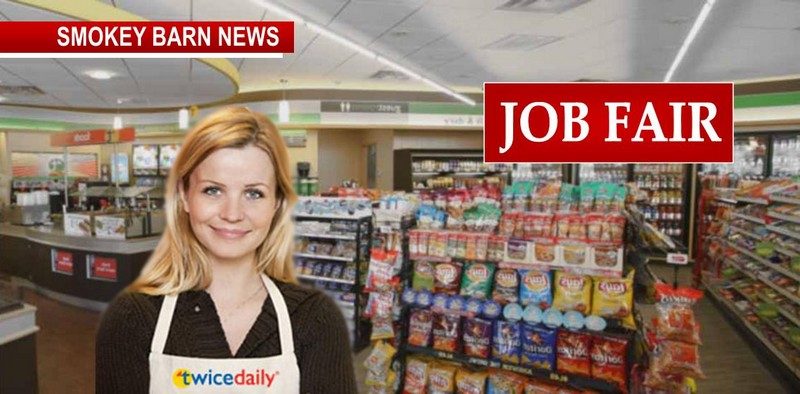 (Sponsored Ad)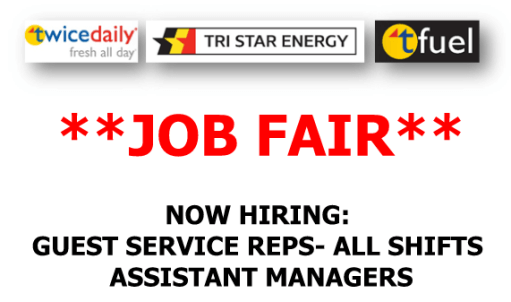 **WEDNESDAY MAY 25, 2016**
9:00 AM- 1:00 PM
WORKFORCE ESSENTIALS
299 10 TH AVE EAST SPRINGFIELD, TN 37172
WE OFFER COMPETITIVE PAY, WITH THE
CHANCE TO EARN UP TO $4,000 MORE
WITHIN THE 1ST 6 MONTHS!
Visit our website: www.twicedaily.com/careers
Twice Daily Convenience Store – Now Hiring, Two Springfield Locations!
Happy, energetic people needed for all shifts.
Full and Part Time.
Must pass drug test and criminal background check.
Hiring  – Two Locations:
Twicedaily #8093
3545 Tom Austin Hwy.
Springfield TN 37172
Tri Star #8041
17 memorial Blvd
Springfield TN 37172
We're always on the lookout for friendly, ambitious people to join our team. If you're ready for a career with great benefits and plenty of room to grow, we'd love to hear from you.
Our employees enjoy:
• Paid Training
• Paid Holiday
• PTO (Personal Time Off)
• Flexible Schedules
• Medical Insurance
• Dental Insurance
• Short-Term Disability
• Long-Term Disability
• Life Insurance
• 401(k) Savings
Twice Daily is a drug-free work environment. Each of our stores sells age-sensitive products including alcoholic beverages, tobacco products and lottery tickets.
All applicants must successfully meet the following requirements:
– Pass a pre-employment drug test
– Have a clear criminal background
– Have a favorable work reference check
If you're able to meet each of these requirements, please be our guest and apply today.
We look forward to hearing from you.
Smokey Barn News (Sponsor/Advertisement)

We bring you ALL the News in and surrounding Robertson County, Tennessee.