Two Rollovers, Car VS Tree, And A Head-On Crash Hours Apart
ROBERTSON COUNTY TENNESSEE: (Smokey Barn News) – Robertson County First Responders have been busy in the last few hours following a spike in accidents, largely triggered by slick roads, officials said. A slick spot on Kinneys Rd out towards Adams has caused two rollovers this evening. In the Cross Plains area near Cedar Grove Rd and Campbell Rd, a vehicle left the roadway, struck a tree, and caught fire. Minutes later two vehicles (pictured) crashed head-on near downtown Springfield.
Fortunately, no serious injuries have been reported but the snow has packed down into very slick ice. The main roads are clear but the less traveled side roads are very slick. Temperatures are going to come up a little on Monday but not enough to change much.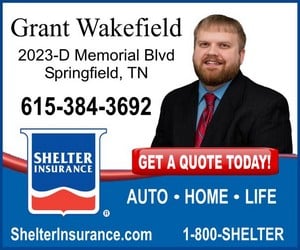 The head-on accident on Main St resulted in one person being taken into custody but, according to officials, no one was seriously injured in the crash. The vehicles, however, sustained fairly significant damage.
If you don't have to travel, you may want to consider putting off driving if at all possible, at least for a day or so. Looks like we might see an upward trend in temperatures as we make our way into Tuesday.
How have the frigid temperatures affected you? Be sure to send your photos and info to [email protected]