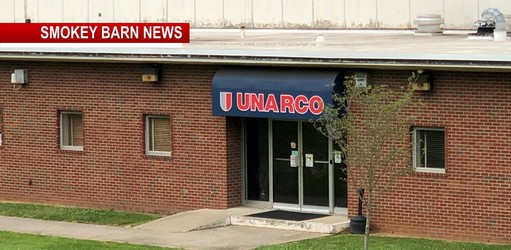 Unarco Material Handling Confirms One Case Of COVID-19
STORY UPDATED
SPRINGFIELD TENNESSEE: (Smokey Barn News) – Unarco Material Handling Inc., located in Springfield MAP, has confirmed their first and only case of COVID-19.
The firm also confirmed that one additional employee is awaiting test results.
UPDATE: May 22, Lara White Director, Human Resources has confirmed with Smokey Barn News that Unarco has 3 cases of COVID-19. "Were already off for the long holiday weekend. The scheduled deep-clean throughout the plant will occur tomorrow (Saturday) and we will continue to do the total spray down 3 times per week of plant and offices."
According to the firm, they started safety measures against the spread of COVID-19 back in mid-March, early in the timeline of the virus.
"It is definitely an ongoing effort that requires a lot of employee communication and constant reminders," said Lara White Director, Human Resources.
Below are the efforts that Unarco tells Smokey Barn News they have (and are) implementing at the Springfield plant.
"Even with the proactive response and best practices implementation for the Covid-19 virus that began at the UNARCO plant in mid-March, we have recently reported one employee test positive for the virus. As an early response to the COVID-19 virus spread, the Springfield plant began educating and enforcing proper social distancing and hygiene for all employees immediately in an attempt to ensure a safe and healthy working environment.
"To keep employees spread out at an appropriate social distance throughout the plant, UNARCO began staggering employee schedules on March 19th in order to reduce the number of employees at shift changes. Time clocks were relocated to multiple locations to help distance employees and they were given additional time to clock-in to avoid congregation points. Employee meal breaks were also staggered to spread out employees and many break room tables were removed to maintain social-distancing during their breaks.
"These new schedule changes have allowed time for employees to wipe down equipment and all touchpoints between shifts for improved safety. In addition, outside services were contracted in March for daily increased sanitation and thorough deep cleaning of the plant and offices multiple times per day/week.
In a new measure, UNARCO is requiring all employees to wear facemasks in the plant and offices and has already begun distributing the masks as they arrive. The communication network, as well as posted signage set up plant-wide, will continue to remind and alert employees of all safe practices needed to maintain a healthy working environment."
According to UNARCO officials,  they use a CDC approved  disinfectant in addition to nightly housekeeping:
Cleaning schedule: Mon & Weds. – disinfectant spraying takes place in all offices and on the plant floor, desktops, breakrooms, chairs, copiers, restrooms fixtures, door handles, water fountains, countertops, forklift handles, etc.
On Saturday – Total Deep Clean that includes all the above and also all shop jig fixtures, machine controls, and virtually every touchpoint on the plant floor (in addition to the offices).
The mist being applied is at 110microns and takes over 10mins to dry.
According to their website, UNARCO Material Handling, Inc. has manufactured roll-formed and structural pallet racking and warehouse storage systems for distribution centers and retail stores for over sixty years.
UNARCO is headquartered in Springfield, Tennessee with plants in Lewisville, Texas, and Pandora and Ohio with engineers registered in all 50 states.