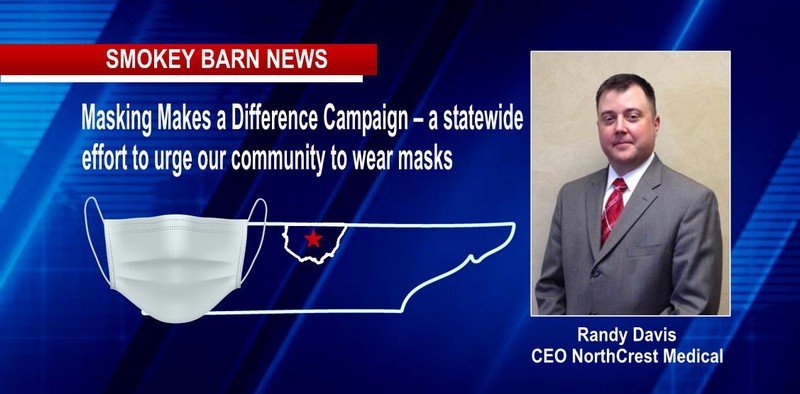 Up-Tick In COVID Cases Sparks Wear A Mask Campaign
 A message from Randy Davis, CEO/President
NorthCrest Medical Center
ROBERTSON COUNTY TENNESSEE: (Smokey Barn News) – An increase in COVID positive patients in Robertson County, as well as a higher number of daily positive test results in the community, has triggered concern.
"As of yesterday, the average Robertson County daily positive test rate (calculated using the last 14 days of reported cases) moved to 16.6 from a low of 9.4 in early October. This morning we have 9 positive patients in-house with 3 of those in the CCU," said Randy Davis, CEO/President at NorthCrest Medical Center in Springfield Tennessee.
"In an urgent effort to reverse the alarming rise in COVID-19 cases and hospitalizations in Tennessee, NorthCrest is teaming up with the Tennessee Hospital Association in a statewide campaign to encourage mask use," Davis said.
Since early October, nearly every region in our state has seen a rise in hospitalizations. According to a study released last week by Vanderbilt University Medical Center, this increase has been more significant in hospitals that treat patients in areas without mask requirements.
"The growing surge of COVID-19 infections is not an issue that can be solved within the walls of the hospital and outpatient facilities. This is a community dilemma, and we need everyone's help.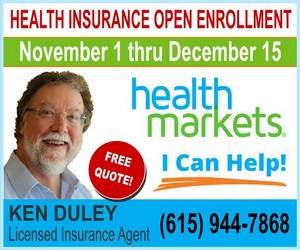 "Starting today, and through December, NorthCrest Medical Center will be sharing THA's Masking Makes a Difference campaign on our social media channels and with our local media.
"We know that masking does make a difference and the data shows that areas that enforce mask-wearing have fewer hospitalization rates. We need to pull together as a community now. COVID-fatigue is real, but so is COVID-19 and its dangerous impact.
"We need everyone to refocus and recommit to wearing masks, avoiding large gatherings, and more. We need people to act now.
According to Davis, you can make a difference by:
· Wearing a mask or face covering when you leave the house. Be sure to keep one in your car in the event you forget. Encourage your friends and family to do the same.
· Keeping 6 feet of distance in public, while also wearing a mask or face covering.
· Continuing to disinfect high-touch surfaces. Remember to wipe down your cell phone, doorknobs, remote controls, and other frequently used objects.
· Washing your hands regularly throughout the day. Wash your hands for 20 seconds and use hand sanitizer if water and soap are unavailable.
Thank you for your continued dedication to improving the health of our community." Randy Davis, MBA, FACHE CEO / President
NorthCrest Medical Center
See Robertson County COVID-19 case numbers here.