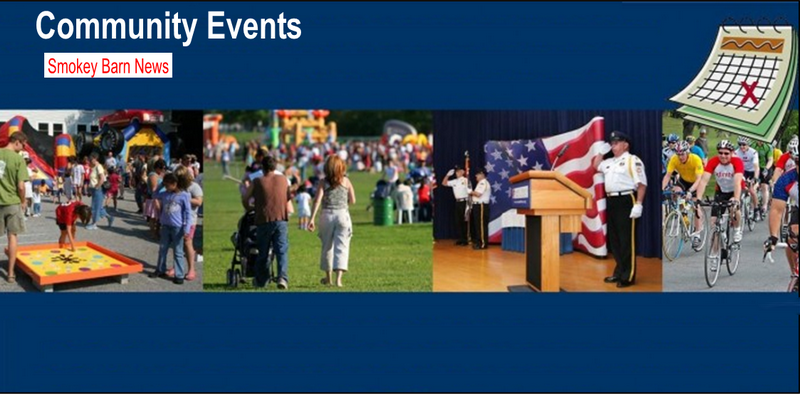 Upcoming Local Events Across the County
ROBERTSON COUNTY, MIDDLE TENNESSEE: (Smokey Barn News) – Mark your calendars for some water fun, cruise-ins, farmers markets, blood drive, outdoor concert under the stars and more for the month of August… see the details below!
Wednesday, August 5 – Water Day at the White House Farmers Market
Wednesday, August 5, 2020 at 3:30 PM – 7 PM – Come out and play at Water Day at the Farmers Market at 105 College St. in White House, Tn. Water and foam fun with the City of White House Fire Dept.! Market opens at 3:30pm and water fun will begin at 5:30pm.
This event is weather permitting.


Thursday, August 6: Blood Drive (Nashville Predators) At Ridgetop Volunteer Fire Dept
The Ridgetop Volunteer Fire Dept will be holding a Red Cross Blood Drive at the Fire Hall located at 1735 US-41 Ridgetop, TN on Thursday, August 6, 2020 from 10:00 a.m. to 4:00 p.m.
ALL Presenting Donors will receive a free Predators Pred Head T-shirt while supplies last and be entered into a drawing to win a $100 Gift Card for the Predators Locker Room Store.
Please call 1-800-RED CROSS (1-800-733-2767) or visit RedCrossBlood.org and enter: Preds19 to schedule an appointment.
According to the US Food & Drug Administration, "Every two seconds, a patient needs a blood transfusion."
The number of blood donations has been dramatically reduced due to the implementation of social distancing and the cancellation of blood drives.
Donating blood is safe and takes only a little of your time. At many blood donation centers, those who are interested in donating can make an appointment to minimize the time it takes to donate blood. Centers can arrange to call a donor's mobile phone when they're ready for the donor to come in.
Special offer from our partners at Amazon: To thank you for coming to give blood Aug. 1-Sept. 3, we'll send you a $5 Amazon.com Gift Card* by email. *Restrictions apply, see amazon.com/gc-legal. Terms and conditions apply; visit rcblood.org/together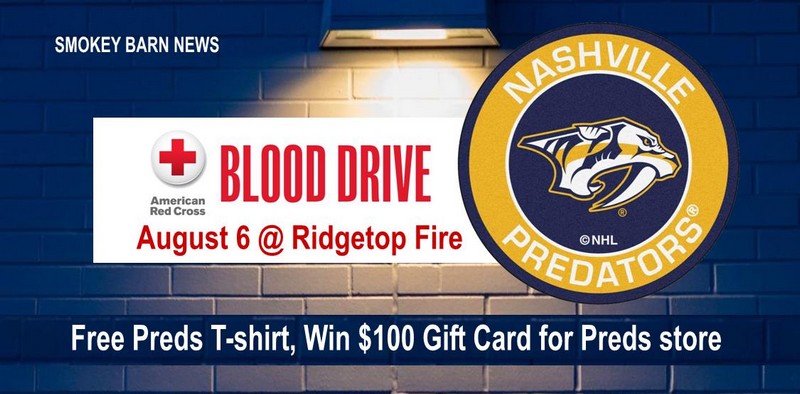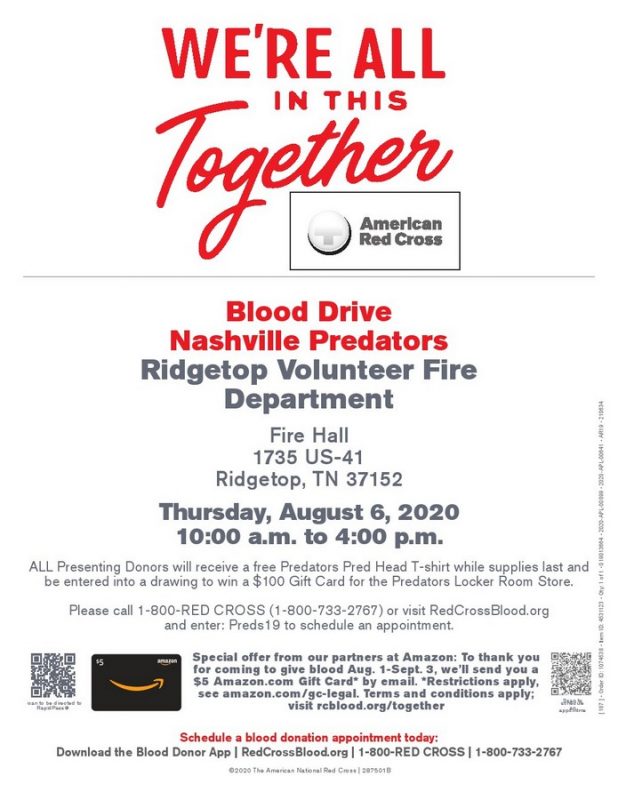 Thursday, August 6, 2020 Goodlettsville Farmer's Market – Every Thursday!
Thursday, August 6, 2020 at 3 PM – 7 PM – Goodlettsville Farmers Market at 705 Caldwell Drive in Goodlettsville.
The Goodlettsville Farmer's Market is held weekly on Thursdays, 3:00pm – 7:00pm on the lawn next to the Visitor's Center at Historic Mansker's Station. The 2020 market will begin on May 21 and end on October 8. The market will feature the season's best fresh produce, farm fresh eggs, baked goods, meats, locally grown plants, hanging baskets and other goodies.
Social distancing measures will be in place. Please observe all posted signage and demarcated lines. Always stay home if you are not feeling


August 8: Join Us For an Amazing Day Celebrating Single Moms! DRIVE-IN STYLE!
August 8: 10AM – 12 Noon
Bethlehem Baptist Church – 5081 Bethlehem Rd, Springfield, TN
Questions Call 615-643-0333
Single Moms and their children will be treated to a free car wash, lunch, music, gospel message, kids activities, goodie bag etc. all within the comfort of your car.
Plan to stay with us for about an hour to take advantage of all of the offerings.
Make Yor Reservation – Click –> HERE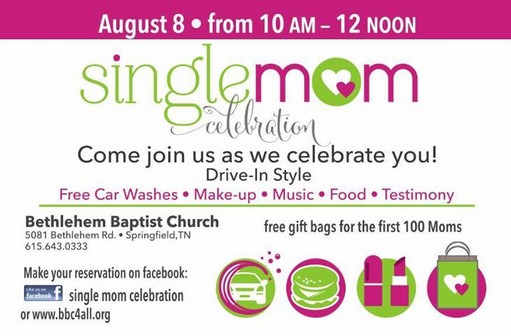 Saturday, August 8 – Racing at Veterans Motorplex at The Rim in Greenbrier, TN
August 8th will be $1 HOTDOGS all night long
$250 to Win Twin 20's Pure Stocks
Pro 4 Asphalt Series
Twin 20's Road Warriors
$100 to Win Bump and Run Road Warriors
Street Drags $100 To Win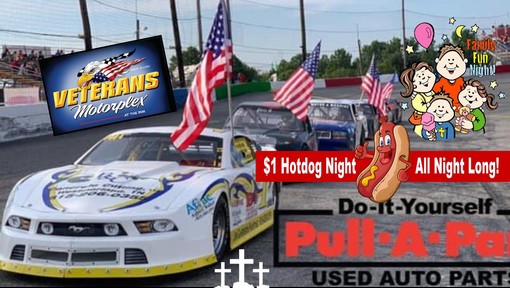 Saturday, August 15, 2020 – Music Under the Stars | Marty Brown AT 7 PM – 9 PM in the Fran Hutson Amphitheater in White House, Tn.
Remember Marty Brown from our 2019 Americana Celebration?? He's back for Music Under the Stars on Saturday, August 15th at the Fran Hutson Amphitheater!
We are excited to be partnering with NorthCrest Medical Center again this year to present this fun and free summer event.
There will be food trucks, free inflatables from North Nash Event Rentals and more summer fun ready to be had.
We hope to see you there! #DiscoverWhiteHouse – Hosted by White House Area Chamber of Commerce and Marty Brown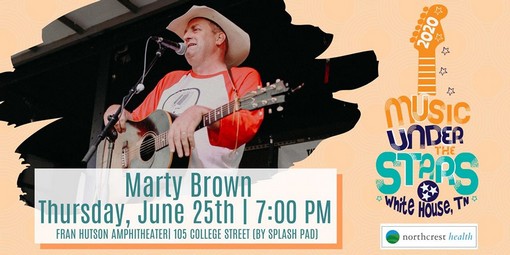 NOTICE: Food Assistance Available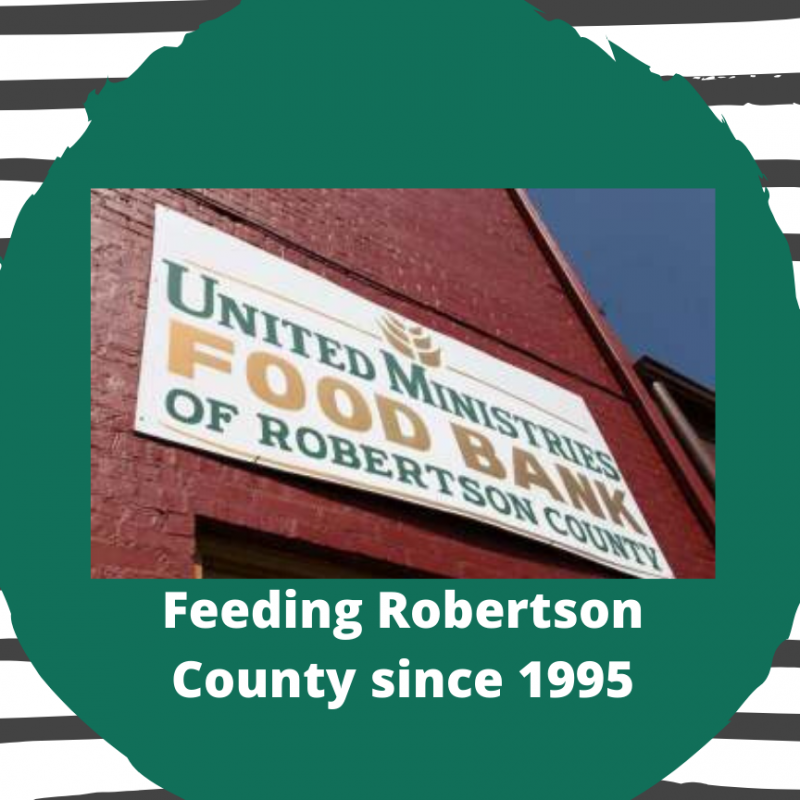 The United Ministries Food Bank would like to inform the residents of Robertson County that they are still helping with food needs.
If you are struggling to put food on your table they can help.
They are located at 808 S Main St. (beside Cope). Familes need to have ID's and Birthdays dates for all living at their residents.
Residents are welcome to come in monthly for assistance. If you have questions please call 615-384-8306.
Hours: Open Monday thru Thursday 10:30AM to 1:30 PM.

NOTICE: Food Pantry – Bethlehem Baptist Church Drive By Pantry 
Please drive up to Building A from the Hwy 76 entrance. Residents are asked to show proof of residence and an SSN# for each resident.
The drive-by pantry will be open on Wednesdays from 11am to 1pm.
Bethlehem Baptist Church – 5081 Bethlehem Road – Springfield, TN. 615-643-0333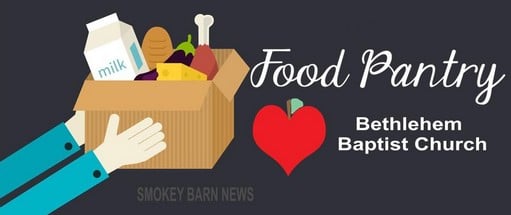 Saturday, August 15, 2020  Cruise'n N Groove'n in Pleasant View, Tn
Saturday, August 15, 2020 at 5 PM – 9 PM
Cruise'n N Groove'n is a CRUISE-IN located at the Pleasant View Village on 41A, South of intersections Hwy 49 & Hwy 41A. 214 Village Square, Pleasant View, Tn
We welcome all Classic Cars & Trucks / Jeeps, Customs, Muscle Cars, Street Rods, Rat Rods & Motorcycles. FREE to ALL that attend. Lots of great food and drink choices.
Our August theme: Corvettes
Times: 5pm – 9pm. We have music, several food choices, shopping for the ladies, and lots of UNIQUE VEHICLES. Each month we have Mayor's Choice Vehicle, plus we will have Mayor's Monthly "Theme" Vehicle. At the October event, all the monthly (Mayor's Choice) winners will be up for TOP pick for the year voted on by the people at our October cruise-in.
For more info, contact 615-746-0600 or 615-517-1423
Lastly, the PUBLIC is encouraged to attend and enjoy and evening! We have plenty of public parking outside of the cruise-in parking.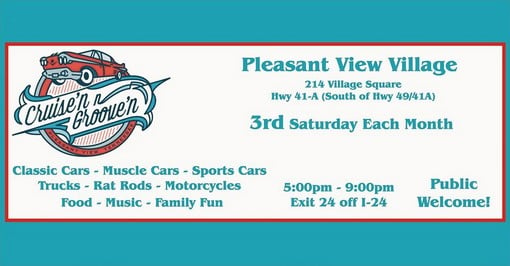 ONGOING COMMUNITY/FAMILY EVENTS
Wednesdays In Springfield – The Classic Tin Cruise In
Held Every Wednesday, from spring till Halloween, Classic Tin Cruise In will be in Springfield, TN. Classic car, truck and bikes Cruise In for Springfield and the surrounding communities coming together for some Burgers and a Coke!!! Being held next to Burger King, 2018 Memorial BLVD, Springfield, TN . Any questions please call Shelby Horner at 615-336-2257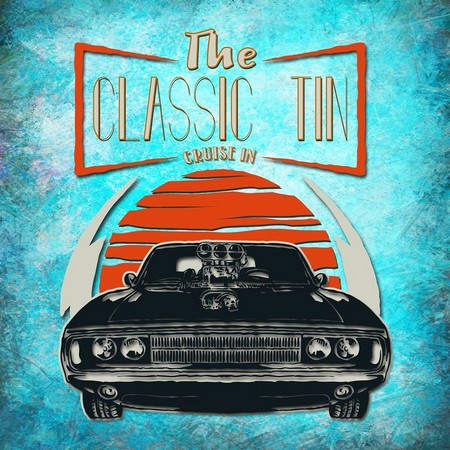 Saturdays – 41 Flea Market in Springfield
7:00 AM til 5:00 PM – 2862 Highway 41 S, Springfield, Tennessee 37172
Details
* Open Air Market
* Large selection of items
* Unique Vendors
* Great Bargains
For more info Call (615) 969-3167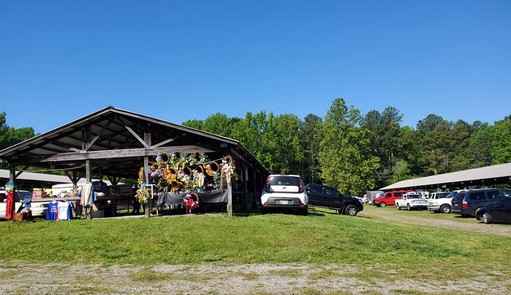 Saturdays – Robertson County Farmers Market
Saturday's at 8 AM – 1 PM 4635 Hwy 41N, Springfield, Tennessee
Robertson County fruits, produce, flowers, eggs, bread, meats, honey, crafts and more!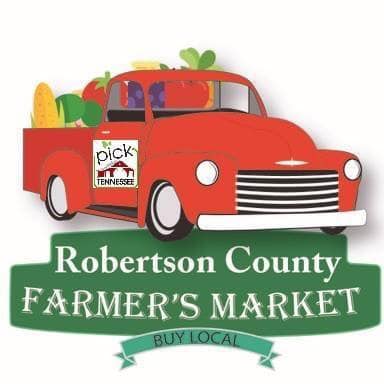 City of White House, Tennessee Splash Pad is open daily from 9am-8pm except Tuesdays.
Tuesdays allow the Parks Department to sanitize and provide general maintenance to the equipment. #MyWhiteHouseTN #DiscoverWhiteHouse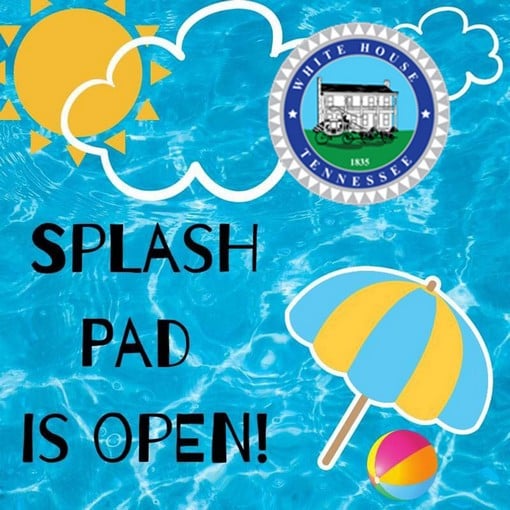 Wednesdays  White House Farmers Market
Wednesday's at 3:30 PM – 7 PM – 105 College Street, White House, Tennessee 37188
Market will be open from 3:30 – 7:00 pm. Come out and see us!