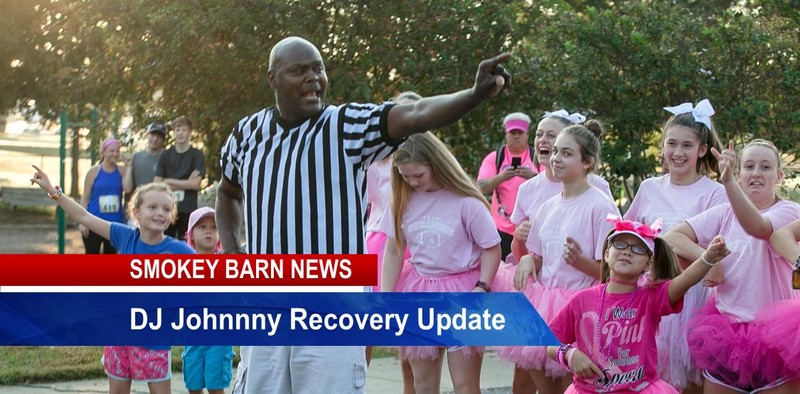 Update: DJ Johnny In Recovery, Now Standing Up
SPRINGFIELD TENNESSEE: (Smokey Barn News) – We have an update on DJ Johnny. He's improving!
Back on August 3rd, Social media lit up with posts and prayers for DJ Johnny Gardner, a very popular disc jockey in the Robertson County area. Johnny reportedly suffered from a massive stroke and was rushed to Northcrest Medical Center and then transferred to Vanderbilt, where he remains. Vanderbilt doctors told the family that he had a blood clot in his neck (as a result of COVID). This blood clot traveled to his brain, causing a massive stroke. Due to the intensity of the stroke, intervention was not possible. His brain began to swell and they had to release the pressure by removing part of his skull.
"Praise report!! The neurologist had Johnny standing today!! Lord I Thank you!," Lynell Woodson Gardner
"He is stable and improving. He is starting to work with therapists. We hope he can go to an aggressive rehabilitation center. His right side is paralyzed and he is having some language difficulty, but hope he can make improvements with time and therapies," daughter Ashley Nicole.
Three weeks earlier Johnny's father-in-law succumbed to the COVID-19 virus and 12 other family members had tested positive, some hospitalized.
"The Woodson/Gardner family would like to thank everyone for all of their thoughts and prayers. Everyone is doing progressively better and has made drastic improvements. The nightmare that attacked our family, otherwise known as Covid-19 is finally coming to an end. Again thank you all and may God bless each of you."
A GoFundMe page has been set up for DJ Johnny and the family to help with medical expenses.
Reported earlier.
Popular Disc Jockey "DJ Johnny" Hospitalized
Robertson Family Hit Hard By COVID-19