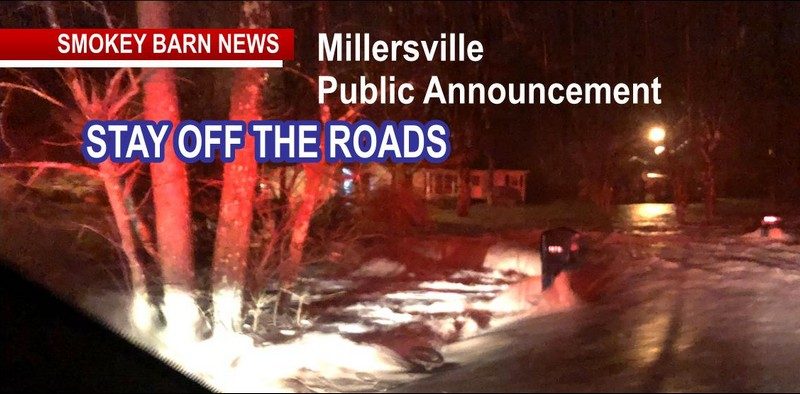 Water Rescues In Millersville Triggers Public Announcement
MILLERSVILLE TENNESSEE: (Smokey Barn News) – Heavy flooding in Millersville is triggering water rescues as citizens become trapped. Rescue resources are becoming taxed. Officials are asking that citizens stay off the roadways to avoid creating another problem.
"Millersville City Hall has been turned into an evacuation shelter."
STORY UPDATED: (See link)
33 Citizens 4 Animals Rescued From Flooding In Robertson County Saturday Night
"Anybody traveling to Millersville, Southbound city limits is shut down due to water on the roadways.  Louisville Hwy in completely shut down. We have swift water operations going on Bellar Drive and Louisville Hwy south of City Hall. Basically, anything around the creeks is under water and we are asking for everyone to stay off the roads, said Millersville Fire Chief Brandon Head.
"If they need to call for service or need help getting out of their homes or need to move to higher ground, call 911 and report the address and tell us how many people are in the home and they will be put on the list to be evacuated. Currently, the rain has stopped and the creeks are receding. There are some improvements but we're still having to evacuate a few people right now so if they don't need to be on the roads, we are asking that they stay off the roads because it is causing issues.
"Everything south of city hall, the community center, the library, police station, Slaters Creek Rd, south of city hall has flooding issues. Several homes along the creek have been taking on water. The trailer park, the KOA Campgrounds… we have had to evacuate numerous people there. We have people trying to hook up their campers in waist deep water. We have evacuated everyone that was in distress at the campground.
"We still have some active situations going on at Bellar Drive which is south of the city by the apartment complex.
"We are trying to address all the calls that have come in but we having people driving into the city causing additional calls for service that we don't need right now.
According to the Robertson County Emergency Management Agency, most of the main roads in Robertson County are clear but we do have some flooding in the low-lying areas. If you must travel use caution and never try to cross a roadway that is covered in water.
Smokey Barn News (Advertisement)
Smokey Barn News (Advertisement)
Smokey Barn News (Advertisement)

We bring you ALL the News in and surrounding Robertson County, Tennessee.