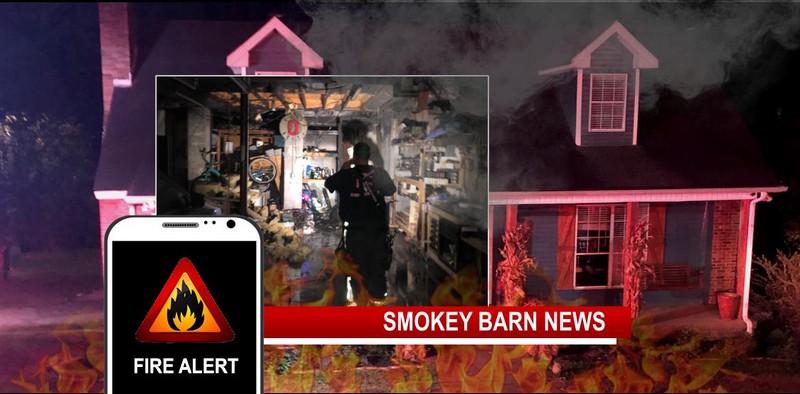 While Out To Dinner, Home Fire Triggers Motion Detector Alert
COTTONTOWN TENNESSEE: (Smokey Barn News) – A Cottontown man was at dinner Saturday night when a cellphone security video alert showed that his home was on fire.
After getting a video alert on his cellphone, the resident of the home could see that there was a fire in his attached "below grade" garage under his home, officials said. The resident could see the fire live on his cellphone.
Officials said the resident was at dinner with his parents when he got the alert and called 911. Neighbors were also alerted to let two pet dogs out of the home and both escaped unharmed.
The home is located in Cottontown near Hwy 31w and Baldridge Dr. MAP Firefighters with the White House Community Volunteer Fire Department responded quickly and put the fire out. "We only had to use about 150 gallons of water," said Fire Chief Joe Williams. "It was out quick"
By the time the resident made it home, the dogs were safe, the fire was out and the home was intact.  The home suffered so little damage that it was still livable, according to Chief Williams.
Chief Williams told Smokey Barn News that when his team arrived, thermal imaging equipment revealed the fire through the smoke and it was quickly extinguished. Williams added that concrete architectural elements of the home slowed the fire's advancement, giving his team more time to prevent the fire from penetrating the home's main living space. "It was a very good stop," Williams said.
The cause of the fire is still under investigation but Chief Williams said he was leaning towards an electric bike parked in the garage. No injuries were reported.
Most home security video systems with internet compatibility will send alerts to your cellphone when motion is detected. Sensors can either look for thermal signatures (ie infrared radiation) like a person's body heat, or they scan based on changes in pixels to detect motion. A fire will trigger both thermal and motion detectors.
Although getting a video alert on your phone showing your home on fire may have been stressful, in this case, the alert likely gave firefighters the precious seconds needed to save the home.
The White House Community Volunteer Fire department, the Cross Plains Fire department, the Orlinda Fire Department, and Robertson County EMS all responded to the scene.