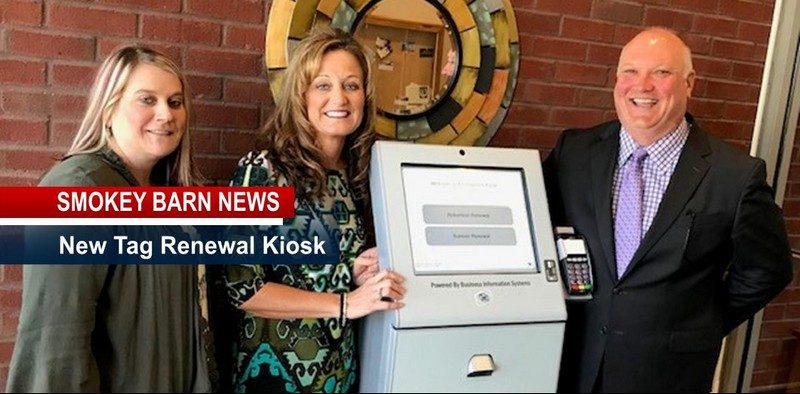 White House Now Offering Automotive Tag Renewal Kiosk
WHITE HOUSE TENNESSEE: (Smokey Barn News) – Volunteer State Bank in White House has joined up with county clerks to provide easier access to tag renewal using a kiosk.
"During the election, I met a lot of White House citizens and one of the biggest requests was to have a place to renew their tags that was more convenient," said Robertson County Clerk Angie H. Groves.
"Renewal kiosks are a relatively new technology and simple to use. The idea is to help those in the White House area meet the registration requirements in their hometown," said Sumner County Clerk Bill Kemp.
Groves and Sumner County Clerk, Bill Kemp, teamed up to provide this new service in the White House area, which is a long drive from the county seats of Springfield and Gallatin.
"Many White House residents work out of town and required a unique and convenient solution," said Kemp.
Volunteer State Bank located at 2920 US-31W offered the use of their lobby. The kiosk will be available 24 hours a day seven days a week.
"Customer service is our number one priority. We appreciate the bank extending its lobby hours for the convenience of the community," Groves said.
The kiosk processes renewals using a barcode on the renewal notice or the previous registration. Payment is made with a debit or credit card.
"The registration renewal form with a bar code can be used to scan in the tag owner's information. The machine pulls from either the Robertson or Sumner County database," Kemp said.
The main difference in the two counties is Sumner renewal requires an emission's statement; Robertson County is exempt from the requirement.
"If the car has not gone through emissions, then the kiosk will not process the registration," Kemp said
Kemp cautioned that some specialty tags cannot be renewed through the kiosk, especially plates that require membership identification.
First-time renewals cannot use the kiosk because there is no record in the local database.
The Robertson County Clerk's office has some other new things that Groves has added. You can now get your Passport Photo taken at the Clerk's Office for $10.00, making it a one-stop shop to apply for your Passport.
Groves also has extended the Drive Thru hours until 5:00 p.m. on the last Friday of the month as well as the last working day of the month. You can conduct any Motor Vehicle Transaction, not just renewals.
Groves is excited about all of the new changes and continues to look for cost-effective ways to serve the citizens of Robertson County.
Photos:
Robertson County resident Scott Garrett was the first customer to use the kiosk.
Pictured with the Kiosk, Volunteer State Bank Branch Manager Rachael Bugg, Robertson County Clerk Angie Groves and Sumner County Clerk Bill Kemp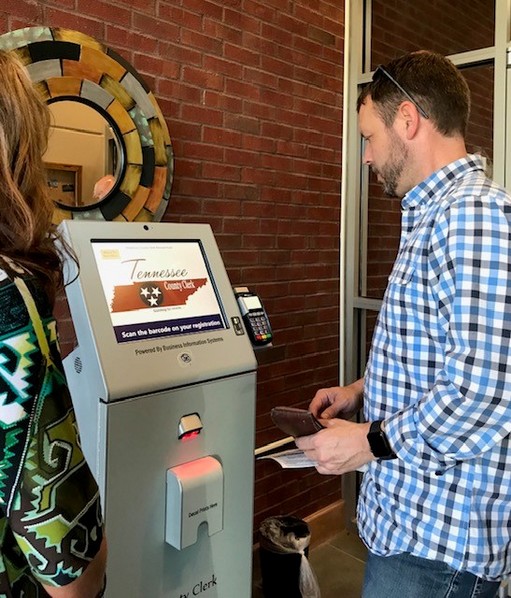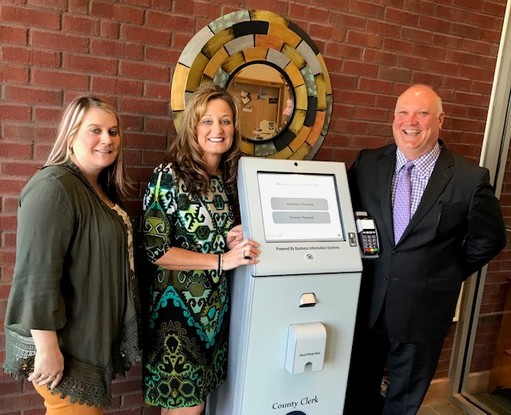 Smokey Barn News (Advertisement)

We bring you ALL the News in and surrounding Robertson County, Tennessee.