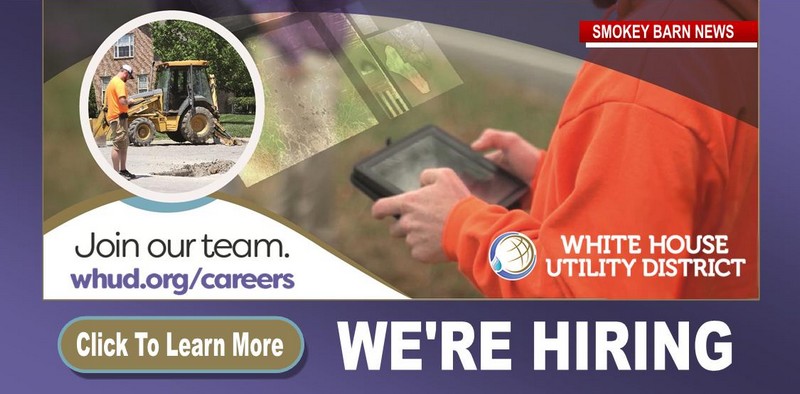 White House Utility District: Join Our Team
Maintenance Technician Opening at WHUD
WHITE HOUSE TENNESSEE: (Smokey Barn News) – White House Utility District (WHUD) is hiring. The District is actively searching for a self-motivated individual with a strong mechanical aptitude to join our team as a maintenance technician. This position is an important extension of our water distribution and wastewater collection team – he or she will be instrumental in helping maintain district equipment, facilities and infrastructure to ensure high-quality, safe and reliable service to our customers.
With oversight of hundreds of assets – from the water treatment plant to the distribution and collection system – WHUD's maintenance department handles a wide variety of responsibilities. Any given day might include projects like the oversight of tank rehabilitation; installation of telemetry systems and programmable logic controllers (PLCs); and regular maintenance and inspection of water and sewer pump stations, flow meters, PRVs, and other key assets within the distribution and collection system. Daily responsibilities specific to the maintenance technician include:
• Perform routine preventive maintenance at water and wastewater facilities (treatment plants, pump stations, water tanks, etc.);
• Troubleshoot operational issues with equipment and infrastructure, and determine/perform appropriate course of repair;
• Maintain appearance of district facilities (treatment plants, pump stations, tanks, etc.); and
• Program, calibrate and maintain district instruments and control systems, among other duties.
The ideal candidate will have a high degree of curiosity, a strong understanding of mechanical and electrical systems in an industrial or utility environment and excellent problem-solving skills. To be considered, candidates must display quality workmanship, be service-minded and work well with others. Candidates must be able to perform physically demanding work and must be willing to work overtime hours; this position is part of a mandatory, rotating on-call schedule.
A high school diploma is required, as well as a class A CDL (the latter can be obtained after hire). Before hire, the individual must pass an extensive background check and drug screening.
The starting pay rate for this position is $19/hour. Wages may be negotiated based on prior experience, applicable certifications and licenses, and other credentials.
To learn more about this position or to apply, Click Here
About White House Utility District
White House Utility District (WHUD) delivers high-quality, safe and reliable water to more than 100,000 customers throughout Robertson, Sumner and northern Davidson counties, and provides sewer service to more than 10,000 residents in Sumner County. Recognized as the largest geographic water and sewer utility in Tennessee, WHUD encompasses more than 600 square miles that include Cross Plains, Gallatin, Goodlettsville, Greenbrier, Hendersonville, Millersville, Orlinda, Portland, Springfield, and White House.
WHUD prides itself on using the latest technology, including an advanced geographic information system (GIS), to drive innovation and excellent customer service, and strives to develop employees and processes that are highly sought after in the utility industry. To learn more, visit www.whud.org.
White House Utility District is an Equal Opportunity Employer and is a Tennessee Drug Free Workplace participant.
More Current Openings – Click Here