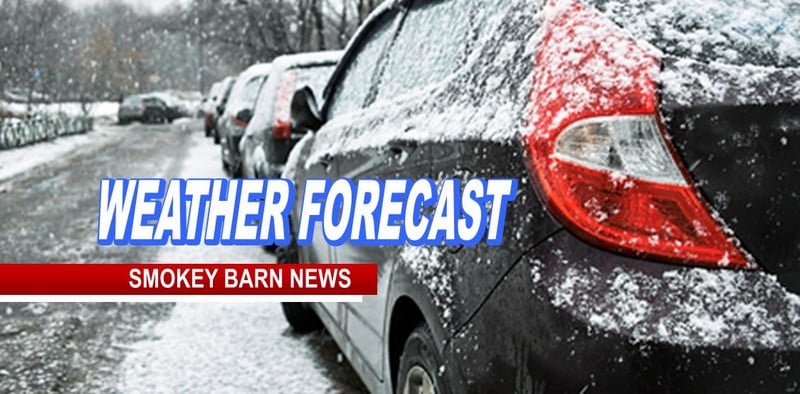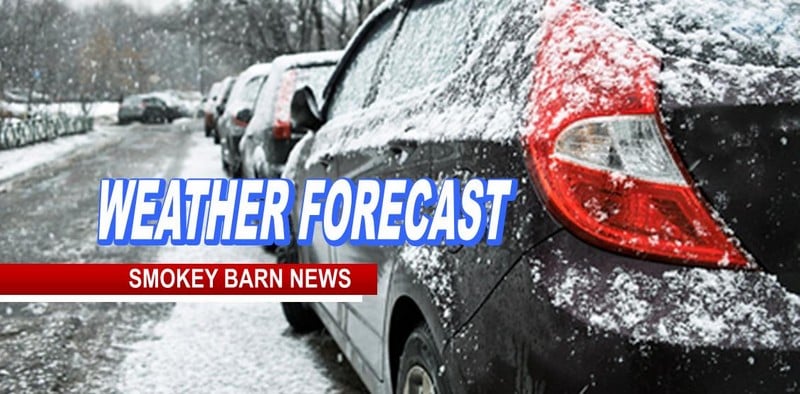 Winter Weather Advisory: Rain/Snow Mix On Thursday, Frigid Temps Friday
ROBERTSON COUNTY TENNESSEE: (Smokey Barn News) –According to the National Weather Service (Nashville) A WINTER WEATHER ADVISORY has been issued for all of Middle Tennessee.
The advisory is in effect for Thursday 4 AM CST to 4 PM CST for most areas, and from 9 AM CST to 9 PM CST for the Upper Cumberland Region.
Summary
2 to 3 inch snowfall amount will be common. Snowfall will be a little less along the Alabama border where minor accumulations of freezing rain and sleet will be in the mix. Parts of the Upper Cumberland may see higher totals over 4 inches, especially for the highest elevations.
Locations/TIming
Locations south of I-40 could see a mix of freezing rain or sleet for a few hours Thursday morning before precipitation changes to snow, with light ice accumulations possible along with snow amounts up to 1 or 2 inches. Along and north of I-40, precipitation is expected to remain all snow, with 2 to 3 inches of snowfall possible. Portions of the Upper Cumberland and northern Cumberland Plateau could see as much as 3 to 4 inches of snow.
Regardless of how much snow falls, snow accumulating on roadways will create hazardous travel conditions across the area on Thursday. Road conditions will likely worsen Thursday night into Friday morning as temperatures fall into the teens and single digits.
"The bigger story: temperatures. We will fall below freezing tonight and stay below freezing until Saturday. Mixed into that, Friday morning's lows will be in the low teens and upper single digits. It's gonna be DARN COLD and everything that is liquid on the roads during the day tomorrow is going to freeze and stay frozen until Saturday. Suggestion: get where you're going by early tomorrow morning and stay there! TDOT will do everything in their power to make the roads passable, but these temperatures could win out. Bottom line, travel is going to be difficult tomorrow and Friday.
Stay tuned, as areas north of I-40 and the Upper Cumberland Plateau could end up with more snow than we're currently thinking, US National Weather Service Nashville Tennessee"
Continue to monitor the latest forecasts for updated timing and snowfall amounts as they could still change.
Additional advisories and warnings will likely be issued around the region.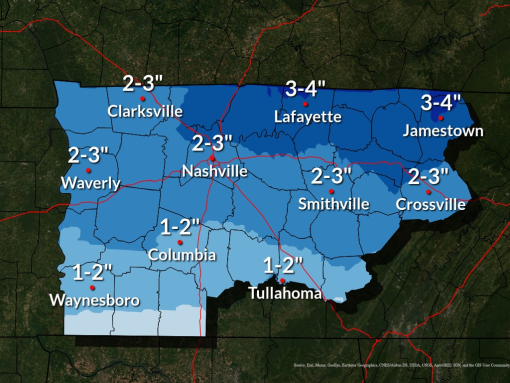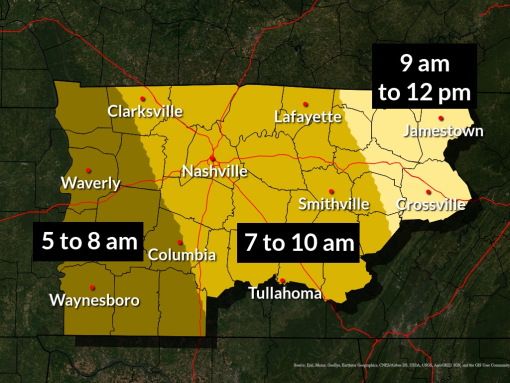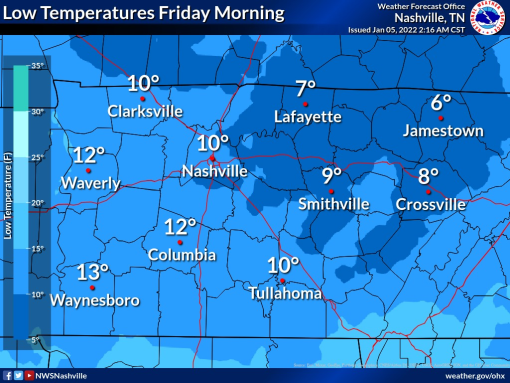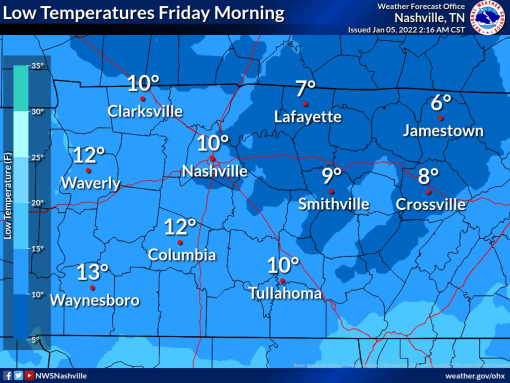 Be Prepared:
Create an emergency car kit. It is best to avoid traveling, but if travel is necessary, keep the following in your car:
• Cell phone, portable charger, and extra batteries
• Items to stay warm such as extra hats, coats, mittens, and blankets
• Windshield scraper
• Shovel
• Battery-powered radio with extra batteries
• Flashlight with extra batteries
• Water and snack food
• First aid kit with any necessary medications and a pocket knife
• Tow chains or rope
• Tire chains
• Canned compressed air with sealant for emergency tire repair
• Cat litter or sand to help tires get traction, or road salt to melt ice
• Booster cables with fully charged battery or jumper cables
• Hazard or other reflectors
• Bright colored flag or help signs, emergency distress flag, and/or emergency flares
• Road maps
• Waterproof matches and a can to melt snow for water
Bring your pets indoors
If you have pets, bring them indoors. If you cannot bring them inside, provide adequate shelter to keep them warm and make sure they have access to unfrozen water.
Prevent Frozen Pipes:
• Insulate Pipes. The best way to keep your pipes from freezing is to purchase specifically designed pipe insulation.
• Keep Garage Doors Closed.
• Open Cabinets.
• Let Faucets Drip.
• Keep the Thermostat Consistent.
• Seal Cracks and Openings.
• Leave the Heat On.
• Open Interior Doors.
*Remember the harsh cold weather can be tough on our older neighbors, be sure to check up on them when you have an opportunity
Mobile: To See The Latest Stories or to share this article, scroll below