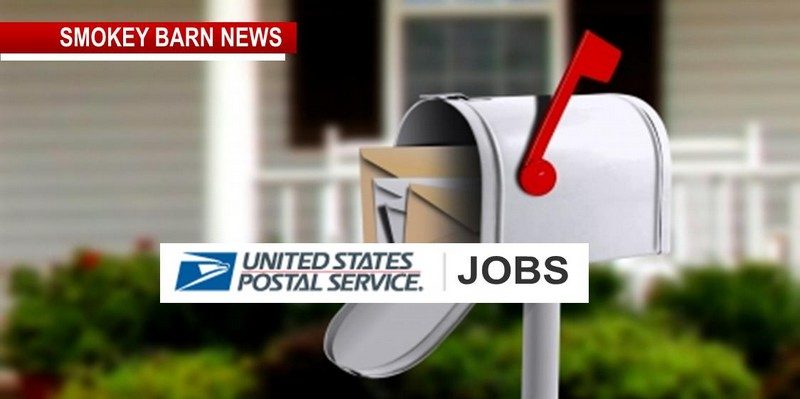 Work For The Post Office (5 Day Window To Apply)
THE U.S. POSTAL SERVICE WANTS YOU!!!
PART-TIME JOBS AVAILABLE
Accepting Applications online: MAY 10th – 15th, 2017
SPRINGFIELD TENNESSEE: (Smokey Barn News) – How about a job with the post office? The Springfield Post Office is hiring but if you are interested you'll need to apply during their 5 day window that starts today. APPLY NOW  You must apply on-line.
• RATE OF PAY – $17.40 PER HOUR
• This is a non-career, part-time position. May work seven (7) days a week and may be able to work up to 40 hours a week.
• You must provide a suitable privately owned vehicle to perform the job. A vehicle will not be provided for you. The vehicle must be of adequate size to serve the mail route safely and efficiently in accordance with federal, state and local motor vehicle laws and regulations. (SUV, full-size sedan, etc.)
• You must be able to sit in your vehicle on the right/passenger side in order to reach mail boxes and deliver mail, while at the same time safely operating (driving) your vehicle. (Center consoles can be removed to facilitate mail delivery. A gear shift on the steering column is preferred because you often cannot safely reach your gas/brake with a center console gear shift.)
• Must be available on short notice.
• Applicants must pass a drug screen and background check.
• A valid state driver's license is required. A five (5) year satisfactory driving is mandatory. We will obtain your Tennessee driving abstracts. However, YOU must request and provide driving abstracts from other states, if applicable. APPLY NOW
If you have any questions about the application process online you can call the Springfield Post Office at 615-382-4745
We bring you ALL the News in and surrounding Robertson County, Tennessee.

Smokey Barn News (Sponsor/Advertisement)

We bring you ALL the News in and surrounding Robertson County, Tennessee.