10 Yr Old Greenbrier Boy Needs Your Help
UPDATE 11/18/19
A message from Thomas's Closet: At this Time……Thomas's closet is only accepting coats, blankets, scarves, gloves? Things to keep our community warm. As much as we appreciate the overwhelming support that we are receiving from the community, we can't accept toys, household items, decorations, and things of that sort due to storage capacity.  Our focus is to keep the community warm for Christmas. Thank you to everyone for supporting this need. We are at 40 coats as of this morning!
GREENBRIER TENNESSEE: (Smokey Barn News) – 10-year-old Thomas Barnett of Greenbrier has a heart for the homeless and he has a message for anyone facing hard times; "It can still get better."
Thomas delivers his message of hope during the Christmas season through gifts of coats and blankets. He calls it Thomas's Closet.
Thomas's Closet is dedicated to helping keep Robertson and Davidson County's homeless population warm for Christmas and now you can participate.
Thomas's goal is to collect as many coats and blankets as he can to deliver to the homeless for Christmas this year. "Please help us by donating what you can!! If everyone looked inside their closet I guarantee you could find at least one thing that you no longer use. No one should be cold this winter if we can prevent it. Thanks so much for your support."
We will be accepting donations through December 31st. Donations can be dropped off at NHC Springfield around back on the sun porch anytime. If they can be in a box/bag labeled Thomas's Closet that would be great. 608 E. 8th Avenue Springfield TN.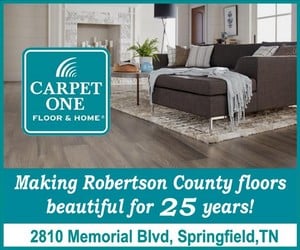 We will be taking some of them to the Nashville Rescue Mission in Nashville. We would also like to donate to Lisa Cobb, the parent/school-homeless liaison for Robertson County schools as well as the Greater Faith Community Action Corporation and Master's Table in Robertson County.
Again, if you have any extra coats or blankets that you no longer need please donate to us.
Help us keep the people in our community warm!!!! Nobody deserves to be cold when we can prevent it!!!! #ThomassCloset Visit Thomas on Facebook
Smokey Barn News (Advertisement)
We bring you ALL the News in and surrounding Robertson County, Tennessee.

Smokey Barn News (Advertisement)