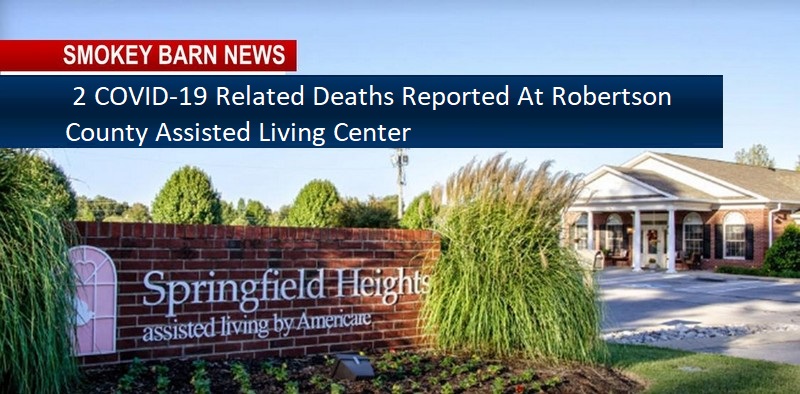 2 COVID-19 Related Deaths Reported At Robertson County Assisted Living Center
SPRINGFIELD TENNESSEE: (Smokey Barn News) – One-week after reporting that the COVID-19 virus had penetrated their Springfield facility, Springfield Heights assisted living by Americare in Springfield is reporting that two residents have died from complications of the virus.
According to a representative for the facility, located at 2540 S Main St, Springfield, TN MAP,  one reported death was a resident in hospice at the facility and the second was being treated at the hospital.
UPDATE: 3rd COVID Death Reported At Springfield Assisted Living Center
"The facility continues to care for a total of 14 residents in-house who tested positive for COVID-19. All residents in the community are currently asymptomatic regardless of test status. Three additional employees have tested positive, bring the total to nine employees who have tested positive and remain off work," a release from Americare stated.
"The local hospital, NorthCrest Medical Center in springfield, volunteered to supplement the Springfield Heights community with two direct care staff and assistance with food service. In addition, seven employees from Americare communities throughout the region are assisting with resident care and meal service."
"We are deeply saddened by the loss of two residents," comments Patricia Cokingtin, spokesperson for Americare Senior Living. "We are thankful for the assistance being given by North Crest Hospital and our Americare staff from the region during this difficult time. We continue to do everything we can to ensure we stop the spread of this within our facility and are thankful that all residents are symptom free."
"All residents remain on in-room quarantine and those testing positive or negative are being cared for on different halls of the facility. All residents are being checked every 4 hours during waking hours for symptoms. All staff is wearing N95 masks while in the building and gloves while in resident rooms. Positive testing residents remain on droplet isolation protocols in their rooms. All residents and resident family members are being kept informed of care within the facility. All local and state health departments are being kept apprised as well."
The latest from the Tennessee Department of Health. Robertson County has a total of 335 confirmed positive COVID-19 cases. Up 18 from yesterday. For Smokey's full report on the numbers updated daily, click here.