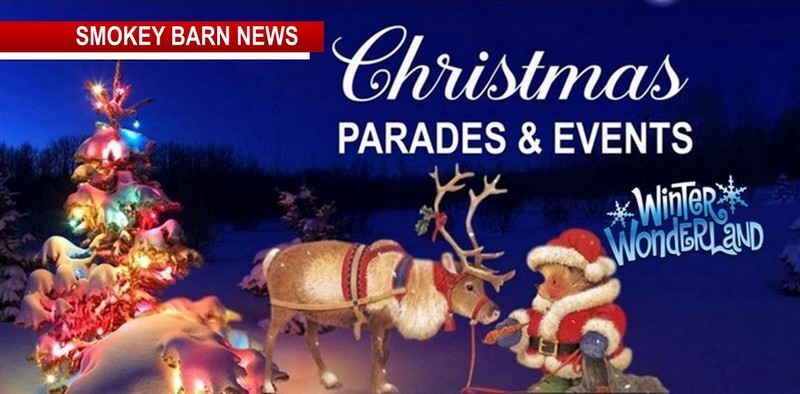 2022 Christmas Parades & Holiday Events Across the County and Beyond!
ROBERTSON COUNTY TENNESSEE: (Smokey Barn News) –The 2022 Christmas season is approaching fast, are you ready? Below is a list of all the local parades scheduled, Winter Wonderland, toy drives and more holiday events you won't want to miss.
Mark your calendars and save the dates and reload this page often for newly added events throughout the season.
FOR THANKSGIVING COMMUNITY MEALS, CLICK HERE

Reload this page often to see new events added… 

(Greenbrier, TN): November 12, 2022 Bobcat Bazaar and Donut Dash – Greenbrier High School *Home of the Bobcats* AT 8 AM – 3 PM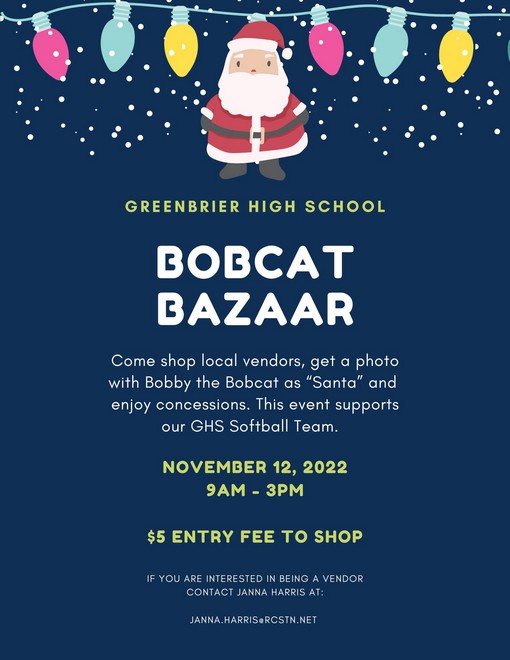 Come out to the Bobcat Bazaar and Donut Dash! It will be a great day filled with running, shopping, food, and fun. Come and join us!!!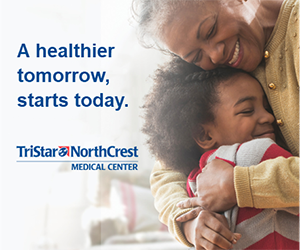 Food/Coat Giveaway,Hot Meal Served Nov. 19th By Hillcrest Church of Christ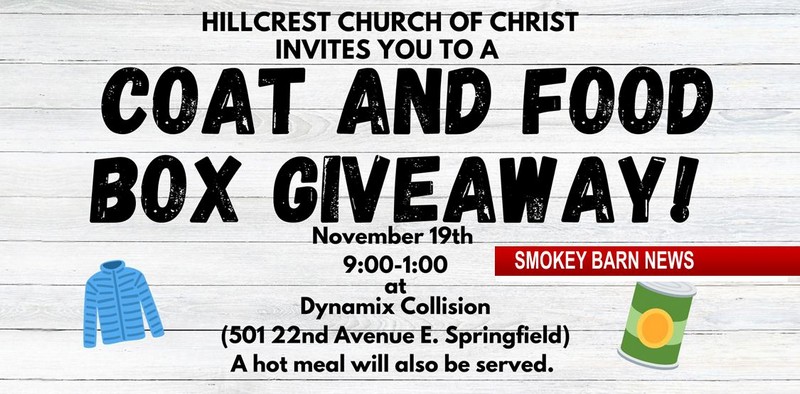 The Hillcrest Church of Christ invites you to a Coat and Food Box Giveaway on Saturday, November 19, 2022 form 9AM to 1PM at the Dynamix Collision center located at 501 22nd Avenue East in Springfield, TN
Over 250 coats of all sizes, food boxes will be available. A hot meal will also be served.
(Springfield, TN): SATURDAY, NOVEMBER 19, 2022 AT 6 PM – Springfield Christmas Parade – Rudolph's Night to Shine
This year's parade will once again be held at night! We want to see tons of colorful bright lights and of course there will be a winner for Best Float Design and the winner will be based off of keeping in line with the theme. We all need some extra cheer and there is no better place to get your fill than the Springfield Christmas Parade. Bring your best, we cannot wait to see you!
'Kiwanis for Kids' Toy Drive
The Chamber of Commerce is one of the collection sites for the 'Kiwanis for Kids' toy drive. We will have toy collection boxes at the parade check-in site. Parade registration fee is a new unwrapped toy for Toys for Tots per vehicle/float. We ask that groups of 5 or more bring multiple toys. The need is bigger than ever this year. We will also accept cash/gift cards for Walmart etc to shop for the older children.
NO LIVE SANTA'S ALLOWED ON FLOATS!!
There is ONLY one Santa in the Christmas Parade and we have secured him and Mrs. Claus.
Please Register ONLINE through the ticket link if you want to be in the parade so that we can communicate with you with details for parade staging.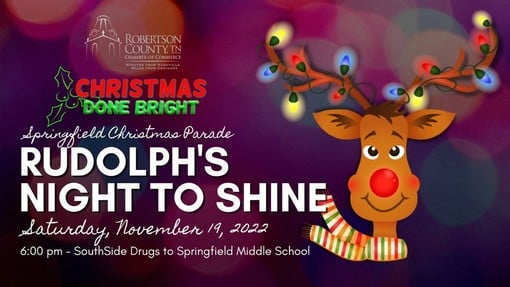 Reload this page often to see new events added…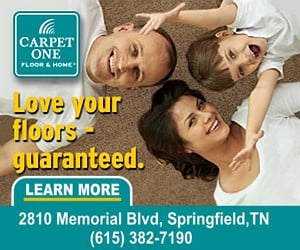 (Goodlettsville, TN) RiverGate Mall: Saturday, Nov. 19, 2022 SANTA'S ARRIVAL EVENT at 12 PM – 2 PM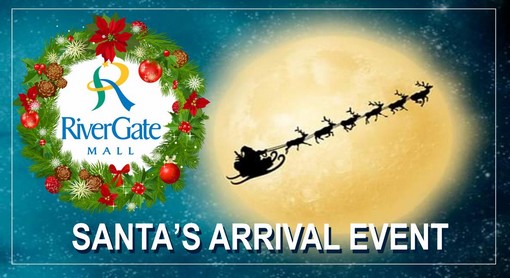 1000 Rivergate Pkwy, Goodlettsville, TN 37072
Welcome Santa in from the North Pole!
Face painting * Selfie Station * Balloon Artist * Bounce House * Character Visits *
Gift Bags-1st 250 kids * Milk & Cookies–1st 250 kids * Special Appearance from Santa Clause
Santa's Arrival Event will be located inside and to the right of the food court eateries
A huge thank you to our sponsors: The Next Level Games, Chick-fil-A and Murray Filter Sales & Service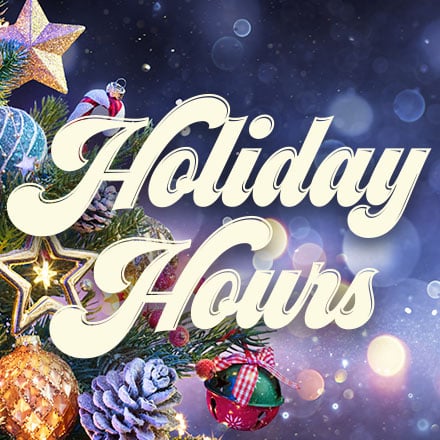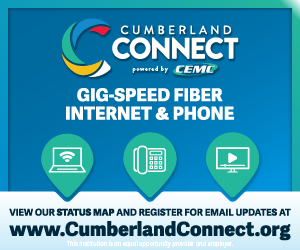 November 23-27: A Charlie Brown Thanksgiving
Apple TV+ recently announced that it will make all of the Charlie Brown holiday specials free for nonsubscribers from November 23 through November 27.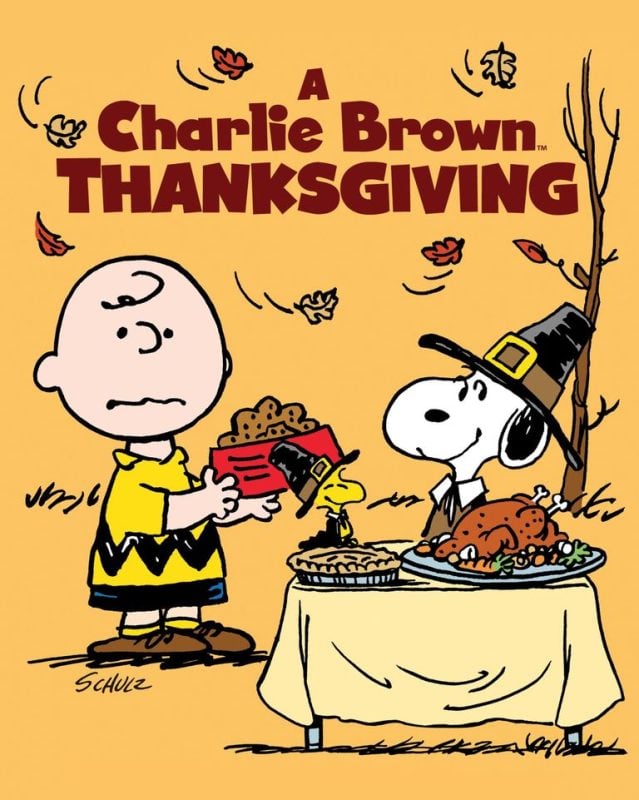 (Ridgetop, TN): December 2, 2022 at 7:00 p.m. – Ridgetop Natural Gas Christmas Parade
Friday Set up at Watagua Elementary School. Float Line-Up begins at 5:30 p.m. All floats must be in position by 6:30 p.m. to participate. Parade will being promptly at 7:00 p.m. Important must follow drop-off points and appropriate float entrance route. No float can have a Santa or Mrs. Clause on it. The city will take care of that.
Float application: Click Here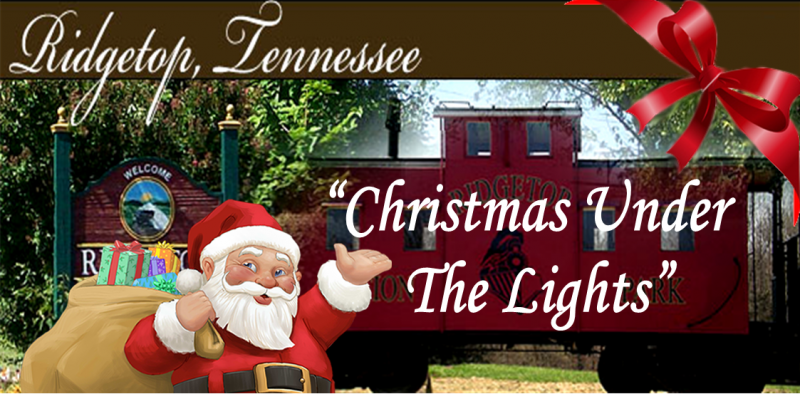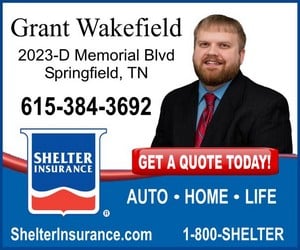 (Pleasant View, TN):  December 3, 2022 @ 10:00AM – "Christmas Movies" is the theme! Floats, candy, cars, Toy Drive, Santa and more!

Reload this page often to see new events added…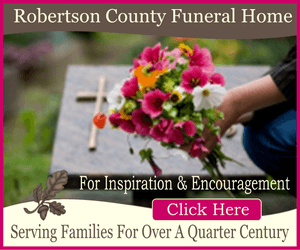 (Cross Plains, TN): SATURDAY, DECEMBER 3, 2022 AT 7 AM – Christmas in Cross Plains
Get in the Christmas Spirit! Main St., Christmas market from 7 AM to 2 PM with food trucks, handmade items, baked goods, and merchants with great last-minute gifts.
• Pancake breakfast at City Hall
• Christmas parade
• Tour the Doctors House museum and library
• Silent auction benefiting Robertson County Casa
• Cruise In Car Show
• kids crafts
• Live nativity
• Christmas program visit with Santa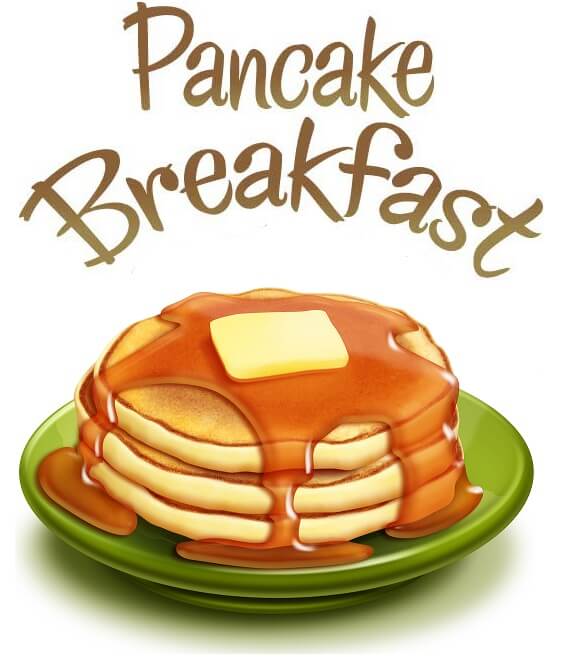 Pancake Breakfast By East Robertson Striker Club AT 7 AM at Cross plains City Hall 
Please come join us for a Pancake Breakfast hosted by The ER Striker Club. Donations at the door.
All proceeds go to help the East Robertson Soccer program.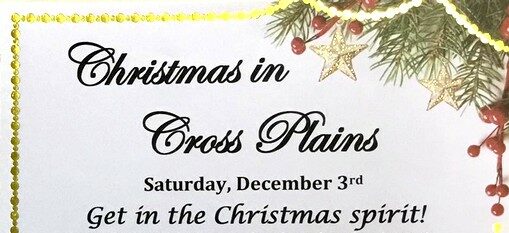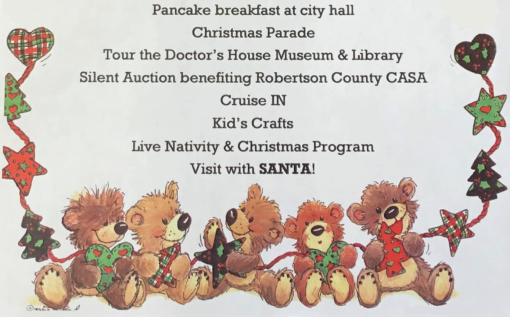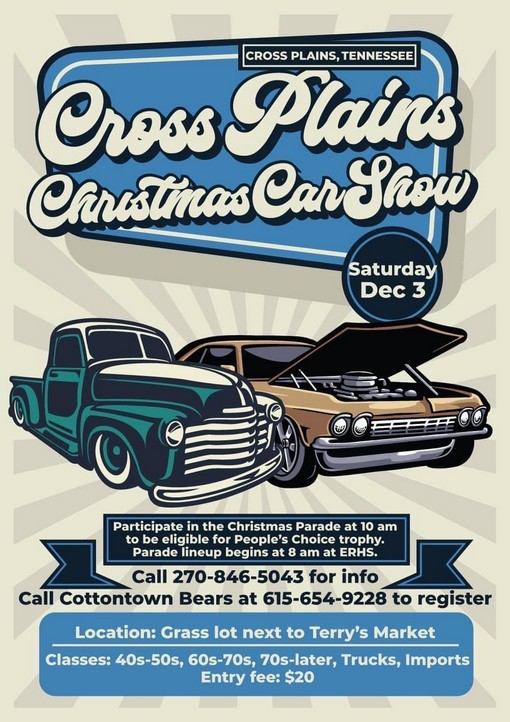 Reload this page often to see new events added…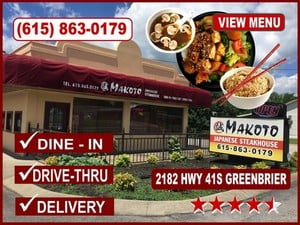 (Adams, TN): December 3, 2022, Tinsel and Tobacco Christmas Parade, Santa & Cookies!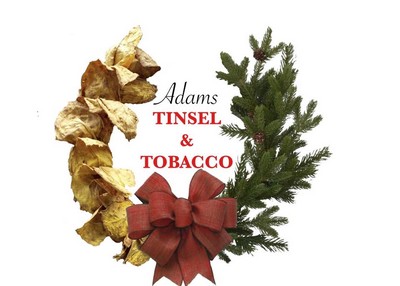 Get the Christmas season started with us.
The Christmas parade starts at 3:00pm.
Tree lighting with the parade Grand Marshal and parade float awards will be directly after the parade at the Omer Gene Brooksher Pavilion.
We will also have cookies with Santa after the parade at the pavilion.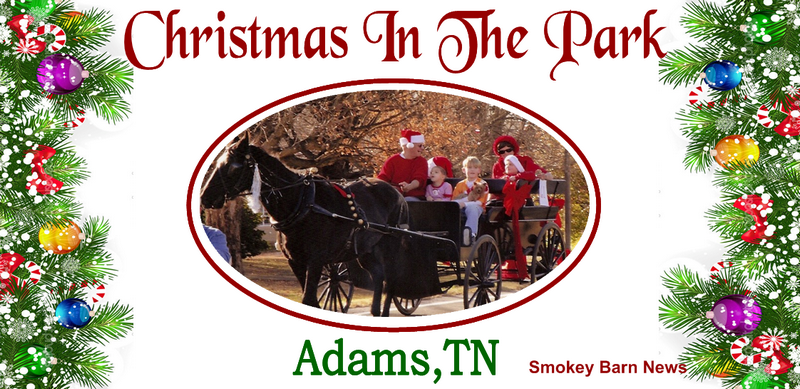 Be a part of the Adams Parade:
The City of Adams is looking for individuals or companies interested in placing a float or vehicle in the Christmas Parade on December 3rd at 3 o'clock.
Prizes for 1st and 2nd place best float!! Any one is welcome!
If you are interested, please call 615-696-2593.

Reload this page often to see new events added… 

(Greenbrier, TN): December 3, 2022 – Christmas In the Park at Louise Martin Park from 10AM to 3PM.
Retail vendors, food trucks, Christmas games, Kids' activities, Santa, and more!
Christmas Parade at 6PM
"The weather is supposed to be FANTASTIC on December 3rd and we are still accepting vendor applications!"
Email Tracy Coleman at [email protected] or call 615-643-4531 for more details.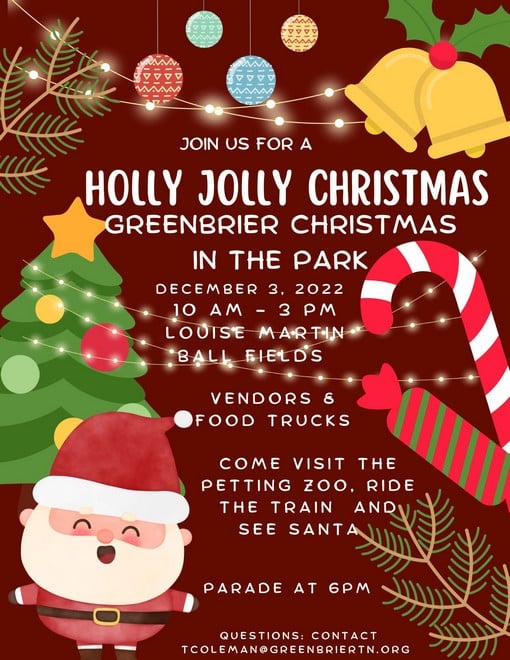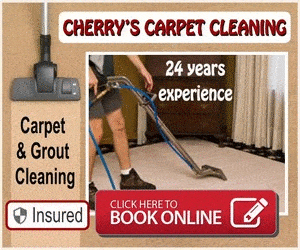 (White House, TN): SATURDAY, DECEMBER 3, 2022 AT 3 PM – 5:30 PM – Christmas Parade & Christmas on Main Street
Location: Billy S Hobbs Municipal Center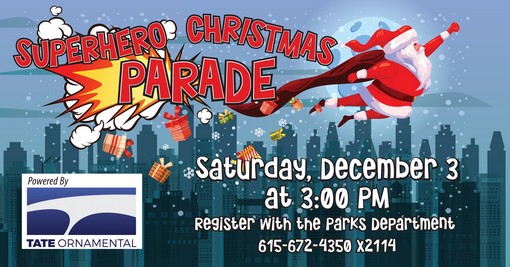 Event by White House Area Chamber of Commerce and City of White House, Tennessee – City Administrator's Office
Tate Ornamental is proud to power the annual White House Christmas Parade with a super fun, Super Hero Christmas theme!
Register to be part of the parade here and make sure to give plenty of details on your float so the Parade Emcees can tell the crowd all about you when you reach the Grand Stand!
The parade will leave White House Municipal Park on Highway 76 at 3:00 pm and head East towards City Hall, turning South onto Highway 31W and ending at the intersection of West Drive and Highway 31W where floats will disperse.
Walkers that are participating in the parade will continue back to the park via West and Elementary Drive. Please note traffic will be blocked near the parade route for approximately an hour beginning at 3:00 pm or until the parade is over.
The parade will feature floats and entries from individuals, local businesses, schools and churches. There will be awards for the top three entries as determined by a panel of judges selected by the White House Parks & Recreation Department.
Immediately following the Tate Ornamental White House Christmas Parade will be A Main Street Christmas Celebration!
Activities will include:
– Free Refreshments
• Cookies & Milk Compliments of
White House Utility District
• Free Hot Cocoa from Deja Moo
• Free Popcorn & More
– Live Music from local school choirs
– Free photos with Santa in the Library
– Letters to Santa Station compliments of White House Dental
– Mayor of the Day sponsored by Simmons Bank
– Tree Lighting Ceremony

Reload this page often to see new events added…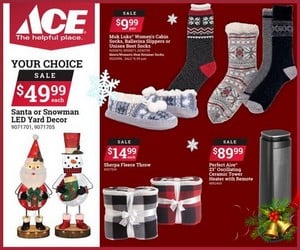 (Portland, TN):  SATURDAY, DECEMBER 3, 2022 AT 3 PM – 6 PM
Portland Christmas Festival & Parade – "Winter Wonderland"
Event by Portland Chamber of Commerce
Main Street activities begin at 3pm including food vendors, live music, cookie decorating, visit with Santa and more!
Parade will begin at 5:30pm at Freedom Drive and travel south on Highway 109 to Portland East Middle School. This year's theme is "Winter Wonderland."
Email [email protected] or fill out the parade application online

(Millersville, TN): December 10th, 2022 @ 1pm – Ugly Sweater Christmas Parade,  Ugly Sweater Contest, Christmas Movies & Popcorn at the Millersville Community Center.
Beginning at 1pm, Louisville Hwy will be shut down from Pole Hill Road to Long Dr. for the parade. The roadway will reopen right after the parade.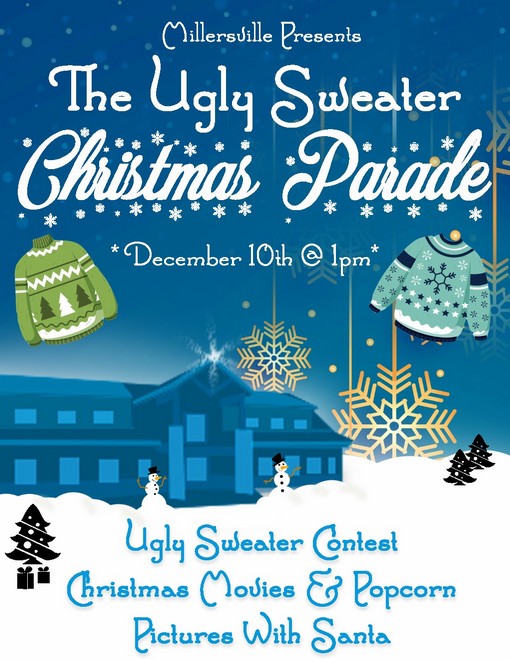 Reload this page often to see new events added…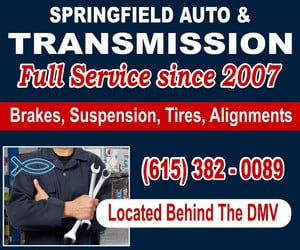 (White House, TN) December 13, 2022 – Robertson County Community Band Christmas Concert
🎄 Come join us in White House for our Christmas Concert 🎄
We will be in the brand new, three story, 26,000 sq ft, Billy S. Hobbs Community Center (City Hall). The Senior Center is on the first floor in the back corner. In the same municipal complex as the Library, Gym, Splash Pad, Amphitheater etc – Hwy 31W & 76. We are looking forward to our first performance there!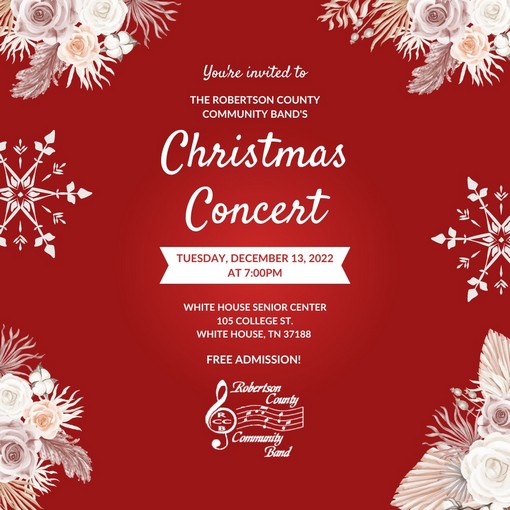 Springfield Parks & Recreation Present "Winter Wonderland 2022"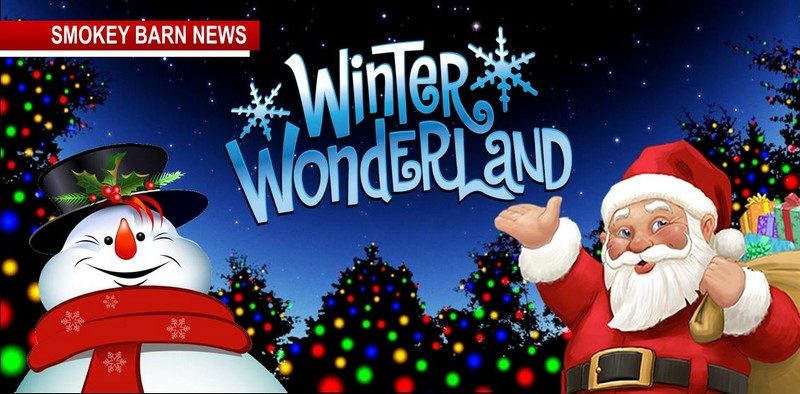 Enjoy thousands of Christmas lights and more than a dozen holiday scenes this holiday season.
Location: J. Travis Price Park, 4155 Wilks Road
DATES………….
WALK THROUGH 
December 9, 10, 16, & 17
Walk through the lighted candy cane trails to enjoy festive holiday decorations, music, fire pits, and visit with Santa on. Food will be available for purchase from a variety of food vendors.
Don't miss your chance to feed the animals in the petting zoo on December 10 & 17 only.
DRIVE THROUGH
Dec. 9th-10th, Dec. 11-15, 18-23:
walk-through or drive-through. Time: 5:30 PM – 9:00 PM. Visitors are not permitted to exit their vehicles during these dates.
In preparation for Winter Wonderland, J. Travis Price Park is closed to the public.
Fee: Free admission!
According to Springfield's Parks & rec Director Terry Martin, "All parking will be in the back of the park by the ballfields with shuttle buses running from the back to the front on the 9th, 10th 16th and 17th.
It has been two years since we have opened the park to walk through and we are excited for everybody to come out and get out to enjoy the sights and the scenes along with the lights and have a great time with your family. We will have picnic tables at the food truck area where you can sit down and eat and enjoy yourself and live Christmas music all through the park."

Reload this page often to see new events added…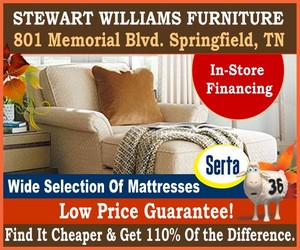 December 22-25: A Charlie Brown Christmas Airs on TV!
Apple TV+ announced that it will allow everyone (even non subscribers to watch the holiday special for free from December 22 to December 25.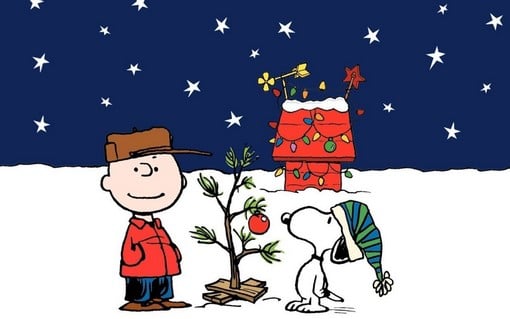 SHARE YOUR LIGHTS WITH SMOKEY READERS
If you are proud of your Christmas Lights and decorations and you are comfortable with hundreds of people driving by your home, send us a video or photo to [email protected]
If you know of any other great light displays in the area, let us know.
Email:
OR


Mobile: To See The Latest Stories or to share this article, scroll below