3 Suspects In Sunday's Shooting/Robbery In Springfield Arrested
SPRINGFIELD TENNESSEE: (Smokey Barn News) – On Sunday night a Springfield store owner was shot several times in an apparent robbery attempt. Now Springfield Police say they have the shooter and two accomplices in custody.
Police say that just a little after 10:p.m. a man ran in the door of the Korner Market, located on the corner of Main St and 18th Ave MAP, and pointed a gun at the clerk. Police say the clerk reached for the gun to try and push it away and the two went to the floor in a life and death struggle, all captured on the store's surveillance system.
During the struggle the suspect fired the gun three times hitting the clerk two or three times in the upper thigh and hip area.
The clerk was the store owner, Aliradhi "Ali" Alziyady.  Police say based on video evidence of the robbery that Ali was likely shot with a .22 AR 15, which is a compact AR 15 converted to shoot .22 rounds.
Though he was shot three times, Ali's injuries were not life threatening. All three rounds hit Ali's upper thigh and he is now home recovering.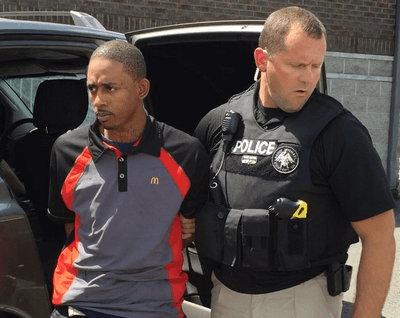 This afternoon Springfield Police took Samuel Demonte Bradley, 22 of Antioch Tennessee into custody. Bradley was picked up at a McDonald's in Smyrna where he worked. Police say he did not resist and was taken into custody without incident. Smokey Barn News was on hand when Bradley was brought in for questioning and we'll have a video report available shortly.
Police were initially led to the suspects after receiving a tip from a citizen that recognized Samuel Bradley from a photo taken from the security footage of the robbery. Samuel Bradley will be facing charges of Especially Aggravated Robbery and Criminal Attempt to Commit First Degree Murder.
Police also arrested two other men that they say were accomplices in the robbery. Larry James Taylor, 26, of Nashville and Ta'kin Briley, 19, of Springfield, both were picked up in Springfield and are currently at the Robertson County Detention Facility in Springfield. Police allege that Taylor and Briley were part of the planning and were at the scene during the robbery. They will both be charged with Especially Aggravated Robbery.
For all of his efforts, which included shooting an innocent man three times, the gunman got away with nothing.
Police also said that all three men could be facing additional charges at the Grand Jury.
Anyone with information concerning this crime is urged to contact CrimeStoppers at (615) 382-3799. CrimeStoppers will pay up to $1000 for information that leads to an arrest in this case. Detectives with Springfield Police can be reached at (615) 384-8422. After hours you can call 615-384-4911 for urgent tips.
UPDATE: The three suspects have admitted to taking part in the robbery during their interviews by detectives. The Springfield Police Department is grateful for the help they received from the public in this case as well as the Metro Nashville Gang Unit.
Reported Earlier:
Springfield Store Owner Shot During Aggravated Robbery (RAW VIDEO)
Smokey Barn News (Sponsor/Advertisement)
We bring you ALL the News in and surrounding Robertson County, Tennessee.