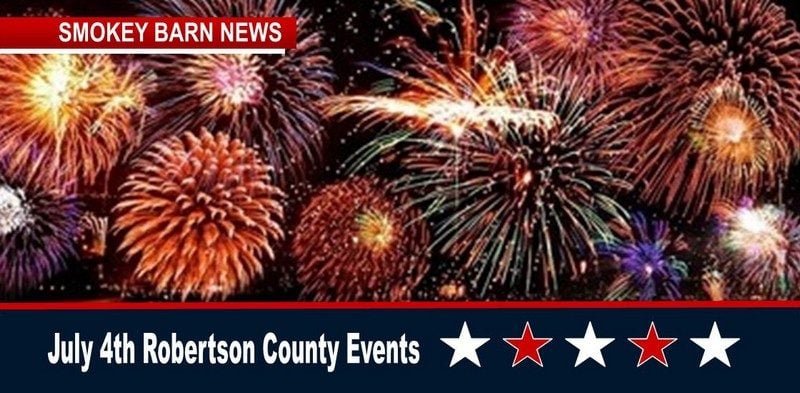 4th Of July, 2022 Events & Summer Activities Across The County
ROBERTSON COUNTY TENNESSEE: (Smokey Barn News) –There are a lot of great Independence Day Celebration events to choose from this year and several ways and dates to catch a good fireworks show. The numerous fun events run from July 1st until July 9th and Smokey Barn News has packaged them up for your convenience.
Below is a breakdown of what's going on…

Adams, TN – Adams Big Boom Independence Day Celebration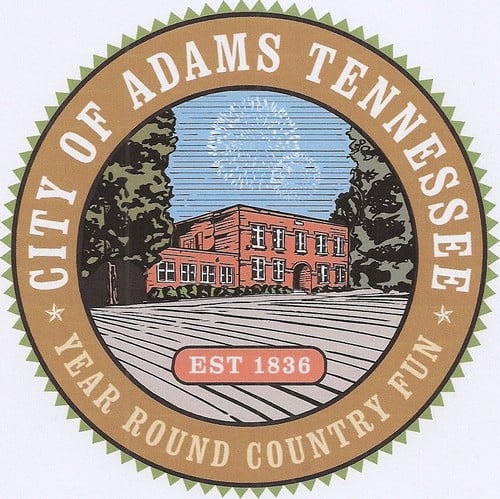 SUNDAY, JULY 3, 2022 -10am-Dark
7617 US-41, Adams, TN 37010-5015, United States
FOOD, FUN, CORNHOLE TOURNAMENT & FIREWORKS!
Joins us in celebrating American Independence with fun, food, and fireworks! Park opens at 10 am. The cornhole tournament will begin at noon. There will be food, live music, and fireworks at dark!
Adams big boom cornhole tournaments Sunday, July 3 at 12 noon $25 per team winning team earns half of entry fees call Adam City Hall at 615696–2593 to sign up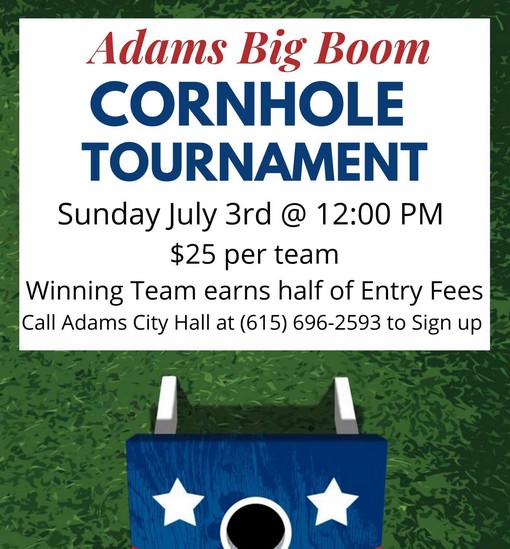 Cross Plains, TN – Independence Day – July 4, 2022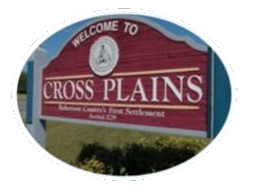 Join us Independence Day – July 4, 2022, for some great traditions in Cross Plains on Independence Day. Best of all, they are FREE!
Kilgore Remembrance Ceremony, Flag Ceremony, Food, Live Music & Fireworks
The Kilgore Remembrance Ceremony will be conducted by the Cross Plains Heritage Commission, 9:00 AM, at the Villines Cemetery just west of downtown. The program includes a guest speaker, long hunters, and a flag ceremony. Bring your lawn chair.
Join us for live music in Kilgore Park beginning at 5:00 PM on July 4 leading up to the big fireworks show at about 9:00 PM.

Greenbrier, TN – (Two Days) July 3: Turning Of The Pig! July 4th: BBQ sale & Independence Day Parade!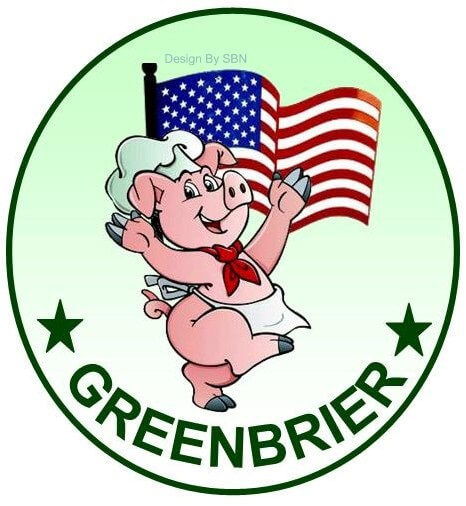 One of the largest fundraising events for the Greenbrier High School Band program is the annual Turning of the Pig which has been held in Greenbrier, TN for over 100 years and will be celebrated in a brand new location this year
Here is the schedule of activities for the Greenbrier's Turning of The Pig…
The Turning of the Pig is a large community-wide festival held annually on July 3rd (4pm-until) at the Louise Martin Ball fields in Greenbrier.
Enjoy food, carnival games, live entertainment, local artisans, and family fun.
Hundreds of pounds of pork are cooked on open pits during the festival and pulled pork is available for sale by the pound beginning the morning of July 4th.
For a vendor/sponsor application please send an email to [email protected]
Greenbrier July 4th- Annual BBQ Sale 6 am-noon:
Pork by the pound, Whole Boston Butts, Family Packs!
All profits generated from this event will go to support the amazing band program at Greenbrier High School.
Preparations are already underway for this year's event and vendors are invited to apply for a booth at the 2022 Turning of the Pig!
Greenbrier July 4th – Independence Day Parade
The parade will start at Greenbrier Elementary School
and end at Greenbrier High School. If you would like to participate in the parade, please visit Greenbrier City Hall to complete an application. Participants should plan to arrive at Greenbrier
Elementary School by 9 am.

Greenbrier's Calvary Baptist – INDEPENDENCE DAY CELEBRATION 
Sunday, July 3, 2022, at the pavilion
COME AND ENJOY THE FOOD, FELLOWSHIP, GOOD GOSPEL SINGING & BIG FIREWORKS
2806 Hwy. 41 South, Greenbrier TN 37073
Cookout @ 6:00PM
Church Members, Please Bring Desserts. Love offering will be
taken. Bring Lawn Chairs.
Singing @ 7:00PM & FIREWORKS @ DARK
Fun For The Whole Family!
615-643-7737

Millersville, TN – Bluegrass Festival – July 1, 2022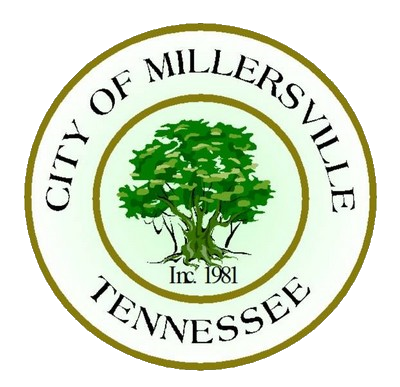 GET READY FOR the BLUEGRASS FESTIVAL again this year! FREE for everyone!
Food trucks, Music, Crafts and FUN! Bring a chair for the back lawn.
Second Annual Bluegrass Festival at the Millersville Community center located at 1181 Louisville Highway, Millersville, TN on Friday July 1, 2022.
The show begins at 8 PM with food, crafts and family fun, featuring Mike Compton, Plan B, Charlie Cushman,  Andy Todd Kent Blanton, Brian Christiansen with special guest Mike Armistead AND The Ridgetop Ramblers plus Josh Goforth!
Bring a lawn chair!

City of Springfield, TN – Freedom Fest July 3, 2022 at the Robertson County Fairgrounds from 3pm to 9pm with Fireworks!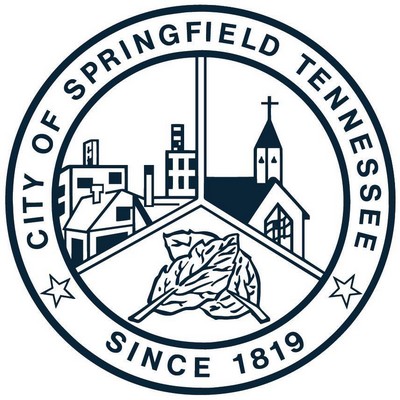 Date: Sunday, July 3, 2022 at the Robertson County Fairgrounds.
Enjoy carnival rides, Inflatables, youth games and activities, vendors, food trucks, and more. Free admission.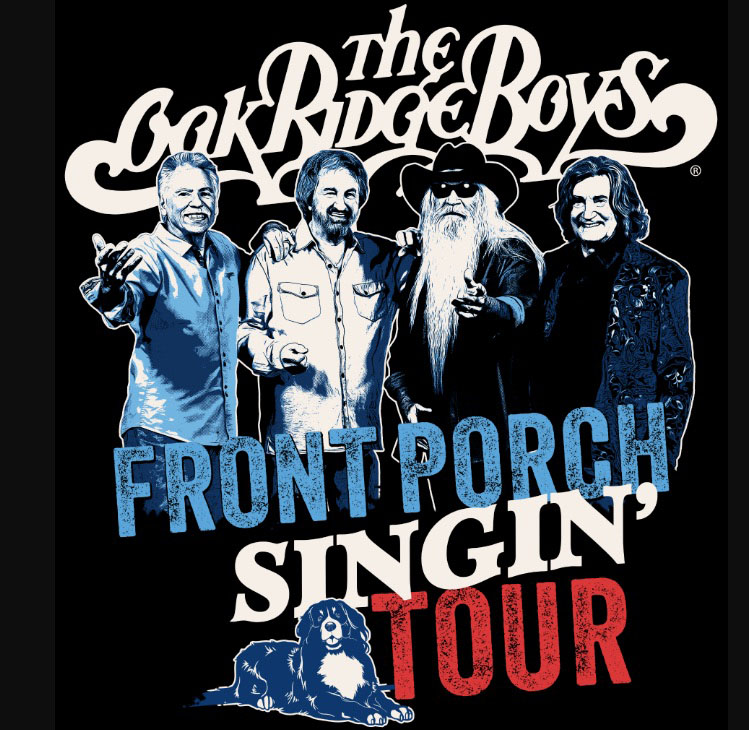 Gates open at 3:00 PM.
Time: 3:00 PM – 9:30 PM.
Music begins at 3:45 PM.
The Oakridge Boys to perform at 7:20pm
Carnival rides close at 8:30pm
Fireworks by the Springfield Parks & Rec dept. will begin at 9:00 PM.
These items are not allowed into Freedom Fest:
NO pets (except for service animals).
NO alcoholic beverages.
NO drugs and drug paraphernalia.
NO coolers.
NO outside food or drinks.
NO flash photography, camcorders, or recording devices after 7:00 PM. (Exception to policy: media reporters & official photographer).
NO offensive/obscene language.
NO roaming solicitation of any kind.
NO amplification devices.
NO drones over the event area.
NO unauthorized/unlicensed vendors are allowed in or around the venue.
NO glass.
Any violation of these policies will result in expulsion from the festival.
These items are allowed into Freedom Fest:
YES chairs and blankets
YES sunblock
YES baby food/formula (no glass)
YES food for medical purposes
YES service animals
YES purses and handbags (subject to search upon entrance)
YES mobile phones
YES hand sanitizer and baby wipes
YES baby strollers and wagons with accompanying child
Lost child station: There is a Lost Child Station located at the Robertson County Sheriff's Office command post. The command post is shown on the festival map.

White House, TN – Americana Celebration (Carnival) & Brandon Webster Fireworks Show at the WL Anderson Sports Complex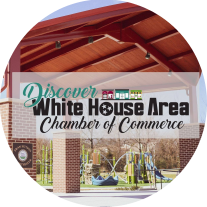 Laughter and the smell of funnel cakes will fill the air on July 9th at the White House Soccer Complex with headliners – Rubiks Groove!
There will also be a magic show before the music begins and a special local guest to entertain the crowd during intermission.
Food, Fun, Magic show, Carnival rides & Live Music!
Come hungry to enjoy some of the delicious food in food truck row and plan on some family fun at the free activities for kids and adults alike. If you want even more excitement hop over to the carnival for some thrilling rides and fun games.
Bring your blankets and lawn chairs for a fantastic evening of fun!
FREE Shuttle buses will run from City Hall, White House Middle School and the Church at Grace Park from 3:30 pm to midnight on Saturday, July 9th only, so you can avoid the hassle of parking and walking by hitching a free ride and being dropped off in the middle of the action!
Onsite paid parking opens at 4:00 pm, $10 per car to benefit local non-profit/school organization
Armbands for the carnival will be $25 on Saturday, July 9th or you can pay per ride. There is no cost to enter the carnival or the festival, only if you choose to ride or partake in food.
4:00 – Carnival Opens
4:00 – Food Truck Row Opens
5:00 – 8:00 FREE – Face painting, Balloon Twisters and Caricatures
5:00 – 9:00 – FREE Inflatables courtesy of Revolution Church
5:30 – Magic Show live from the Proampac Stage
6:30 – RubiksGroove live on the Proampac Stage
7:30 – Special Local Guest TBA
8:00 – RubiksGroove
9:00 – The Brandon Webster Fireworks Show
9:30 – RubiksGroove
City of White House, Tennessee –  🎆 FIREWORKS 🎆
With the Fourth of July right around the corner, the City of White House would like to prepare all residents with information about the local fireworks ordinance.
Title 11, Chapter 4, Section 11-402(i) of Municipal Code states the following:
The discharging of fireworks shall be prohibited anywhere within the city limits of White House between the hours of 10:00 P.M. and 10:00 A.M.
On July 4th of each year the hours prohibited begin at 11:00 P.M.
On December 31st of each year the hours prohibited begin at 1:00 A.M. (January 1st).

Neighboring Goodlettsville, TN – Independence Day Celebration July 4, 2022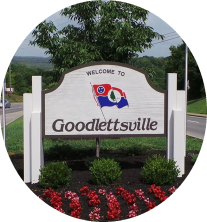 The City of Goodlettsville celebrates Independence Day on the 4th of July in Moss-Wright Park. The event begins at 4:00pm and concludes after the fireworks display, which is scheduled to begin at 9:00pm.
Kids Zone, Inflatables, Games, Lots of Food Vendors, Firemans Water Foam & Fireworks
A Kids Zone will be provided with inflatables, games, and fireman's foam. Wristbands can be purchased for the kid's zone the day of the event for $10.00 each. Cash Only.
We encourage families to bring a picnic blanket and chairs and enjoy food from one of our many vendors before the fireworks display begins.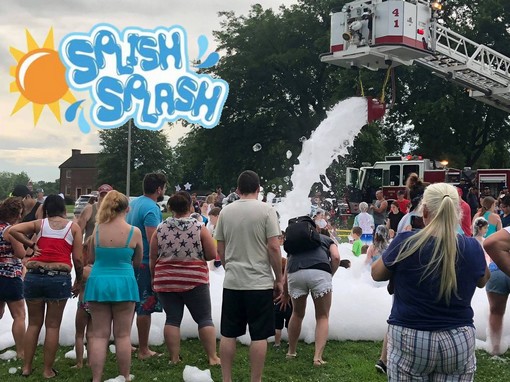 The event concludes with a spectacular fireworks display set to music.
What to do:
Do have fun
Do bring picnic blankets and chairs
Do bring water
Do bring a empty stomach for the food vendors
Do follow all parking guidelines and those directing parking
What NOT to do:
Do NOT bring sparklers or fireworks
Do NOT bring alcohol or glass containers
Do NOT go in marked off areas
Do NOT parked in areas other than those that are designated for parking
Pets are allowed, but strongly discouraged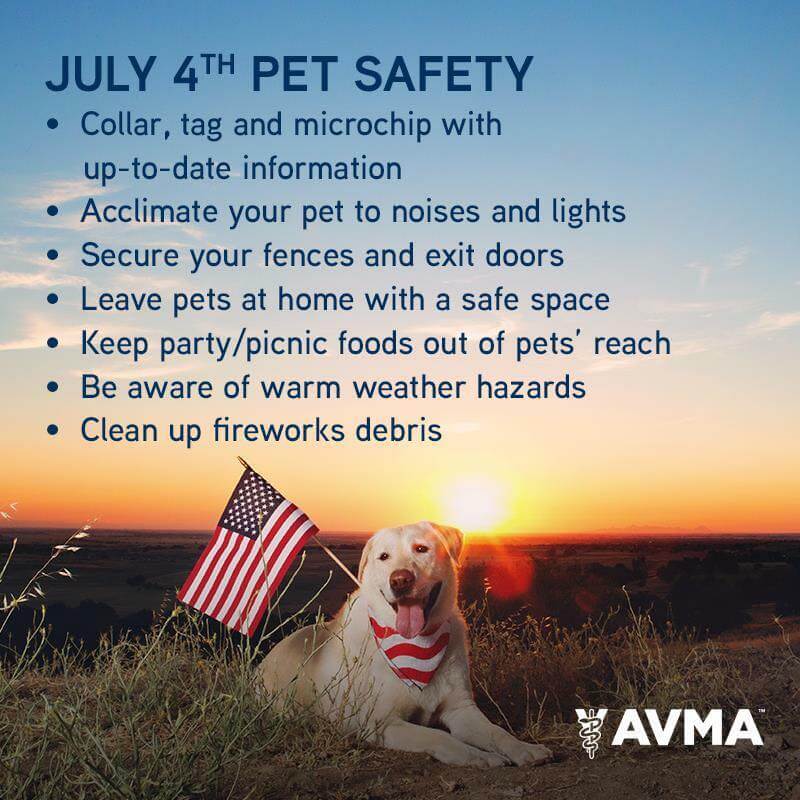 MORE Community Events & Announcements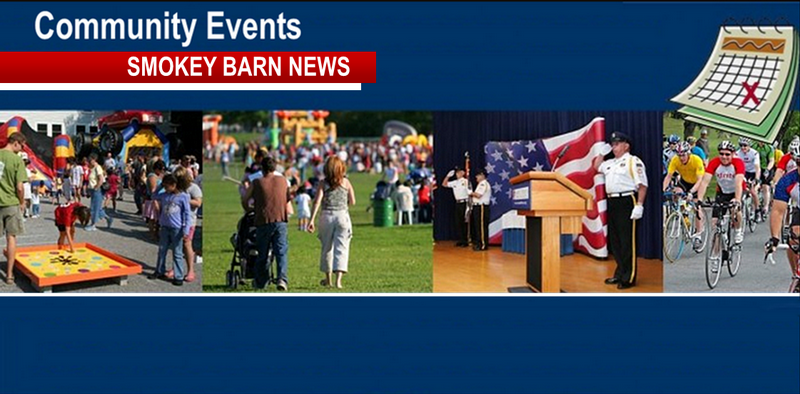 ROBERTSON COUNTY & SURROUNDING MIDDLE TENNESSEE
NOTE: Ongoing weekly events listed below upcoming events 

June 21: Millersville – Mini-art camp & Cookies with Cops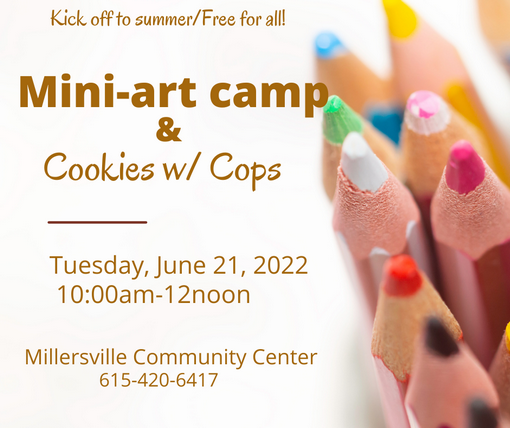 June 24 -25 Multi-family yard sale from 7AM til ?

2934 Highway 41S Springfield, Tn
Something for everyone

June 24: Goodlettsville Waterfest Moss-Wright Park from 10 AM – 12 PM
This free family festival is all about celebrating our rivers and connecting children to our local waters. (Event by Cumberland River Compact)
Hosted by the City of Goodlettsville and the Cumberland River Compact, this event combines education and fun: attendees will learn about the importance of water quality in our watershed through fun and engaging environmental-based activities suitable for the entire family.
Goodlettsville WaterFest will feature an educational scavenger hunt, waterslide, prizes, food, and much more!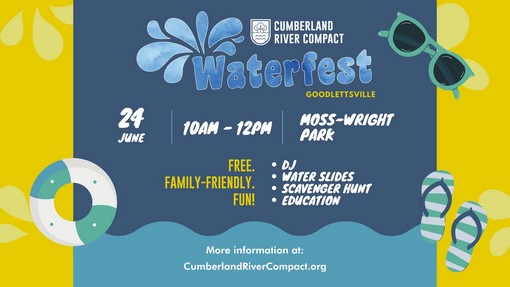 A parent or guardian will need to sign a waiver before kids can use the waterslide. If you plan to bring a day camp, please contact us in advance so we can coordinate the waivers.
You can email [email protected] or [email protected]

June 27: Caris Healthcare – Springfield Job Fair For RNs, LPNs, and CNAs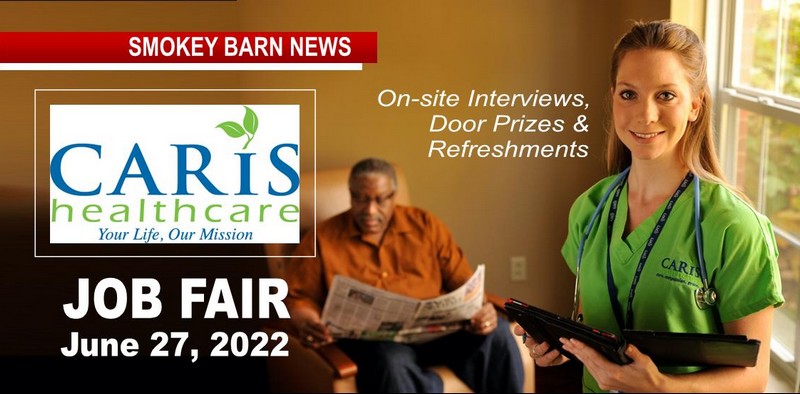 Caris HealthCare in Springfield is holding a Job Fair Monday, June 27th / from 10am – 2pm. Caris believes all patients and their family members deserve the best care and treatment throughout their time with us.
Caris offers Full-time, Weekend, and PRN positions with flexible hours. Low patient-to-staff ratio gives the chance to make a profound difference in the lives of patients and their families when they need us most.
They also offer free training for applicants with an RN or LPN license or CNA certification.
If you are compassionate and skilled, there is a place for you at Caris.
They will be conducting interviews on-site, please bring your resume Door Prizes and Refreshments will be provided!
Current openings:
– FT RN Case Management (10k Sign-On Bonus)
– FT RN Weekend On-Call (10k Sign-On Bonus)
– FT LPN Case Management (6k Sign-On Bonus)
-PRN RN/LPN Positions
-FT CNA Position
Date: Monday, June 27th / from 10am – 2pm.
Location: Caris HealthCare 2308A Memorial Blvd.; Springfield, TN 37172
Office Ph: 615-384-3833
e-mail: [email protected]
Caris Healthcare's guiding principles of hospice care are carried out every day by our team members. Join a company committed to the compassionate care of patients and families.
Can't Make the job Fair?
If you are unable to make the job fair but would like to browse our openings to apply, click – here.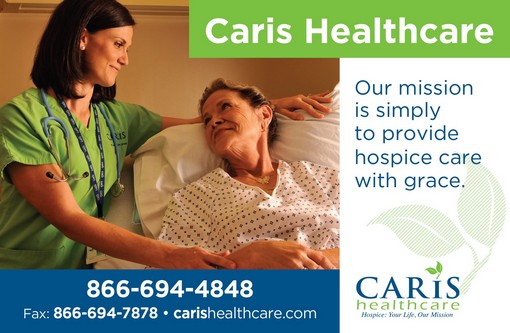 About Caris HealthCare:
Our nursing professionals, staff and volunteers are committed to excellence, while reflecting our core values of compassion, accountability, respect, integrity and service the Caris promise to you.
Caris has 28 offices in Tennessee, Virginia, Missouri, South Carolina and Georgia, and we are grateful to have been trusted with the well-being of more than 40,000 patients and their family members. Our unwavering commitment is to provide a graceful and peaceful end-of-life journey.

July 1: Cheatham County Cruise In from 5 PM – 9 PM
Hello hot Rod friends.
322 Frey St, Ashland City, TN 37015-1734, United States
Make plans to come out and join us. First Friday each month From 5-9 . Everyone is welcome. Cars Trucks Jeeps, Motorcycles, car clubs, I mean everyone. Come and hang out, there's some eating places at the square if you want to grab something.
If you want to entertain the crowd let me know so we don't overbook. But just come and take a break from everyday life. And enjoy the friendship. You never know who might show up.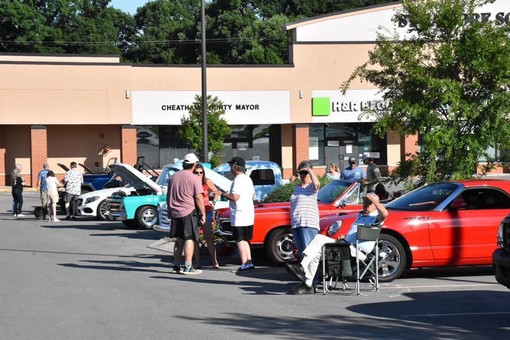 As always weather permitting. And parking is still in front of the government offices.
Cubs,Scouts,Girl Scouts, vendor s. If you want a few hours to set up and see what happens you are welcome to do so. Just let me know.
And due to no paper or news media . Will you please like and share our post.
Looking forward to seeing everyone soon.

July 16: Pleasant View Village Farmers & Makers Market
Join us from  9 AM – 1 PM to shop fresh farm products, baked goods, handmade arts & crafts and more from local Farmers & Makers.
July 16th, August 20th, September 17th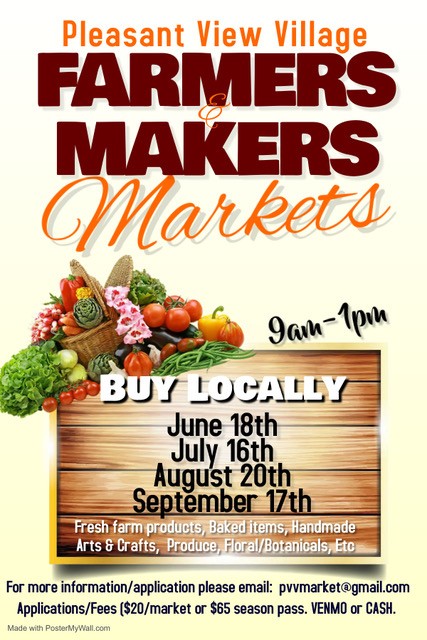 July 16: CRUISE'N N GROOVE'N in Pleasant View, Tn
SATURDAY:  5 PM – 9 PM
2501 Pleasant View Rd, Pleasant View, TN 37146-8040, United States
**********NEW LOCATION************
Cruise'n N Groove'n cruise-in at the Pleasant View Community Park, 2501 Pleasant View Road, Pleasant View, TN.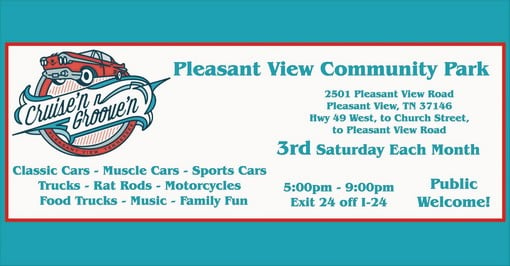 Starts May 21st thru October 15th. Times: 5pm – 9pm (or when the participants leave). We have DJ music, Food Trucks, "Pick of the Month" sponsored by O'Reilly Auto Parts.
At the October event, we will have our annual Trunk N Treat for the kiddos. For more info, contact 615-746-0600 or Jim Hutchens 615-517-1423 or Larry Rediker 615-419-5214.

July 21: Third Thursday of Every Month! —-Live Music, Food & Fun Kicks off the Cedar Hill Farmers Market Season 2022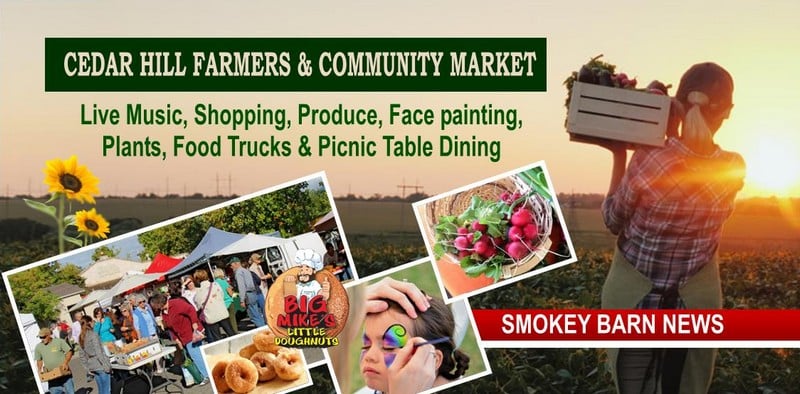 CEDAR HILL TENNESSEE: (Smokey Barn News) –The Cedar Hill Farmers & Community Market of 2022 opens Thursday, April 21 with shopping, produce, food trucks, face painting and live music!
When: Third Thursday every month from 5 PM CDT – 8 PM CDT
Where: Located behind Cedar Hill City Hall: 290 S Main St Cedar Hill, TN 37032
The Cedar Hill Farmers & Community Market is scheduled to run the Third Thursday of each month from April 21 thru September.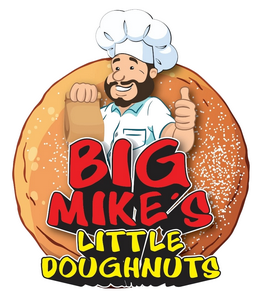 Nearly two dozen local vendors selling produce, clothing, plants, leather products,, jewelry, baked goods, candles, decor, meats, woodworks, cutlery, honey, CBD products, and so much more.
Delicious food can be purchased from the Santa Fe Food Truck, Taco Azteca and Retro Monkey shaved ice.
Big Mikes Little Doughnuts will be there for the perfect snack or dessert. Picnic tables will be placed near the food trucks to allow patrons to eat onsite if they'd like.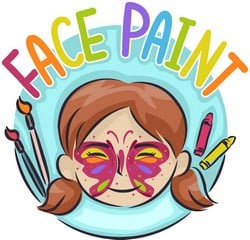 Live music!!!
We work tirelessly to try and bring you, local vendors, with local products.
If you are interested in being a vendor, please send a message (see info below).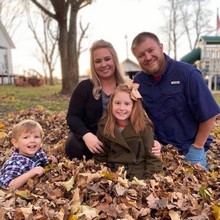 Outside vendors are welcome, but priority will be set on local availability, range of products, etc.
If you would like to become a vendor, contact City Commissioner/ Vice Mayor John Edwards by email at: [email protected] or call (615)585-5756
Bring your friends and family and experience the rural charm that so many love!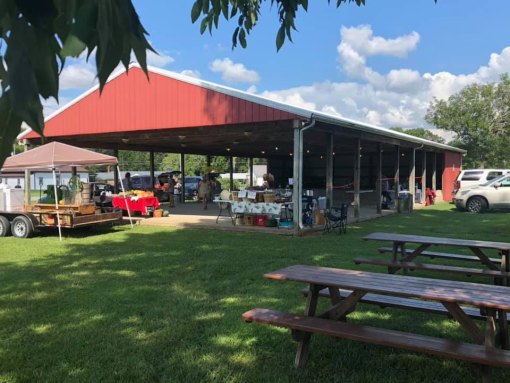 Every Saturday Night: Racing in Robertson County

Every Wednesday – Classic Tin Cruise In – Springfield, TN
Located in the parking lot next to the Waffle House in Springfield. Every Wednesday night from 5-9PM. For more info call Shlby Horner at 615-336-2257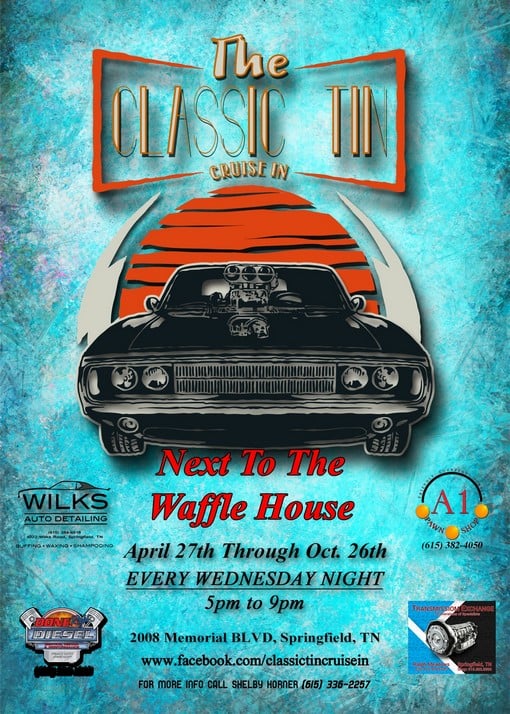 Millersville, TN Library
Click the Banner below for the full calendar of events including Art ventures, storytimes and more!

White House, TN Library
Click the Banner below for the full calendar of events including sewing, storytimes, anime' drawing, chess club and more!


Springfield's Stokes Brown Library
Click the banner for all the summer activities planned!


Robertson County Senior Center In Springfield, TN
Lots of fun events every month, sign up for the newsletter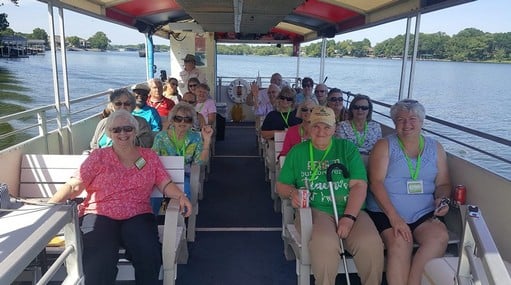 Our Operating hours will remain from 9:30am- 2:30pm. This allows adequate time to sanitize and prepare for activities.
We plan to add many activities in May like, our Harmonica class, another exercise class, etc. We also plan to start our "Out & About trips again!
WOO Hoo! Things are really looking up!
Can't wait to see your smiling face!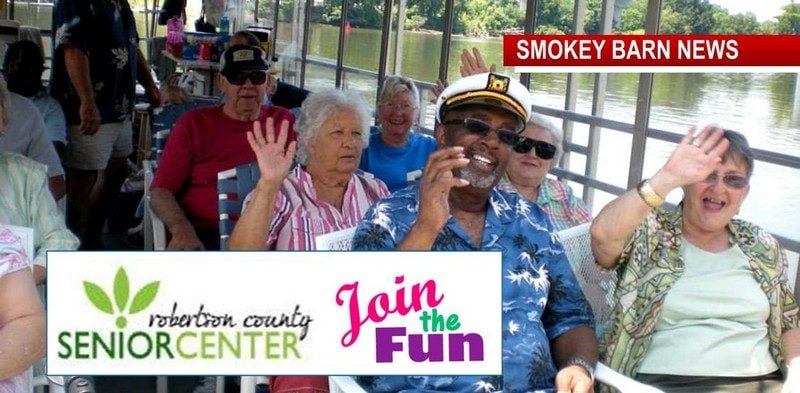 Check out all the fun activities planned each month, Join us on FaceBook

(Robertson County, TN)
The Robertson County Animal Control is overwhelmed by the current overpopulation of pets in our county
We have been working diligently to improve the situation in our area and lower our euthanasia rates. This has only been possible with support from our commissioners and mayor, and leadership of our Director Kevin Clinard. We promote spay and neuter. Please contact our office for information on low cost spay and neuter or to schedule to have your pet fixed.
Robertson County Animal Control
2900 W. County Farm Rd.
Springfield, TN 37172
Email: [email protected]
Phone: 615-384-5611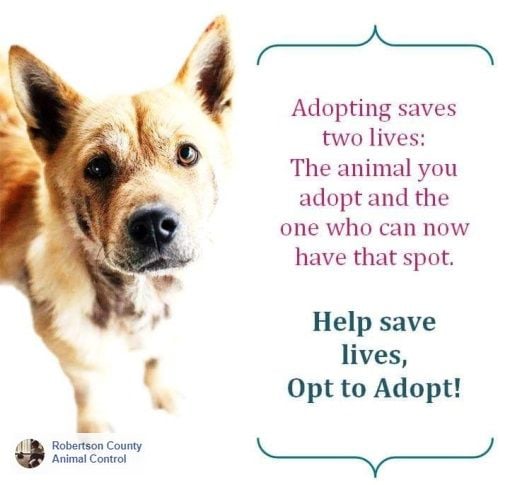 (Springfield, TN)
Orlinda, TN Byrum Porter Senior Center
ORLINDA TENNESSEE: (Smokey Barn News) – The Byrum Porter Senior Center in Orlinda, TN offers…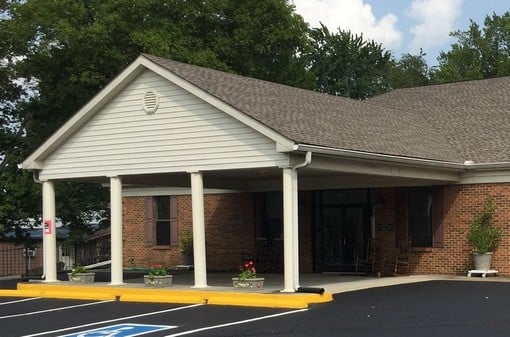 Byrum-Porter Senior Center in Orlinda, TN is open Monday – Friday from 8 am to 4 pm
We have everything from exercise classes, day trips, mystery lunches, extended trips, card games, dances and much, much more.
Checkout our newsletter to find out more about our dance themes, class times and trips on our website byrumporter.com or follow us on Facebook at Byrum-Porter Senior Center for all our fun activities.
Fitness after 50, Yoga & Tai Chi Exercise Classes, Dominoes, Canasta, Karaoke, Bridge, Shanghai Rummy, Footcare & Nail Appointments, massage appointments, paint classes and more. Request our monthly newsletter with all the details, just send an email to: [email protected]
Visit our exercise room
We have treadmills, stationary bikes, step climbers and a vibration training platform. If you can't get to our exercise classes or aren't comfortable in a group why not try this instead.
Thursday Night Dances: 
Come dance to the great tunes by The Good Time Charlie Band every Thursday night. Good Time Charlie Band rents the center on Thursday nights starting at 7 pm. Doors open at 6 pm. Limited menu available starting at 6 pm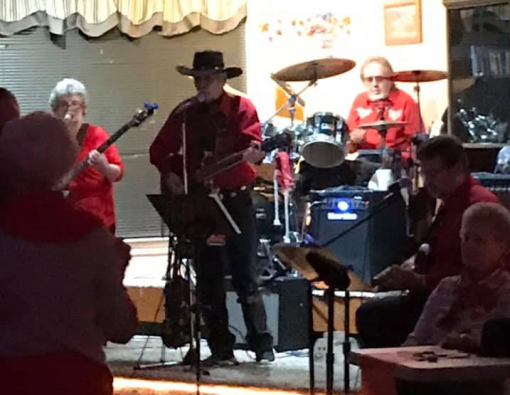 We love to Travel – Our 2021 Trips Collette Trips:
To view these trips, click here.
*All trips are subject to change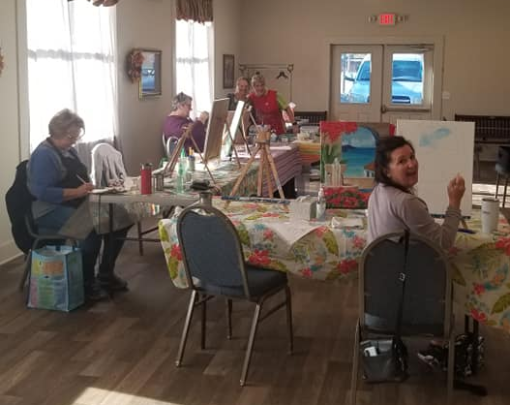 All events are subject to change. Changes will be posted on our Facebook page and our website.
Home Health supplies
We have walkers, canes, crutches, toilet risers, toilet bars, bed assist bars and a shower seat to loan if needed. We also have personal disposable hygiene items.
For updates call 615-654-3161
Location: 9123 Highway 49 E Orlinda, TN 37141
*The Center exists to make life more enjoyable for older adults, who reside in Orlinda and surrounding areas. Activities, Dances, Trips and much more.
*Coffee is always ready and waiting for you.

NOTICE: Food Assistance Available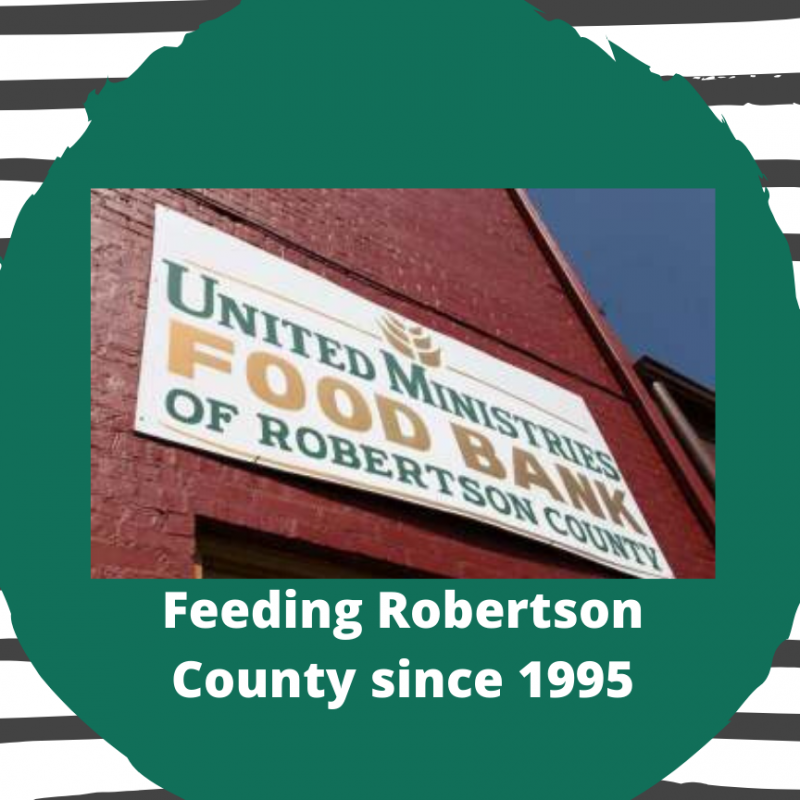 The United Ministries Food Bank would like to inform the residents of Robertson County that they are still helping with food needs.
If you are struggling to put food on your table they can help.
They are located at 808 S Main St. (beside Cope). Familes need to have ID's and Birthdays dates for all living at their residents.
Residents are welcome to come in monthly for assistance. If you have questions please call 615-384-8306.
Hours: Open Monday thru Thursday 10:30AM to 1:30 PM.

Notice: Food Pantry – Bethlehem Baptist Church Drive By Pantry 
Please drive up to Building A from the Hwy 76 entrance. Residents are asked to show proof of residence and an SSN# for each resident.
The drive-by pantry will be open on Wednesdays from 11am to 1pm.
Bethlehem Baptist Church – 5081 Bethlehem Road – Springfield, TN. 615-643-0333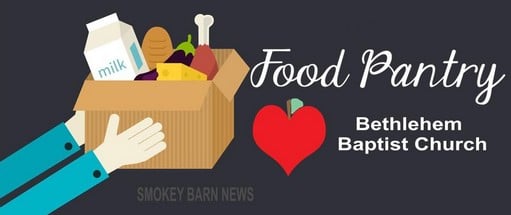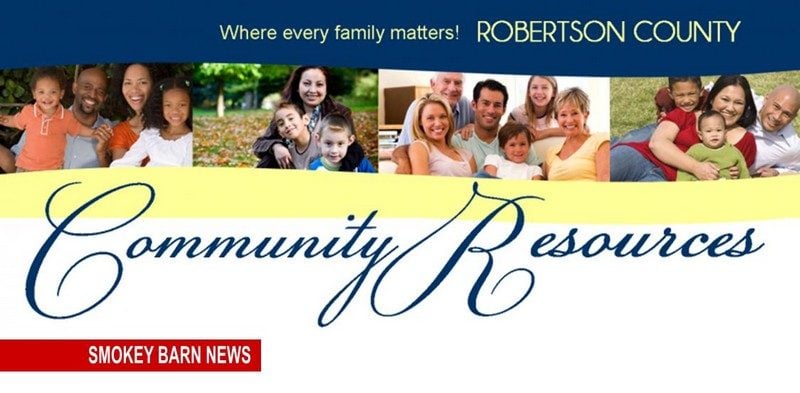 For A Full List of Family & Community Services, Resources & Meetings
Mobile: To See The Latest Stories or to share this article, scroll below