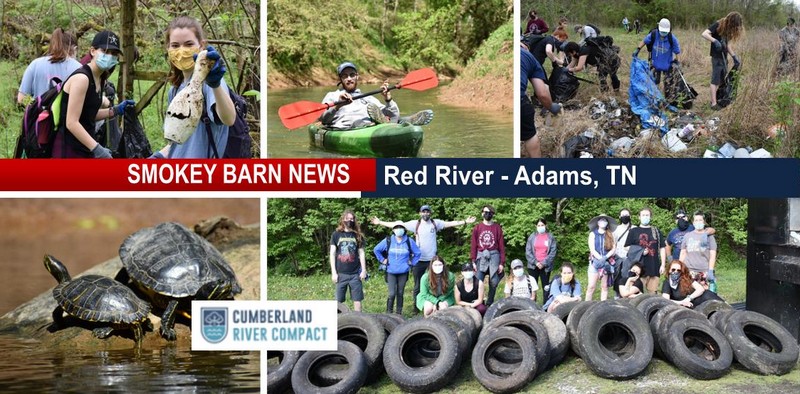 Adams Red River Clean Up Nets Over 2,600 Lbs. Of Trash And Tires
THREE MILLION PEOPLE AND THOUSANDS OF SPECIES DEPEND ON CLEAN WATER FROM THE CUMBERLAND RIVER.
MIDDLE TENNESSEE: (Smokey Barn News) – As part of the Cumberland River Compact's annual Earth Month celebration, 15 volunteers ventured to the Red River in Adams, TN over the weekend to remove tires and trash from land along the Red River. Over 2,600 lbs of debris were removed including 65 tires that will be recycled through a partnership with Bridgestone Americas tire recycling program.
"Tire dumping is a huge problem in Tennessee and something we often have to deal with at cleanup events," says Gray Perry of the Cumberland River Compact. "We often find and track large piles of tires dumped off the sides of bridges, roadsides, and into our waterways. When people don't want to do the right thing and pay to have tires recycled, we find them in our environment."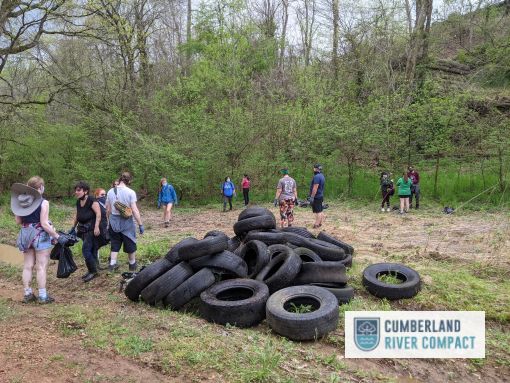 Volunteers formed an assembly line to clear out a dumpsite of over 65 tires from a steep hillside on the property. With the recent flooding, there was evidence the water level has been about 10-15ft above the ground where volunteers were cleaning. Plenty of debris washed into trees and vegetation from all over.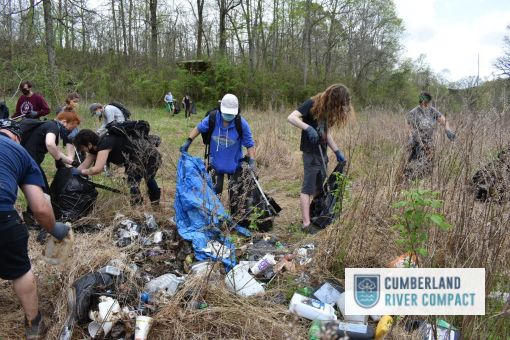 The Red River, like many others in the Cumberland River basin, is prone to flash flooding and experiences erosion and sedimentation. Litter cleanups are but a first step to stewardship of our unique waterways. The Cumberland River Compact works to address the root causes of water pollution )both urban and rural) and engages the support of volunteers, local and city governments, and other partners to improve the quality of our waters.
The day didn't end with the cleanup for volunteers. The Cumberland River Compact hosted its first-ever "camping cleanup" to invite volunteers into the outdoors and celebrate our connection to rivers. TN Parks Ranger, Bobby Cooley gave campers a fireside overview of the history of the land being cleaned and camped on.
On Sunday morning, volunteers were able to enjoy a 7.8-mile paddle of the Red River through Red River Canoe where they got a different perspective of the area they were cleaning.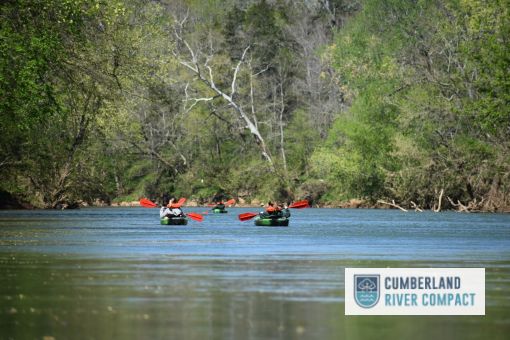 "When you're paddling, you can see turtles, birds, fish and all of the life that exists within this river system that gets impacted by human activities", says Joe Chapman, Cumberland River Compact AmeriCorps member leading the weekend's volunteer activities. "It felt good to connect people to this often overlooked world. Seeing these fragile ecosystems and how easily they are impacted by trash or otherwise, helps people understand the need to protect them."
The camping cleanup was sponsored by the Tennessee Valley Authority and there will be a second event at Rock Island State Park on April 17th.
For more information on the Cumberland River Compact and ways to get involved visit: www.cumberlandrivercompact.org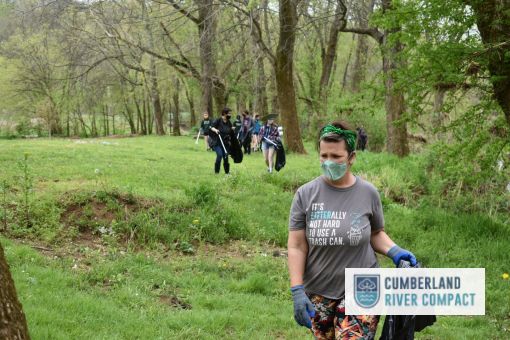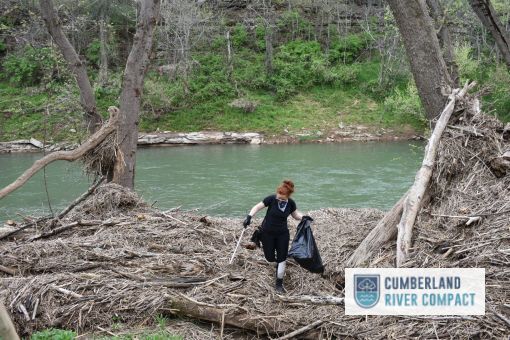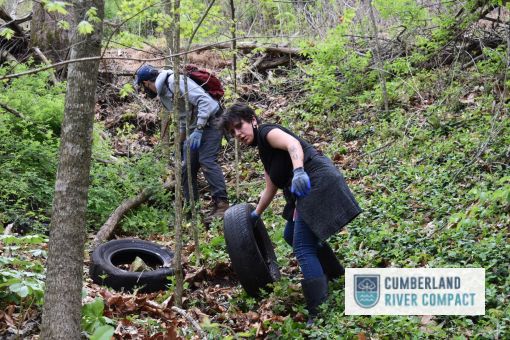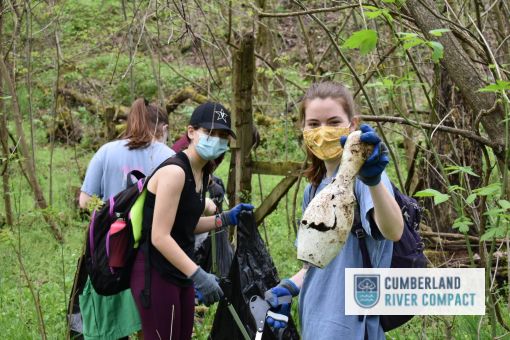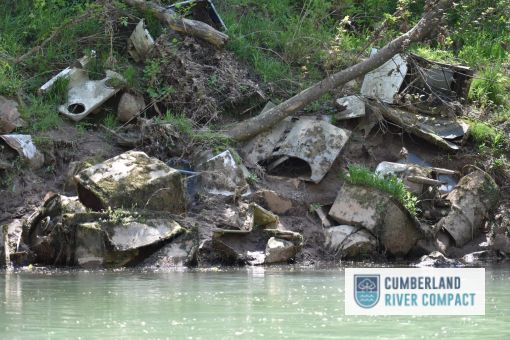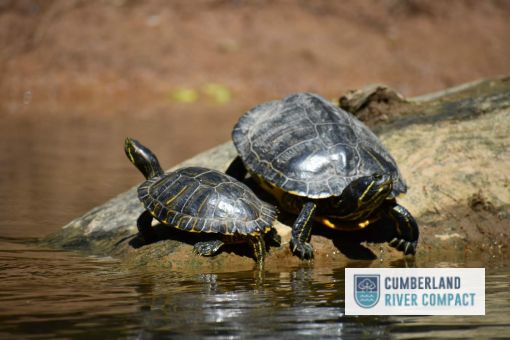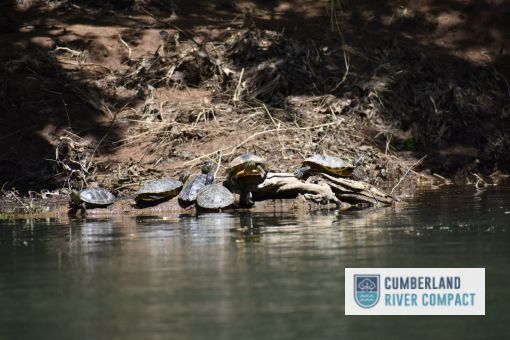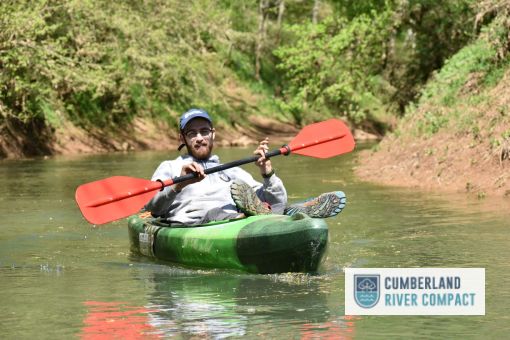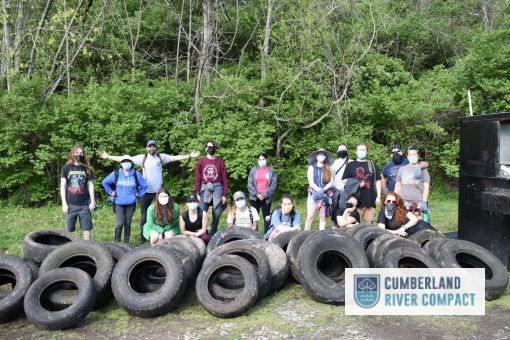 Mobile: To See The Latest Stories or to share this article, scroll below