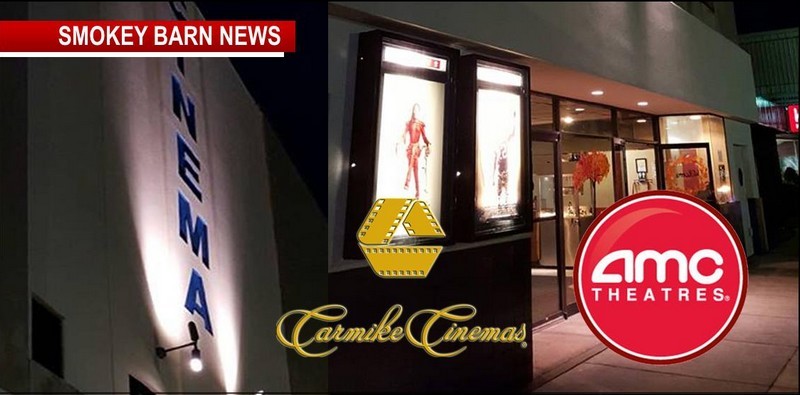 AMC To Acquire Carmike 
Creating Largest Chain Of Movie Theaters In The World
SPRINGFIELD TENNESSEE: (Smokey Barn News) –  It looks like the little Springfield Cinema will be getting new owners, whether the change will be good or bad for the old theater only time will tell.
AMC Theatres (AMC Entertainment Holdings, Inc.)  and Carmike Cinemas, Inc. announced yesterday that they have entered into a definitive merger agreement pursuant to which AMC will acquire all of the outstanding shares of Carmike for $30.00 per share in cash. The transaction is valued at approximately $1.1 billion, including the assumption of Carmike net indebtedness. The purchase price per screen is approximately $376,000, and the per share purchase price represents an approximate 19.47% premium to Carmike's March 3, 2016 closing stock price.
The Combined Company After Closing the Transaction AMC is one of the nation's premier entertainment companies with 5,426 screens and the most productive theatres in the country's top markets. Carmike, America's hometown theater circuit, has 2,954 screens, primarily located in mid-size, non-urban communities. Together AMC and Carmike would have well over 600 theater locations in 45 states across the country, including the District of Columbia. The transaction is expected to provide significant growth for AMC and will allow it to bring its innovative amenities and best-in-class customer experience to enhance the movie-going experience for more customers in more areas
According to a press release by the AMC today, the company believes that combining the two companies will allow the them to become more efficient as it relates to profitability by combining back-of-the-house functions such as accounting, finance and technology. The result will be a more efficient and effective competitor through greater scale, scope and expertise. The combined company will be headquartered in Leawood, Kansas.
AMC Chief Executive Officer and President, Adam Aron said, "This is a compelling transaction that brings together two great companies with complementary strengths to create substantial value for our guests and shareholders. Through this transaction we expect to unlock synergies, sufficient we believe to make this transaction accretive in 2017. AMC also gets to extend the reach of our innovative, guest-experience strategies to further transform the movie-going experience for millions of new guests. We also look forward to welcoming so many talented Carmike employees to the AMC team."
"Our combination with AMC is a transformative milestone for Carmike and one that provides significant value to Carmike shareholders," stated David Passman, Carmike President and Chief Executive Officer. "By joining with AMC, we are bringing together two highly complementary theater footprints and a shared commitment to service and innovation, positioning the combined company to deliver an even more compelling movie-going experience in many more locations across the country. I am proud of the Carmike employees whose dedication and hard work have made this combination and its many benefits possible. We look forward to working together with the AMC team to complete the transaction and to ensure a seamless transition."
Aron added, "By broadening AMC's geographic and demographic base for delivering our groundbreaking guest experience innovations in comfort and convenience — such as plush power-recliners, enhanced food and beverage, premium sight and sound, greater guest engagement and targeted programming — AMC is poised to deliver the best possible movie experience to more movie-goers than ever before."
What does the acquisition mean to the little Springfield Cinema? Having experience with many mergers on both sides of the fence, there is never any way to tell how an company will behave after a merger. Think of two Titanic's coming at each other head-on that decide to change course and head in the same direction together. The process of alignment can take months or in some cases years.
The general rule of thumb with most mergers or acquisitions, assuming you have good leadership, is to change nothing at first. A smart acquisition moves slowly.
The big question is, will the Springfield Cinema get those new plush power-recliners, enhanced food and beverages, premium sight and sound, or will they shut it down. In the short term there's just no way to know. If you would like to read the full press release click here.

About AMC Theatres (AMC Entertainment Holdings, Inc.) (NYSE: AMC) ("AMC") is the guest experience leader with 387 locations and 5,426 screens located primarily in the United States. AMC has propelled innovation in the theatrical exhibition industry and continues today by delivering more comfort and convenience, enhanced food & beverage, greater engagement and loyalty, premium sight & sound, and targeted programming. AMC operates the most productive theatres in the country's top markets, including No. 1 market share in the top three markets (NY, LA, Chicago) www.amctheatres.com.
About Carmike Cinemas, Inc. (NASDAQ: CKEC) ("Carmike") is a U.S. leader in digital cinema, 3-D cinema deployments and alternative programming and is one of the nation's largest motion picture exhibitors. Carmike has 276 theatres with 2,954 screens in 41 states. The circuit includes 55 premium large format (PLF) auditoriums featuring state-of-the-art technology and luxurious seating, including 32 "BigDs," 21 IMAX auditoriums and two MuviXL screens. As "America's Hometown Theatre Chain" Carmike's primary focus is mid-sized communities. Visit www.carmike.com for more information.
What are your thoughts on the matter? How do you think the acquisition will affect the Springfield Cinema?
Smokey Barn News (Sponsor/Advertisement)
We bring you ALL the News in and surrounding Robertson County, Tennessee.