(Sponsored Business Spotlight)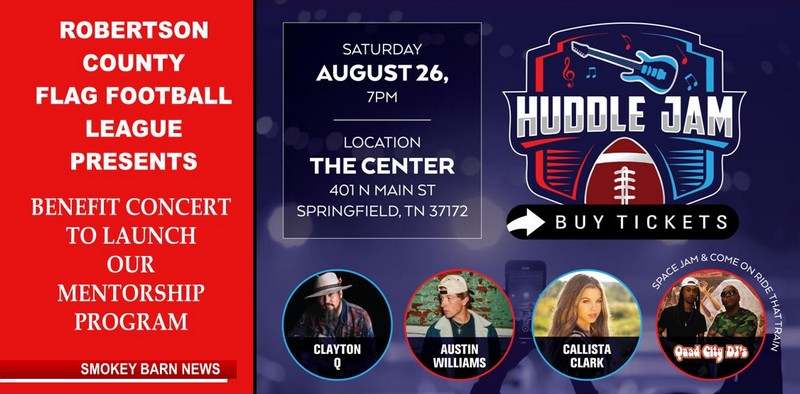 Benefit Concert: Support Youth Mentorship Through RC Flag Football 
SPRINGFIELD TENNESSEE: (Smokey Barn News) –Robertson County Flag Football League (RCFFL), created as a non-profit organization to bring flag football to the youth of Robertson County and surrounding areas is hosting a big benefit concert (1st Annual Huddle Jam) at The Center in downtown Springfield on August 26th, 2023 and you're invited!
ALL proceeds from the concert will go the Robertson County Flag Football League.. The organization gives the local youth an opportunity to participate in an organized sport at minimal costs. The ultimate purpose of our organization is to allow any and all youth who wish to participate in an organized sport that opportunity regardless of his or her economic means.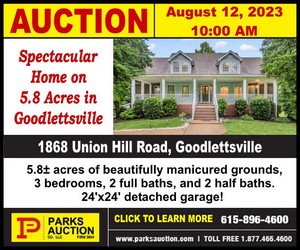 Through our partnership with the NFL, our organization is able to bring a high level of flag football competition to this community.
Our biggest mission, however, is providing a mentorship program that encourages vulnerable and/or at-risk youth to strive towards becoming productive and caring citizens.
OFFICIAL Lineup for the 1st Annual Huddle Jam!!!!!!
• Clayton Quisenberry
• Austin Williams
• Callista Clark
• Quad City DJ's
Clayton Q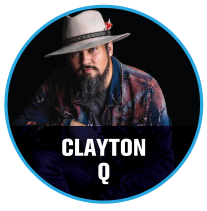 Clayton Q has led a career in music since is high school days of playing in a local pub for tips back home in KY in the early 2000's. Having nearly 2 decades tenor as a touring Nashville recording artist, he has shared the stage and TV screen with some of the music industry's biggest artists all across the board from Kid Rock, Gretchen Wilson, John Rich, Darius Rucker, Keith Anderson, to Def Leppard, Hunter Hayes, Wynonna, Billy Idol, Walker Hayes, Kentucky Headhunters, Craig Morgan, Terri Clark, Mark Chesnutt, The Bellamy Brothers, & the list goes on.
Austin Williams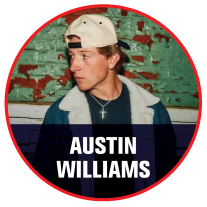 Austin Williams was a small-town high school baseball player with a passion for country music. Born and raised near Nashville, TN in the small town of Pleasant View, Austin was faced with a life changing surgery at the age of fifteen and it was during this down time that he discovered his passion for writing and singing. He taught himself to play the guitar and went after his new found love all while working hard to get back on the baseball diamond. He has been honored to play and write with Chase Matthew, Mo Pitney, Kevin Denney, Craig Campbell, and others. Fans have quickly gravitated to Austin's sound, songs and personality on TikTok gathering over 200,000 followers in a three week time period since teasing songs. Austin is now writing and working to put out music on a consistent basis for new fans along the way.
Callista Clark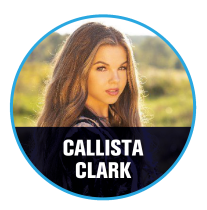 At just 19 years old Callista Clark has a lot to say, wielding her creative gifts as both a defense and an instrument of peace as she puts her heart on display with her full-length debut album real to me: the way I feel and its deluxe edition (big machine records). produced by Nathan Chapman (Taylor Swift, Lionel Richie, Keith Urban, Mickey guyton), the album reveals a songwriter of considerable depth and wit and a gifted singer with confidence and an impressive presence unique to someone her age. co-writing every track, the Zebulon, GA native exudes both strength and vulnerability in pointed lyrics that leave no doubt where she stands as reflected on songs like "brave girl," "gave it back broken" and top 20 debut "it's 'cause I am," with which she became country radio's most successful new artist debut of 2021. Joining Opry next stage's class of 2022, the 2021 iheartcountry on the verge artist has been featured two years in a row on Billboard's annual "21 under 21" list and was the youngest member ever named to CMT's next Women of Country in the 2022 class. With TV appearances on the Today Show, live with Kelly & Ryan and Ktla, Callista has garnered acclaim from Forbes, People, Wonderland Magazine, American songwriter, Hollywood Life, Sweety high, Holler, Nashville Lifestyles, and more.
QUAD CITY DJ'S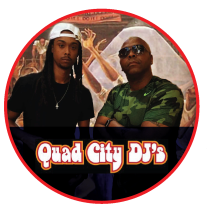 The Quad City DJ's is an American multi-platinum, Grammy-nominated music group. The group recorded the 1996 hit "C'mon N' Ride It (The Train)". They are best known for writing and performing the theme song to the 1996 animated basketball film Space Jam. "Space Jam is a hallmark of '90s nostalgia. Do you remember the '90s? Then you remember Space Jam, and transitively, you love Space Jam…", stated the New Yorker magazine in 2015. Today, the Quad City DJ's' "Space Jam" has become a viral internet hit with thousands of mash-up versions of the song and over 50 million views!
As producers, the Quad City DJ's also worked with 95 South to create the triple platinum hit "Whoot! There It Is". Their success led to work creating, performing and producing the 69 Boyz double platinum single "Tootsee Roll".
Due to the new interest in their music, the group decided to once again perform live. Their show consist of the hits they were involved with as well as new re-mixes of classic party pop/dance songs from the 1990's.
The Quad City DJ's will be releasing new recordings beginning in early 2021 as well as performing half-time shows at major sporting events nationally.
Floor Seats – $40
General Admission- $30
ONLINE TICKETS:
Tickets can be purchased online —> HERE
PRINTED TICKETS:
Printed tickets can also be purchased at our league office at:
101 5th Ave West Springfield, TN 37172
VIP tables (seats 10 people) are available as well! VIP includes heavy hor d'oeuvre, and drink tickets.
Please email:
[email protected] for more information on VIP tables
This is the ONE event that you don't want to miss!!!
Randall "Pierre" Alexander
Robertson County Flag Football League, President
706-627-7863
RC Flag Football —> Website
RC Flag Football —> FaceBook
RELATED STORY… Youth Flag Football League Comes To Robertson County (How You Can Sign Up)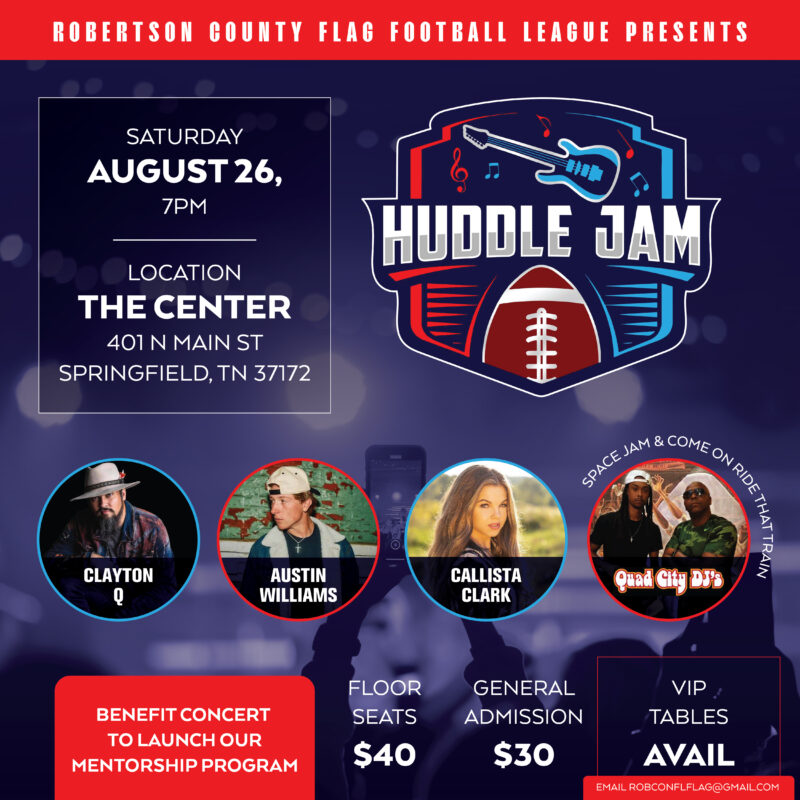 Mobile: To See The Latest Stories or to share this article, scroll below