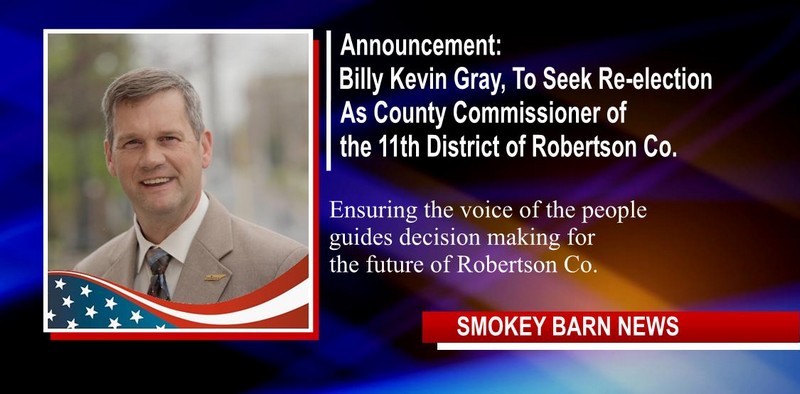 (Sponsored announcement)
Billy Kevin Gray, To Seek Re-election As County Commissioner For 11th District of Robertson Co.
ROBERTSON COUNTY TENNESSEE: (Smokey Barn News) – Billy Kevin Gray is announcing his candidacy for re-election as County Commissioner of the 11th District of Robertson County in the Aug. 4, 2022 Election.
Gray has lived in Robertson County for 57 years and served for nearly 30 years as County Commissioner in the 11th and 9th Districts. Experience matters when it comes to education, economic development and the quality of life of the citizens of Robertson County. It is more important than ever to let your voice be heard by County Commissioners as the decisions they make have a direct impact on the quality of life of you and your family. Gray will continue to listen to what you have to say on county issues and make sure your voice is heard on the County Commission.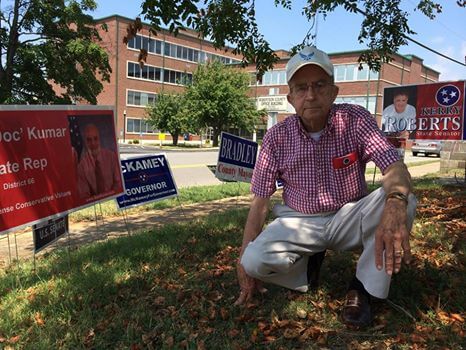 Gray was honored to serve beside his father, Billy B. Gray, on the Robertson County Commission for many years. He learned by example to listen to the people and allow their voice to guide his decision-making. Gray is proud of the accomplishments set forth by the Robertson County Commission with no increase in taxes for the past 7 years, increased funding of public safety officials, funding for education and schools, a new larger animal control facility, an AA bond rating, and recognized by the State Comptroller's office as one of a very few counties with no audit findings for the past 3 years.
Gray's experience includes serving on the following County Commission committees: nominating, building and grounds, landfill, ambulance, beer board, fire and safety, and finance. Gray is a retired career State employee.
Gray is the son of Mr. and Mrs. Billy B. Gray, married for 30 years to Patricia Gray and has three grandchildren, Michael, Evan and Riley.
Gray asks for your vote to re-elect him as County Commissioner in the 11th District of Robertson County. Thank you for your continued support.
Mobile: To See The Latest Stories or to share this article, scroll below