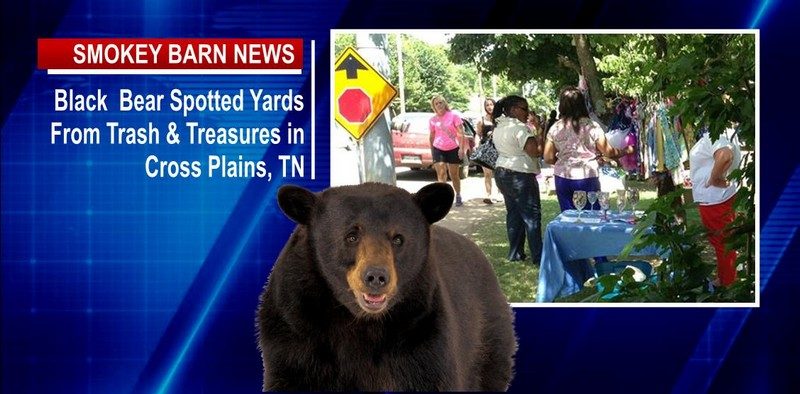 Black Bear Spotted In Cross Plains Yards From Trash & Treasures
CROSS PLAINS TENNESSEE: (Smokey Barn News) – According to officials in Cross Plains, a black bear has been spotted in the area.
Cross Plains Fire Chief Tommy Jackson told Smokey Barn News that the bear was actually spotted twice near the Annual Trash & Treasures event.
"The first sighting was around South Cedar St at the four-way stop about 100 yards down. He went (east) across to Jernigan Rd. He was spotted again on Jernigan going through a fence," Chief Jackson said. MAP
Chief Jackson said the bear is medium sized and seems to be avoiding people. Three of four people have now seen the bear that (so far) has avoided the crowded sections of the Trash & Treasures event going on today. Jackson estimated that the bear wandered about 75 yards from the event.
TWRA received the first call about the bear around 8 am this morning. The next call came into the Cross Plains Fire Department a half hour later. No other sightings have been reported.
"If you see the bear, stay clear and do not feed him," Jackson says. "Just leave him alone. If the TWRA finds the bear they will leave it alone as long as it stays clear of people. If you spot the bear you can call Robertson County Dispatch at 615-384-4911.
The best thing you can do for the bear's survival is to leave it alone and not to leave food out. Feeding the bear will make it less afraid of people which could ultimately force wildlife officials to have to put the bear down.
According to the TWRA, black bears roamed all of Tennessee at one time. After European settlement, the numbers started dropping. Thanks to conservation and management efforts from all the Southeast states involved with the Southeastern Association of Fish and Wildlife Agencies (SEAFWA), black bears are making a dramatic comeback in the Southeast. As bears expand into areas with suitable habitat, it is important for communities to learn how to coexist with them.
What should I do if I encounter a bear at close range?
The first rule is that you want to make your presence known by yelling and shouting at the bear in an attempt to scare it away. If a bear is reluctant to leave then proceed to throw rocks or other objects at the bear while continuing to yell. Portray yourself as the dominant animal and do not back down. If a bear is close enough that you feel uncomfortable, slowly back away, continuing to yell while watching the bear at all times. Never run from a black bear as this may trigger a natural response to chase.
Are black bears dangerous?
Black bears are normally very elusive and shy animals… and unless they have become accustomed to human food sources, they tend to avoid people. Bears are very curious animals, however, and this should not be mistaken for aggression. Prevent any conflicts by treating bears with respect as they are wild animals whose behaviors can be unpredictable.
Black bears are one of Tennessee's state treasures and no other animal exemplifies the wilderness experience like them. They have been called a charismatic mega-fauna and for good reason – everyone from non-hunters, to hunters, to wildlife watchers – we all love bears in our own special ways. For these reasons, it is everyone's responsibility to keep them wild and keep them alive.
Smokey Barn News (Advertisement)
Smokey Barn News (Advertisement)
We bring you ALL the News in and surrounding Robertson County, Tennessee.