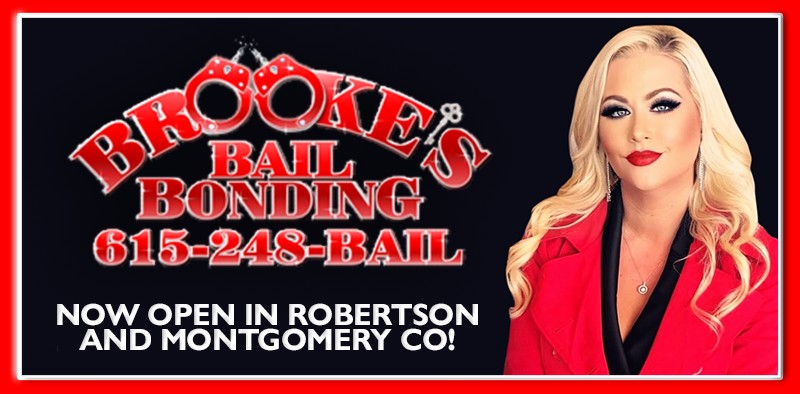 Brooke's Bail Bonding Comes To Springfield TN
ROBERTSON COUNTY TENNESSEE: (Smokey Barn News) – Brooke's Bail Bonding has announced that they have officially expanded into Robertson and Montgomery Counties, the announcement made in a statement last week.
"We are excited and look forward to serving both Robertson and Montgomery communities from our new Springfield office," said Brooke Harlon, CEO of Brooke's Bail Bonding. "Please join us for our official grand opening and open house Tuesday, February 15 at our new location in Springfield."
WHAT: Brooke's Bail Bonding Grand Opening Open House Meet & Greet
WHERE: 813 Memorial Blvd, Springfield, TN 37172 MAP
WHEN: February 15, 2022 5:30p
Web info:
www.TheBondLifeBookOfMissBrooke.com
www.BrookesBailBonding.com
A little history on Brooke Harlon.
1. Tell us your story and what makes you unique.
My family owned and operated one of the first bail bond companies in Sumner County, TN. Initially, I had no desire to join my family in the bail industry and therefore pursued my own career in marketing. However, several series of events that transpired in my life led me into the bail industry. I now know that everything happens for a reason and I have discovered and embraced that the bail industry is my calling. This industry has inspired me to get people out of jail and keep people out of jail.
I built the foundation of my life and business with my late husband Channing. In October of 2017, Channing passed away unexpectedly. I was left raising four children and running a business. I was absolutely devastated, and the year following was the darkest night of my soul. There were days that I couldn't even get out of bed. I was in complete survival mode. However, I knew I had so many people that were depending on me, and I knew I had to keep moving forward. I knew I had to surrender, release, and ask for spiritual guidance, and trust that my higher power had a plan that was far greater than my own. That was the catalyst of a real awakening and transition into my new life. Eventually, I was reminded that everything happens for a reason, and I must have a huge purpose in my journey of life.
I became inspired and motivated to honor my calling. Gradually I went from surviving to thriving again, and every day I just focused on one thing that contributed to becoming the best version of myself, and a messenger of healing and hope for others.
My silver lining – after years of witnessing encountering unjust situations, I felt called to share their stories and bring awareness in hopes of change. I felt called to be a voice for the voiceless, as well as a voice for my industry which is constantly under attack, threatened to be eliminated, and completely misunderstood. Knowing and honoring my purpose and calling has made me feel fulfilled and whole again, and eventually I even found love again. After reconnecting with my highschool sweetheart, Michael. We got married on June 15th, 2019. Michael later left his own industry, to join my industry, and embarked on the journey of running my business with me, while we continue to focus on our mission of transforming lives.
2. What type of business do you run?
I am the CEO of Brooke's Bail Bonding. We are a bail bond business that serves Nashville, TN and surrounding counties. We are one of the largest in the South. When someone goes to jail, it is their 8th amendment, constitutional right to make bail, after the amount is set by the judicial system. If they do not have the full amount of the bond premium, they can post their bail bond with a bail bonding company for 10%, along with having someone cosign their bond. Once the bail bond company posts the bond with collateral they have put up with the court, they have an obligation to the court to ensure the defendant shows up for all court hearings when ordered to do so, until a disposition is found in their case, meaning they take a settlement plea or they go to trial, whereby they are found guilty or not guilty. In the event the defendant fails to appear in court it is the bail bond company's responsibility to locate and capture the defendant. If unable to do so, the bail bond company will be liable for the full amount of the bond premium. Throughout my 20 years in the bail industry, I have encountered many situations with my clients which became the catalyst of my mission as an activist, transformation leader, and transformation life coach.
3. What motivated you to get started with your business?
From the time I was born I was exposed to America's most misunderstood bail industry, due to the fact that my family owned and operated a bail bond business. However, due to growing up hearing all of the "horror stories", I actually had no desire to work in the bail bond industry. Therefore, I pursued an education and career in marketing, which I absolutely loved. However, my higher power had a plan far greater than my own. And due to my mother getting sick with cancer, which ultimately led to her death, along with other extenuating circumstances and family obligations, my career was redirected into the bail bond industry. My plan was to eventually go back into marketing, but as I always tell people, once you get into the bail bond industry, it's like a group text, no one ever really gets out. So I used my marketing skills to advertise and take my business to the next level. Throughout my 20 years serving my
community and the bail industry, I have come to find my purpose of helping my clients, making a difference in their lives, inspiring transformation, giving them second chances, believing in them, and being the voice they need when their voices go unheard.
4. What would you say are the biggest challenges when starting a business?
I would say the fear of the unknown and financial uncertainty. When I transitioned and started my own bail bond business in Nashville, TN, I was very young and honestly not yet very experienced, and very afraid of failure and financial insecurity. However, I felt called to take a leap of faith and venture out on my own. Running my business the way I felt was the right way to run my business, for me and my team. My mission was to help as many people as possible along the way. Through trial and error, and many teachable moments, my business is finally on cruise control. And I have an amazing team who helps me.
I have also busted through the blocks of financial fears by aligning myself with influencers who have endorsed my business and helped me take my advertising game to the next level. From that point on, my business has been booming. And because of our mission to help everyone, we have been blessed with an amazing referral-based business.
5. What inspired you to get into this industry?
I was inspired to be part of the change I wanted to see in the system, and the world. I wanted an opportunity to truly help people and make a difference in their lives. I wanted to give people an opportunity for a second chance. I wanted to give innocent people an opportunity to fight their case from outside of a jail cell, so they don't lose everything in the process, by having to sit in jail for potentially years before going to trial. I wanted to be a support system for my community and provide the tools and resources to transform lives.
6. How important is mindset when starting your own business?
It is very important to have a growth mindset when starting your own business. It is important to be both outcome and goal-oriented. It is important to be focused and disciplined. It is also important to identify problems as they come about, and quickly find solutions. It is important to be confident and to take risks. I take huge risks in my business every day, with every bond I make it is like going to the casino and rolling the dice because I have no way of knowing who is going to show up for court, who I am going to be able to locate, capture, and bring back for justice to be served, or who on what bond I am going to end up having to pay off. I just continue to allow my faith to be bigger than my fear.
7. What's your advice for those trying to start their own business?
My advice is to respect your business and your brand. Create boundaries. Be passionate about your business. Do what you love, and love what you do. Whereby it never really feels like work. Build a team that has the same mission and vision as you. Understand that you have to spend money to make money. Hold your employees accountable, and do not get taken advantage of. Have a healthy life balance. Let your clients feel like they are respected and appreciated. Run your business with integrity. Follow a business strategy and have a blueprint of your business and an awareness of purpose. Consult with a business coach and develop leadership skills, and executive presence needed for your career growth.
8. What does fear mean to you?
An anxious concern of loss and failure. I have endured so much loss throughout my journey of life, not so much financial loss, but the loss of loved ones. I lost both of my parents at such a young age, I lost my late husband in 2017, I have lost many other family members, friends, colleagues, and clients. My Brooke's Bail Bonding team is like family to me and every time they go into the field to capture a fugitive my fear is that they may not make it back alive. My team and I have encountered some very dangerous situations in the streets, and my fear is that I lose a team member, a family member, on my watch and that would be the true definition of failure to me.
9. What does success mean to you?
Having goals driven by purpose with a plan of action to accomplish your goals. Every day take an action step towards your goals.
With Brooke's Bail Bonding I have accomplished my goals driven by purpose, by building a solid team of people who are on the same mission as me. As well as building our foundation off of love, support, passion, energy, persistence, perseverance, and conscious business ethics. We transform lives on the daily. We give people second chances and hope for the future. That is the definition of success to me.
10. What are your next projects this year?
I recently expanded my business into two other counties where we will offer our Brooke's Bonding services. I plan to network with my fellow bail bonding companies and build a rapport with the court system and those counties' judicial districts. As well as finding ways to serve as a community activist in those counties.
I am also currently producing a documentary based on America's most misunderstood bail industry. I am partnering with celebrities who are sharing their stories of encounters with the justice system. I am very passionate about this project and my intent is to raise awareness to social injustices, and to also raise awareness to the risks of the push for bail reform. I believe there is so much misinformation out there about our industry. And my hope is that by watching our documentary, people will be informed about who we are, what exactly it is that we do, what our mission is, and why our bail industry plays a much needed key element in the criminal
justice system.
I also plan to provide a platform for my clients to speak out about the injustices they have endured, in hopes to raise awareness and a call to action for change and reform to the justice system. I also plan on doing some speaking engagements whereby I will educate people about my industry and share my story, in hopes of inspiring others with messages of healing and hope for the future.
I also plan to offer a bail bond master class for those interested in getting into this industry. I will be providing a blueprint of the bail bond business for those who desire to be a bail bond business owner, bail agent, and/or a fugitive recovery agent. I will be giving them all of the tools and proper training to set them up for success.
11. Biggest obstacle you've overcome so far in your career?
I would say the biggest obstacle is having to pick people up who do not fulfill their obligation of going to their court hearing. On an emotional level, that is very hard for us to do sometimes. We understand that everybody has a story, and there's a reason why they don't go to court sometimes, and sometimes they're just scared, and sometimes they're just like 'middle fingers to you system, I'm not going to court today, I don't want to deal with this right now'. It's a hard situation and there's also times that it can be a dangerous situation, we never know what we're walking into. People are also starting to go with the trend of being able to play the system; meaning they can say that 'I'm not the person you're looking for', or call the police and say that our team is breaking into their house. All of these different obstacles that we have to overcome just to do our job. Just to fulfill our obligation that we have with the court. At the end of the day, that is what we signed up for. In a perfect world, every bond that we make would go to court, but the reality of it is that they don't, and that's why we're necessary. Our job is to bring them back to the court system, have their day in court, and to face accountability. I feel that it should be set up the way it was initially set up, it should still be implemented now; police and law enforcement shall assist us, that's what the statute says. But unfortunately, it's the contrary to that. Now, it's not just that they won't assist us, which is an ongoing problem that we've had for many years, we call them out and they don't want to come, or when they do come they don't want to assist. Now, the defendants are calling them or the defendants' family members are calling them and instead of coming out and assisting us, they're coming out and prohibiting us from doing our job. That's a huge obstacle that we have to overcome in our business.
In addition, we are now dealing with the push for bail reform. And we are trying to fight against that. We are trying to raise awareness of the importance of our industry and the key role we play in the judicial system. If they eliminate cash bail, what would it look like in society? People could go to jail, potentially innocent people, and they may not be able to make bond atall, they may not even have a bail. They could sit in jail and lose everything in the meantime. Or they could go to jail and be completely guilty, and the judge decides to let them have a bond, without the use of a bonding company, and be let out of jail. That person could be charged with capital homicide. Do you think that they're going to go back to court? And if they don't go back to court, who is going to find them? That is our job. I don't think the police or sheriff's department is going to go find them. If you have thousands of people out of jail on pre-trial, and no one holding them accountable to return to court, what will that look like? It will be like the purge in society – no accountability, no one in the streets bringing them back to face justice. That's the reality, and that's the biggest obstacle our industry faces right now.
12. How do you differentiate yourself from your competition?
Brooke's Bail Bonding is not just an ordinary bonding company, and we are not just a brand, we are a lifestyle, a family, and a movement. At Brooke's Bail Bonding we strive to get people out of jail, and keep them out of jail. Our goal is to transform lives and offer resources and tools for growth. We have certified life coaches on staff to help our clients make better life choices. We truly care about our clients and we want them to be successful. We believe in second chances. We are also very active in our community and take pride in our role as community activists and transformational leaders.
13. What does financial freedom mean to you?
Financial freedom means that I am able to live abundantly without having to stress about how I am going to pay my monthly bills. I have made very good investments and have been very disciplined to build up savings and money market accounts. I am a big believer in having at least three streams of income, with one of those streams ideally being a passive income. I am blessed to have financial freedom and the opportunity to pay it forward and give back to my community. I am also blessed to provide career opportunities for others, whereby they can also live abundantly and have financial freedom.
Mobile: To See The Latest Stories or to share this article, scroll below