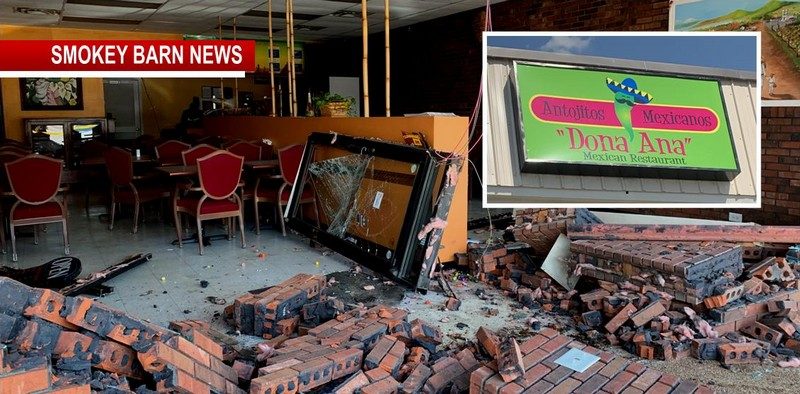 Customers Showered In Glass And Brick When Pickup Crashes Into Springfield Restaurant
SPRINGFIELD TENNESSEE: (Smokey Barn News) – Just hours after a pickup crashed into a Springfield home causing heavy damage and narrowly missing 85-year-old women FULL STORY another pickup has crashed into a Springfield restaurant.
The accident occurred Friday afternoon around 1 pm when a pickup (a GMC Sierra 1500) careened through the front of Donna Ana's Mexican Restaurant located at 1002 Memorial Blvd. MAP
According to officials with the Springfield Fire Department, there was a large party in the restaurant (about 14 people) when the accident occurred and one of the patrons was injured. They were transported to NorthCrest Medical Center with non-life threating injuries. It could have been a lot worse officials said.
Officials told Smokey Barn News that the driver of the pickup had an issue with the accelerator and was not able to stop the vehicle, calling it just an unfortunate accident. The driver was not injured in the crash. The popular restaurant, however, will need some repairs before it can be reopened.
According to officials, due to heavy damage to wiring at the front of the structure, the breaker panel was shut off.  As an aditional precaution, the gas feed to the business was also turned off until repairs can be made.
We don't have an estimate for repairs or when Dona Ana's will reopen but officials told Smokey Barn News that the owners arrived quickly and were already making calls to have the building repaired.
As soon as we have word that the restaurant has reopened we will bring it to you.
RELATED STORIES:
Truck Plows Into Home Inches From Sleeping 85-year-old Woman
Smokey Barn News (Advertisement)
Smokey Barn News (Advertisement)
Smokey Barn News (Advertisement)
We bring you ALL the News in and surrounding Robertson County, Tennessee.