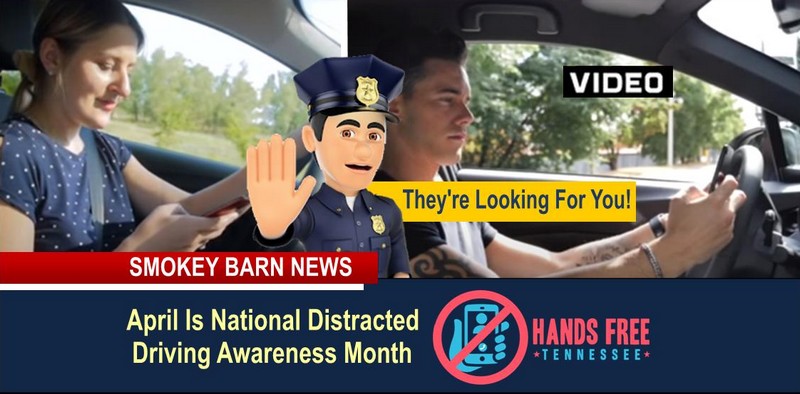 Distracted Drivers Beware, A Special Report
ROBERTSON COUNTY TENNESSEE: Smokey Barn News) -According to the National Safety Council, "Preliminary 2019 data indicates more than 36,000 people died in motor vehicle crashes." The National Safety Council is America's leading nonprofit safety advocate.
Coopertown Police Department is partnering with the Tennessee Highway Safety Office (THSO) to promote "Hands-Free Tennessee" during National Distracted Driving Awareness Month.
Throughout the month of April, Coopertown Police Department will increase education and enforcement to reduce distracted-driving crashes, injuries, and fatalities.
From January 1, 2021, to April 11, 2021, there were a total of 70 crashes in the Coopertown area. As of March 31, 2021, there were 274 traffic fatalities in Tennessee. In the United States, distracted driving killed 3,142 people in 2019 – a 10% increase from 2018. Since the Hands-Free Law took effect on July 1, 2019, Coopertown Police have issued 43 citations for Hands-Free Law violations.
During National Distracted Driving Awareness Month, Coopertown Police will be looking for Hands-Free Law violations and increasing enforcement to help reduce the number of crashes.
Other agencies in Robertson County are considering similar programs to catch distracted drivers. We have added a 2019 report showing local police agencies using school buses to catch distracted drivers. In the video (added below) you can see just how easy it is for authorities to spot even the most sophisticated distracted drivers.
The Robertson County Sheriff's Office is also working with THSO and doing additional patrols. Since February 1 the Sheriff's Office has issued 18 warning citations for distracted driving and 43 warning citations for mobile device usage and issued 2 citations for use of hand-held mobile telephone prohibited while driving.
The Millersville Police Department has also indicated that they are stepping up patrol for distracted drivers this weekend, putting extra officers on the street.
Law Enforcement Use Buses To Spot Texting Drivers
(A 2019 report)
(SEE ROBERTSON COUNTY VIDEO REPORT BELOW)
How easy is it to spot a distracted driver? The video below will surprise you.
ROBERTSON COUNTY TENNESSEE: (Smokey Barn News) – Last Tuesday the Montgomery County Sheriff's Office, Clarksville Police Department, and the Tennessee Highway Patrol (THP) conducted a bus tour to increase awareness of the new Hands-Free Tennessee law.
A "bus tour" (in this case) refers to a bus filled with law enforcement officers that are looking for distracted drivers and traffic violations. The bus provides elevated seating which offers a clear view inside passing vehicles.
Last May the Tennessee Highway Patrol brought their great big heavily marked bus to Roberson County looking for distracted drivers. If nothing else, the bus looks like a gigantic police car on steroids. However distracted drivers are completely oblivious to the bus. VIDEO REPORT
According to Travis Platzor with the Tennessee Highway Patrol, the purpose of using the oversized heavily marked bus is to show how unaware distracted drivers are.  To get ticketed they had to miss the big bus and all the officers swarming around it like a beehive. The THP's clever idea made it all the way to the Wall Street Journal.  FULL STORY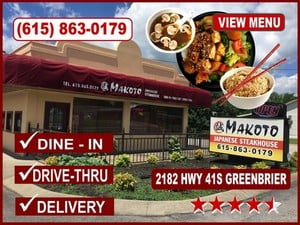 Distracted drivers in Clarksville were not so lucky last Tuesday. Instead of using a heavily marked bus on steroids, authorities used a plain yellow school bus. For distracted drivers, there was nowhere to hide. Authorities were not without mercy, this time it was just a warning. Ticketing will officially start on Labor Day, September 2nd. The point is not to write tickets, it's to change behavior and save lives, according to Sandra Brandon, Public Information Officer with the Montgomery County Sheriff's Office.
"Our goal was to increase driver awareness of the new Hands-Free Tennessee law," Brandon said.  "We want to remind drivers that the slightest distraction from a cell phone could lead to a traffic crash that kills or injures a pedestrian, construction worker, or fellow driver."
In Clarksville last week, fifty-seven citations were issued for traffic violations, with seventeen warning citations issued for violation of the Hands-Free Tennessee law.
If you are not familiar with the new cell phone law or you would just like a refresher on the new law, click here or watch the video below.
Though they have no constitutional obligation to tell us, Smokey Barn News reached out to local law enforcement to see if they had a date for the next texting sweep in Roberton County but no date was available.
Whether it's a school bus, church van, or bus on steroids, drivers have two choices, look up and wave or sign on the dotted line.
How easy is it to spot a distracted driver? The video below will surprise you. 
WHAT IS DISTRACTED DRIVING?
Distracted driving is the act of driving while engaged in activities that divert the driver's attention away from the road. There are three forms of distracted driving: cognitive, visual, and manual. Cell phone use while driving is extremely dangerous because it involves all three forms of distracted driving.
Cognitive distraction occurs when the driver's mind is not focused on driving. Examples include talking to passengers in the vehicle, thinking about stressful issues, or listening to loud music.
Visual distraction occurs when the driver is not focused on looking at the road ahead. Examples include looking for items around the vehicle, looking down at a GPS device, or watching a movie/video on a mobile phone.
Manual distraction occurs when the driver takes one or both hands off the wheel for any reason. Examples include eating food or drinking beverages, reaching backward, or handling a mobile device.
HANDS-FREE TENNESSEE
According to Public Chapter No. 412, it is illegal for a driver to:
(a) hold a cellphone or mobile device with any part of their body,
(b) write, send, or read any text-based communication,
(c) reach for a cellphone or mobile device in a manner that requires the driver to no longer be in a seated driving position or properly restrained by a seat belt,
(d) watch a video or movie on a cellphone or mobile device, and
(e) record or broadcast video on a cellphone or mobile device.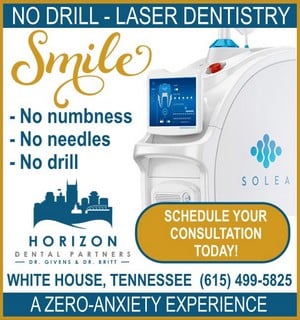 HELPFUL TIPS
Here are a few tips to help you plan ahead, so you remain focused and alert while driving.
Put your mobile phone away.
Pullover if you need to make a phone call or send a text message. Never use a mobile device while driving. A hands-free device is safer to use, but the driver should still exercise caution and remain focused on the road.
Set your GPS in advance.
Program your GPS navigation before you leave the driveway. If you need to adjust your GPS, then pull over. Never operate GPS navigation while driving.
Safely secure child passengers and pets.
Make sure all passengers are properly secured before you begin driving. If child passengers or pets become disruptive within the vehicle, then pull over to address the disruptions.
For more information, please visit www.HandsFreeTN.com.
RELATED:
(Video) Jo Byrns High–> "Here's What Can Happen"
(Video) Law Enforcement Use Buses To Spot Texting Drivers

Mobile: To See The Latest Stories or to share this article, scroll below