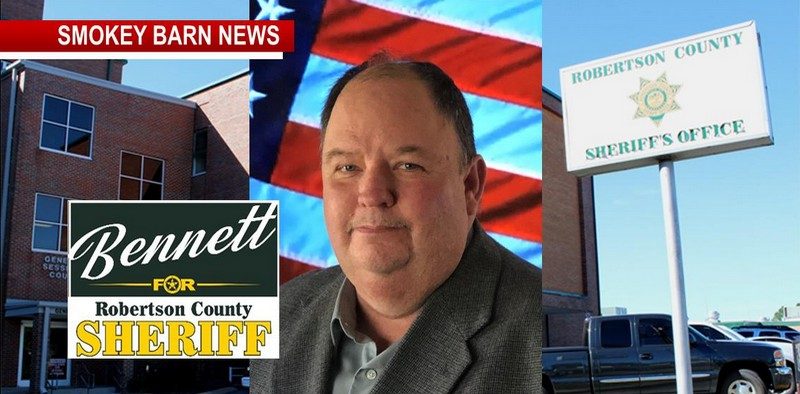 Don Bennett, Announcement for Office of Sheriff of Robertson County
ROBERTSON COUNTY  TENNESSEE: (Smokey Barn News) – Don Bennett has announced that he is running for Robertson County Sheriff.
Fellow Citizens of Robertson County, I would like to formally announce as of today, I have filed a Petition with the Robertson County Election Office to seek the office of Sheriff of Robertson County. The election will be held in August 2, 2018, and I would greatly appreciate your vote and your support.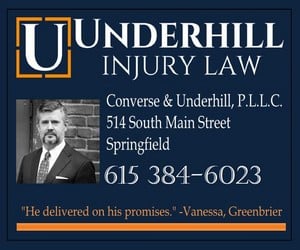 I am a life long resident of Robertson County, I attended public school in both Adams and Cedar Hill Tennessee. I have spent my entire adult life serving as a Law Enforcement Officer with the Robertson County Sheriff's Office. I began my career as I attended High School, working with the Patrol Division after school hours patrolling Robertson County. I knew at a young age that I wanted to become a Law Enforcement Officer and serve the citizens of Robertson County. I gained full time employment in March of 1981 at the Robertson County Sheriff's Office under Sheriff Ted Emery. I started as a Corrections Officer and Dispatcher, then worked my way through the ranks of Patrol Division, Detective Division and to the rank of Captain over the Enforcement Division. Throughout my career I continued my education where I attended numerous specialized training courses and schools to better serve the citizens of Robertson County. I further attended numerous Management schools. In 1993 I graduated from the Federal Bureau of Investigations National Academy 172nd Session (FBINA) from which I received a diploma from the University of Virginia for Management for Law Enforcement, Constitutional Criminal Law, Top Quality Management and many other courses completed while stationed in Quantico Virginia for eleven weeks. During my tenure I never forgot that I worked for the citizens of Robertson County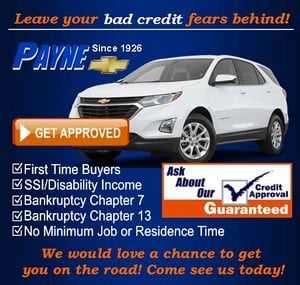 and I always performed my duties professionally and courteously. As I worked through each Division of the Sheriff's Office I was preparing myself to some day be the Sheriff of Robertson County. I have a firm belief that the office of Sheriff should be earned through hard work, experience, and knowledge with a proven track record of proactive crime prevention, crime solving along with a record of proven leadership and management skills needed to lead the men and women of the Sheriffs office in a professional, ethical and efficient manner.
Fellow citizens, we are a crucial point in time, political tension is higher than ever before, terrorism both foreign and domestic are a great threat especially the home-grown terrorist, and the violence with active shooters in the work place and in our schools. We are faced with politicians whom decide policy on how many votes they can get, not by standing up for what's right. For the record I tell you this to state, I am not a politician, nor have I ever claimed to be one. I am a Law Enforcement Officer whom can step into the office of Sheriff and take charge on day one in office. I will never forget that I work for the citizens of Robertson County, and I will remain accessible to all the citizens of Robertson County. I will work with the Robertson County Commission to continue professional, ethical, effective and efficient Law Enforcement for Robertson County and will be a good Stewart of your tax dollars. I will meet and work with all entities within Robertson County to promote safety in our schools, businesses and neighborhoods and your property. I will never use your tax dollars for self-promotion. I will take a proactive approach to prevent crime in Robertson County by putting patrols back into the rural roads of Robertson County, promoting community policing, and posting and holding community meetings in every community of Robertson County, to meet with the citizens, address your concerns, listen to your comments, and take every lawful action possible to make your Sheriffs Office work for you.
For more information; www.bennettforsheriff.com
Email me: [email protected]
*Any views expressed above are the candidate's own and do not necessarily reflect the views of Smokey Barn News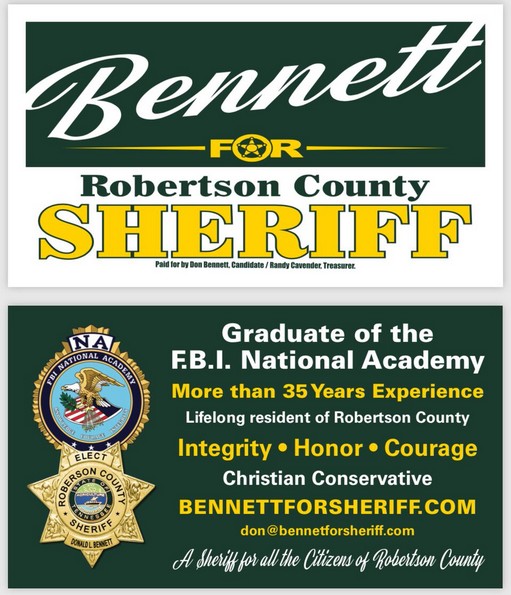 Smokey Barn News (Sponsor/Advertisement)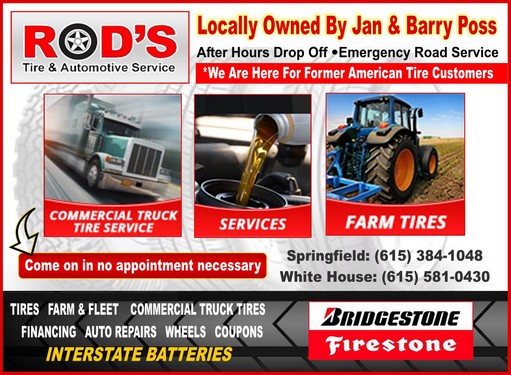 We bring you ALL the News in and surrounding Robertson County, Tennessee.