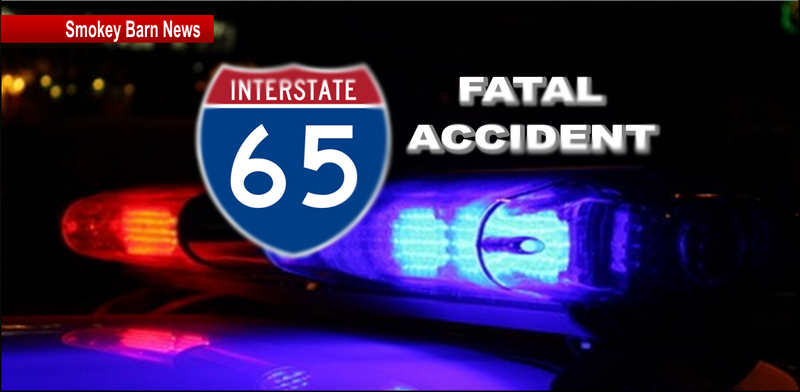 Fatal Accident Closes I65 North At The 102
MILERSVILLE TENNESSEE: (Smokey Barn News) – An accident on I65 North at mile-marker 102 just before exit 104 tragically claimed the lives of three early Tuesday morning. (Exact location of wreck)
The Tennessee Highway Patrol has released the names of the victims, they are identified as,  Mary Dawson 45 of Alvaton KY driving a 2005  Nissan Altima, Gerald Swank 68 of Old Hickory driving a 2005 Buick LaCrosse and Michael Walz  36 of Old Hickory, a passenger in the Buick LaCrosse.
According to Lieutenant Bill Miller, Public Information Officer for the Tennessee Highway Patrol, the Nissan Altima was traveling Southbound on I65 when, for reasons unknown, it traveled across the median going into a yaw as it headed towards the Northbound side of I65 (going airborne by one report) striking the Buick LaCrosse head-on.
After the initial impact, the Buick LaCrosse then traveled across the Northbound lanes and hit a guardrail. The Nissan Altima was then struck by a tractor trailer pushing it back to the center median landing on its side.
Officials told Smokey Barn News that one victim was ejected and two others were still in the vehicle following the wreck. Smokey Barn News has confirmed that the accident occurred around 6:15am.
The THP indicated that all of the victims were wearing safety restraints including one occupant that was ejected but the impact was so severe that the restraints had little effect.
According to the THP drugs or alcohol were not a factor, however they have requested toxicology reports which are standard procedure in a fatal accident. It will likely take a medical examiner to determine if there was some type of medical emergency that caused the Nissan Altima to leave the Interstate.
This accident brings the total loss of life in and around the Robertson County area due to motor vehicle accidents to nine since the beginning of February.  For more on the other accidents click here.
The thoughts and prayers of the staff at Smokey Barn News are with the families of all those involved in this tragic accident.
We bring you ALL the News in and surrounding Robertson County, Tennessee.