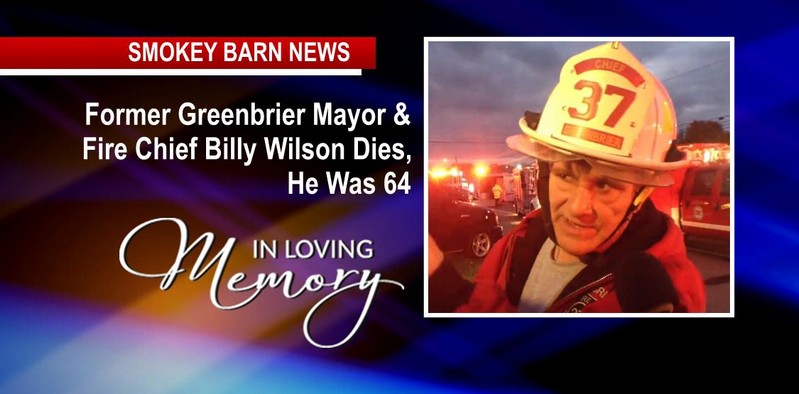 Former Greenbrier Mayor & Fire Chief Billy Wilson Dies, He Was 64
UPDATED
GREENBRIER TENNESSEE: (Smokey Barn News) – Former Greenbrier Mayor and Greenbrier Fire Chief for many years, Billy Wilson has died, he was 64, his family confirmed Monday.
According to a family rep, Billy passed this morning around 5 am. Billy had several health battles in recent years culminating with a diagnosis of Small-Cell Lung Cancer just weeks ago.
"We are deeply saddened at the death of our dad, Pap, and husband. He lived a life of helping and serving others. He loved God, his family, and the Greenbrier community. As our family grieves, we are comforted by the stories and good memories of those who were blessed to know him. Please be respectful of our family and pray for us in the coming days." Wilson family…
Wilson joined the Whites Creek Fire Dept when he turned 18 then later moved to Greenbrier around 1994 and joined the Greenbrier Fire Department shortly after. Wilson was made Fire Chief in 2002 and became Greenbrier Mayor in 2003. He held both titles until 2013.
Visitation is Sunday, December 12 from 2-7 then Monday 9-11 am with service at 11. Both will be at Jackson Park Church of Christ. 4103 Gallatin Pike, Nashville. Afterward, there will be a procession to Forest Lawn Cemetery for the burial.
Back in 2012, the Guns and Leather store in Greenbrier ignited into a fireball. The Greenbrier Fire Department, under Mr. Wilson, led the battle to control the blaze. Below is our coverage of the fire and interviews with Chief Wilson.
UPDATE: OBITUARY Added below.
On July 3rd, 1957, Billy Wilson, also known as Punkin, Chief, Mayor, and most importantly Honey, Dad, and Pap, was born in Nashville, TN. This was the beginning of what was to become a life of service to others.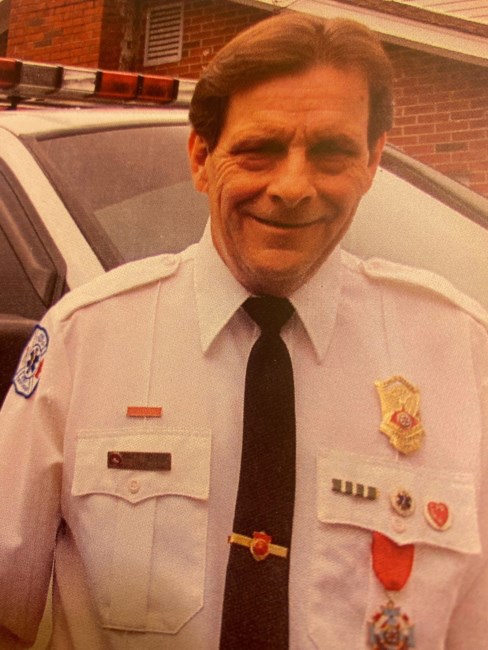 At the age of 18, he became a firefighter which ultimately led to becoming a First Responder and Fire Chief of Greenbrier, as well as the mayor. He cherished these titles, and having enormous pride for his city, he worked tirelessly to fulfill those duties to the betterment of the community. He began attending Jackson Park Church of Christ as a baby.
He loved his family there and made every effort to attend, no matter how bad he felt. It was there that he married the love of his life, Lisa, and raised their family. He spent many years serving the homeless community through the church and has served in many other capacities throughout the years. Beyond his community and church, Billy provided a home to over 100 foster children, acted as Santa through Toys for Tots for thousands of others, all while running his own construction company and providing for his family.
Billy loved his family, church, and community beyond measure doing everything he could for them all up until his death. After several years of health troubles and a diagnosis of lung cancer, he was called home to finally rest pain-free on December 6th, 2021. Billy was preceded in death by his parents, Billy G. and Helen J. Wilson, and grandsons Hartley Wilson and Bentley Garcia.
He is survived by wife, Lisa Hartley Wilson , children April (Evan) Wilson, James Wilson, Steven (Rachel) Wilson, Beth (Joe) Rhodes, Aaron (Morgan) Wilson, Breyannah Wilson and grandchildren, Katie, Wesley and Alie Wilson, Kyran Williams, Bennett Huntington, Bradley and Carrie Ann Wilson, Hunter Merrill, Layla and Lucy Wilson, Collin, Preston, Harrison and Scarlett Rhodes, KenzieLou Oden and Weston Wilson. He is also survived by his brother Jerry (Angela) Wilson and many beloved aunts and cousins.
Visitation will take place at Jackson Park Church of Christ, 4103 Gallatin Rd on Sunday, December 12 from 2-7 PM and Monday, December 13 from 9-11 AM with the service at 11 AM. Burial will commence after procession to Forest Lawn at 1150 S. Dickerson RD. Goodlettsville, TN 37072
Pallbearers will be James Wilson, Steven Wilson, Aaron Wilson, Wesley Wilson, Kyran Williams, Bradley Wilson, Hunter Merrill, Evan Huntington, and Joseph Rhodes. Honorary pallbearers are Doug Downey, Chuck Hawkins, Zane Williams, Miguel Malgioglio, Jeremy Medley, elders of Jackson Park Church of Christ, and Greenbrier Fire Dept. Jim Olive, Heath Pickard, Scott Trew, and Robbie MacKenzie will be officiating. Fond memories and expressions of sympathy may be shared at www.ForestLawnFuneral-Goodlettsville.com for the Wilson family.
Mobile: To See The Latest Stories or to share this article, scroll below