Fugitive Still At Large After Springfield Police/TBI/FBI Raid
SPRINGFIELD TENNESSEE: (Smokey Barn News) – A quiet neighborhood in Springfield came to life with law enforcement activity Monday evening after local authorities received information from the TBI that a wanted fugitive may be there.
Residents on Golfview Lane in Springfield MAP were startled when a team of law enforcement personnel arrived, set up a perimeter, rolled out the yellow tape, positioned officers with long guns, and set up blockades at both ends of the street. Golfview Lane remained closed well into the evening before authorities finally ended their search for the suspect empty-handed.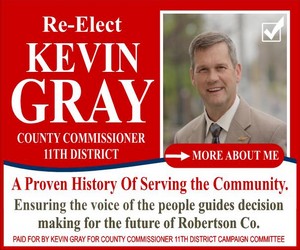 Members of the Springfield Fire Department and Robertson County EMS were staged at a church on Golf Club Lane, two streets over. MAP
Smokey Barn News was on scene and in contact with city officials, law enforcement and even the mayor during the raid however information was limited. To protect the public, the street was closed and citizens were pushed back far from the area.
According to Kara Zahn, Public Affairs Coordinator City of Springfield, Springfield Police Department's SPEAR Team, with agents from the TBI and FBI, executed a search warrant at 349 Golfview Ln. According to officials, the suspect, now identified as 32-year-old John E. Lohden Jr., has outstanding felony arrest warrants.
Authorities were not able to locate Lohden on Golfview Lane and he remains at large.