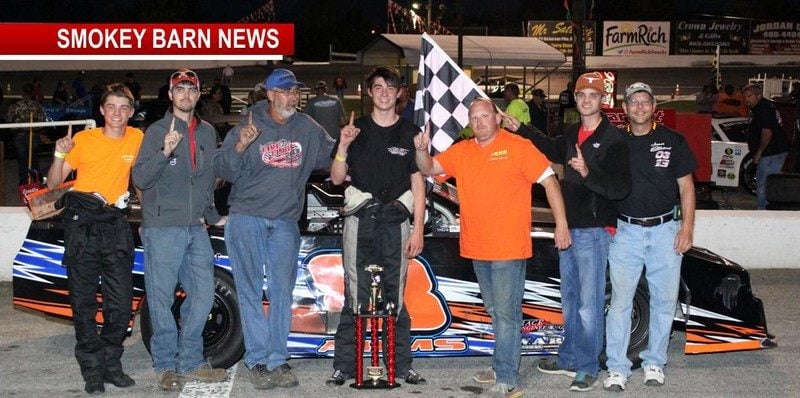 Highland Rim Speedway (Saturday Night's Racing Highlights)
GREENBRIER TENNESSEE: (Smokey Barn News) – Road Warrior Division: The largest field of cars in the last 5 years showed up for the popular new ROAD WARRIOR division. As 17 Drivers were ready to take the green flag with Rookie contender Derrick Bissinger #69 on the point to lead the field to the green flag for their 20 lap feature race. Steven Dalton in the Black 48 started second and #26 Donold Webb started third.
On lap two, Braxton Pannell spun, on his own, which brought out the first caution of the night. On lap 8, Pannell spins, again, and was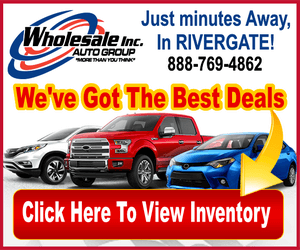 then hit head-on by the #70 driven by George Chandler, resulting in another caution. Both drivers were ok.
Webb took the lead, on the restart, but #14 Kevin Figueroa fought HARD for the lead and took it on lap 16. Another caution came out after Meadows and #40 Kenneth Williams make contact with each other, on the back stretch, resulting in Meadows hitting the outside wall.
Meadows was able to continue, with a little damage done, but stopped on the front stretch, got out of his car and proceeded to show his displeasure at what had just happened with Williams. Meadows was then black flagged and removed from the track. On the restart it was the 26 of Donold Webb and the 14 of Kevin Figueroa fighting door to door with the 26 of Webb edging out front…
On the final lap the 14 of Figueroa trying to make a move for the win gets into the 26 lifting the back of his car up and it was a drag race off turn four to the checkers with Webb being your winner… #14 Kevin Figueroa finished second, #02 Payton Allen finished third, #69 Derrick Bissinger finished fourth and #40 Kenneth Williams finished fifth.
If you missed this race you missed one of the best races ever with Road Warriors racing three and four wide all through the field. Webbs victory was a popular win with his fans and also his 3rd win of the year.. Under the new racing format any driver winning 3 or more feature events will start no better than eleventh the remainder of the year. The new format helps to eliminate one person dominating a division and creates lots of racing excitement for our fans.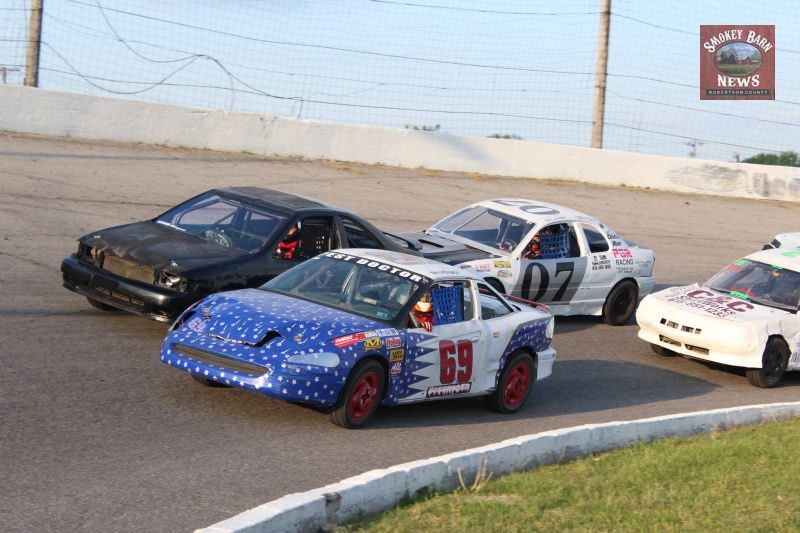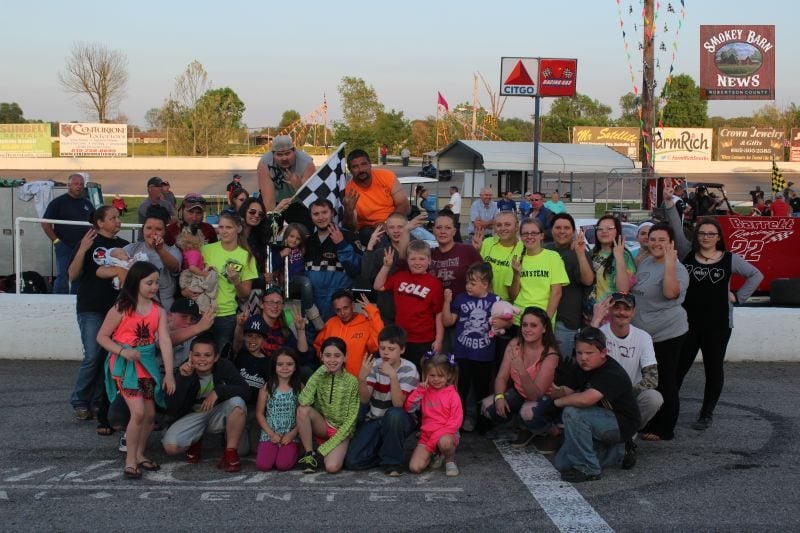 Tuner Division:
Chris Brown #25 started on the pole position, of the Tuner 25 lap feature race, with #21 David Gilliland starting second, and #44 Josh Brown starting third. Daniel Harper #95, who started fourth wasted no time trying to make his way to the front, and by lap nine, Harper was up to the third position.
Chris Brown started on the pole and led every lap. Harper was finally able to get to second place, holding off a charging Josh Brown who finished p3. #33 Joshua Stephens finished fourth and #21 David Gilliland finished fifth.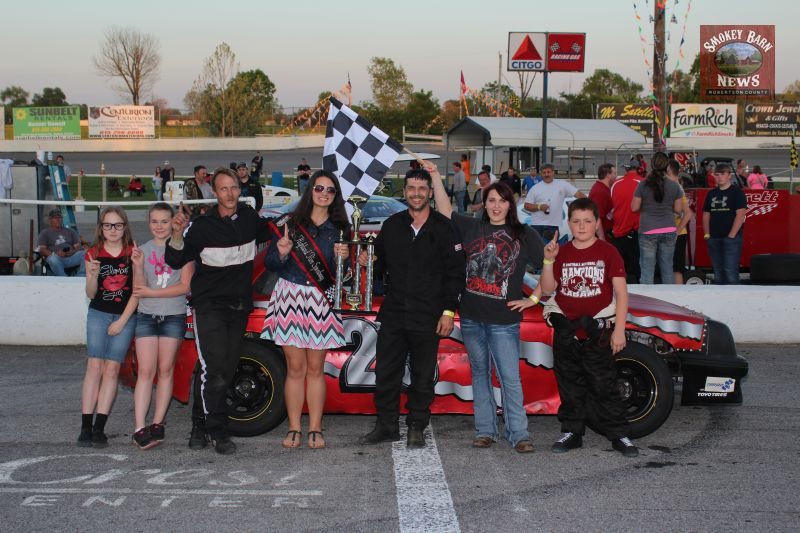 PULL A PART Pure Stock Division:
Cameron Choate #82 lead the field of pure stocks to the green flag, with #81 Willie Coats on his outside and the #33 Landin Dickens starting third. Once the green flag dropped, James Shaw #13, who started fourth, fought his way up to the second position and would fight Coats hard for the top spot, but Shaw was never able to make the pass on the crafty veteran.
The pure stocks had a caution free race, with Willie Coats bringing home the hardware for the first time in two years, Shaw was a close second, #14 Bubba Turner finished third, #82 Cameron Choate finished fourth and #33 Landin Dickens finished fifth.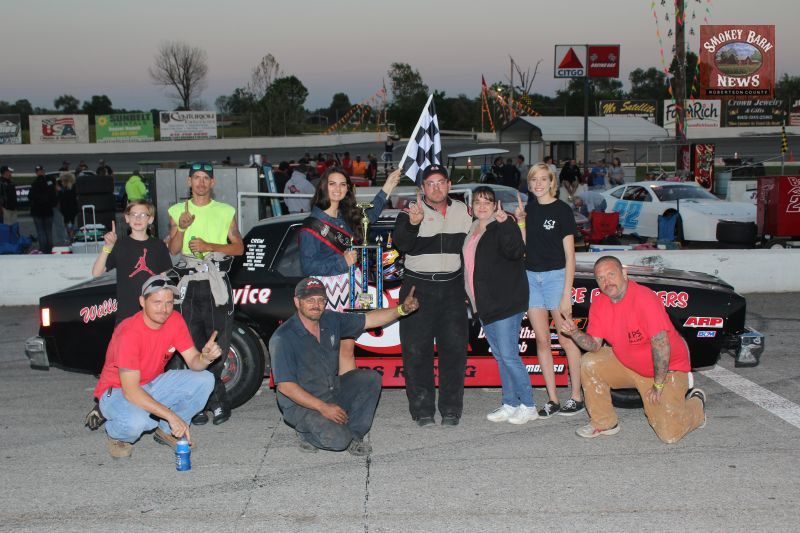 Pro Truck / Mod Division:
The pro mod division didn't waste any time creating an exciting race, for their 30 lap feature. The #8t, of Tre' Ashworth started on the inside pole position, with the #33 Charlie Dickens on the outside, in position two and #3 Travis Arms starting third. On lap one, going into turn 3, #98 Matt Spurlock dives deep into the inside, making it three wide. Spurlock makes contact with the #8t of Ashworth, causing him to then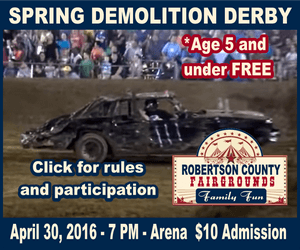 make contact with #8 Tanner Arms. Tanner Arms spins, which causes a chain reaction wreck, involving Lesley Best #44, #95 Dustin Goodwin and the #68 Richard Hamilton.
All drivers are able to continue, except Lesley Best, but most have significant damage to their vehicles. On lap 6, the #3 truck, of Travis Arms, slows on the front stretch bringing out another caution. On lap 13, Dustin Goodwin and Charlie Dickens make contact with each other, while battling for second place, resulting in Goodwin hitting the inside wall on the front straightaway.
Matt Spurlock is your leader, with 13 laps complete. #27 Garrett Dies spins coming out of turn four, resulting in another caution. Spurlock continues to lead the pack, but on lap 17, Spurlock falls off pace and has to pull off the track, allowing Tanner Arms #8, who had quite a bit of front end damage from the lap one wreck, to take the lead and never look back.
Dustin Goodwin was able to take home a second place finish, and Garrett Dies takes home third. #8t Tre' Ashworth finished fourth and #68 Richard Hamilton rounded out your top five pro mod finishers.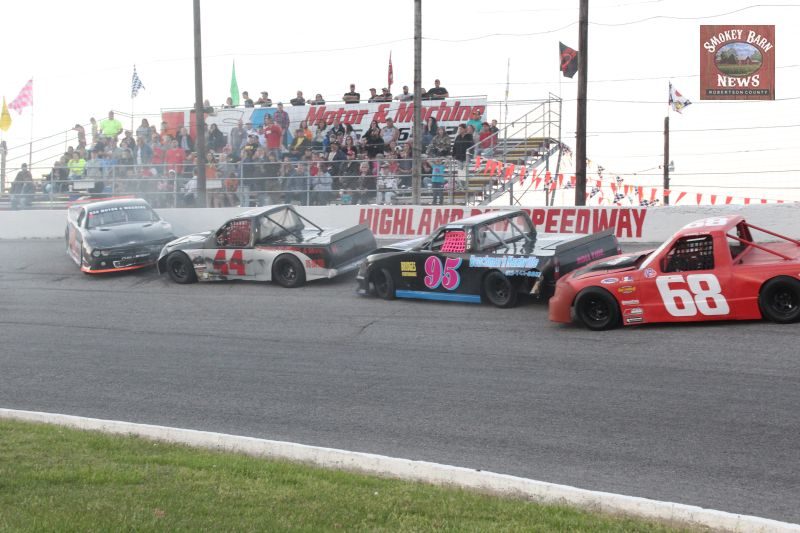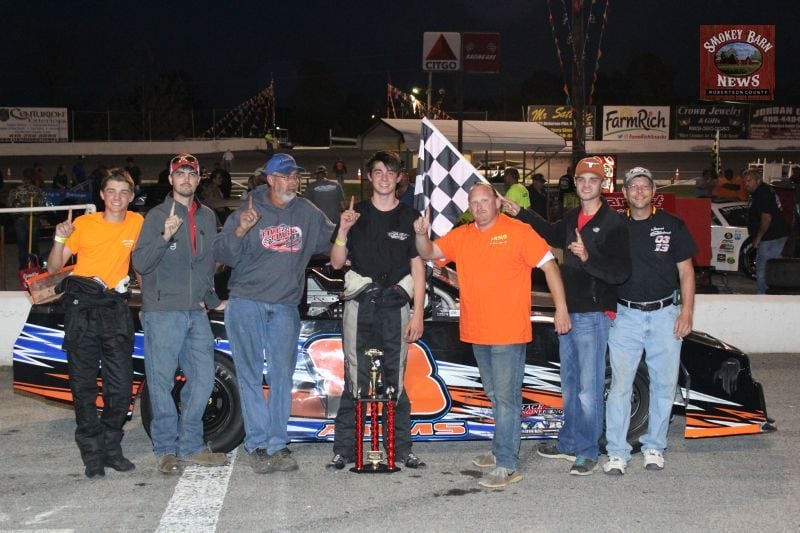 Pro Truck Qualifier Race Winner
The Pro Truck Qualifier race saw something amazing from Garrett Dies.. Last week the fourteen year old Garrett Dies from Hartsville Tennessee demolished his Pro Truck and when that night was over no one expected to ever see that truck back at a race track as it was torn up on both ends.
Crew chief Lyman Lassiter plus friends Ronnie Koonce and Jody Salter were not going to see this young mans dreams shattered as they help the young man totally rebuild his truck and get it back to the track looking even better than before.
They not only got it back to the track the young man had gotten a new sponsor in Usry's Garage to help them race and he rewarded the great effort by his crew and his new sponsor by winning the Pro Truck Qualifier race driving his new updated Blue #27 Chevrolet Pro Truck which now is sponsored by Usry's Garage.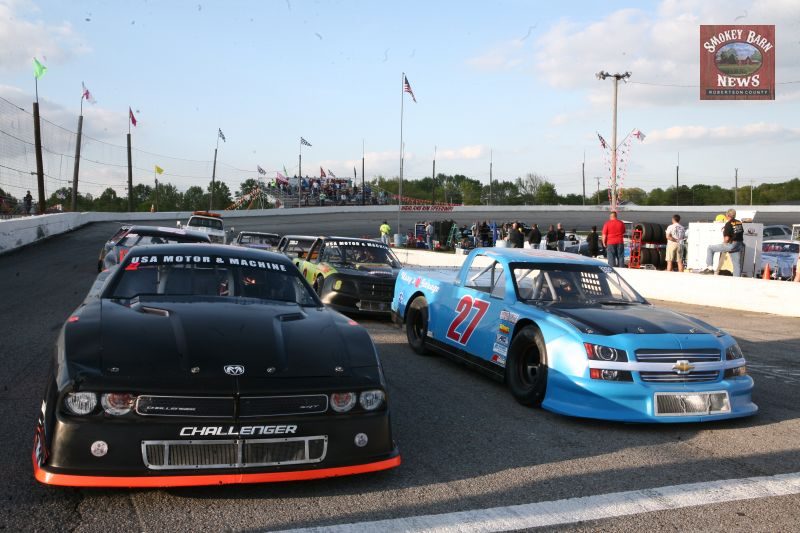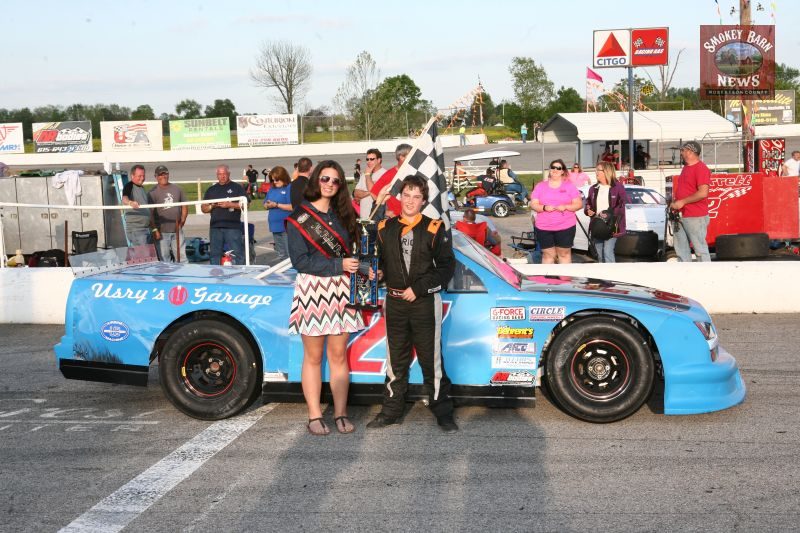 Super Stock Division:
#16 Joshua Pope brought the super stocks to the green flag, for the start of their 30 lap feature race, with #03 James Shaw starting second and #11 Tink Jackson starting third. By lap four, the #03, of Shaw, had took over the top spot, with #45 Curtis Daye (who started fourth) had moved up to the second spot.
On lap seven, Daye looks to the inside of Shaw and makes his move, taking over first place, with Shaw falling to p2. On lap 15, Terry Jackson #21 and the #16 Pope battle for third, with Pope being able to hold off Jackson, until lap 16, when contact was made between Jackson and Pope, causing Pope to slow just enough to allow Jackson to take over third.
On lap 23, Tink Jackson and Terry Jackson race side-by-side, with Tink passing Terry to take over the third spot. Daye would take the checkered flag, with Shaw coming on a close second, Tink Jackson third, Terry Jackson fourth and Pope finishing fifth.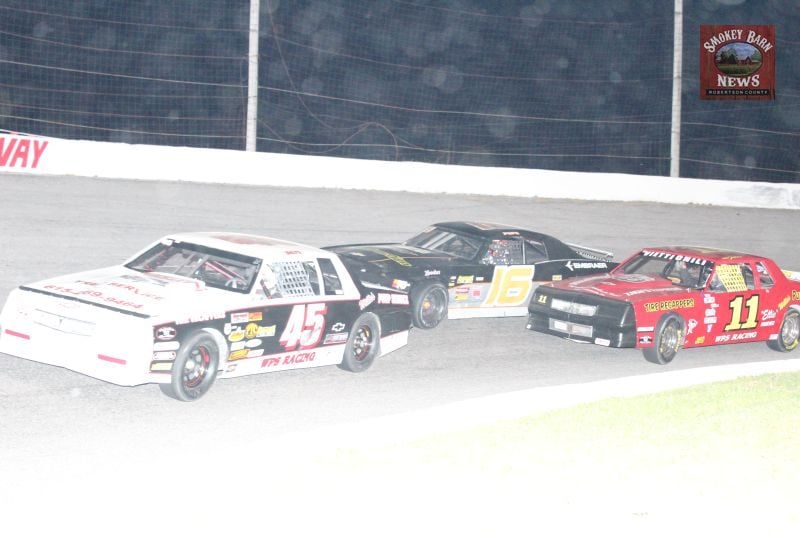 Pro 8 Late Model 125 lap showdown:
Wow the Pro 8 Late Models put on one heck of a show, during their 125 lap feature race. Mark Day, in the #8 brings the big field of cars to the green flag, with #98 Justin Ashburn starting second, #16 Billy Sisco starting third, #22 Mike Barrett starting fourth and the #99 Chad Willis starting fifth.
On lap 10, the #61 TW Fisher and the #62 William Hale make contact, in turn two, bringing out the first caution. Day is still your leader, with Ashburn running second and Barrett running third, as they take the green flag, on the restart on lap 15.
On lap 18, Barrett dives to the inside of Day, trying to take over the top spot. Day spins after contact from Mike Barrett and collects ALMOST the entire field of cars. #14 Davey Coble, #98 Justin Ashburn, ##99 Chad Willis, #5 Bobby Terry, #38 Hunter Byrd, #55 Jonathan Wilhite and the #16 Billy Sisco were all part of the wreck but only Coble was unable to continue.
Billy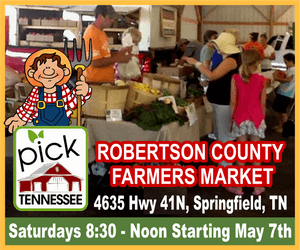 Sisco was the leader, on the restart, on lap 27. By lap 47, Day was back up to the second position, and was battling hard with SIsco for the lead, but can't make the pass, just yet. With 52 laps complete, #62 William Hale and the #55 Jonathan Wilhite make hard contact, with each other, bringing out the caution. On the restart, Sisco and Day continue to battle for the top spot and on lap 61, Day claims the position, with Sisco falling to second with Barrett running in third.
On lap 70, Barrett begins to look for a chance to take second away from Sisco and on lap 76, he is finally able to complete the pass, with the top three being Day, Barrett, and Sisco. Sisco then starts to fall back, and by lap 80, Ashburn moves past Sisco to take over the third spot.
For several laps, thereafter, Ashburn and Barrett go back and forth, with each driver taking over the second spot, until on lap 101, Barrett blows his engine, ending his chances at finishing the race and in the process kills most of the mosquito population in Robertson County or at least at the speedway.
The red flag was waved, for cleanup, with Day leading, Ashburn second, Sisco third, Willis fourth and Terry fifth. On the restart it was Ashburn racing door to door in an epic battle of veteran Late Model drivers and On lap 112, Ashburn was able to take over the lead, where he would stay for the remainder of the race.
Day would finish second after suffering from brake issues late in the race, Billy Sisco finished third, Bobby Terry finished fourth and Chad Willis out of Bowling Green Kentucky round out the top 5.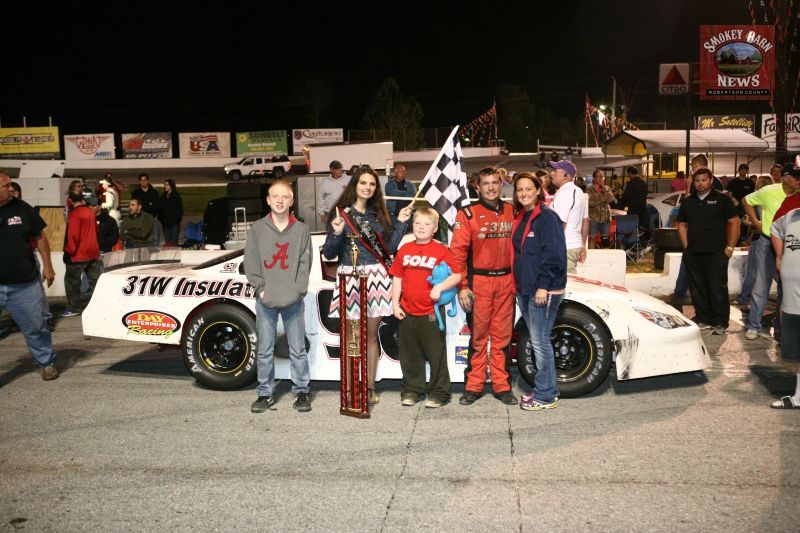 After contact with the 22 of Mike Barrett, Mark Day spins and collect a lot of good cars.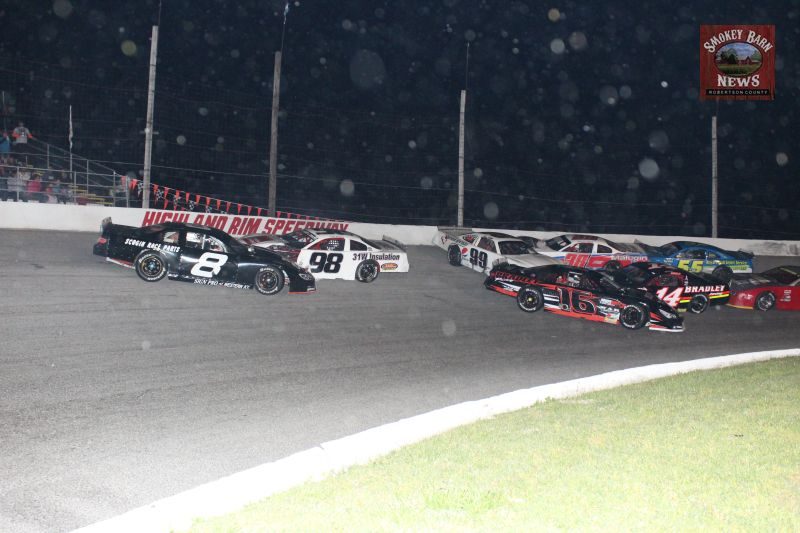 After catching the winning Tennis ball in the Ball Toss this young man gets to pocket $50 CASH compliments of Highland Rim Speedway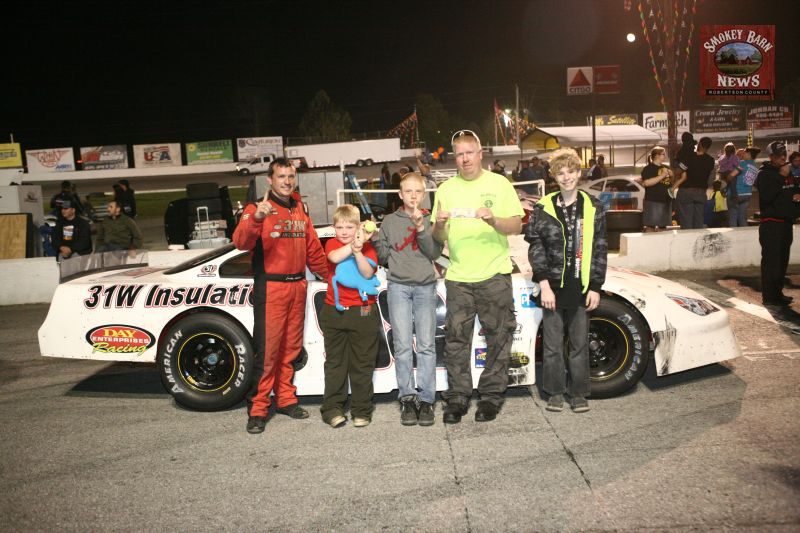 Smokey Barn News (Sponsor/Advertisement)