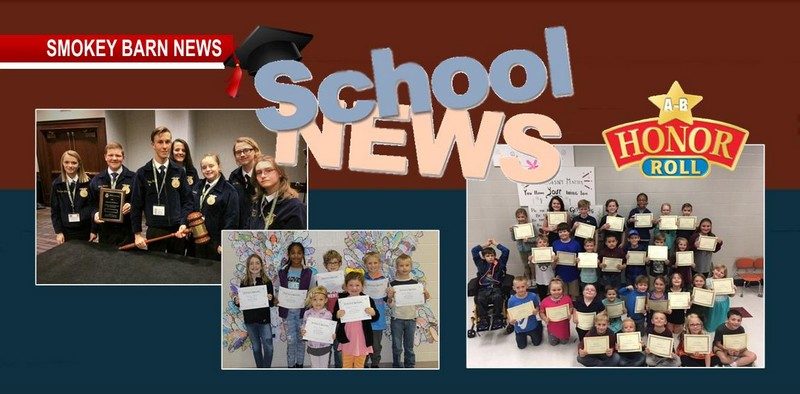 In School News: Student Achievements & Awards For 1st 9 Weeks
ROBERTSON COUNTY TENNESSEE: (Smokey Barn News)

Congratulations to our Jo Byrns Elementary School October Students of the Month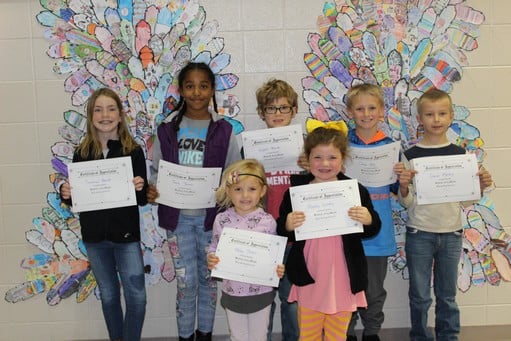 Front Row: L to R: Abby Troxell (PreK) and Presley Woody (K)
Back Row: L to R: Savannah Beaird (5th), Tamia Turner (3rd), Wyatt Korth (2nd), Caleb Gay (4th), and Gavin Mosley (1st)

East Robertson Elementary School's 1st Nine Week Honor Roll –
4th Grade A Honor Roll
Khloe Brown, Kelsey Gregory, Aiden Jones, Maddie Oden, Caleb Pearson, Allye Pennington, Grayson Prowse, Gracie Ring, Nadia Shaker, Ashlyn Smith, Conner Stacey, Kaden Stratton, Catherine Swinea, Chance Thompson, Ethan VanDerWesthuizen, Kason Young
4th Grade A/B Honor Roll
Reagan Alford, Seth Atkins, Vinny Bradford, Lilly Bravo, Amarian Brim, Aaron Blount, Jeremy Blount, Matthew Bondwe, Kierra Church, Aiden Clemmons, Adley Cook, Isaiah Cotham, Alex Dixon, Katelyn Eades, Bella Groves, Dylan Harrell, Anna Claire Highsmith, Karyen Huff, Rylan Huntsman, Gavin Irwin, Noah Jensen, Garrett Jones, Mikayla Kalicin, Grace Kemp, Adah Mangrum, Jacob Massey, Katie McDaris, Joshua Nabor, Cecilia Osborne, Bailee Oster, Carsyn Phillips, Savannah Phillips, Austin Pilkerton, Kailyn Pruitt, Brody Rye, Whalin Stewart, Zoe Vaughn
Gunner Warren, Kailey West, Evan Whiting, Jason Wilson, Peyton Woods, Dorian Wrenn, Maleena Zemba
5th A Honor Roll
Claire Barber, Callie Bishop, Christa Brown, Eve Burner, Daniel Burnett, Ambriel Carter, Ethan Chesnut, Matt Cooper, Rowan Dindore, Bryce Duncan, Sienna Edison, Bryce Fulton, Caleigh Gleaves, Makayla Glenn, Luke Hall, Colten Harbolic, Mason Hester, Samuel Jared, Mac Jepson, Brynna Kaufman, Aisyln Lamb, Caleb McNeil, Lach Michie, Sadie Murray, Hudson Osborne, Paige Pentecost, Tadhgan Rinkleff, Aden Silvage, Haley Still, Emma Stradtner, Henry Swain, Brandon Swann, Kayla Thompson, Matthew Webb
5th A/B Honor Roll
Daniel Barnes, Kady Brigance, Steven Brooks, Kaylee Carter, Brandon Chandler, Natalie Clayton, Miles Cothron, Caleb Cox, Drake Curtis, Aiden Dotson, Aiden, Farmer, ZayViyan Groves, Logan Hall, Emilie Hunt, Aly Jenings, Maysen Lyons, Nicole McCrary, Kezia McGregor, Kylie Miles, Elizabeth Miler, Eli Milliken, Joe O'Conner, Noah Powell, Nixon Rohr, Walter Rozier, David Sisco, David Summerer, Jeremiah Sylvis, Cade White, Neyland Yates

East Robertson Elementary School November Students of the Month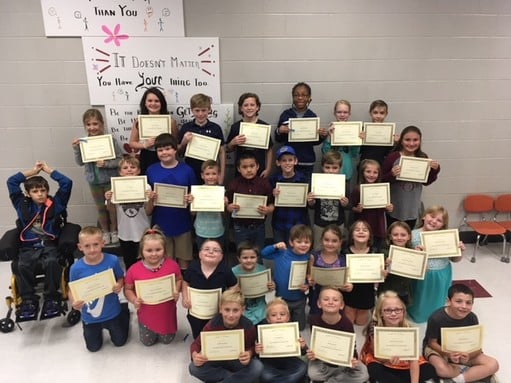 Liam Hester, Liam Sloan, Amaya Henderson, Hunter Johnson, Briley Moore, Lucas Thomas, Jack Russell, Ryden Stark, Giselle Slone, Adelyn Fleming, Easton Wilcox, Becca Jones, Knox Jones, Jorge Reyes, Drew Brisson, Hayden Pulley, Addison Williams, Drew Pearson, Jonathan Kalicin, Kendyll Duncan, Jaiden Jackson, Brayden Vaughn, Brayden Tinnin, P.T. Flippo, Layla Brown, Kason Young, Anna Claire Highsmith, Nadia Shaker, Katee Clark, Caleb Pearson, Nevaeh McDorman, Mason Elmore, Adah Mangrum, Amarian Brim, Daniel Burnett, Paige Pentecost, Haley Still, Makayla Glenn, Gavin Irwin, Lilly Bravo

White House High FFA Members Compete Nationally- ranked 13th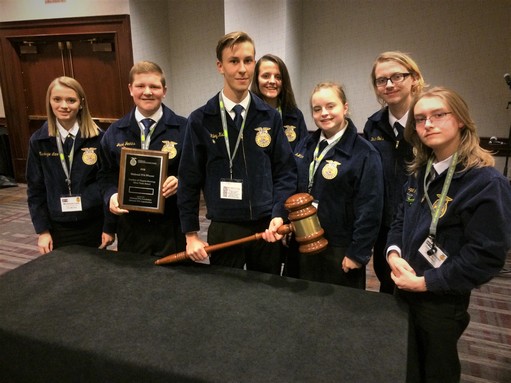 White House FFA recently competed for national recognition in a career development event at the 90th National FFA Convention & Expo in Indianapolis, Oct. 25-28. Members of the team traveled to Indianapolis to represent Tennessee and vie for national honors in the conduct of chapter meeting area. The team finished the competition ranked 13th in the nation and receiving a silver rating, barely missing the semi-finals by a few points. FFA members who represented the chapter include Riley Keller, Jacob Jenkins, Kolvin Oaks, Anneka Staley, Kenzie Lane, Conner Stewart, and Jaycee Whitaker. Mike Akridge is the chapter advisor and coach.
The National FFA Foundation and The National FFA Organization sponsor the event. Conduct of chapter meeting is one of 25 career/leadership development event areas, covering jobs skills in everything from communications to mechanics. Ninth grade FFA members are introduced to parliamentary procedure while learning how to conduct efficient meetings and building their communication skills. CDEs and LDEs help students develop the abilities to think critically, communicate clearly and perform effectively in a competitive job market. The National FFA Organization provides leadership, personal growth and career success training through agricultural education to 649,355 student members who belong to one of 7,859 local FFA chapters throughout the U.S., Puerto Rico and the U.S. Virgin Islands. The organization is also supported by 225,891 alumni members in 1,934 alumni chapters throughout the U.S.

Greenbrier Middle School Honor Roll 1st Nine Weeks
6TH Grade "A" Honor Roll
John Becker, Malachi Bentley, Charles Biggs, Constanza Bonilla Morales, Chasity Brogdon, Sadie Buckner, Bryce Cox, Stacie Espiritu, Rylee Frank, Alejandro Gachupin, Braydon Green, Bryan Gutierrez, Mackenzie Kuehne, Amelia Maddox, Keira Meals, Timothy Mitcham, Johnny Raimondo, Kaylie Richardson, Asharaun Turner, Ronin Turner
7TH Grade "A" Honor Roll
Ella Bell, Alexandria Bowden, Selma Cardona, Tyrese Ceaser, Abigail Clinard, Rachel Daughtry, Kaitlin Dillard, Samantha Ellithorpe, Melea Escue, Chloe Gagnon, Kathy Garcia Chavez, Elijah Harper, Dmarcus Harrell, Blake Hayes, Emma Haynes, Makenlee Jones, Sarah Keefer, Caeden Kemper Kelly, Aariana Lucas, Laura McCartney, Reagan Mendoza, Caroline Moles, Allie Moses, Logan Nixon, Connor O'brien, Carlos Perez, Dany Retana Mejia, Bryan Reyes Ramirez, Marisa Rivera Solis, Nolan Rogers, Emilie Sheltra, Landon Shrock, Shelby Smith, Autumn Stuart, Honor Summers, Camryn Taylor, Alexis Thurston, Matthew Tidwell, Luc Tran, Kaleb Warner, Cooper Wray
8TH Grade "A" Honor Roll
Madilynn Angell-Tucker, Angelina Bailey, Alexis Birdwell, Jesse Brown, Ezekiel Buckner, Aubrey Clinard, Nash Clinard, Rachel Cook, Abigail Couts, Gabrian Crowell, Olivia Gabhart, Sarah Hefty, Emma Hicks, Timera Hinson, Caroline Jansen, Macy Jones, Bennett Lyston, Cayden McKinney, Kimber Merithew, Rachel Morgan, Ella Polen, Christina Summers, Patrick Sweeney, Brody Thompson, Ethan White, Ethan Williams, Dale Williamson, Ava Wood
6TH Grade "A/B" Honor Roll
Kayleigh Andrews, Karen Arcos Cabrera, Amanda Autry, Chandler Barrow, Katie Betts, Joshua Biggs, Brooklyn Bush, Emma Carter, Ellie Clark, Harley Cobb, Gavin Cook, Derrick Coy, Cannon Cross, Ashley Cruz-Perez, Christopher Demonbreun, David Dorris, Aydan Edwards, Maya Escue, Colin Fisher, Rebecca Forster, Juliet Garcia Ramirez, James Gay, Billy Gomez Ortiz, Kameron Grizzard, Andrew Harrison, Kaitlyn Harville, Natalie Hinkle, Ella Honeycutt, Jacob Hooper, Jonathan Hudson, Nevaeh Jackson, Brooklyn James, Zakkary Julian, Annabel Kelly, James King, Gavin Landress, Kayla Lowe, Valeria Martinez Angel, Rayne McCroy Jones, Ian McMurtry, Anastasia McNerlin, Luke Meyer, Tyler Monroe, Cooper Murphy, Tyler Neese, William Norman, Landon Orand, Greyson Osborne, Kaitlynn Paulsen, Lexington Printz, Selina Rainey, Diana Ramirez Trejo, Luke Reynolds, Kacie Sapp, Sydney Seeback, Ryan Semore, Megan Singer, Sarah Slagle, Kaleb Smith, Lizbeth Soto Cabrera, Amanda Story, Gage Thaxton, Forrest Thomason, Jade Traughber, Jordyn Trice, Dahlia Vevea, Angela Watson, Parker Weakley, Sanaya White, Maranda Willis, Alivia Woolfolk, Emily Wooten, Sidney Yac Godoy
7TH Grade "A/B" Honor Roll
Angie Aguilar Garcia, Wyatt Allgood, Haddix Anderson, Sarah Armstrong, Michael Artrip, Brandon Baldwin, Abigail Baltz, Emilie Boyle, Chandler Brown, Elizabeth Brown, Holly Bryant, Nolan Carson, Nathan Castleman, Jacob Clevenger, Briley Crain, Ethan Crumby, Carter Demarcus, Matthew Dill, Jake Dorris, Breanna Duke, Ashton Eby, Kelsey Fitzgerald, Travarius Flood, Rielyn Freeman, Johnathan Goff, Caleb Gonzalez Perez, Brody Hajdu, Evelyn Hammond, Teasia Hardin, Michael Hardy, Addison Hassler, Z'Nasia Henley, Logan Henry, Emma Hoback, Makenzie Johnson, William Keefer, Aiden Key, Kendra Killingsworth, Nathaniel Knight, Micaiah Lucas, Hannah Martin, Abigail Mayes, Kaelynn McClain, Nathan Meals, Brycen Meeks, Nathan Mendez, Kadyn Miller, Logan Morgan, Caleb Moss, Liberty Pelno, Kendall Peterson, Conner Phelps, Brianna Pulliam, Christa Rand, Kendall Reese, Ashley Rodriguez Martinez, Bryan Salas Rivera, Jade Schmidt, Michael Smith, Owen Smith, Joshua Story, Evan Stubblefield, Jacob Summers, Dalton Traughber, Braxton Trice, Harlee Tucker, Noah Wade, Julianna Warren, Brayden White, William White, Dalton Wilbur, Isabella Williams, Lakin Wooden, Jack Zaborney
8TH Grade "A/B" Honor Roll
Zoey Angel, Brandon Bales, David Bell, Breyden Borst, Lillian Boyles, Hope Bryant, Kayla Buckliew, Kaylan Cooper, William Cross, Jaxson Dempsey, Corbin Derseweh, Brooklen Fuqua, Tyler Grimes, Nathan Hallum Jr., Haylie Hamilton, Landry Hampton, Morghan Henley, Sabelandrah Hinson, Evan Holloway, Christie Hudgens, Kevin Hutcherson, Angel Iniguez Rivera, Cameron Jenkins, Justice Jennings, Brady Knepper, Dillon Knight, Hallie Ledbetter, Celeste Martinez Angel, Christian Mason, Halley McLain, Emily Menees, Trent Miller, Jacob Morgan, Karly Norris, Christopher Orren, Dylan Parrish, Gia'vonna Payne, Terry Phelps, Christopher Plumley, Brandon Pointer, Chadwick Poole, Landon Pryor, Tanner Reichardt, Michael Richter, Nathan Robinson, Dylan Scott, Rebecca Stafford, Caleb Stroud, Hailey Suter, Aiden Thomas, Isaiah Torralba, Gracie Trice, Gracie Turner, Laura Walker, Nathan Ward, Veronika Yurchenko

White House Heritage Marching Band Completes Another Successful Season.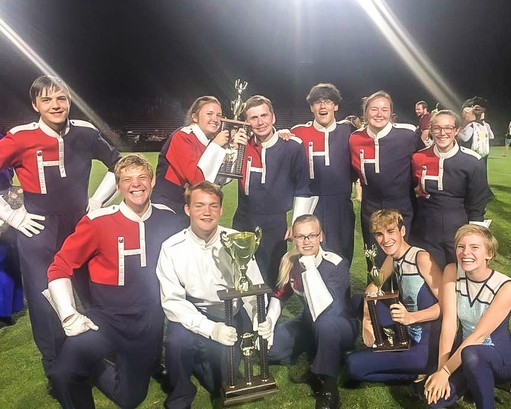 The White House Heritage Band of Patriots marching band recently concluded another successful competitive season performing their show "Words". Under the direction of J.R. Baker and Rebecca Pal the band competed in five competitions this fall at Clarksville Northeast High School, Siegel High School, Station Camp High School, Columbia Central High School and Franklin High School.
The band and percussion sections finished second in their class at three of these events, and the color guard finished third at Columbia Central's contest. At the Clarksville Northeast contest the percussion section placed first in their class and fourth overall in the entire contest.
The band placed first in its class at the Columbia Central Marching Invitational and was also awarded a superior rating at two other different contests this year. This combination of achievement fulfills one component of the Tennessee Band Masters Sweepstakes award.
Baker said he hopes to qualify the band for this award in the spring with their performance at a regional Concert Performance Assessment event which will be held at White House Heritage High School March 13-15.
The band's 2018 program "Words" featured a variety of music illustrating how everyone uses words to describe themselves and their world, how words are used to lift one another up, and how when words are not sufficient, that music can fill that void.
According to Field Commander and senior, Alex Copenhaver Pounds, "We all have our own special way of doing things and expressing ideas. With this show we expressed through marching and playing the thought that our differences are what we live for and that music and words alike build up the world."


Smokey Barn News (Advertisement)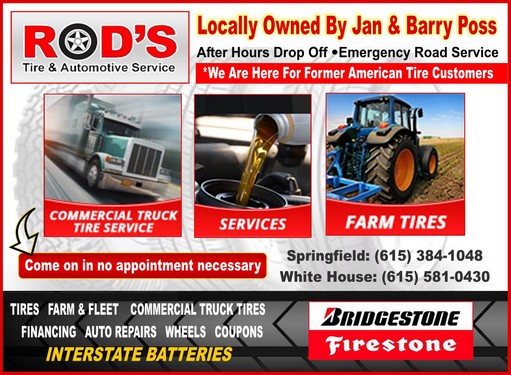 We bring you ALL the News in and surrounding Robertson County, Tennessee.