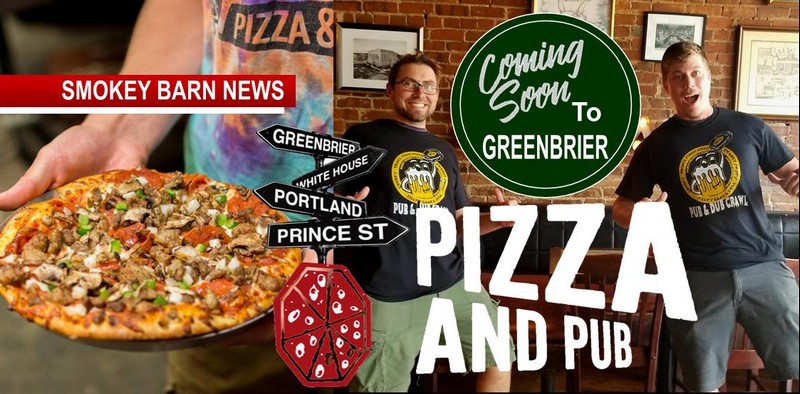 It's Official, Pizza & Pub Coming To Greenbrier
GREENBIER TENNESSEE: (Smokey Barn News) – It's official, Smokey Barn News has confirmed that Pizza and Pub is coming to Greenbrier, the deal signed with the Viridian Group Wednesday afternoon.
This will be the 5th Pizza style restaurant for owners Brad Singleton and Spencer Wakefield.
Their first restaurant, named after the street it's on, Prince Street Pizza and Pub, opened in Gallatin in 2016. The following year the two would open their second restaurant (now under new ownership) Sanders Ferry Pizza in Hendersonville.  Next would be White House Pizza and Pub in 2018 followed by Filly's Game and Grill on the square in Gallatin the same year.  Most recently the pair opened Portland Pizza and Pub.
The new spot for Brad and Spencer is perched right on the corner of the new College St revitalization project under the Viridian Group, located adjacent to the new Town Square Commons. MAP The restaurant's official name will be "Greenbrier Pizza and Pub."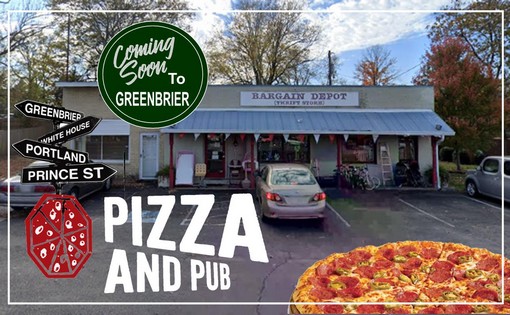 The duo tells Smokey Barn News that the theme will be unique artisan pizzas. They'll have a variety of unique ingredients like artichokes, shrimp and Nashville Hot Chicken, just to name a few. They'll also be offering unique pizzas like their steak, vegetables, and tater tot pie that is served with a brown gravy sauce.
It's officially a pizzeria and craft beer restaurant. Everything is baked in an oven with a variety of sandwiches and pasta on the menu. They'll also offer low carb pizza bowls, which is basically a pizza with no crust cooked in a foil pan.
"My partner Spencer and I are ecstatic to be part of this new revitalization project going on in downtown Greenbrier," Singleton said. "We are anxious to bring our award-winning pizza program from Sumner County into Robertson County and serve the Greenbrier Ridgetop area.
"We look forward to serving awesome pies, local craft beer and a variety of delicious menu items. We'll be bringing in a bit of nightlife with live music and potentially Team Trivia nights and other various fun specials throughout the week. It will bring a new exciting facet to the new Greenbrier square."
If all goes to plan, opening day will be some time in September.
The announcement comes in the wake of the opening of Town Square Commons. Located on an adjacent corner, Town Square Commons is home to Golly G's coffee, ice cream, and sweet shop, Frankly Yours Boutique, Farm Bureau Insurance, and Jody A. Dorris Attorney At Law.
Golly G's grand opening was Tuesday and it has been packed ever since with standing room only and a line of vehicles out to the street. Frankly Yours Boutique opened on Monday and has also enjoyed brisk sales. It's all a big change for the Greenbrier community. FULL STORY