Large Springfield Home Total Loss After Early Morning Fire
UPDATE:
We have an update on the animals. According to officials, one dog and one cat are still missing. Another dog and another cat were found deceased.
SPRINGFIELD TENNESSEE: (Smokey Barn News) – A Springfield home is a total loss after an early morning fire tore through the structure Tuesday. Though the home is a total loss, officials tell Smokey Barn News that everyone made it out of the home safely.
The home is located on Spring Circle which sits on the east side of Wartrace Lake not far from downtown Springfield. The first call came into 911 at 4:10 am. MAP
When firefighters with the Springfield Fire Department first arrived, the large multi-level home was already fully engulfed in flames. The home was also tucked back in a wooded area complicating the efforts of firefighters to save as much of the home as possible. It took about 30 minutes to contain the fire and almost an hour before the fire was out. Firefighters did stop the fire from spreading to the adjacent wooded area and other nearby homes.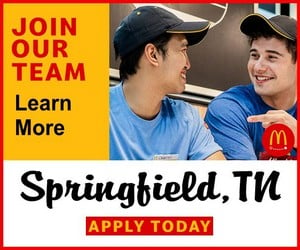 Officials are still making their way through the mechanics of the fire but we did confirm that everyone made it out of the home safely. According to Springfield Fire Chief Jeff Glodoski, the resident was inside the home when the fire started. "We believe she fell asleep in the basement with her cats when she felt heat and woke up." She was able to make it out safely but her phone was still inside the home which was already a fireball. Officials say she ran to a neighbor's house, initially there was no answer, but finally located someone to call 911 for her. Chief Glodoski said she was likely inside the home for some time while it was fully involved.  Unfortunately, the disposition of her cats is still unknown. As soon as we have an update on the cats from officials we will bring it to you. If you live in the area you might keep an eye out for them.
The Springfield Fire Department, Robertson County Emergency Medical Service, the Robertson County Emergency Management Agency and Springfield Police all responded to the scene.