Monday's Storm Drops 3 Tornados On Robertson County
VIDEO BELOW………….
ROBERTSON COUNTY TENNESSEE: (Smokey Barn News) According to the Robertson County Emergency Management Agency Director Chance Holmes, a team from the National Weather Service has been analyzing damage left behind by Monday's storm. The team's conclusion is that there were three possible touchdowns inside Robertson County on Monday.
According to Dir Holmes, Monday's storm dropped as many as 10 tornados in middle Tennessee with 2 or 3 possible touchdowns in Robertson County.  According to Dir Holmes, the three will get an EF0 rating, according to the National Weather Service. An EF0 is the weakest numerical classification a tornado can be given.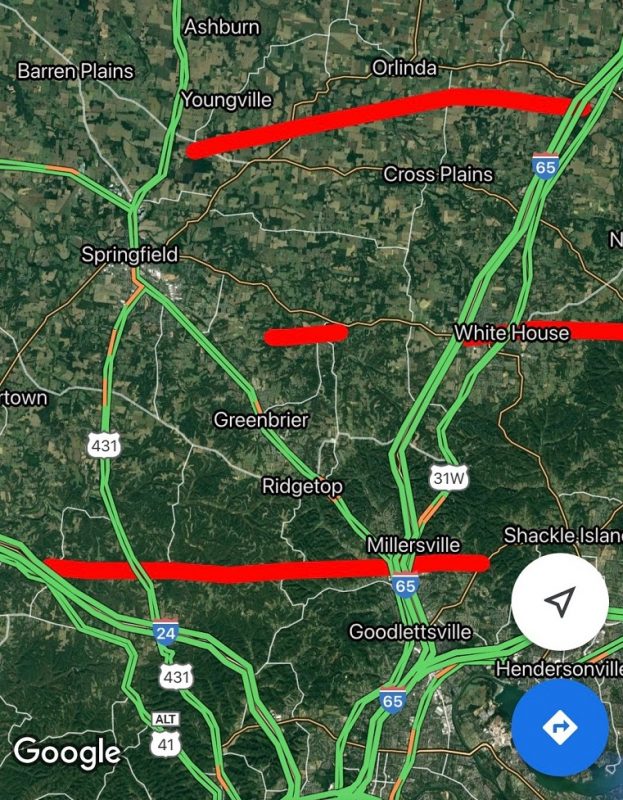 According to Dir. Holmes, the primary area considered for possible tornadic activity in Robertson County was an area near Gideon Road & Old Distillery Road. MAP In this area, at least two homes were damaged by toppling trees along a path of damage that included unusual tree damage described by Dir Holmes as a twisting of the treetops.
A map (left) sent over by Krissy Hurley at the Nashville Weather Service via Holmes at EMA, shows 3 paths of rotation. The lines do not indicate touchdowns, just upper rotation. Spots within the three lines are the areas that the Nashville Weather Service is confirming spots of tornadic activity on the ground.
Below is a video followed by some photos sent into Smokey Barn News by Jeff Jordan up on State Line Rd at the top of the county. It's a location not addressed in Hurley's map but as you can see in the video and photos below something fairly strong landed on Jordan's property. For more photos on FB CLICK HERE