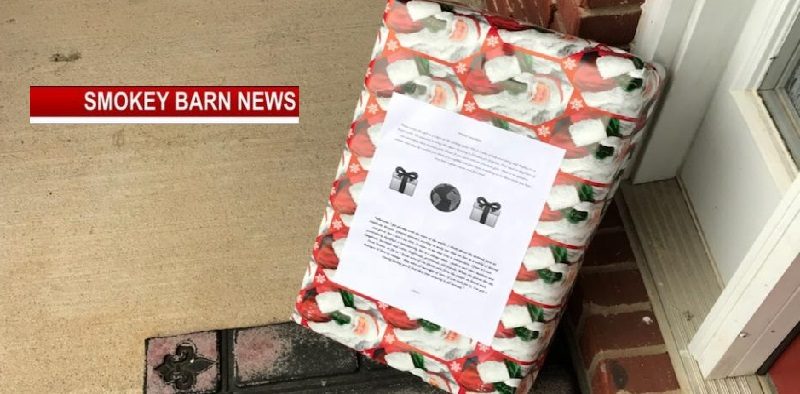 Anonymous Neighborhood Christmas Gifts Trigger Bomb Scare In Coopertown
COOPERTOWN TENNESSEE: Wednesday morning around 7:30m a Coopertown man called 911 after finding a suspicious package on his porch. The package was not addressed to or from anyone and was wrapped in Christmas paper. The home is located in a subdivision off Oak Pointe Dr near Cooper Nicholson Rd in Coopertown. MAP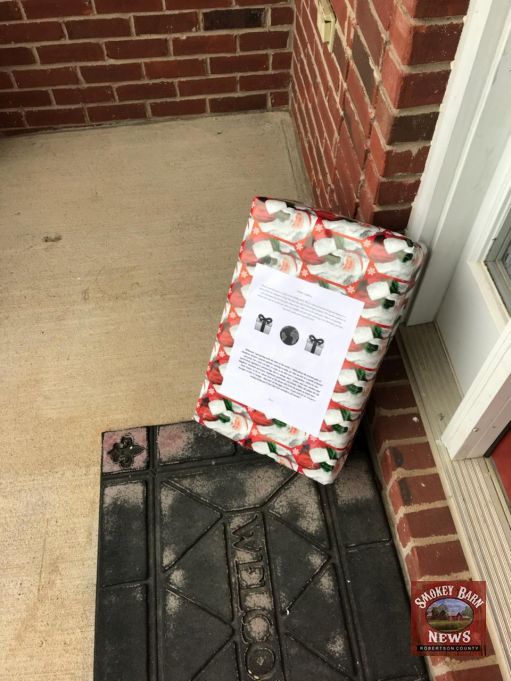 According to officials with the Emergency Management Agency, within minutes, a second similar package was found at another home on an adjacent street. It too was delivered anonymously but did have a note attached. In short, the note read that five other homes in the neighborhood had also received packages. That was enough to trigger a full bomb squad alert. Coopertown Police, the Pleasantview Volunteer Fire Department.
Following protocol set forth by the Homeland Security Bomb Squad, the Special Response Team, (a branch of the Emergency Management Agency) put on bomb protective gear and approached the first package.
Using specialized equipment, a small hole was drilled into the first package. A tiny video camera was then inserted into the box.
Examination of the contents of the package indicated that the package contained cookware. After that, the bomb technician "methodically made entry into the package" to confirm the contents and the all-clear was given for package number one. Then it was on to package number two. Again the technician suited up and began an inspection, according to EMA Director RL Douglas.
Officials continued searching the neighboorhood for the three remaining packages, and eventually, all the packages were cleared. Four out of the five packages had notes that (in full) read:
"Dearest Neighbors: Please accept this gift as a token of the holiday spirit. This is a time of love and caring and hoping for a better world. We endeavor to bring this about by a pay-it-forward gift program. Five random neighbors of our community have received gifts. Please if you could, send-on five more gifts. There is no spending amount that must be reached just think of a neighbor and give them something to let them know you hope they have a great season and feel loved"
The second part of the notes, taken from the film Love Actually, read:
"Whenever I get gloomy with the state of the world, I think about the arrivals gate at Heathrow Airport. General opinion's starting to make out that we live in a world of hatred and greed, but I don't see that. It seems to me that love is everywhere. Often, it's not particularly dignified or newsworthy, but it's always there – fathers and sons, mothers and daughters, husbands and wives, boyfriends, girlfriends, old friends. When the planes hit the Twin Towers, as far as I know, none of the phone calls from the people on board were messages of hate or revenge – they were all messages of love. If you look for it, I've got a sneaky feeling you'll find that love actually is all around."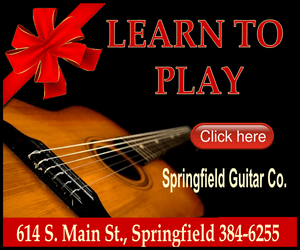 Officials said the notes were not firmly attached to the packages so it's likely that the first package had a note that fell off.
According to Robertson County Emergency Management Agency Director RL Douglas, "In this day and age, leaving anonymous packages wrapped in Christmas paper on your neighbor's front and back porch is not the best way to make a cheerful Christmas."
According to Coopertown Police, the woman responsible for sending the gifts is very upset that her attempt to bring Christmas cheer and happiness to her community ended up the way it did.
Police said that they are sure that the woman had no criminal or malicious intent, she is just a kind-hearted woman that wanted to give gifts to her neighbors.
Officials added that in their investigation they learned that the same thing was done last year and nothing unusual happened.
One official told Smokey Barn News, "I can remember a day, not that long ago, when you could give your neighbor a gift and not freak out the neighborhood."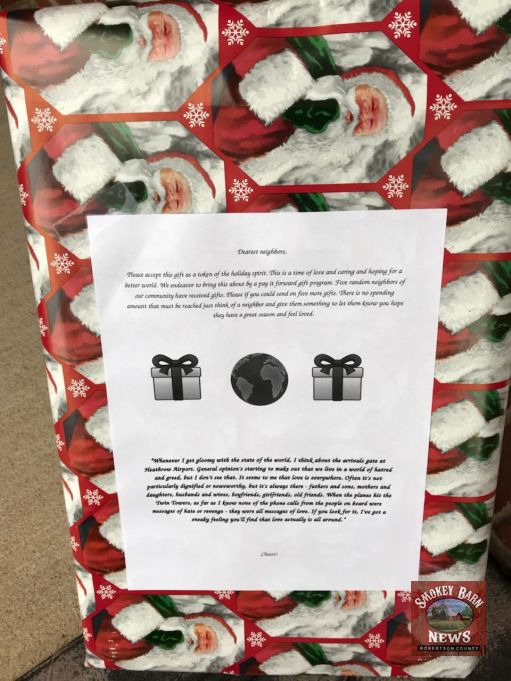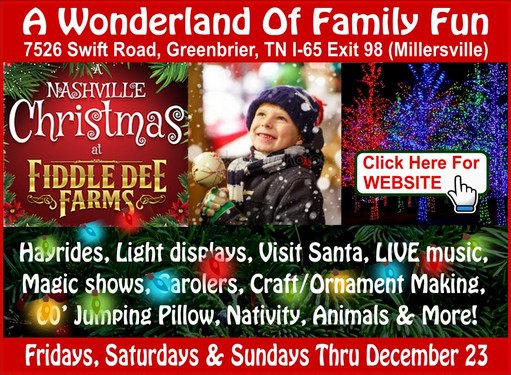 We bring you ALL the News in and surrounding Robertson County, Tennessee.