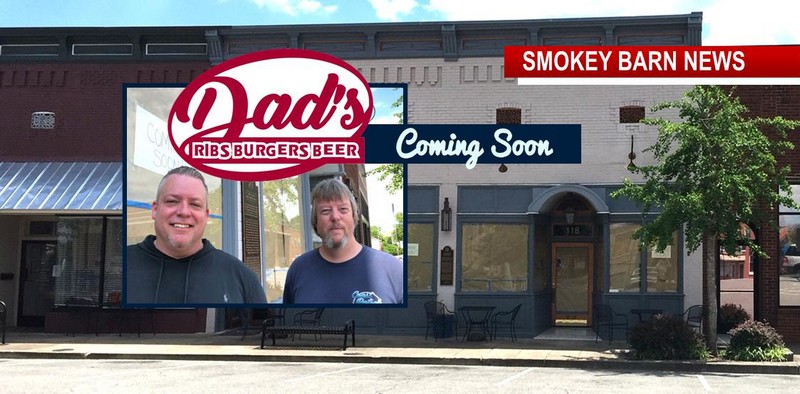 New Restaurant "Dad's" Coming To Springfield Square
SPRINGFIELD TENNESSEE: (Smokey Barn News) – A new restaurant is coming to the Springfield historic square. Perched in the shadow of the Robertson County Courthouse, "Dad's" is taking shape.
Blake Goolsby, Owner/Rib Ninja of Dad's Ribs (pictured left) announced today that their next level restaurant, Dad's, will be opening on the Square in Springfield, Tennessee in the front space of the historic building at 118 6th Avenue West.
Dad's Ribs (now Dad's) has been in business since 2019 as a delivery-only service in Nashville, TN. This newest evolution of Dad's will offer their delicious gourmet burgers, along with a great selection of beers.
Dad's builds on familiar offerings that have been elevated to the extraordinary such as: XXtra meaty, fall off the bone, baby back ribs, from scratch sides, like Mom's Mac & Cheese and Chipotle BBQ Beans, 100% Angus Beef burgers, Build Your Own Fries, the very popular Nutter Butter Banana Cream, and more!
Blake is very excited to join and serve the Springfield community and went on to state: "Our philosophy is that trust and business is to be earned every day, with every customer. This will be a fun ride that the community is invited to take with us and we hope to exceed everyone's expectations. We truly can't wait to share what we've worked so hard to develop over the years. All of our recipes have been painstakingly explored over and over until a perfect blend of soul and science came together to provide something that we could be extremely proud of and could execute time after time to the same high quality and standards. That being said… Nothing was lost on flavor… It's really really good."
Randy Balasky, General Manager/Burger Beast, (pictured right) who will be running day to day operations, is a huge fan and has been involved for over four years. "Blake and I have been best friends for years. We have the same high standards and goals. I know what he's thinking better than he does sometimes. He knows if I don't truly believe in something then I can't support it. So, when this idea was in its infancy, I had many questions. But after months of discussion, I inevitably built to the same level of excitement and took the leap to move from my home in Japan, and join him in this adventure. And it has truly been a blast so far."
Dad's theme is built around his father's memory and an ode to "The Dad" and invites everyone to bring a framed picture of their dad (no larger than 8×10 please) to be added to a collage dedicated to all fathers.
Blake went on to state "We are in search of a talented artist from the community, from any age group, to contribute a mural of Springfield on a prominent interior wall. We are also looking to fill our staff with happy, committed, and energetic people VERY SOON. So, please respond asap by emailing your information or resume to [email protected]"
Dad's will be open for lunch 7 days a week from 10:30am to 2:30pm. Catering and pick up will also be available. The website and social media will be available in the next few weeks.
A tentative opening date of August 1, 2020, has been set but could change depending on the health climate in order to offer a safe environment for customers and employees.
In recent years the 118 building has gone through a massive remodeling and preservation project.  As Mr. Goolsby indicated, Dad's will occupy the forward portion of the building that faces the Robertson County Court House, whereas the Copper Vault will continue to occupy the larger back portion of the building. Customers can enter the Copper Vault from the back or the front left 116 entrance but the two restaurants are not affiliated.
During the restoration of the building, rare antique Frank Lloyd Wright glass 'Prism' tiles were discovered in the windows of the 118 building.
In preparing to tear out and replace the damaged leaking transom glass at 116/118 6th Avenue West (on the square in Springfield), Julie Rodriguez of Niches in Design was intrigued by the unusual glass tiles in the transom. Hidden under the canopy of the building, little notice had been given to the curious purple hue tiles for many years. Upon closer inspection and with a little research she realized that these were antique Luxfer tiles. Luxfer tiles, produced by the Luxfer Prism Company, were ingeniously designed to brighten the interior of storefronts by bending the sunlight to fall upon the walls and ceiling instead of the floor near the window; a useful innovation due to the underdevelopment of electric lighting during the very early 1900's. But that was not Julie's only query. About one hundred of the Luxfer tiles had a beautiful floral design formed into them; a design that seemed surprisingly progressive for the time period involved.
Although there were many Luxfer tile designs, Julie was thrilled to find that this particular design was the only one produced that was done by the famous American architect, Frank Lloyd Wright. He designed the tile in 1895 when he was a 28 year old aspiring architect. The tile design is a superb example of his budding "organic architecture" form.
The glass transom has been painstakingly restored by hand and will be shortly re-installed in its original home on our town square. The beauty of this glass will be best seen as the sun hits the prisms casting a warm glow through the inside of the storefront.
Julie Rodriguez stated, "We have enjoyed having a small share in revitalizing the beautiful town square of Springfield and we appreciate the commitment of the owners, the Pennington family, in restoring this handsome building."
About Niches in Design:
The concept of Niches in Design has grown as a 
result of a husband and wife team successfully designing and developing projects for a variety of clients. With their experience of over a span of two decades, this family business has grown in part due to their unique talent to blend beauty with function.
This skilled team takes great pride in developing for their clients a range of projects from custom layouts for cabinetry, tile mosaics, to complete remodels.
Their niche is designing an existing room or space that appears too small to be functional and transforming it into an improved place of beauty and betterment to the estate.
Below is a 1904 magazine advertisement for Luxfer Prism Tiles.
Story author, Julie Rodriguez – Designing member- Niches in Design- (615) 598-5473 [email protected]
We bring you ALL the News in Robertson County, Tennessee.