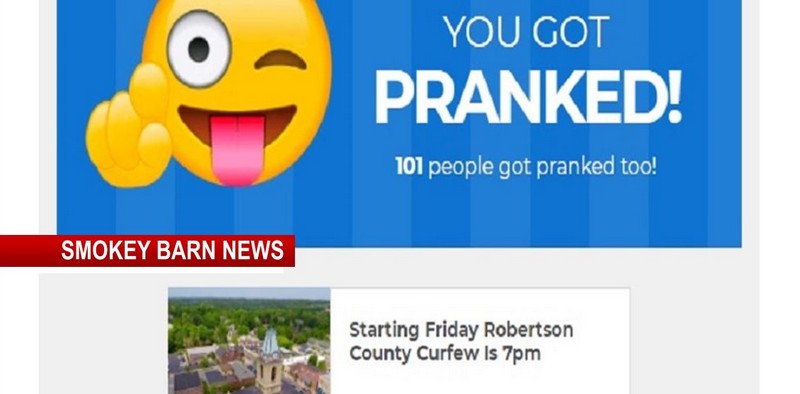 Prank Site Claims 7pm Curfew For Robertson County
ROBERTSON COUNTY TENNESSEE: (Smokey Barn News) – A prank article circulating on the Internet claiming that Robertson County is under a 7 pm curfew is not true officials say.
Several Robertson County agencies have been getting calls from citizens looking to confirm the false report.  The calls are time-consuming for officials.
When you click on the article it says "You got Pranked" but apparently people are sharing the article without reading it. This is the second time someone has used this same site to "prank" in Robertson County. Back in February, the site was used to falsely announce that a Springfield resident had been diagnosed with the coronavirus. MORE
To lower your chances of being a victim of this and other pranks, look at the URL before you click or share.
Smokey's Special Notice Alert page, updated hourly, covers any and all City and County Announcements: County Clerks office – Renewals, Vehicle/Boat Registrations, Business/Sales/ Occupancy Taxes, Marriage Licenses, Passports, Business Closings & Hours, School Info and much more.. CLICK HERE