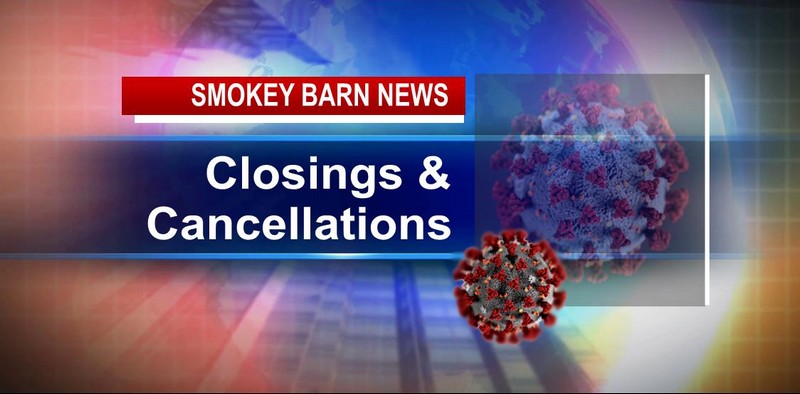 RC SR Center Closes & Other Local Closures/Cancellations
SPRINGFIELD TENNESSEE: (Smokey Barn News) – As we embrace the next few weeks of limitations designed to "flatten the curve," some local government entities, groups and businesses are adjusting their hours or closing altogether.
Below is a shortlist of scheduling changes that continues to grow. If your business, group or government office is closing or changing hours, email the info to [email protected] If you can try to use a relevant corresponding email address it will help us as each notice will need to be confirmed by Smokey Barn News staffers. New info will be added to this report. REFRESH THIS PAGE FOR UPDATES.

Robertson County Senior Center Closes, cancels all activities 
Dear Seniors and friends,

The Robertson County Senior Center is a place we know you like to spend time with friends, learn new things, and socialize. As the situation continues to change locally and globally with the coronavirus, myself and our Board of Directors are monitoring developments closely.
We are working diligently to find a balance between meeting needs and supporting you, our Seniors, and not increasing the potential risks found when gathered together.
The Robertson County Senior Center's main concern is the health and safety of each Senior.
After much consideration, we have decided to be CLOSED the week of March 15th. ALL center-based activities & activities are canceled. As of now, our plans are to re-group on Friday, March 20th to make a decision for the following week.
Our Telephone Reassurance program will still be ongoing so if you or someone you know is a part of this program – please know you will still be receiving those check-in phone calls.
We appreciate each one of you, and the joy you bring to each and everyone at the Center. I am grateful for your patience and understanding. I anticipate seeing you back, hopefully very soon. We will continue to update you as we receive guidance and updates.
We are here to support you. If you know of an older adult in need this week, please call me on my cell @ 615-516-9413.
Take Care,
Beth M. Felts, Executive Director

MORE SPECIAL NOTICES & ALERTS:
For local, City and County announcements, area business closures, cancellations, event postponements, library announcements and more – click here.