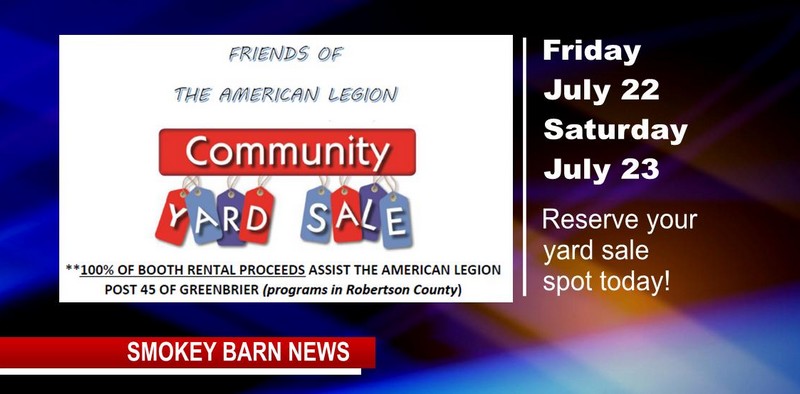 Reserve Your Spot At The Friends Of The American Legion Community Yard Sale
The Friends Of The American Legion in Grrenbrier will be holding a community yard sale fundraiser event Friday July 22 & Saturday July 23. 100% of booth rental proceeds assist the American legion Post 45 of Greenbrier. The event will be held at 2730 Hwy 41S, Greenbrier, TN 37073.
Food & Drinks by American Legion Auxiliary & Post 45
Friday July 22nd & Saturday July 23rd – Rain or Shine
Friday 8 am to 4 pm / Saturday 8 am to??
**LIMITED AVAILABILITY – Signup for Your Spot Now
Pre-Registration is Required.
Programs in Robertson County:
• Veterans Affairs & Rehabilitation
• National Security
• Americanism
• Children & Youth
Reserve an outdoor 10′ by 10′ spot for both days – $25
Reserve an indoor 10′ by 10′ spot for both days – $50
Contact: Kathi Carney (518) 242-0307
Email: [email protected]
Join the Friends Who Like American Legion – Post 45, Greenbrier on Facebook
Some of the Featured Items:
King Bed Set, Dining Table & Chairs, Power Lift Recliner (Like New), Recliner, CD / DVD Racks, Office Chair, Rocking Chair, Power Tools, Misc. Hand Tools
For more local events, yard sales, car shows, Farmers markets and more, click –> HERE
Mobile: To See The Latest Stories or to share this article, scroll below