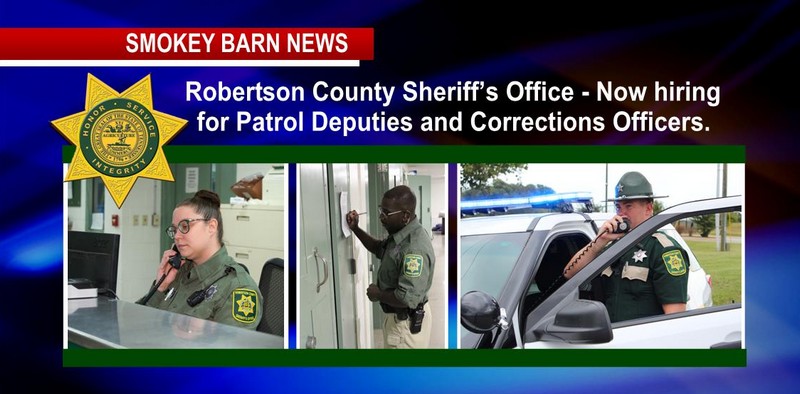 The Robertson County Sheriff's Office is currently hiring for Patrol Deputies and Corrections Officers.
ROBERTSON COUNTY TENNESSEE: (Smokey Barn News) – With a coverage area of almost 500 square miles in both rural and urban areas, and one of the newest and largest detention facilities in the state, the Robertson County Sheriff's is a great place to add to your portfolio of law enforcement experience.
With programs like our Senior Outreach (SOS) Program and SmartWater forensic technology, the Robertson County Sheriff's Office is a leader in both tech-based crime-fighting and community outreach programs.
If you would like to join our family of highly skilled Deputies and Corrections Officers then follow the instructions below. We look forward to hearing from you.
CLICK HERE to download and complete the application.
Completed applications can be emailed to [email protected]
Benefits:
• Patrol Deputy – Pay based on experience $16.65 – $20.46 hourly ($36,363 – $44,685)
• Corrections Officer – Pay is $15.42 hourly increasing to $15.96 hourly ($33,197 annually) after completion of a six-month probationary period
• Yearly pay increases with step plan
• Health, dental, and vision insurance
• Paid vacation, sick, and holiday leave
• Tennessee Consolidated Retirement
• Uniforms provided
• Health and Wellness Incentives
Qualifications:
A. Applicants must have reached their 18th birthday before the application can be accepted.
B. Applicants must have a High School Diploma or GED.
C. Applicants must possess a valid driver's license.
D. Applicants must be a citizen of the United States.
E. Applicants must have an Honorable Discharge from the Armed Forces (if prior military)
F. Applicants must be able to pass an extensive pre-employment background investigation.
G. Applicants must pass a psychological examination, polygraph examination, written examination, and a physical examination (including drug screen).
H. Applicants must be of good moral character. If at any time during the selection process it is found that the applicant has been untruthful or purposely withheld requested information, the applicant will no longer be considered for employment and will not be allowed to reapply with the department in the future.
I. Applicants who become employed as a full-time Deputy with this agency are required to meet and maintain the minimum standards as set forth by the Tennessee Peace Officer Training Commission.
Applicants for PATROL DEPUTY must be a TN POST Certified Law Enforcement Officer.
Patrol Deputy Job Description:
The Robertson County Sheriff's Office Patrol Division has the responsibility to serve Robertson County's 476 square miles and a growing population by detecting and deterring criminal acts, responding to calls for service, investigating violations of the law, and increasing the safety of our roadways and community. The Patrol Division strives to serve the public with respect and dignity, safeguarding lives and property in a fair & impartial manner. The Sheriff's Office hold its Deputies to high professional and ethical standards while fulfilling our constitutional duties.
Corrections Officer Job Description:
The Robertson County Sheriff's Office Corrections Division is responsible for the management and the operations of the Robertson County Detention Facility. It is the mission of the ROBERTSON COUNTY DETENTION FACILITY to house inmates in a safe and secure setting, to provide safety and security to the Robertson County community, and service to the judicial systems of Robertson County, The State of Tennessee, and the United States of America.
The Robertson County Sheriff's Office is a family-oriented organization with an energetic and positive work environment. Applicants should be eager to serve the citizens of Robertson County. Robertson County is seated between Interstate 24 and 65 which provides employees of the Sheriff's Office the unique opportunity to enjoy small town living, but with the convenience of being minutes away from larger cities such as Nashville and Clarksville, Tennessee. As your law enforcement career develops, you may find that you have talents or interest in other areas of law enforcement beyond the Patrol or Corrections Division.
The Robertson County Sheriff's Office has many divisions and specialty assignments such as:
• Criminal Investigations
• K-9
• Court Security
• Emergency Response Team
• Negotiations
• Training
• School Resource Officer
• Narcotic Agent
• Extradition
• Honor Guard
Applications may also be picked up in person at the Robertson County Sheriff's Office, 507 South Brown Street, Springfield, TN 37172.
The Robertson County Sheriff's Office is an Equal Opportunity Employer (EOE).