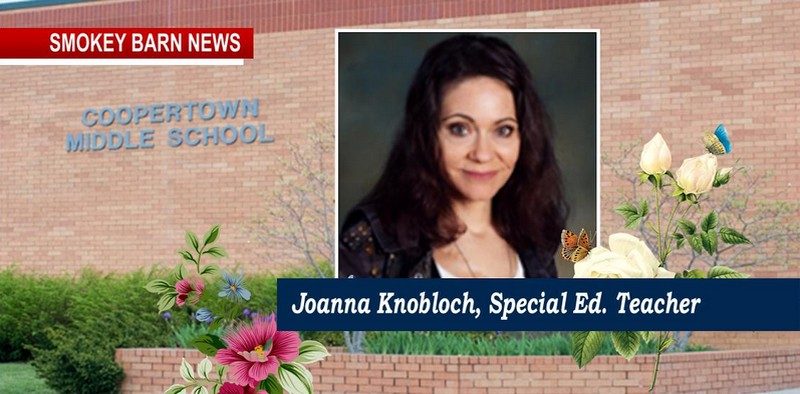 Second Robertson Teacher, Joanna Knobloch, Dies In Crash
COOPERTOWN TENNESSEE: (Smokey Barn News) – Yesterday we announced that a beloved teacher, Pam Woodard, with Robertson County School's died suddenly due to a health-related issue. (full story) Now Smokey Barn News has learned that a second Robertson teacher lost her life in a fatal crash on the same day.
Joanna Knobloch, 45, of Adams, a Special education (life skills class) teacher at Coopertown Middle School died from injuries she sustained in a vehicle crash near Adams on Sunday afternoon.
Officials with Robertson County School's released the following statement…
"Robertson County Schools extends deepest condolences to the family of Coopertown Middle School teacher Joanna Knobloch who died on Sunday. Her tragic loss leaves a void in the lives of her family, colleagues, and students and we truly mourn the loss of this, another of our district family members."
In her own words about her students on the school's website, Knobloch stated, "I think we have the best class and the best students here (but I may be a little biased). The small size of our class allows us to enjoy a family-like environment, as well as an education-friendly atmosphere. Each student is a unique and wonderful learner, so we meet each individual at the level they are currently at, and give them the tools and support to reach new goals."
According to the Tennessee Highway Patrol,  Knobloch, driving a 2013 Honda sedan, turned onto Highway 41 from Maxey Rd. (location of crash) As she made the turn she was struck by a 2004 Ford Explorer SUV driven by Emma Krone, 18, of Clarksville. The Ford struck the driver's side of Knobloch's vehicle pinning her inside. Krone was not injured in the crash.
According to Pleasant View Fire Chief PJ Duncan, the T-bone type collision left Knobloch pinned inside her vehicle. "She was hit in the driver's door." A lengthy extraction was required to free Knobloch from the tangled wreckage, the chief said. She was transported in critical condition to Skyline Medical Center but later died.  According to Chief Duncan, first responders had to remove the entire side of the vehicle to get her out. Duncan added that Knobloch was unconscious during the extraction.
Knobloch attended 24 church in Pleasant View. Officials at the church believe she was on her way to a Grief Share Class when the crash occurred.
"It is with great sorrow that we must share that Joanna Knobloch passed away this afternoon after a terrible car accident. For those of you that didn't know Joanna, she had lost a son several years ago, which is part of what brought them to 24. She had since gotten to a place with her loss that she felt God leading her to help others with the same hurt and has been helping with our grief share class.
"We believe she was on her way to that class when the accident occurred. A true testimony to the fact she wanted God to use her in the lives of others."
As soon as funeral arrangements are confirmed we will share them here. Refresh this page for updates.
Smokey Barn News (Advertisement)
Smokey Barn News (Advertisement)

We bring you ALL the News in and surrounding Robertson County, Tennessee.