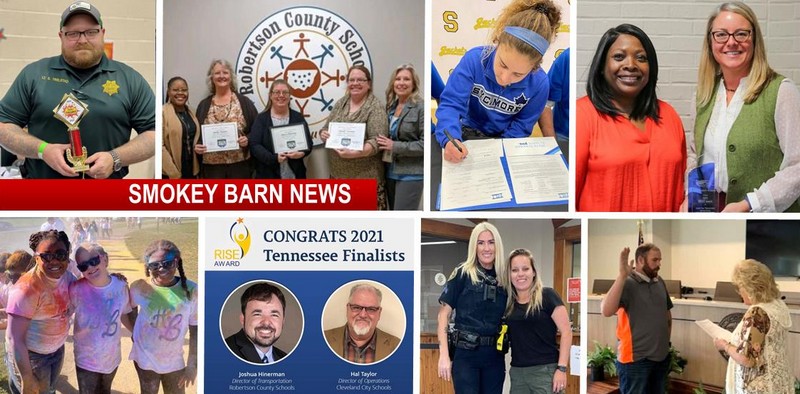 Smokey's Community Column, Stories Across Robertson County (11/14/2021)
ROBERTSON COUNTY TENNESSEE: (Smokey Barn News) – Welcome to Smokey's Community news column. It's a look back at this week's top community news in and around Robertson County.
Smokey's People & Community News column highlights local stories of people, schools, community events, and charities that continue to make Robertson County great!
BECOME A SPONSOR TODAY!! [email protected]
Got a story? Email your story ideas to our 24/7 news desk; [email protected]

(Robertson County, TN)
P-16 BEST Award Winners Announced
The North Central P-16 Council recently announced the 2021 BEST (Businesses Empowering Students and Teachers) Award winners. The BEST Award celebrates the accomplishments of community leaders, business owners, and entrepreneurs. It recognizes those who share knowledge and expertise, advocate, and foster student success in pre-K through postsecondary education.
The P-16 Council is made up of area secondary school educators, higher education leaders and businesspeople. It is led by Volunteer State Community College. The goal of P-16 is to promote the relationship between education and the value of work, develop a highly trained workforce, and create a culture of lifelong learning by positively impacting student success through awareness, advocacy, and action.
The BEST Award winners were honored by the Council at the October meeting.
The 2021 award winners are: Robertson County- Asailio "Ace" Timmermeir, United Way of Greater Nashville;
and…
Macon County- Marcus Smith, Modern Structures; Trousdale County- Charly Lyons, Tennessee Central Economic Authority; Sumner County- Mike and Lindy Gaughan, RE/Max Choice Properties; Wilson County- Tom Nelson, accepted by Mike Turturice, Performance Foodservice.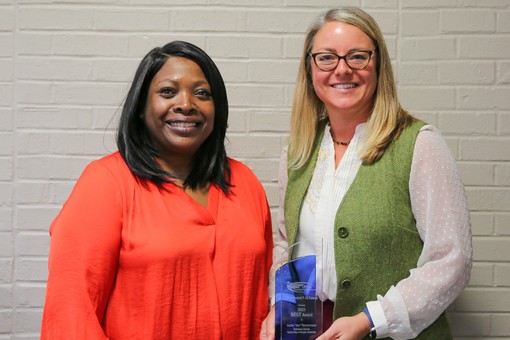 About Vol State
Volunteer State Community College has more than 100 areas of study and offers two-year degrees, certificates and paths to university transfer. Continuing Education and Workforce Development extends the college mission to the entire community. For more information, visit volstate.edu. The College System of Tennessee, governed by the Tennessee Board of Regents, is the state's largest public higher education system, with 13 community colleges, 27 colleges of applied technology and the online TN eCampus, serving more than 100,000 students.

(Robertson County, TN)
On Veterans Day, November 11, 2021, Robertson County Funeral Home honors and remembers all of our local, state, and nationwide veterans.
We are proud for the opportunity of having Betty Poole stand by our annual Veterans tree. Ms. Betty is a retired Lt. Colonel U.S. Air Force, Nurse Corp. We honor her, as well as all of our Nations Veterans, on this special day of recognition and remembrance.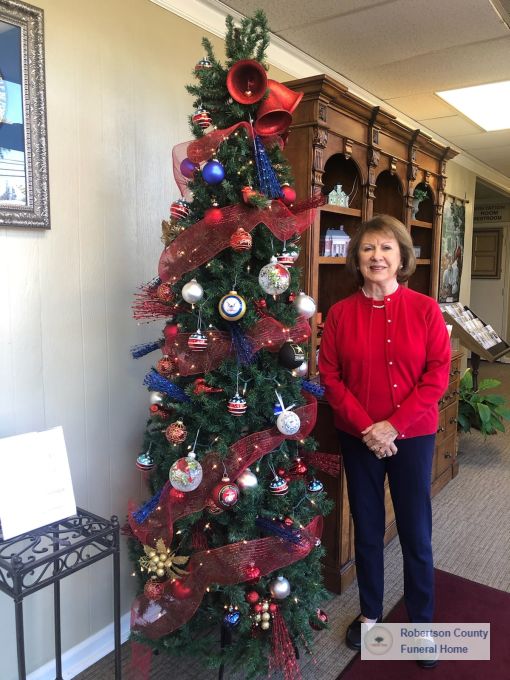 On Wednesday November 10, 2021, Robertson County Funeral Home was honored in sponsoring "Coffee With A Veteran" at Morningside of Springfield.
Richard Lee, the 2020-2021 State Commander for VFW, was our speaker. He provided a wonderful program to all the veterans at Morningside and every single veteran that is a resident at Morningside was in attendance. A big thankyou to Richard, the veterans at Morningside, and all of our Nations veterans.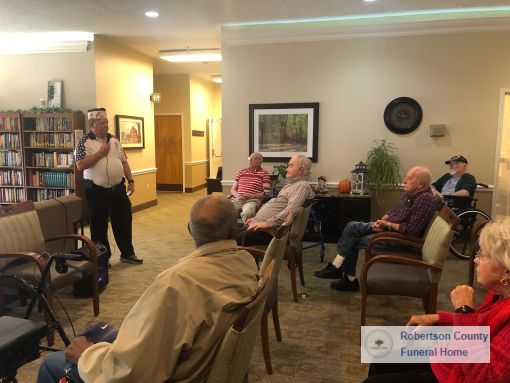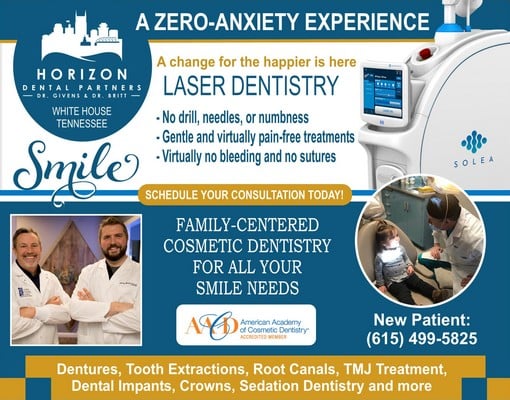 (Millersville, TN)
City of Millersville Police Dept. – We would like to welcome, our newest reserve police officer.
Officer John Lassiter, was sworn in Tuesday morning.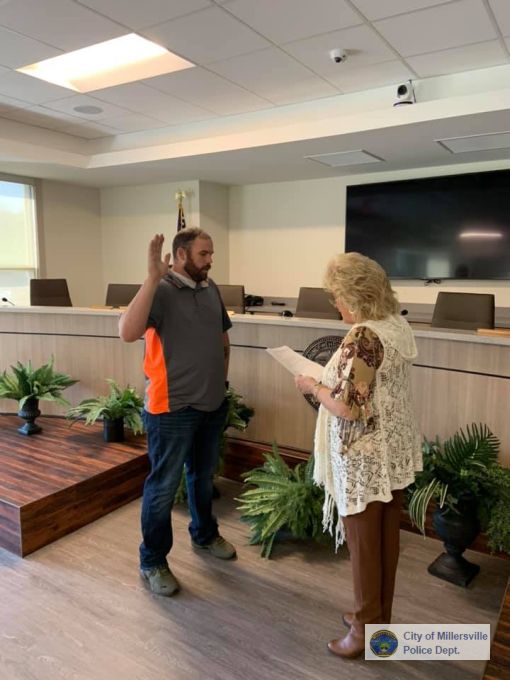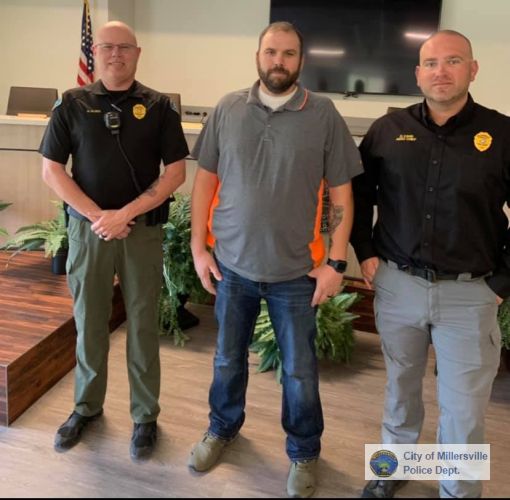 Coopertown Food drive to support local families, along with the Robertson County Family Resource Center
The food drive runs through November 30th. Drop off the food items listed below at Coopertown City Hall.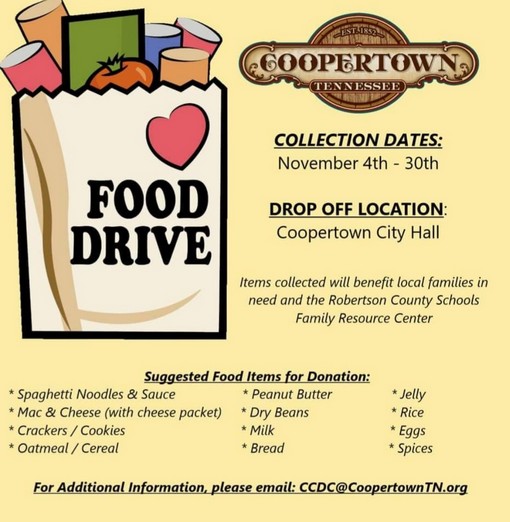 Springfield & White House, TN
Christmas is upon us! Ace Has what you need! Come on in!
Check out all the great holiday sales, click here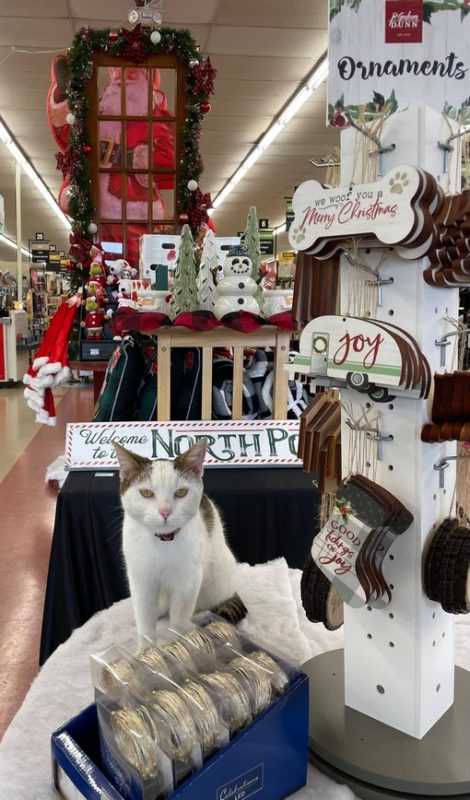 (Springfield, TN)
TriStar NorthCrest Welcomes Veteran Employees Into New Roles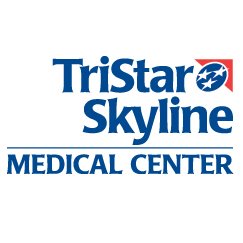 TriStar NorthCrest is proud to highlight two exceptional employees, Jennifer Hellweg and Rob DeBerry, who have recently accepted promotions at the Tristar NorthCrest facility.
Jennifer Hellweg, former Manager of Case Management and Disease Specific Services, now serves as the VP of Quality and Risk Management. Jennifer is no stranger to TriStar NorthCrest. She has been with the facility since 2007 and in that time has served in various roles. In her new position, Jennifer will be responsible for promoting and maintaining high-quality, patient centered care as she oversees aspects of the Quality/Risk Management/Patient Safety Programs(s).
Rob DeBerry, former Director of Physician's Services, will now be serving as the VP of Operations. Serving the facility since 2006, Rob has also served in various roles throughout his tenure. As the new VP of Operations, Rob will be responsible for leading departments in the overall operations of the facility.
TriStar NorthCrest has no shortage of exceptional employees, and we are happy to welcome these two individuals into their news roles as we grow and progress as a healthcare organization in the Springfield community.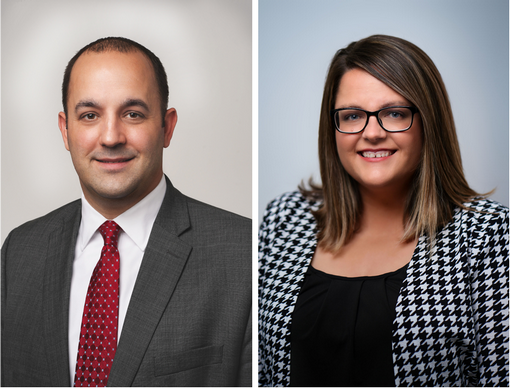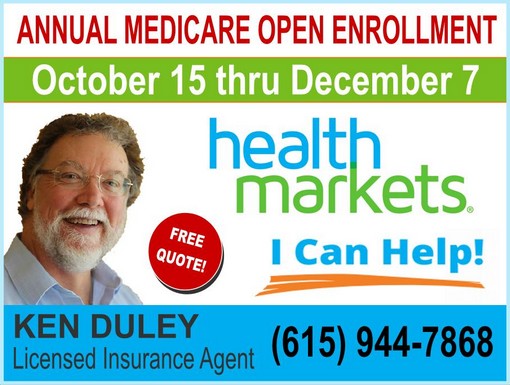 (White House, TN)
Robert F. Woodall Elementary – Mrs. Osborne's and Mrs. Stanley's had a special visitor for Veterans Day!
Mr. Michael Stanley came to tell all about his time in the Marine Corps!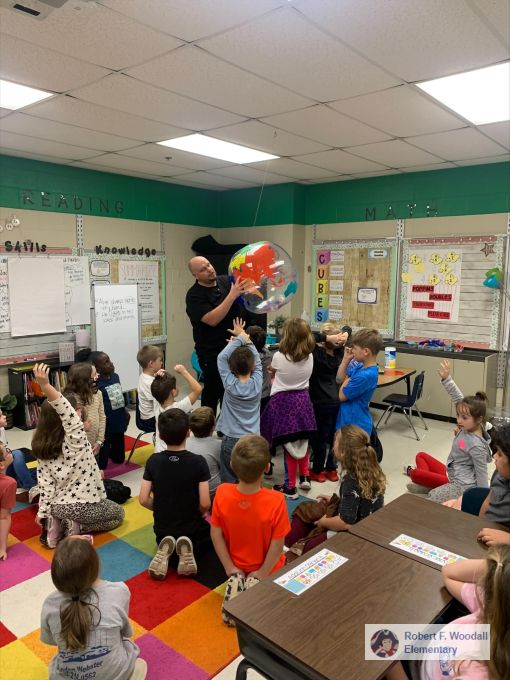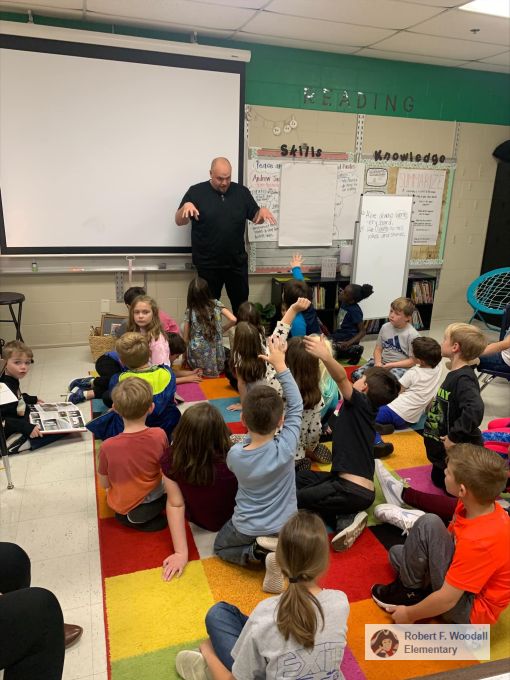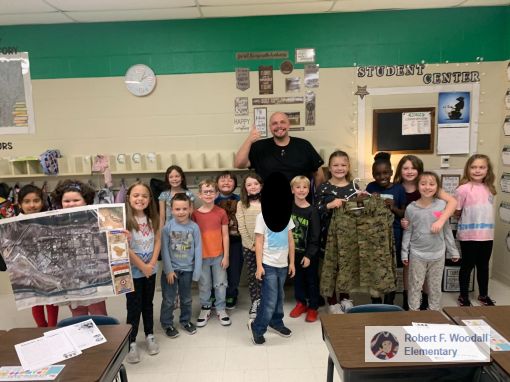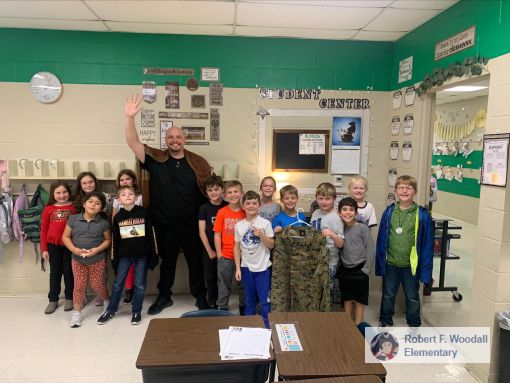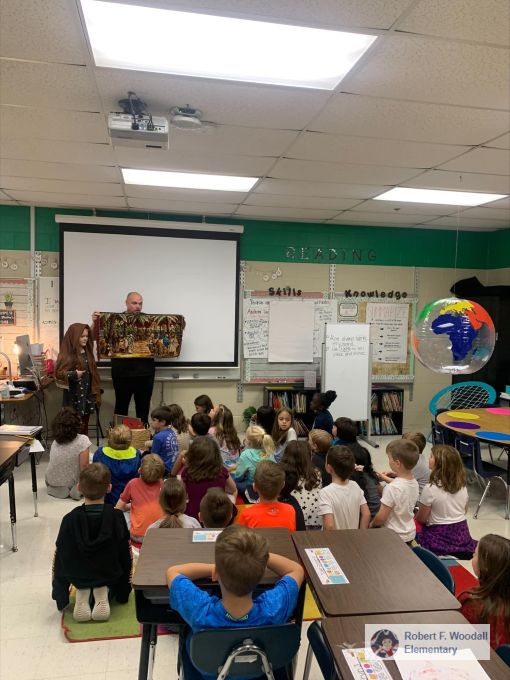 Robert F. Woodall Elementary – Thank you to all our Veterans! Pictured below is Mrs. Hannah Scott's Preschool Class.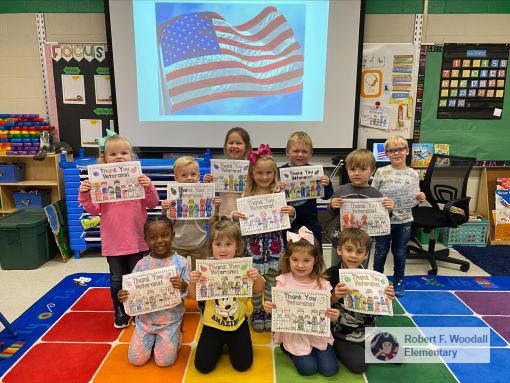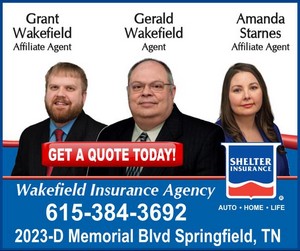 (Portland, TN)
Portland TN Fire Department – Be fire smart with electricity in your home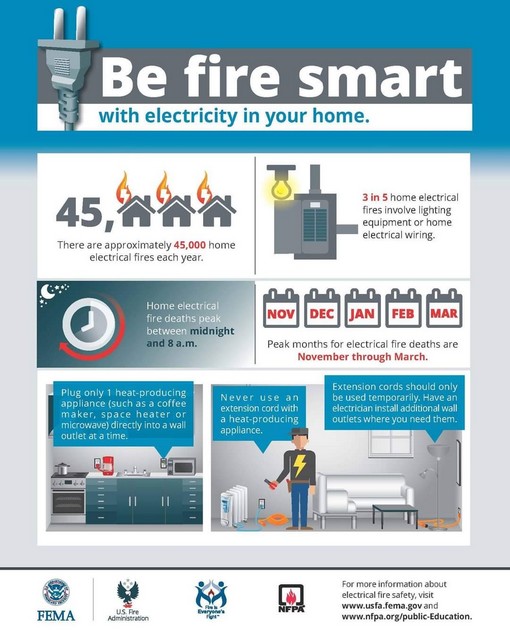 (City of Cross Plains TN)
November 18th: 10:30 to 2pm Refreshments served. Let's kick off the holiday season with an event at The Doctor's House!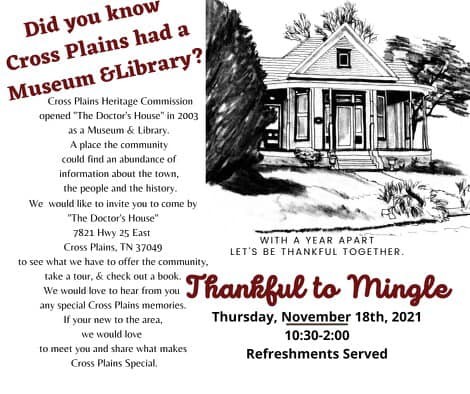 (Springfield, TN)
Springfield High School – Congratulations to senior soccer player, Molly Smith, for signing with Indiana State University this week!
She is the first in the program to sign with a Division 1 school, and she holds multiple records with TSSAA. Congrats, Molly, and we look forward to many great things ahead. #gojackets #yjp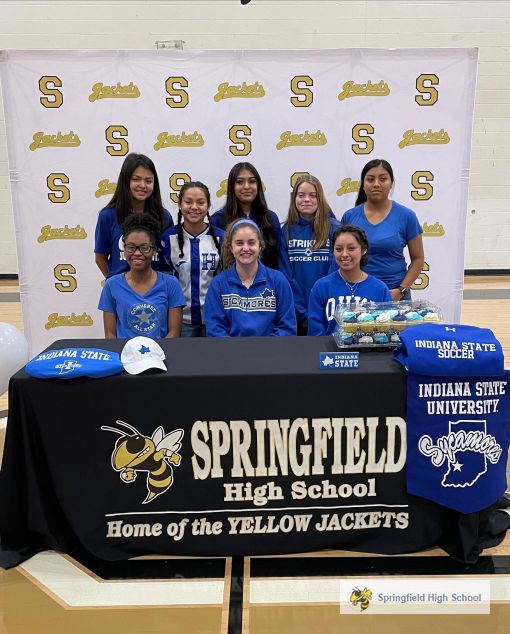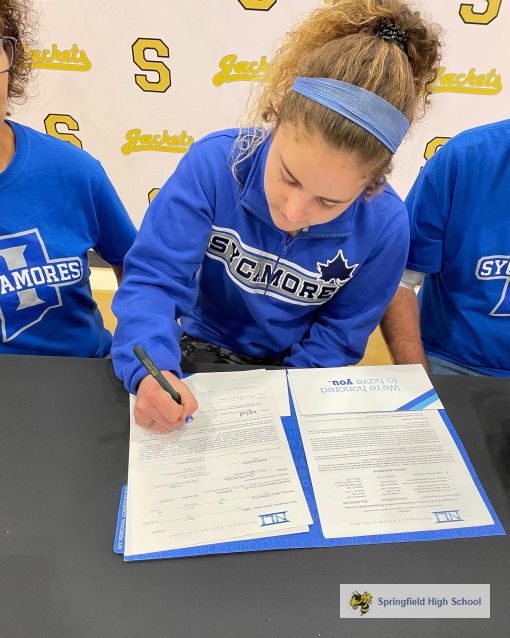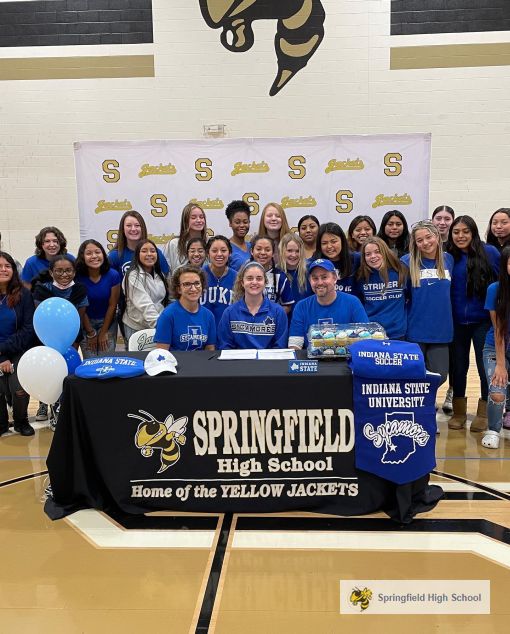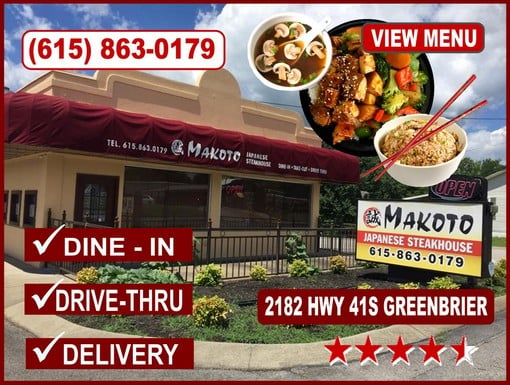 (Springfield, TN)
Springfield Police Department's fundraiser raises over $2,000 for families in need! 
Springfield police officers are donating $100 to be used towards Springfield's Shop with a Cop event in exchange for a "relaxed look".
With a $100 donation, male officers were permitted the growth of facial hair and female officers were permitted to wear their hair down.
A total of 20 officers at the Springfield Police Department are participating, raising $2,000.
The Springfield Police Department plans to use the funds to host a 'Shop with a Cop' event in December.
"This year, the fundraiser will continue through January 2022, allowing additional funds to be raised for a larger 'Shop with a Cop' event," said Lieutenant Charles Haynes. "Hopefully, this will make the holidays more cheerful, especially for those affected by COVID or other circumstances." Lieutenant Charles Haynes and Police Chief Jason Head are working together to coordinate the fundraiser.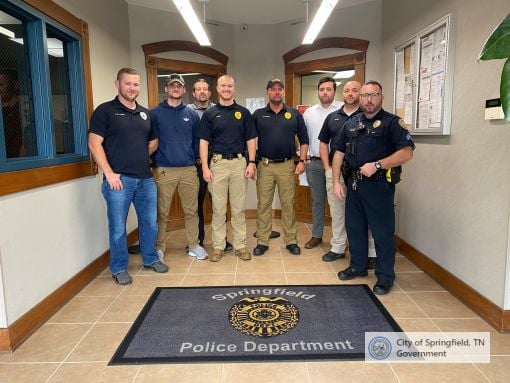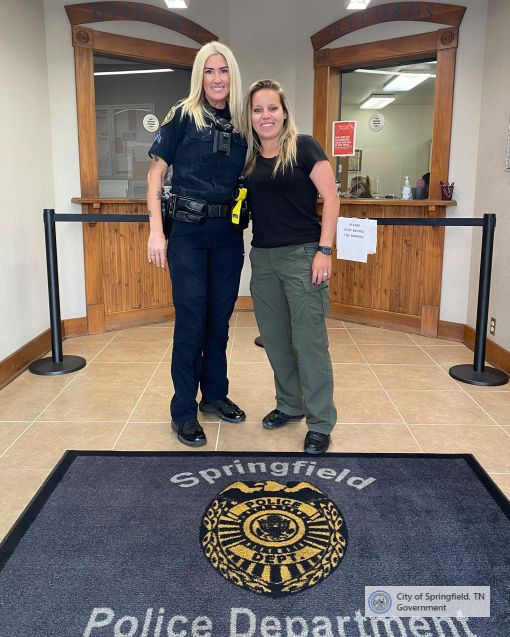 Two Annual Turkey Shoots Through November In Robertson Co.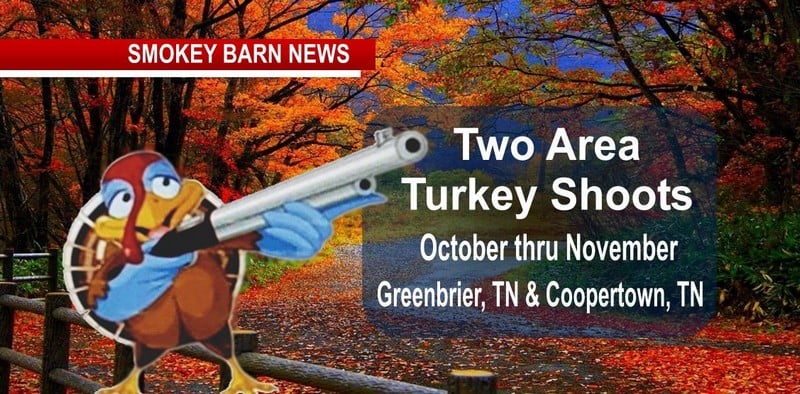 The Greenbrier American Legion Post 45 and the Coopertown Men's Club would like to invite everyone out to their annual Turkey shoots starting in October. There will be prizes, raffles along with food and refreshments. We have provided the full details below.
Greenbrier American Legion Post 45 Annual Turkey Shoot
American Legion Post in Greenbrier, TN (MAP) will be holding their annual traditional turkey shoot on Saturdays starting October 2nd from 8 AM to 12 noon through November 27the from 8 AM to 12 noon.
Stock guns only. No custom guns or barrels over 36″. Prizes include but not limited to: turkey, bacon and ham. Hot and cold refreshments will be available.
*Proceeds assist local veterans and the Greenbrier American Legion Post 45.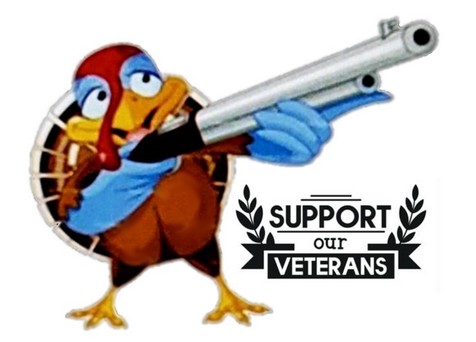 Reload this page often to see new events added… 

Coopertown Men's Club Annual Turkey Shoot
The Coopertown Mens Club will be holding their annual turkey shoot on Saturdays beginning October 16th from 8am to 2pm through November 20th from 8am to 2pm at the Elelmentary school across from city hall (MAP) Directions: From Highway 49 turn onto Burgess Gower Road at the elementary school 2560 Burgess Gower Rd across from City Hall.
• Turkey shot $4 each for $20 gift card
• Ham shot $6 each
• 12, 16, 20 and 410 shells provided
• No outside ammunition allowed
• We have shotguns available for use if needed
• Academy Sports gift card for Remington 1100 Semi Auto 12 gauge shotgun. Raffle tickets $1
• Breakfast, lunch and soft drinks available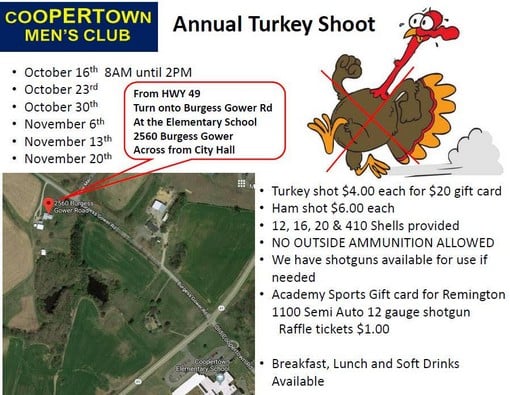 Pleasant View Volunteer Fire Department – Fire Department Training-Live House Burns
The Pleasant View Volunteer Fire Department along with multiple other agencies conducted live-fire training this week at multiple houses in the area of 1433 Highway 49E Pleasant View TN.
"These training exercises help us provide a better service to the communities we serve."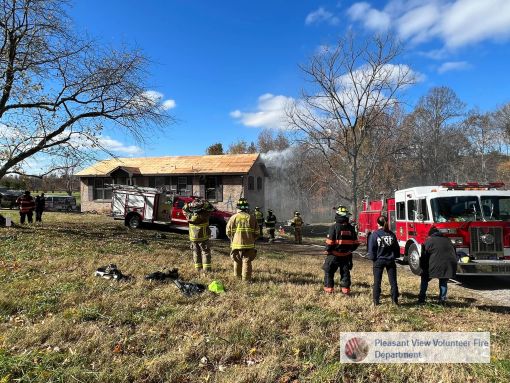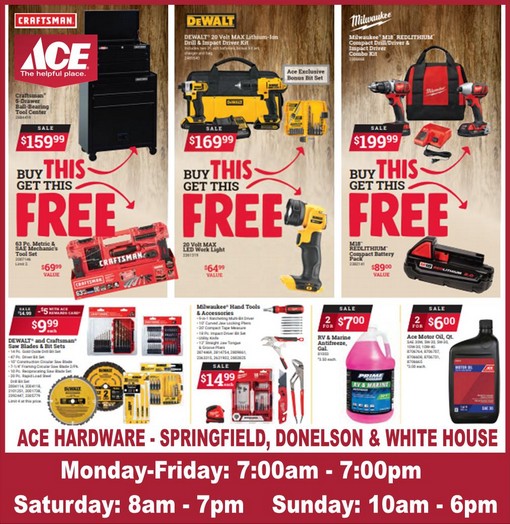 (Robertson County, TN)
Robertson County Schools – Stuff the Bus for the Holidays
Donate a gift to a child in need. Saturday December 4, 2021 from 9am to 2pm at the Springfield Walmart located at 3360 Tom Austin Hwy, Springfield TN


(Robertson County, TN)
Robertson County Schools – We are so excited that one of our own is a finalist! Mr. Hinerman always goes above and beyond for our students!!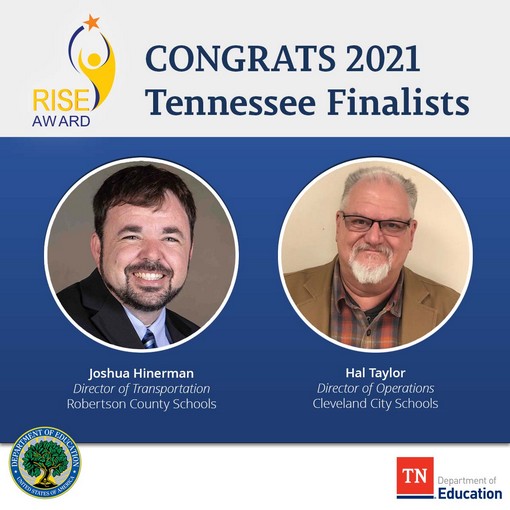 Tennessee Department of Education
Friday, November 12, 2021 we announced the two-state finalists for the Recognizing Inspirational School Employees (RISE) Award– Joshua Hinerman, Director of Transportation for Robertson County Schools. Robertson County Schools and Hal Taylor, Director of Operations for Cleveland City Schools.
The RISE Award is overseen by the U.S. Department of Education to honor classified school employees. Congratulations! Read more

(Robertson County, TN)
Leadership Robertson County Group Visits District Schools
On Thursday, October 28, Robertson County Schools hosted the county's Chamber of Commerce Leadership Robertson County cohort as they visited district schools and were informed about RCS opportunities and programs from the director of schools, selected administrators, and school educators. Fifteen members make up this year's group in a program that has been a part of the county since 1990.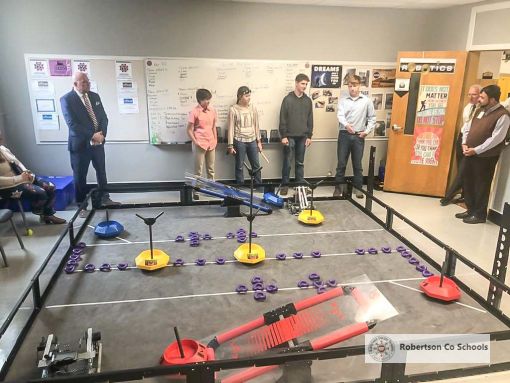 Beginning at Crestview Elementary School, the group was welcomed by Dr. Chris Causey, Director of Schools, and then briefed on school nutrition, education overviews, and district programs.
Next the group visited White House Heritage High School where a visit to the district's only Bio-Stem lab was scheduled.
Springfield High School was next on the schedule with visits to the Junior Reserve Officer Training Corp, Health Science and Cosmetology programs. SHS's own culinary arts program provided lunch, during which time, Dr. Causey shared an overall state of schools presentation.
After lunch a tour of the new Coopertown Elementary School facilities was on the schedule and then a visit to neighboring Springfield Middle School provided time for classroom visits and a presentation of the district's Innovation Academy.
Dr. Causey summed up the day's events and their part in sharing all that RCS has to offer the entire county.
"We were proud to showcase our awesome students, teachers, and programs available in Robertson County Schools," he said. "We are able to provide opportunities for all students to be successful no matter the path they choose. Our community and business leaders got to see that personally on Thursday."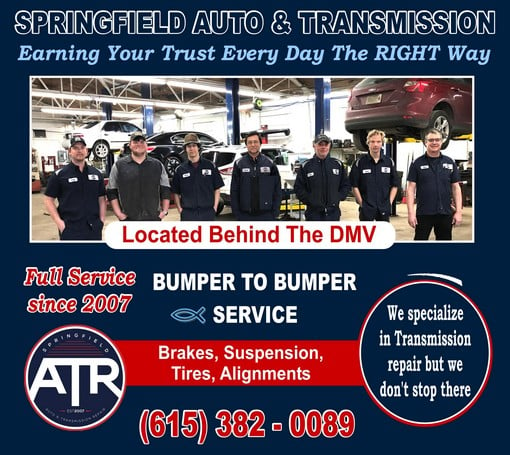 (White House, TN)
H.B. Williams Elementary – We had a BLAST at our 2021 Color Run!
Thank you to our amazing PTO for all of your hard work. Congratulations to all of our students who worked hard to reach our No Sell September Goal!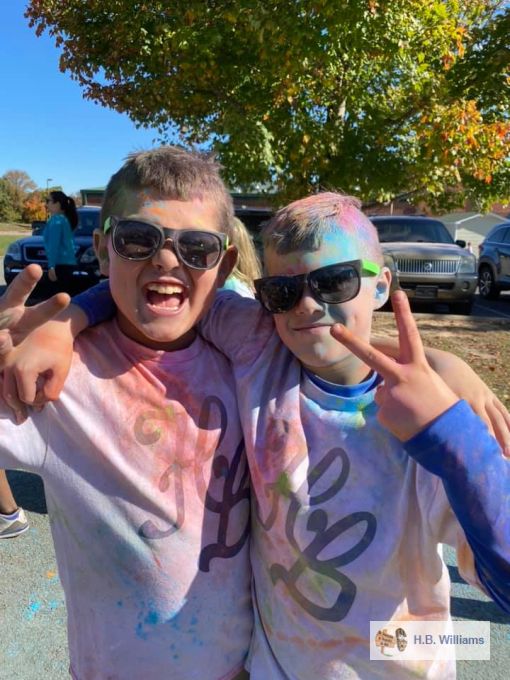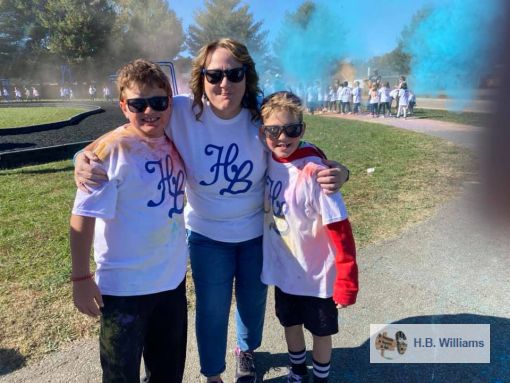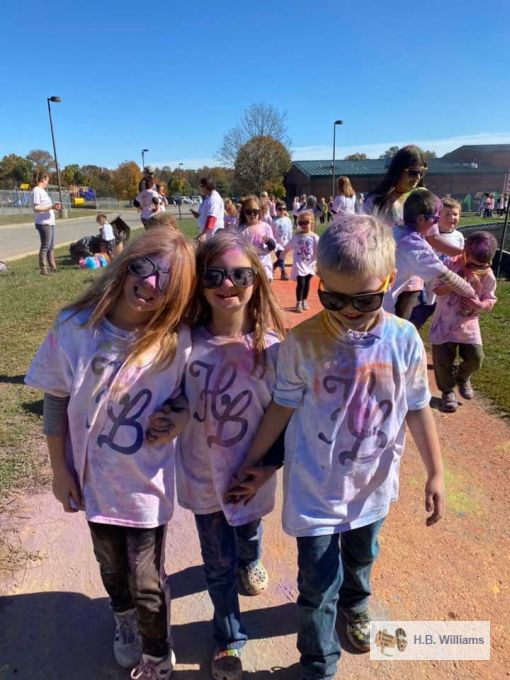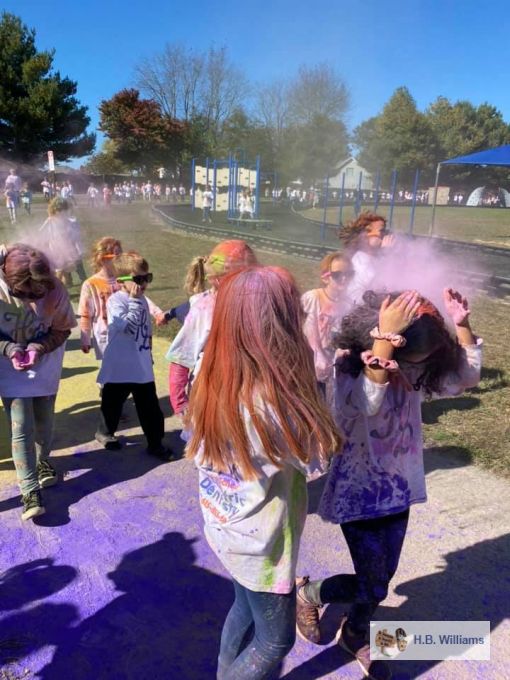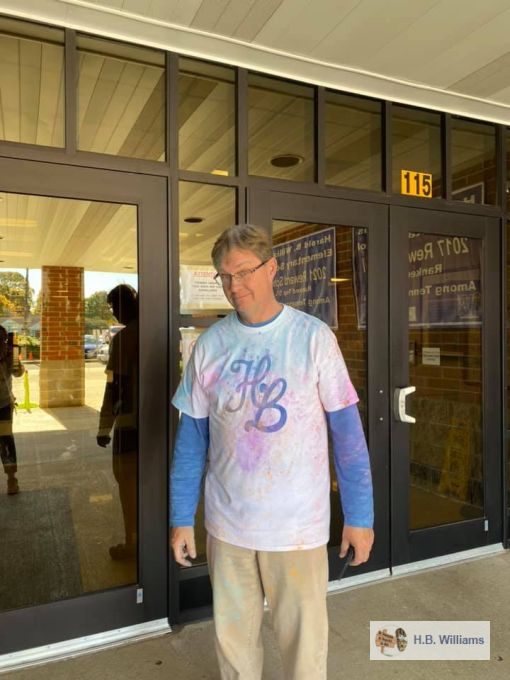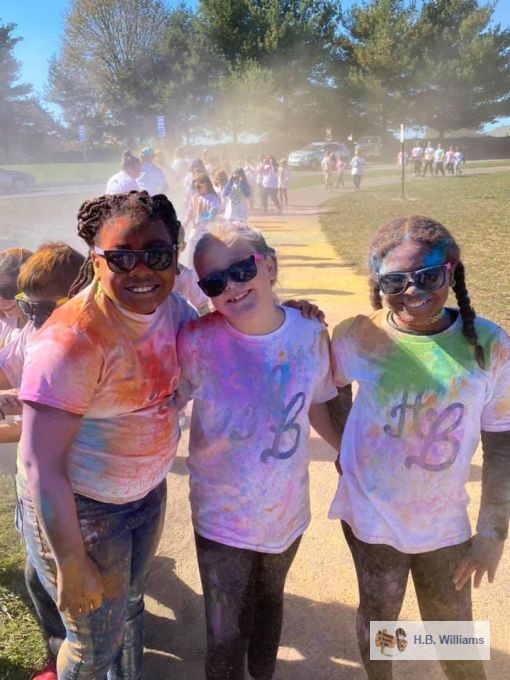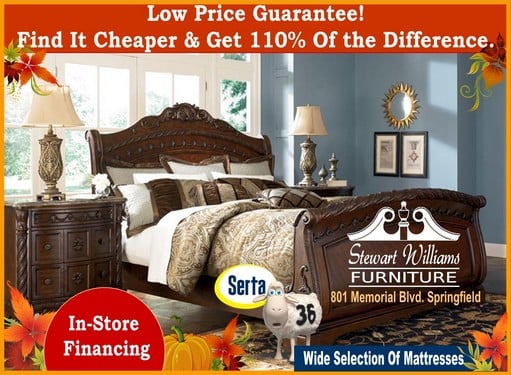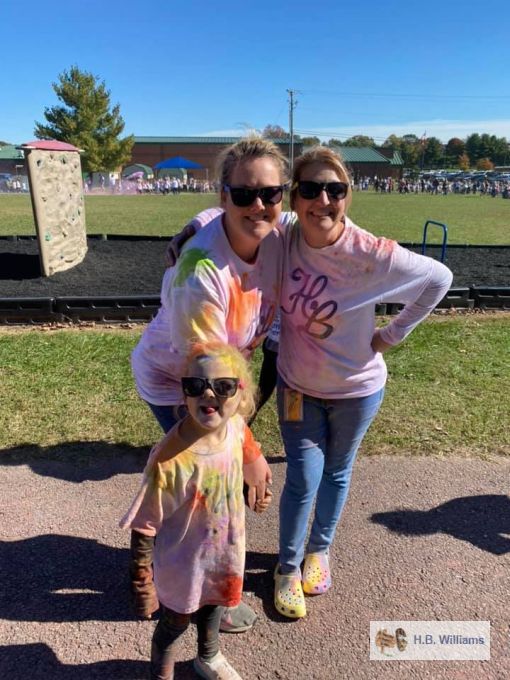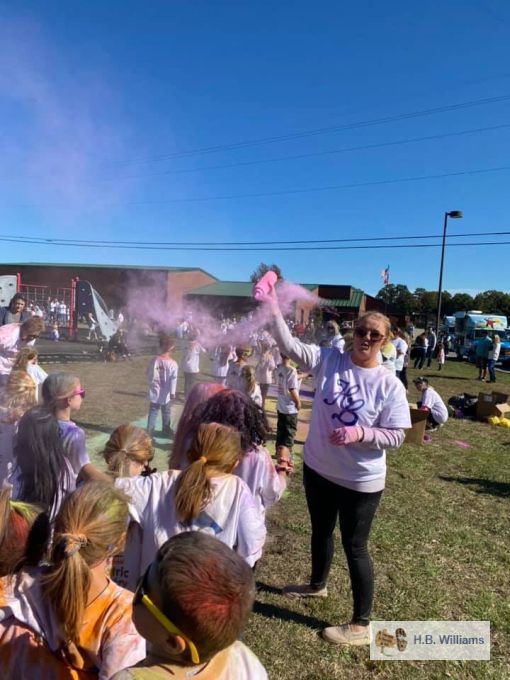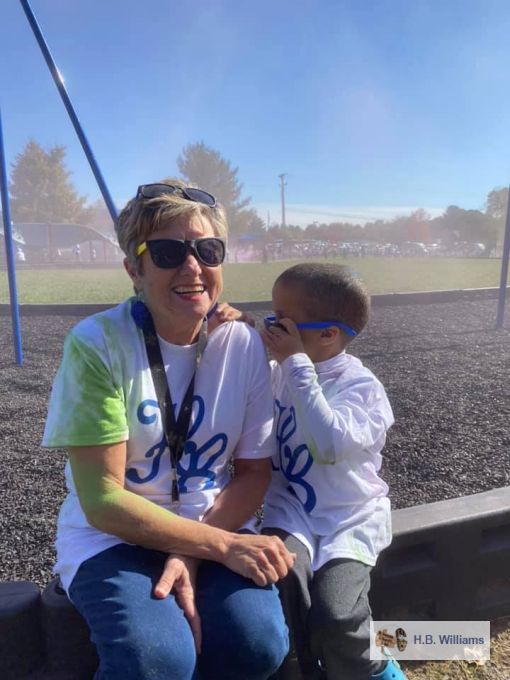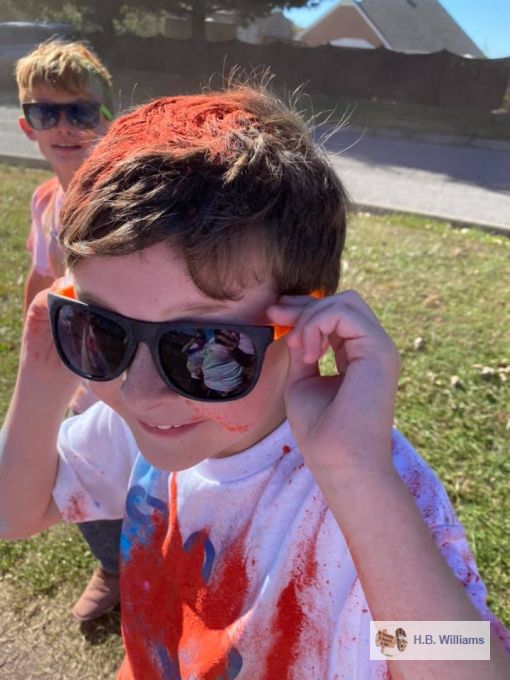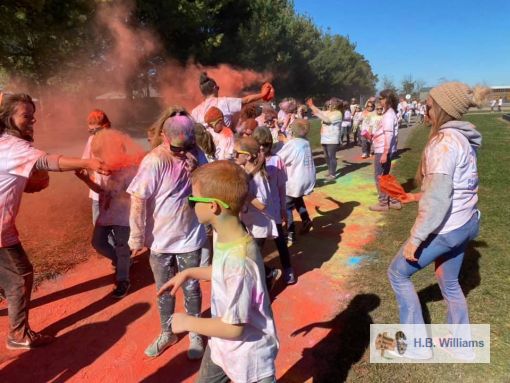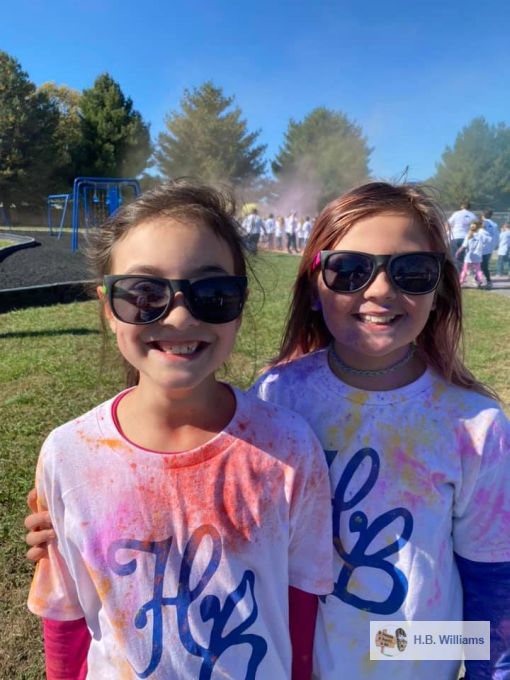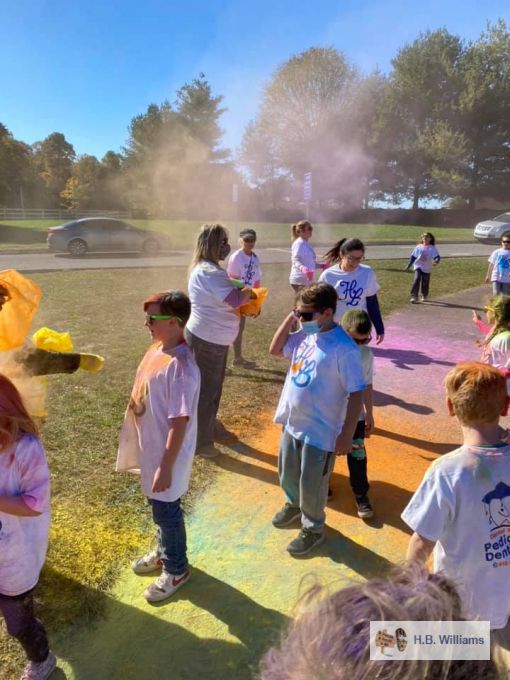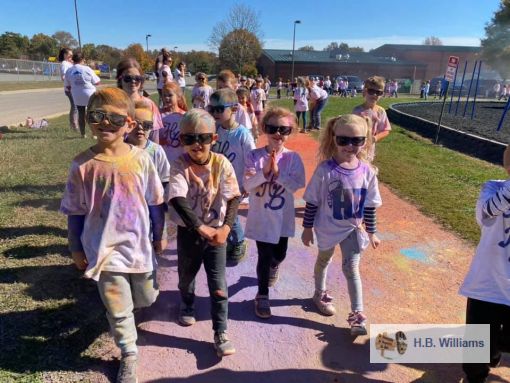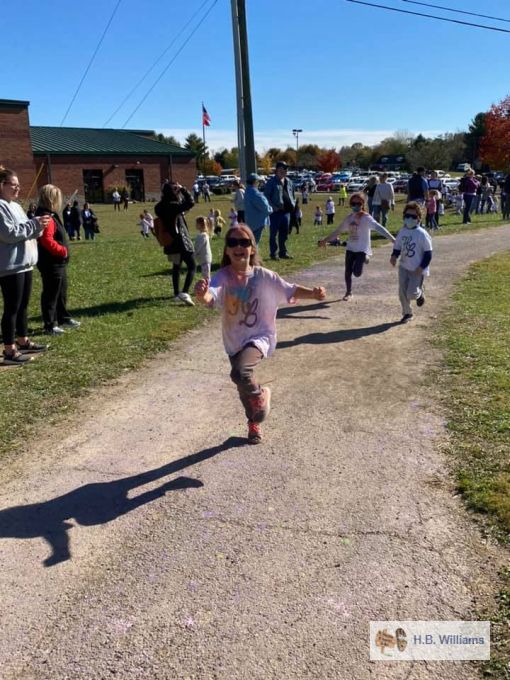 Kiwanis for Kids Christmas Assistance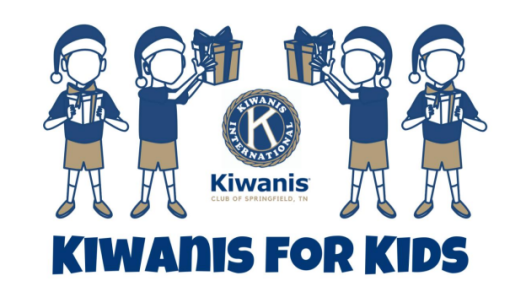 We are excited to officially kick off the 2021 Kiwanis for Kids Christmas Assistance for families. As with last year we will continue to use a digital application system for families in need – there are no paper applications, please connect families to the two intake locations listed below.
Help us spread the word to our community about how families may sign up for this year's Christmas assistance, so we are able to reach as many as possible.
Details & Eligibility
• Kiwanis for Kids is intended to serve the children of Robertson County.
• Kiwanis for Kids provides gifts for children aged birth to senior in high school. This is a change, a good one!
• Eligibility for Christmas assistance is determined during the application process conducted at one of the two locations listed below. Primary determining factors are household income, enrollment in public assistance (e.g., SNAP, WIC), and other hardships.
• Applications will open on November 2, 2021, and close on November 30, 2021. Hard stop for applications is December 6, 2021.
• The two locations for families to complete an application are:
1. Family Resource Center, 700 Bransford Drive, Springfield, TN. Phone: 615- 382-3104 *SPANISH & ENGLISH INTAKE
2. United Way of Greater Nashville, 100 5th Avenue, Springfield,
TN. Phone: 615-780-2511
*** Please have families reach out via phone to schedule a time to complete their application.***

(Springfield, TN)
Springfield Payne Chevrolet  – Congrats to the Branhams on their new 2021 Chevy Traverse!
Thank you for your business, we appreciate y'all!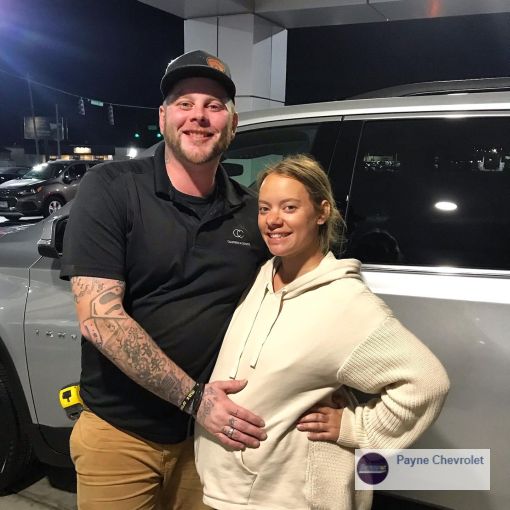 (Springfield, TN)
Springfield Parks and Recreation Seeks Input for Existing and Future Park Needs!
The City of Springfield is developing a Master Plan for the future and seeking citizen input through a brief survey to better understand the existing and future needs of our community as it pertains to parks, programs, and facilities.
Residents are invited to complete the survey by November 30 online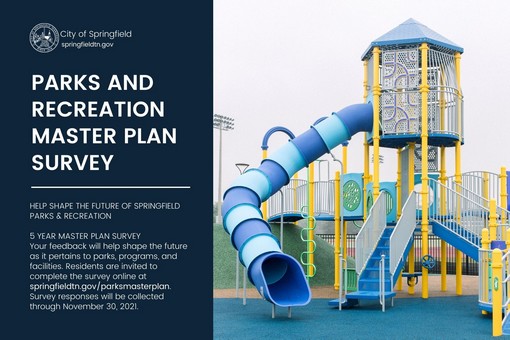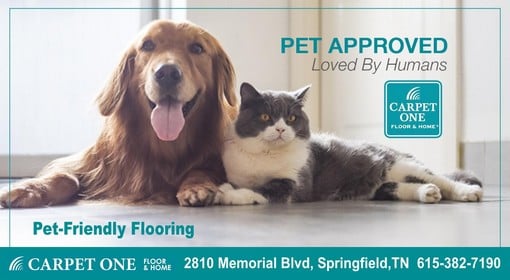 (Springfield, TN)
Cheatham Park Elementary School – Please join us in congratulating Ms. Newman, Mrs. Thomas, and Mrs. Pickering for achieving level 5 on their TN Ready Scores for last year.
We are so proud of these teachers, and so proud of our students for working so hard to obtain these scores and continuing to grow academically.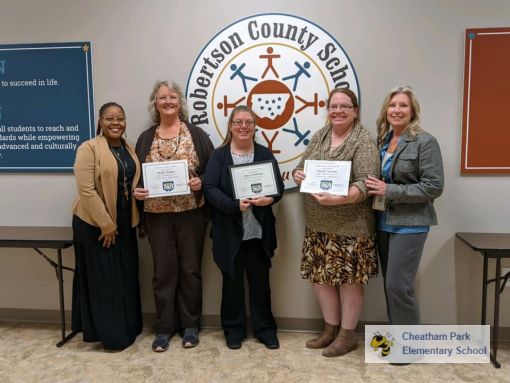 (Springfield, TN)
The Springfield Fire Department recently conducted hazardous materials training, designed to simulate realistic emergency incidents involving hazardous materials.
The class was offered to its new recruits as well as emergency responders from surrounding agencies.
A big thank you to the Robertson County Emergency Management agency for working alongside Springfield Fire to coordinate this class. 🔥⚕️☣️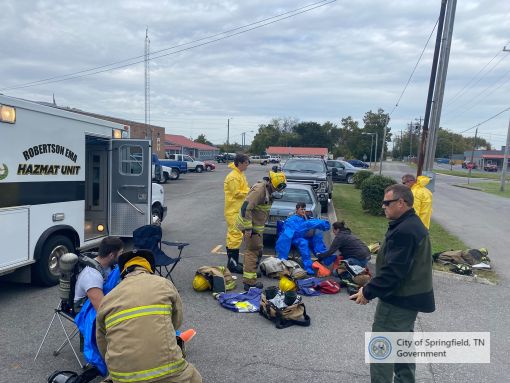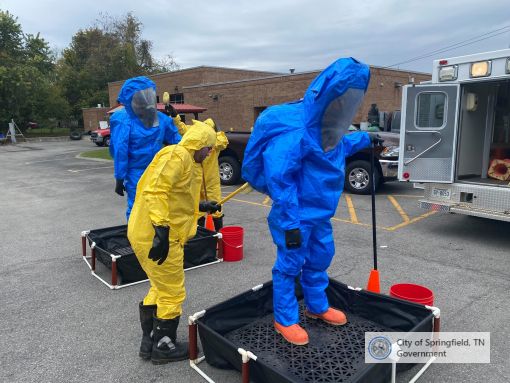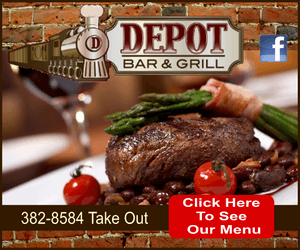 (Robertson County, TN)
Robertson County Sheriff's Office – Congratulations to Lieutenant Trelstad on winning 1st place for the creative category and 2nd place for overall best Chili at the Chili Challenge to support Open Door Pregnancy Center! 🏆🏆
The theme this year was Everyday Heroes! Do you think TJ pulled off the look of Captain Clark?
#chilichallenge #supportopendoor #SheriffMichaelVanDyke #rcsoteam
The Open Door Pregnancy Center exists to empower, teach, and support families in crisis. (615) 384-4673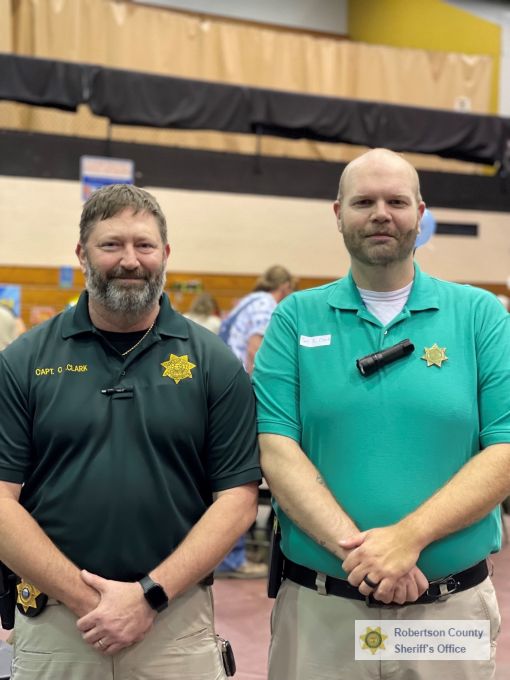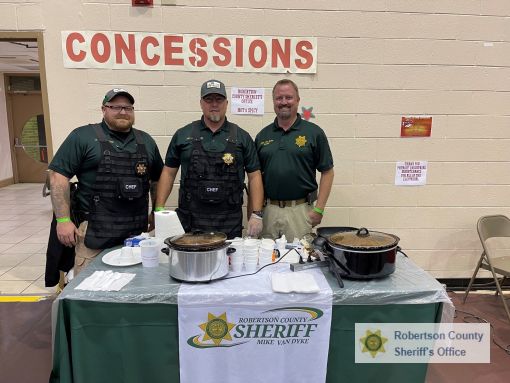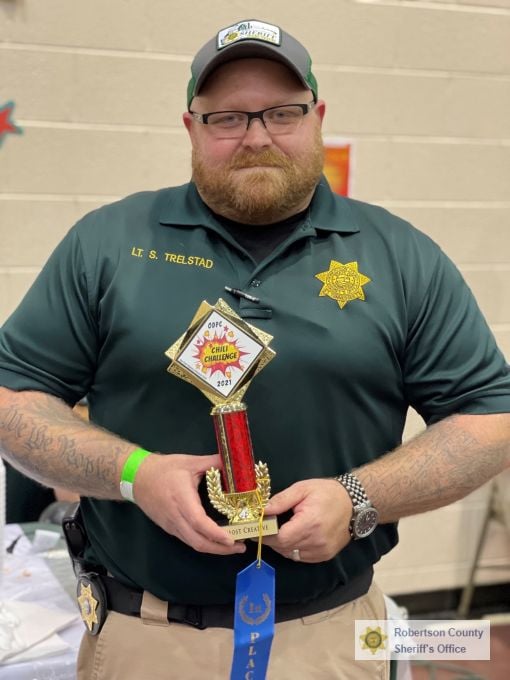 Mobile: To See The Latest Stories or to share this article, scroll below