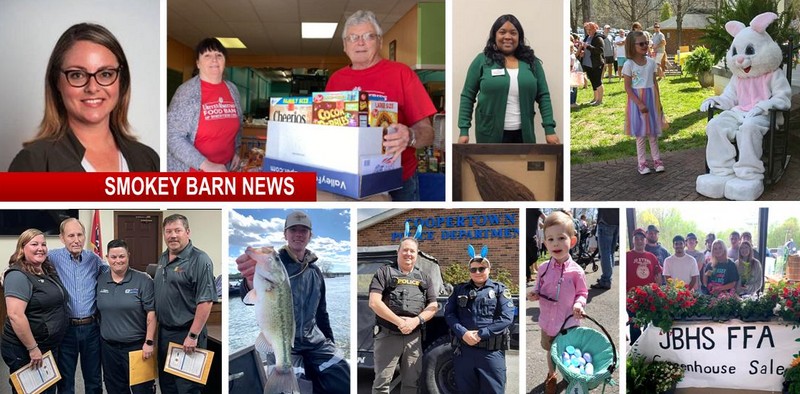 Smokey's Community Column, Stories Across Robertson County (4/24/2022)
ROBERTSON COUNTY TENNESSEE: (Smokey Barn News) – Welcome to Smokey's Community news column. It's a look back at this week's top community news in and around Robertson County.
Smokey's People & Community News column highlights local stories of people, schools, community events, and charities that continue to make Robertson County great!
Upcoming Events are listed below the Community News!
So, mark Your Calendars and don't miss the fun!
BECOME A SPONSOR TODAY!! [email protected]
Got a story? Email your story ideas to our 24/7 news desk; [email protected]

(Robertson County, TN)
Robertson County Emergency Management Deputy Director Amanda Siegel was recognized for her contribution to the response and recovery of the Waverly Flood.
"This week the Emergency Management Association of Tennessee held its annual conference. This event allows emergency managers throughout the state to gain knowledge to take back to their respective counties. Each year the conference host an awards ceremony. The awards handed out recognize the hard work and dedication to the citizens of Tennessee.
This year Robertson County's very own Deputy Director Amanda Siegel was recognized for her contribution to the response and recovery of the Waverly Flood. Deputy Director Siegel was was asked to assist in the operations side being named the Operations Section Chief over the disaster. She immediately began to assign recovery missions to assist in search missions. With her assistance and knowledge of digital mapping recovery efforts were coordinated in areas most impacted. She spent long hours and many weeks dedicating her knowledge and time to assist those directly impacted.
We are extremely fortunate to have Deputy Director Siegel and are proud of her commitment to helping those in need. Below is the presentation of the EMAT Achievement Award. This is the highest award for excellence in job performance presented by the Emergency Management Association of Tennessee."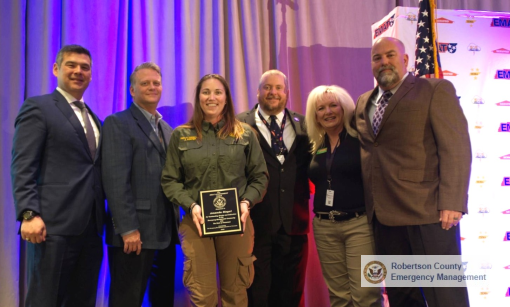 (Ridgetop, TN) Ridgetop Parks News and Events – Easter Egg 2022
"Thank you too everyone who helped put on the event and to everyone who came out. A perfect day to be in the park!"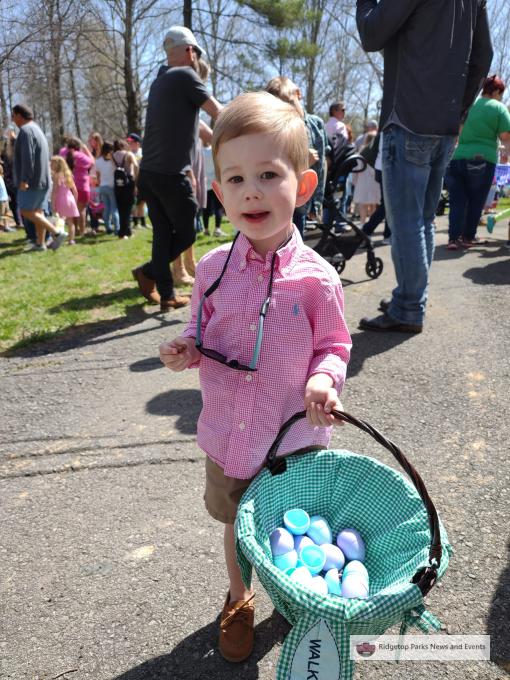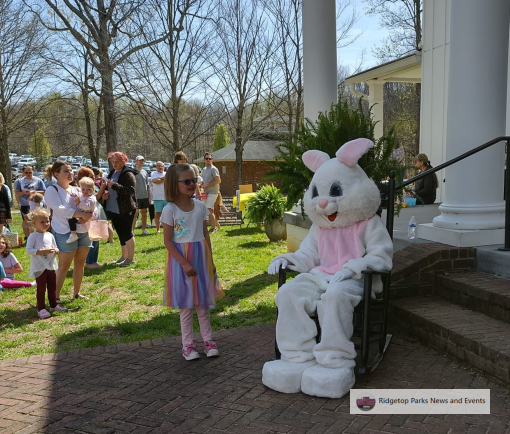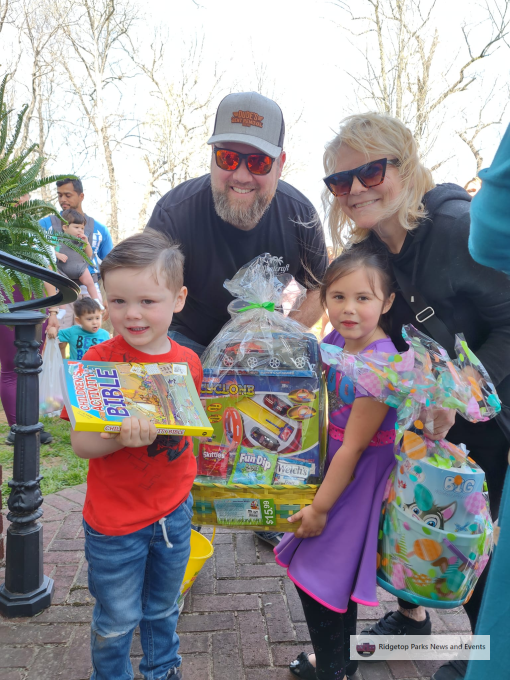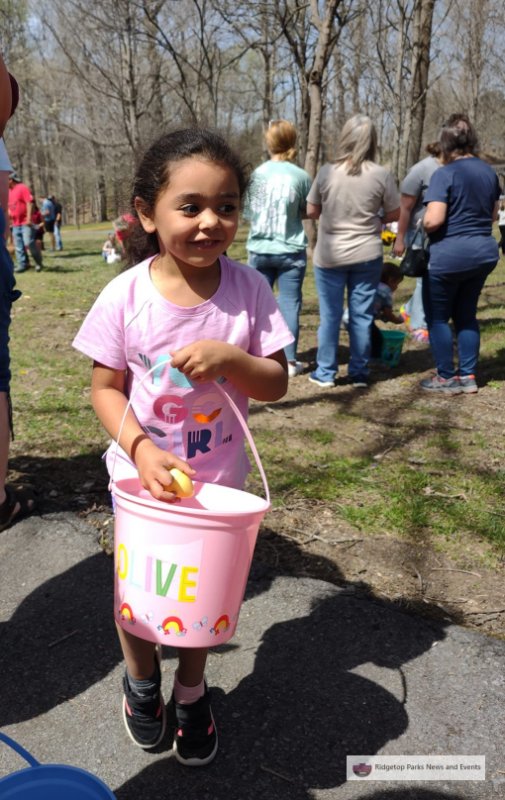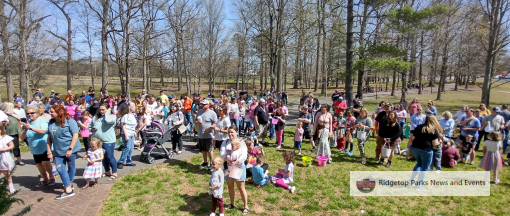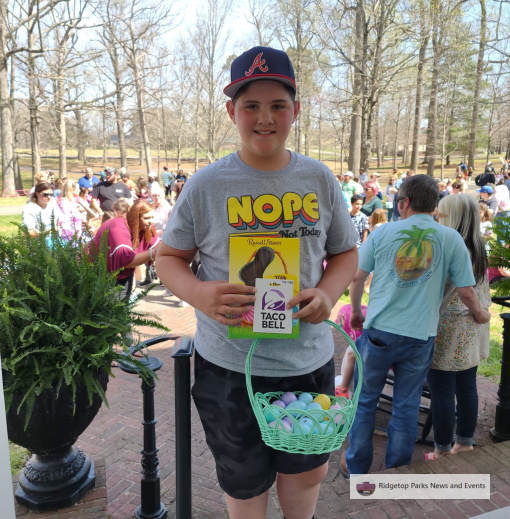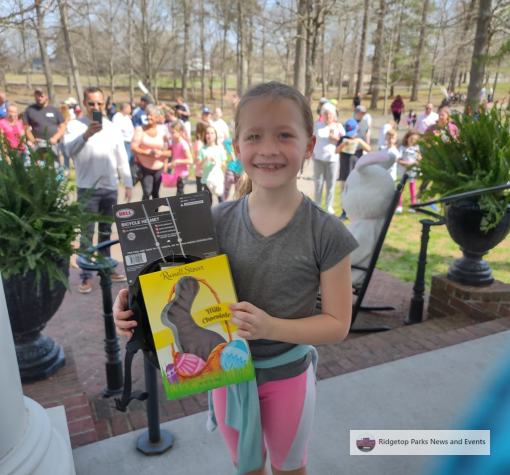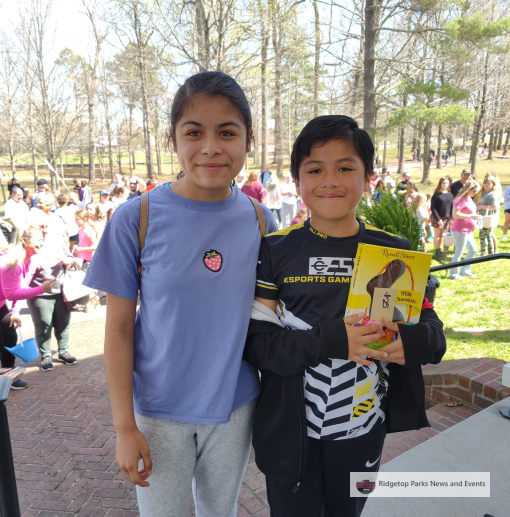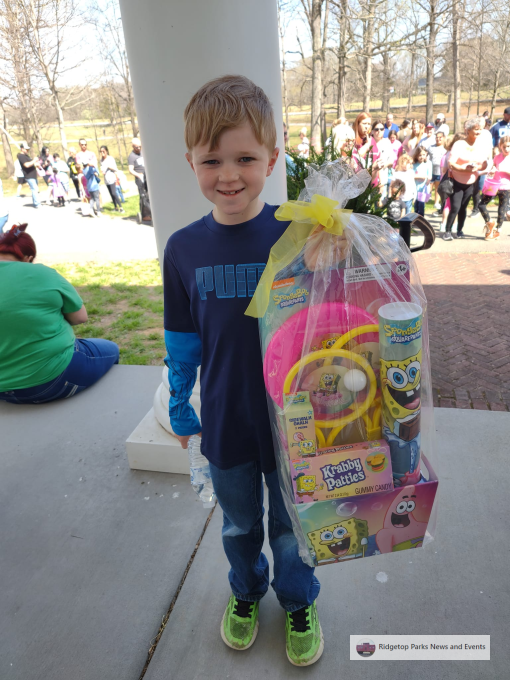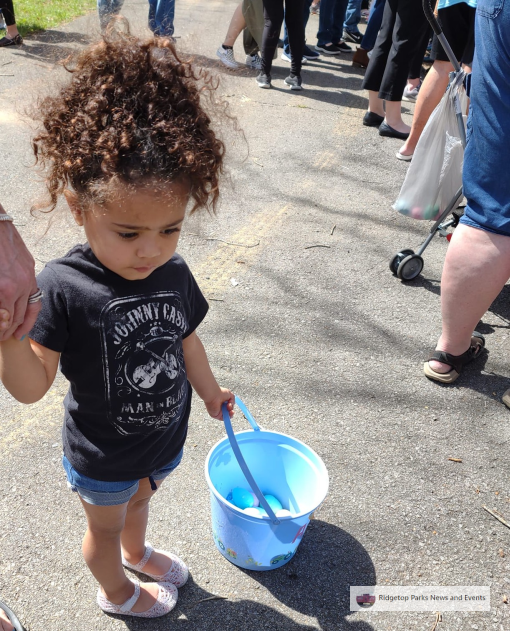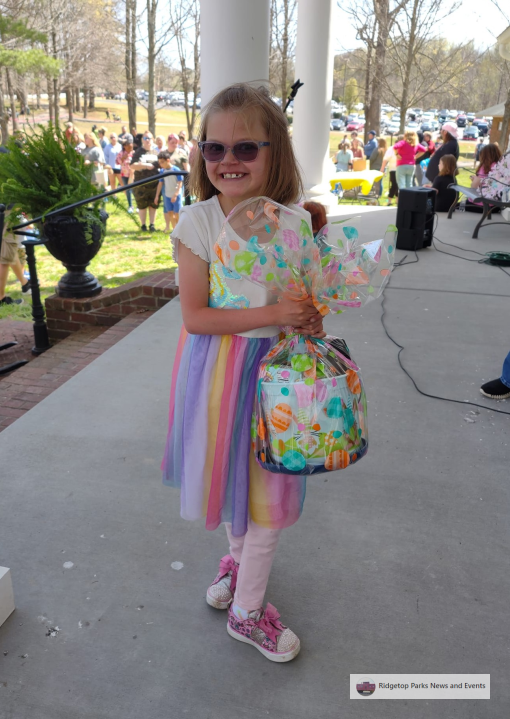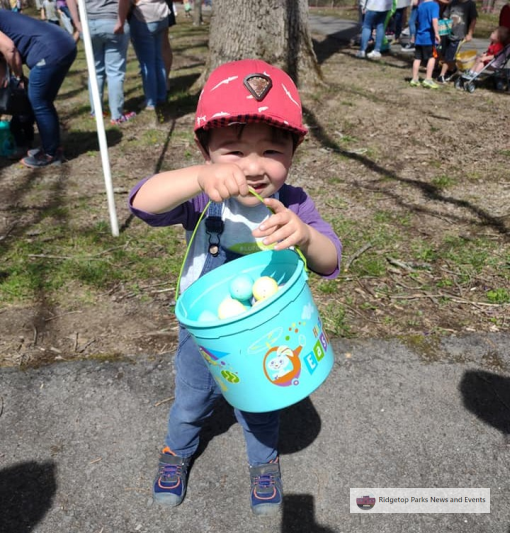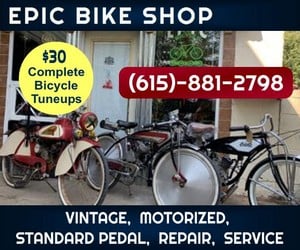 (Springfield, TN)
Downtown Springfield tree replacement to take place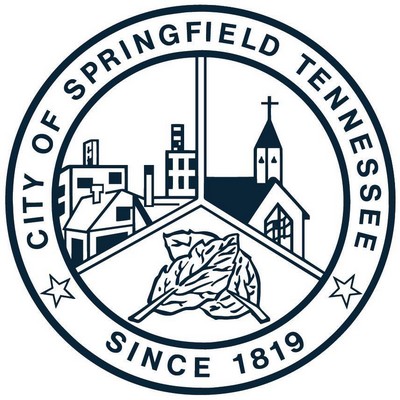 SPRINGFIELD, Tenn.- The City of Springfield Public Works Department will be removing 30 trees from the downtown area. The project will be completed in phases and is expected take several months.
The city planted the trees over twenty years ago as part of a downtown streetscape beautification effort. Unfortunately, many of the trees' root systems are creating issues. Gold spire biloba gingko trees will replace the existing trees.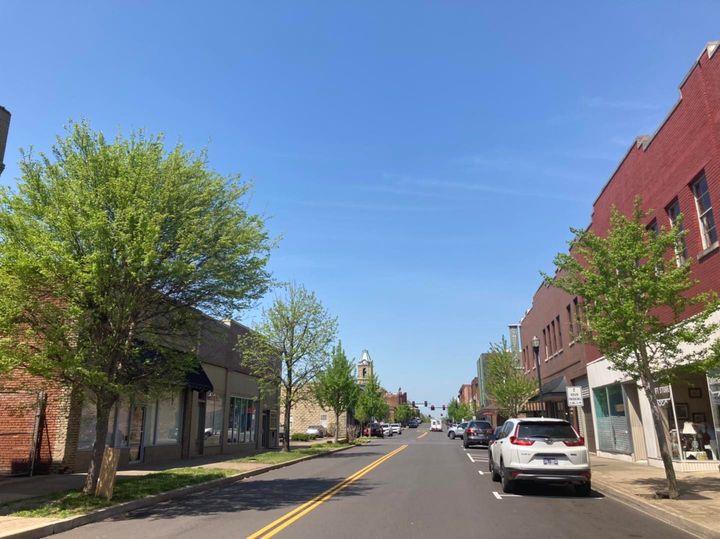 Trees will be removed in sets starting along 6th Avenue. Work will then move to West Court Square, followed by Main Street, and ending on 5th Avenue. The plan is to first cut a tree and remove the root balls. Once the root ball is removed and utilities are adjusted, root barriers will be installed and a new tree will be planted. Additional landscaping will be done at a later time.
Some parking spaces may be blocked during the excavation phase to allow for equipment to perform the necessary work, however, no roads will be closed.
Springfield Hires First Tourism Coordinator
SPRINGFIELD, Tenn. — The City of Springfield has announced that Asailio "Ace" Timmermeier has been hired as the new Tourism Coordinator for the city. Timmermeier has extensive knowledge of the city, including tourism attractions of the surrounding areas.
A local native, Timmermeier has more than a decade of experience working and building relationships in the city and most recently served as a Senior Manager of Community Impact for United Way of Greater Nashville. Timmermeier has been with the United Way of Greater Nashville since 2019.
"We are thrilled to have Ace join our staff," said City Manager Ryan Martin. "Ace's efforts to move our community forward have been nearly unparalleled over the last few years, and we are excited to have her talent and knowledge focused on boosting the local economy as it relates to visitors and attractions."
This position is brand new for the City of Springfield. The city recently established the tourism coordinator position funded exclusively through the hotel occupancy tax. As the city has grown, the Board of Mayor and Aldermen created the position in conjunction with city management to manage a comprehensive program of tourism development and promotion to grow tourism-related revenue for the City of Springfield.
"I am elated to join the City of Springfield's amazing team," said Ace Timmermeier. "I am looking forward to creating more sports, adventure, business, and experiential tourism opportunities to attract local, state, regional, and national visitors."
She currently serves on the Robertson County Habitat for Humanity Community Council and the Robertson County Health Council. Ace is also the President of the Springfield Kiwanis Club and part of the Historic Springfield Event Coordinators. Ace is also a graduate of Leadership Robertson County and is currently a participant in Leadership Middle Tennessee.
Timmermeier will begin her work with the City of Springfield on May 23, 2022.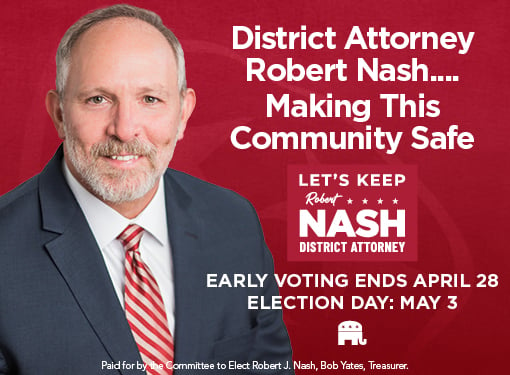 (Cross Plains, TN)
City of Cross Plains TN – Earth Day Clean Up
"THANK YOU! The East Robertson Middle School Student Council celebrated EARTH DAY by cleaning out and replanting the beds at East Robertson High School. The future is in good hands!"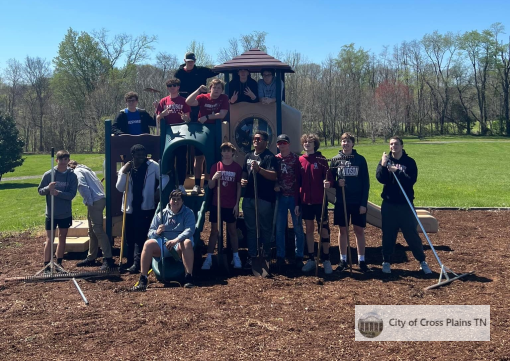 City of Cross Plains TN – Phase 2 – The upper portion of the barn and it's roof has started to be removed and replaced.
Excited to have the project close to the road to watch the progress!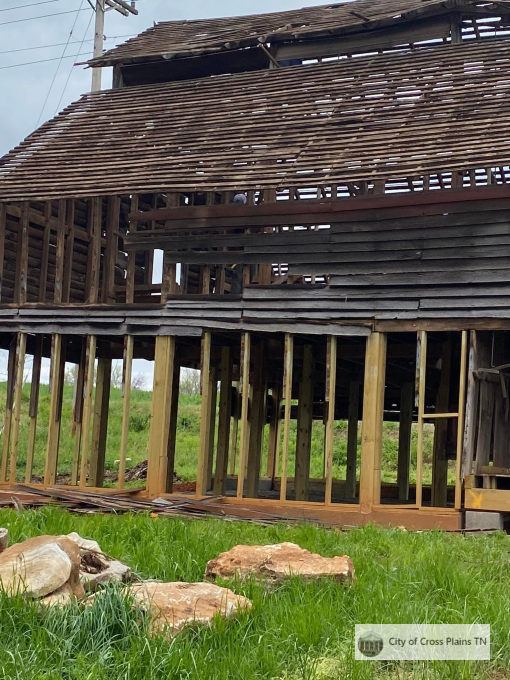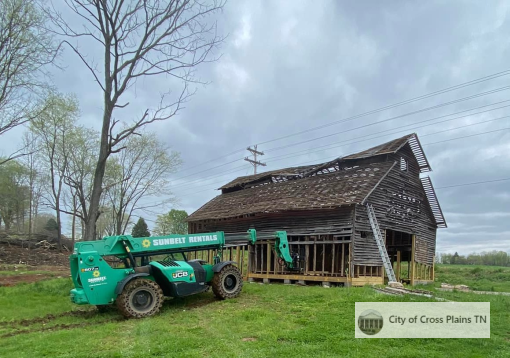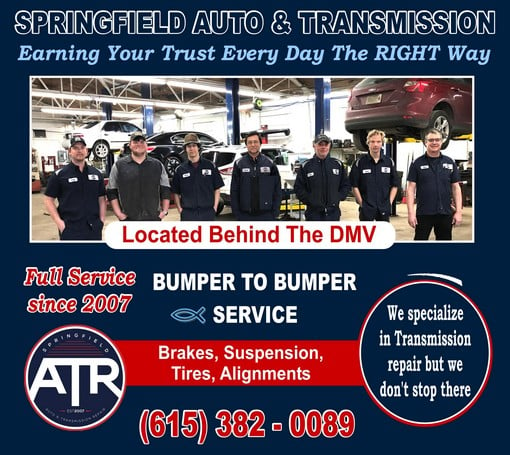 Cross Plains, TN – SHOUT OUT!!! These gentlemen from the Davidson Academy Class of 2024 showed up at Kilgore Park to spread mulch on the playground. Thank you!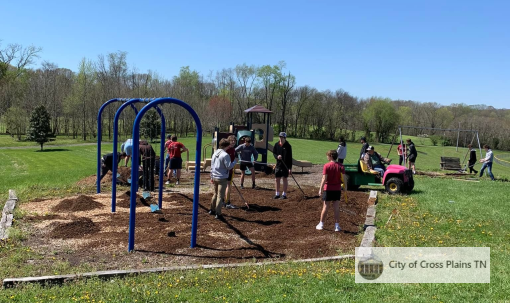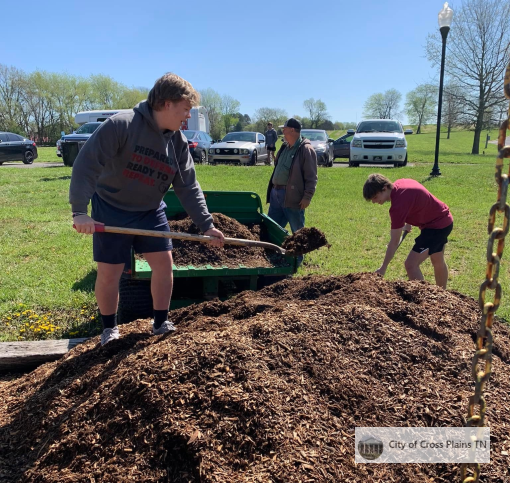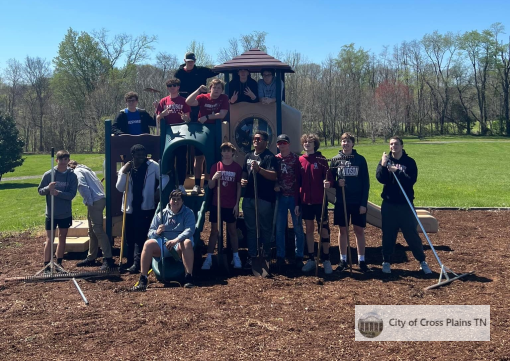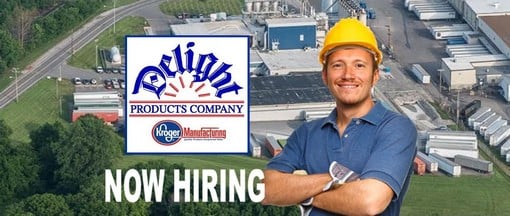 (Springfield, TN)
Springfield High School Fishing Team Take home Wins at the Old Hickory tournament
"Congratulations to the SHS freshman Eli Buck for taking 2nd place in the Old Hickory tournament and third overall to the team! They braved the cold on the water to each weigh-in a fish. Way to go, Jackets!"
"Another great team effort on Old Hickory today. We had 6 high school teams and 1 junior team that fished. Every single team weighed in fish!! We ended up 3rd in the team total weight competition with a little over 29 pounds!!
Eli Buck fished alone today and turned in 5 fish for 16+ pounds which was good enough to take 2nd place and earn him a $700 scholarship check!
Garrett Smith and Dalton Webb turned in 4 fish that weighed in at over 8 lbs.
Garrett Reeves caught a 3.99lb bass for him and Kinsey Smith.
Chandler Brown and Trysten Hardy had 1 fish for 3+ pounds.
Lee Goodwin and Luke Renolds had 2 for 2+ lbs.
Jack Holt and Levi Long had 1 fish for 1+ lb.
And last but certainly not least was one of our junior teams. Cory Henderson and Mason Hunter (from Coopertown Middle) had 1 fish for a little over 3 lbs!!
Very proud of each team!! I will update standings for our state championship race once they are available.
A huge thank you to each boat captain!! Our sponsors and boat captains are the best!"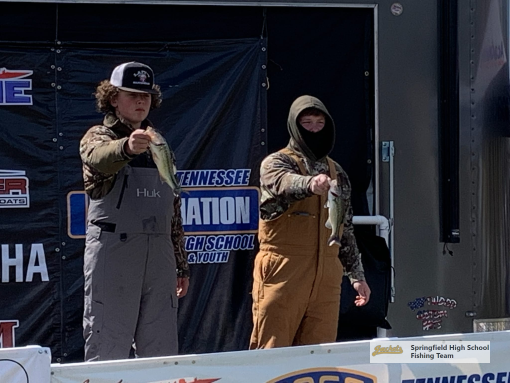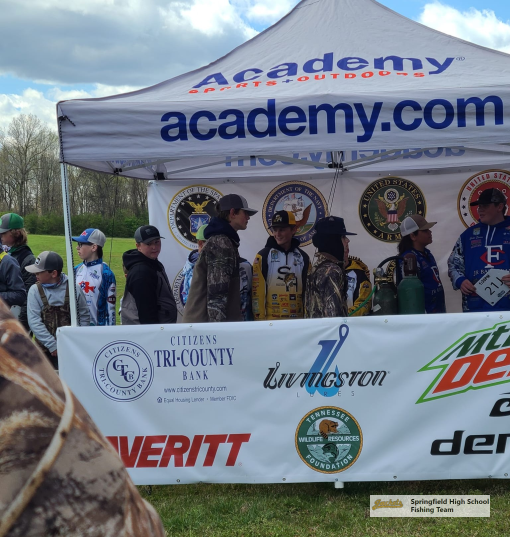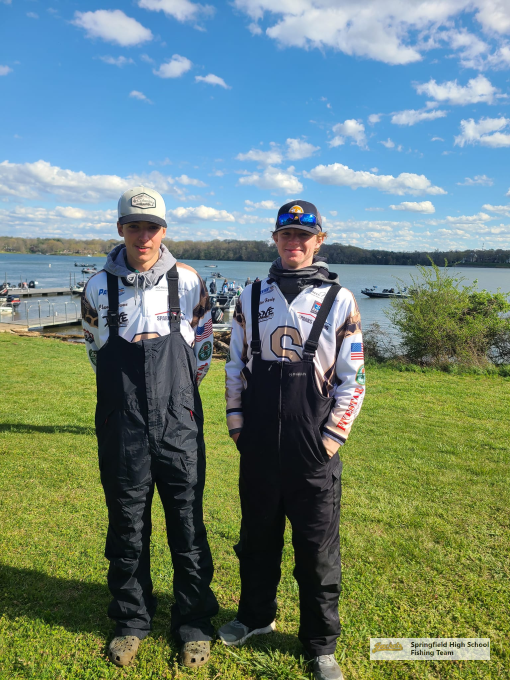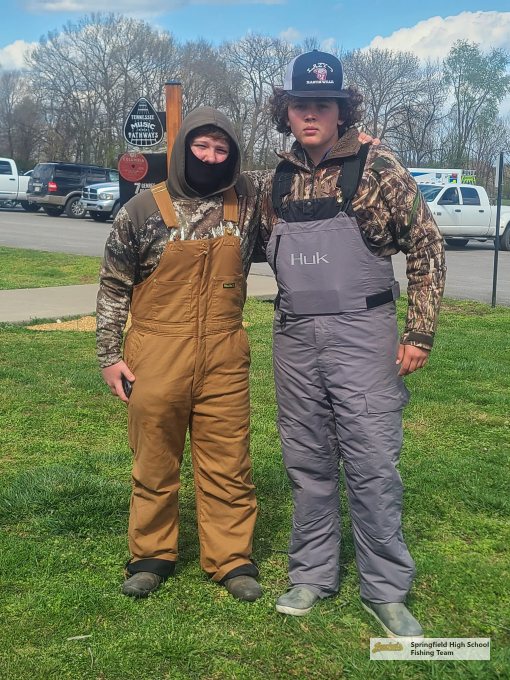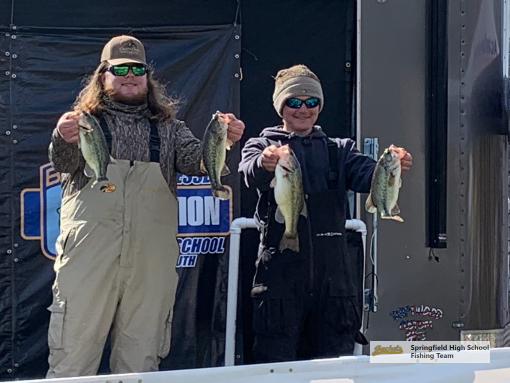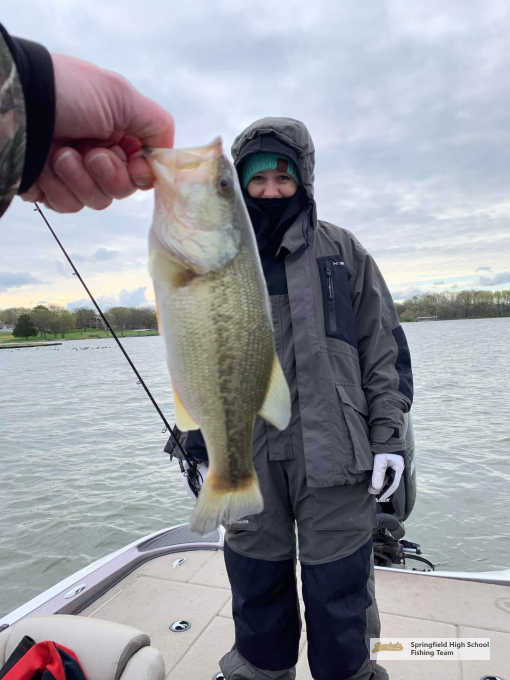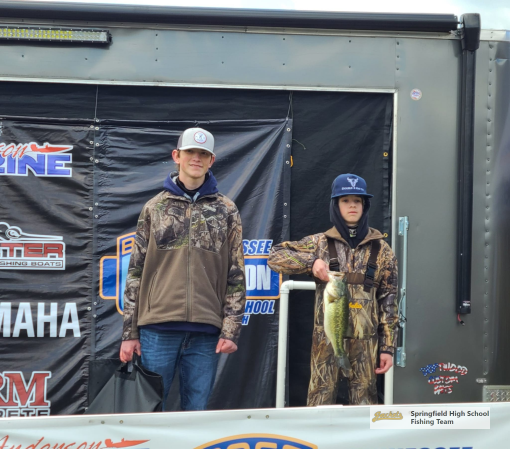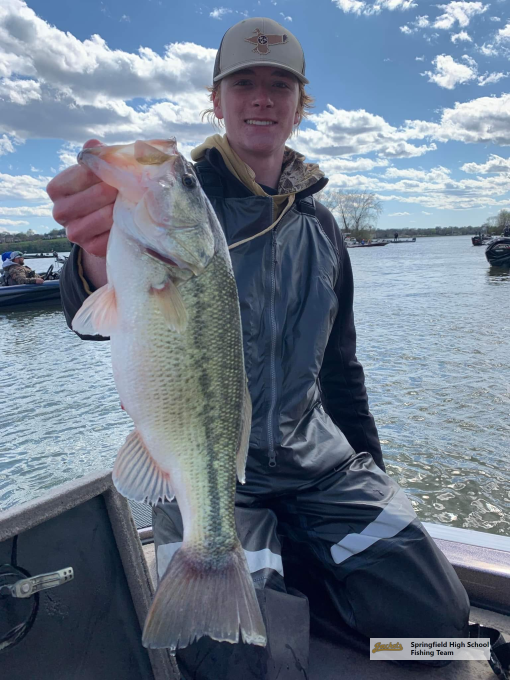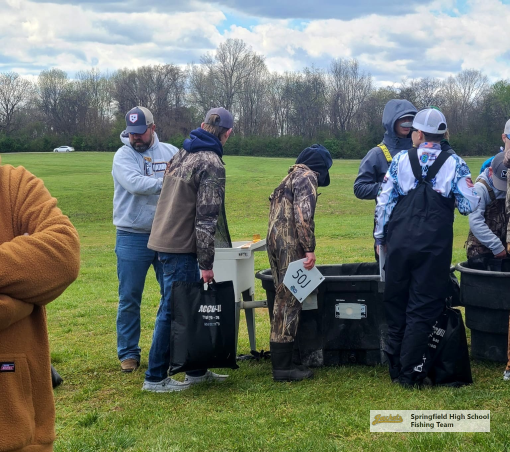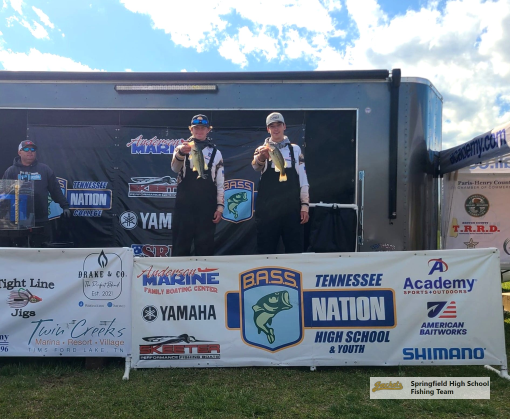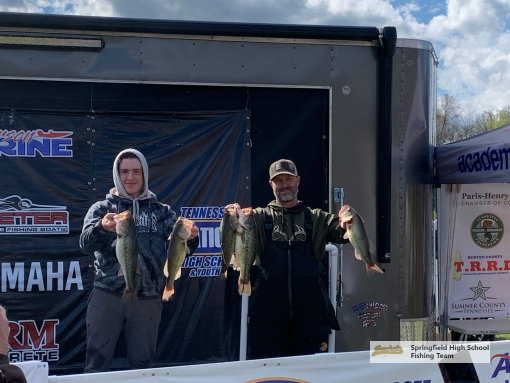 (Pleasant View, TN)
Pleasant View Volunteer Fire Department needs YOU!
We are seeking highly motivated individuals for our upcoming recruit class. Apply at PVVFD.org
If firefighting isn't something that interests you, then we have many other ways to become involved with the PVVFD. Call to find out more. Or if you have any questions call 615-746-8528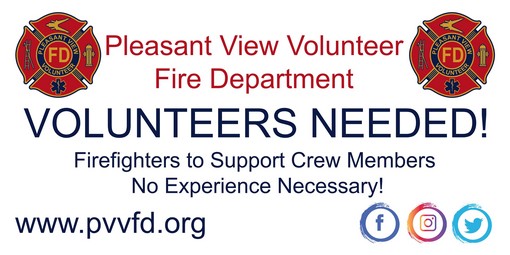 (Robertson County, TN)
Robertson County Schools – District Football Stars Honored At Football Foundation Banquet
Five Robertson County scholar football players were honored at the annual National Football Foundation Banquet on Tuesday, March 22, in Franklin, TN. The banquet was put on by the Middle Tennessee Chapter of the NFF.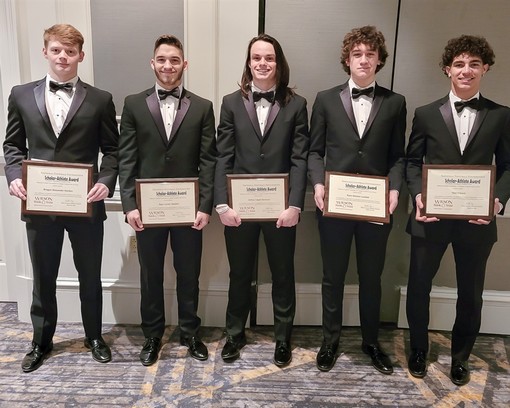 Robertson County Honorees were:
Greenbrier High School – Brogan Alexander Harden
JoByrns High School – Ryan Carter Dowlen
Springfield High School – Joshua Logan Harrison
East Robertson High School – Ryan Weston Lucket
White House Heritage High School – Taye Francis
All honorees received a plaque and were introduced at the banquet by dignitaries from the Middle Tennessee area. They attended the banquet with their coach and one or two family members. Robertson County Schools were sponsored by the Springfield Rotary Club and Reiselman Buick GMC.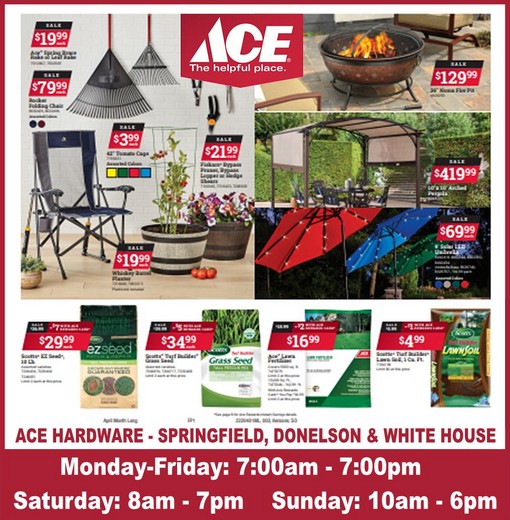 (Coopertwon, TN)
Coopertown Police Department – We enjoyed meeting all the kids that came to see the Easter bunny.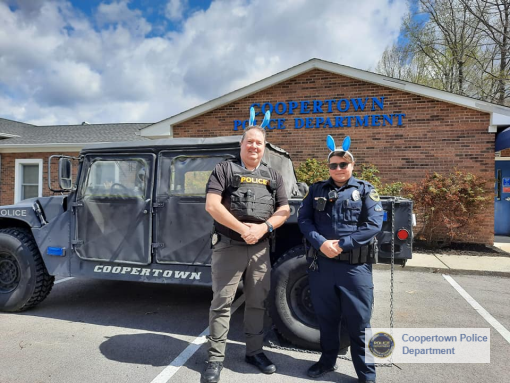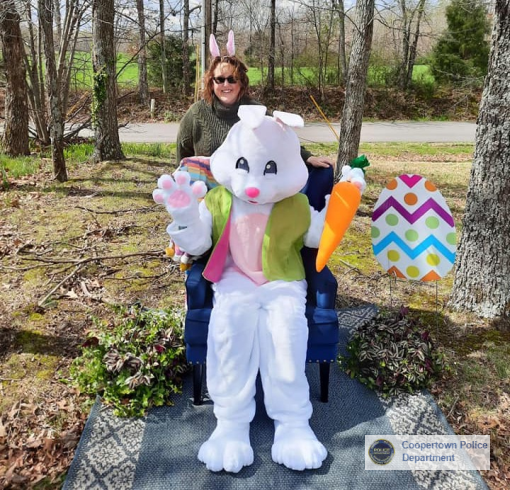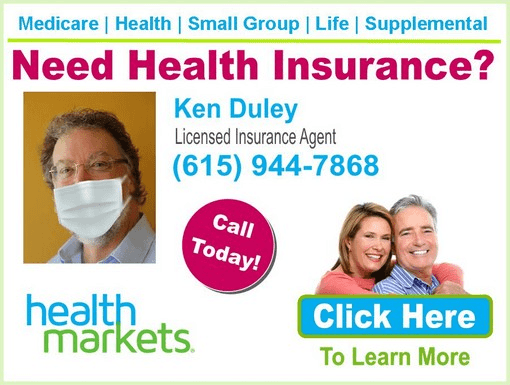 (Springfield, TN)
Stokes Brown Public Library – We had a good-sized crowd for Adult BINGO today.
We hope you can join us next month when we'll do it again!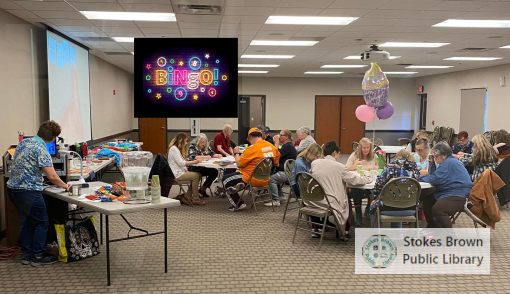 For more Library events, click here.

(Robertson County, TN)
UT Extension-Robertson County – Congratulations to our Sms UT Extension Afterschool Site Director Clarissa Gardner!
She received the Community Impact Award presented by Robertson County (TN) Chamber of Commerce! Clarissa goes above and beyond to serve others, and we feel so thankful to have her on our team!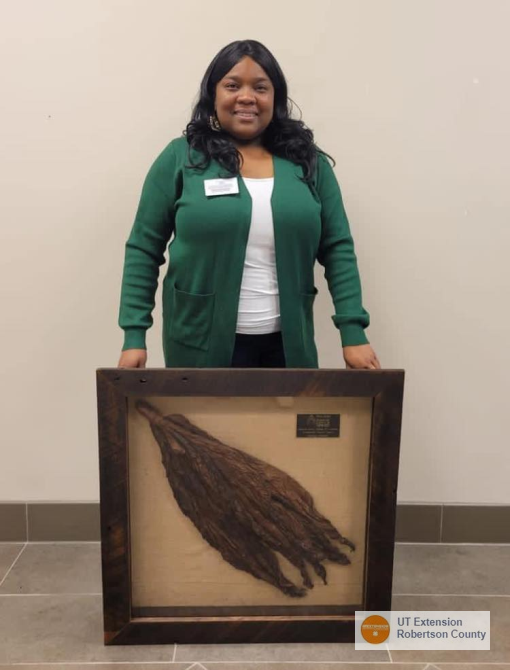 UT Extension-Robertson County 4-H Livestock Judging members competed at the Central Region Contest in Murfreesboro!
Special thanks to our volunteer leaders, John Jr and Christy Bartee, for working with these youth to help develop their livestock judging skills!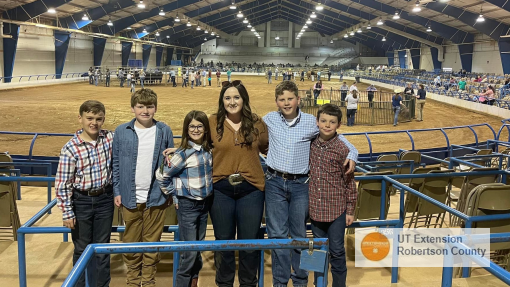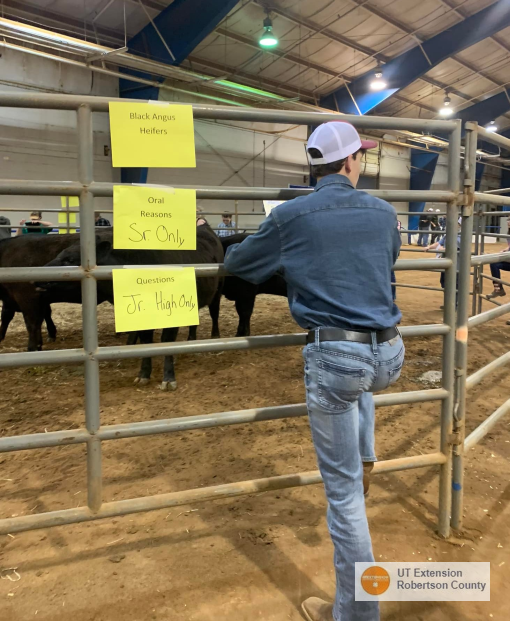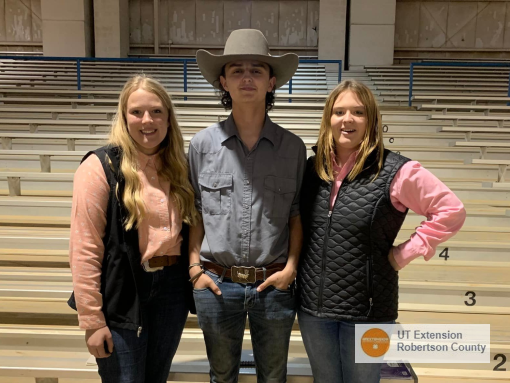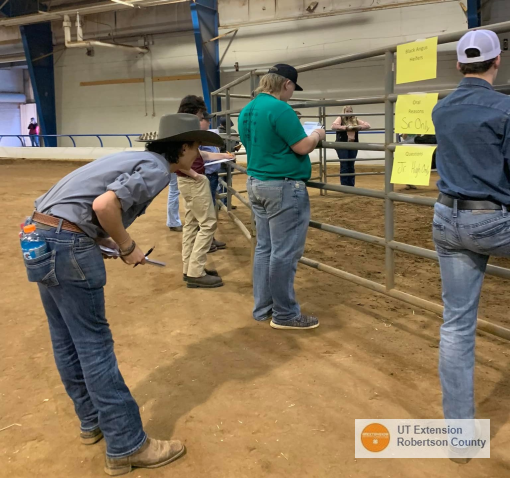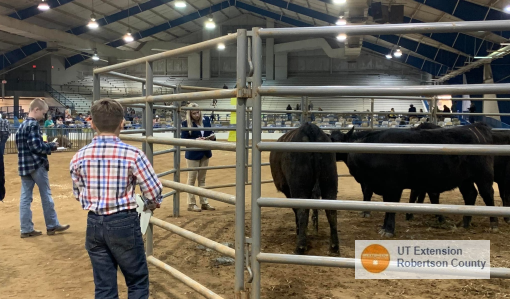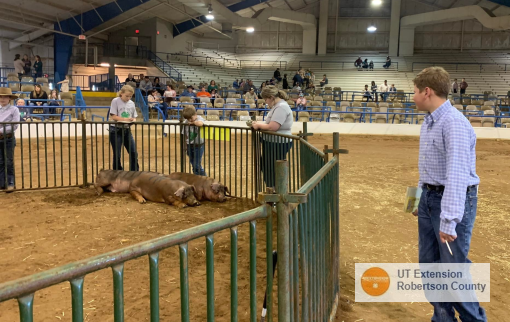 UT Extension-Robertson County – Thanks to your donations for Tennessee Food Waste Awareness Week, we were able to donate 126 pounds of food to United Ministries Food Bank of Robertson County, TN!
Thank you for helping to feed your neighbors and working to reduce food waste! #endfoodwasteTN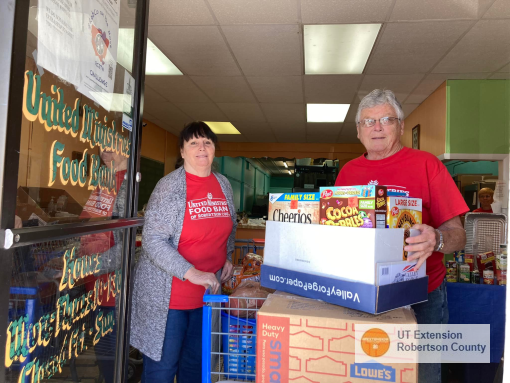 (Greenbrier, TN)
Greenbrier Mascot Bobby Bobcat (AJ Crowder)  signs with Austin Peay
The Official Signing for Greenbrier High School's mascot was held Saturday, April 23, 2022
"The Future Begins Now!….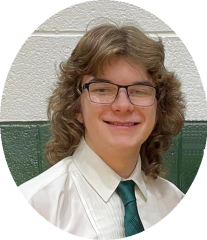 First off, I want to thank God for blessing me with this incredible and unique pathway in life to make an impact by spreading love and positivity.
I also want to thank my amazing parents and family who have sacrificed and worked so hard to fuel my dreams. Thank you Greenbrier High School and Greenbrier Middle School for giving me the opportunity to begin my career. Additionally, I want to thank my fellow classmates and friends who have always been supportive of my passion. I want to sincerely thank the most supportive and outstanding community I could ever be blessed with.
I am so appreciative of Greenbrier for loving me throughout the past 6 years of my career as Bobby Bobcat. Being the mascot for my hometown of Greenbrier created an unbreakable bond that I will never forget throughout the rest of my life. Lastly, I would like to thank Coach Maurice and Austin Peay State University for giving me the opportunity to continue my career as a mascot on the collegiate level. With that being said, I am truly grateful to announce my commitment to Austin Peay State University! Have a blessed day, don't forget to smile, and Let's Go Peay!"
#Committed #GBP #LetsGoPeay #ForeverABobcat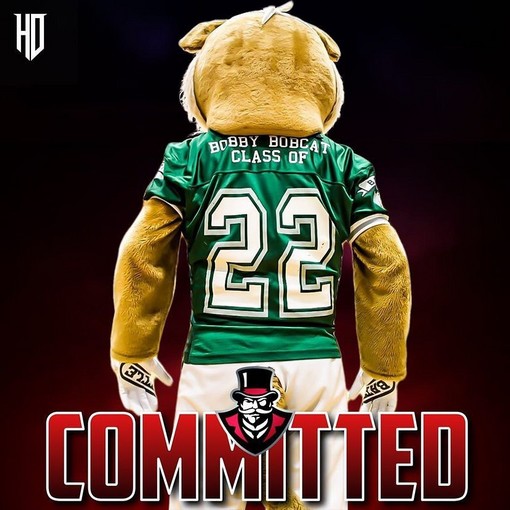 City of Greenbrier, Greenbrier Fire Award Two RC Emergency Service Personnel
Robertson County Emergency Medical Services Critical Care Paramedic Mary Grasso and AEMT/FTO Melanie Bryant, received an award from the City of Greenbrier for saving the life of a patient.
"On Feb 4th, Medic 3 (stationed in Ridgetop) and Greenbrier Fire Department TN responded to a call for a fall. When they arrived, they found the patient on the floor, awake and not complaining of any injuries. Shortly after helping him up, the patient went into sudden cardiac arrest. Thanks to the quick actions and outstanding care from Paramedic Grasso, AEMT Bryant and FF Lt. Wallace, the patient regained a pulse and was transported to the ER. After being treated at the hospital, the patient was released and is back with his family. Fantastic job to everyone involved!"  Robertson County Emergency Medical Services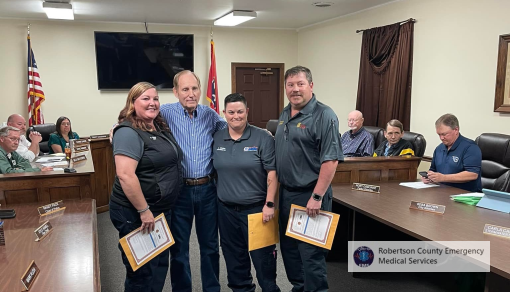 Greenbrier Police is Hiring!
For full Job details, click Here
Join our team, become a police officer and make a difference in our community! Health, Dental & Vision Insurance.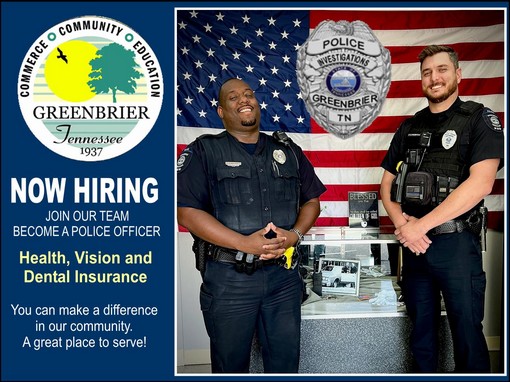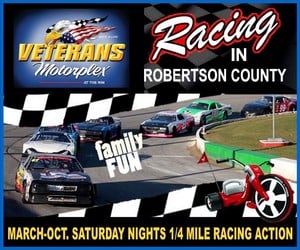 (White House, TN)
City of White House, TN- Police Department – Greenway Tips
As the weather gets warmer and more people get out and enjoy the outdoors, we wanted to post a few safety tips for those that would like to enjoy the City's greenway trail!
www.WhiteHouseTN.gov/Greenway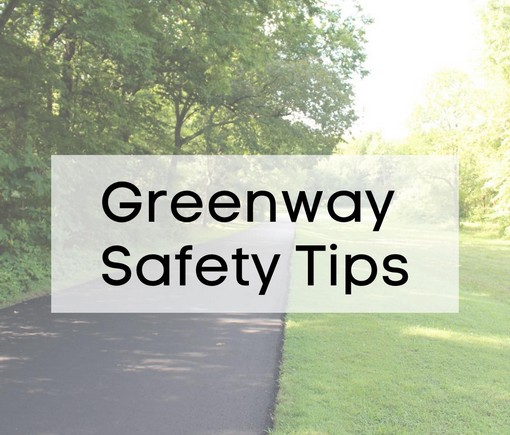 GREENWAY SAFETY TIPS
• Carry a cell phone in case of emergency. Program the White House Police Department's number (615-672-4903) into your cell phone before you leave.
• There is safety in numbers. Use the buddy-system and enjoy the trail with a companion.
• Park in a well-lit, heavily-trafficked area. Lock your vehicle and do not leave valuables such as purses, wallets, jewelry, or cell phones inside.
• Carry identification including your name, phone number, critical medical information, and a contact name/number in case of an emergency.
• Wear comfortable sport shoes, loose-fitting clothing appropriate for the weather, and use proper safety equipment.
• Wear bright and/or reflective fabrics and carry a whistle or noise-maker.
• Tell friends or family the route you will be taking and when you expect to return. If you are going to be late, give them a call.
• Stay on the designated trail and avoid short cutting or crossing open country.
• Be alert and aware of your surroundings. Avoid areas where visibility is poor, and be aware of sounds in your environment.
• Be confident. Look people in the eye and let others know you are aware of their presence with a polite "Hello!"
• When you approach your car, have your key ready. Check the floor and back seats before you get in.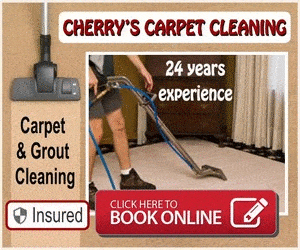 White House Area Chamber of Commerce  – The 3rd grade class from Heritage Elementary School joined the White House Public Library to celebrate the new story book trail on the Greenway.
The Storybook Trail features "Red House Tree house Little Bitty Brown Mouse" by Jane Godwin. We would like to encourage everyone to take a walk on the greenway and enjoy this new addition to our community! The story boards begin at the Greenway Trailhead located beside Sonic.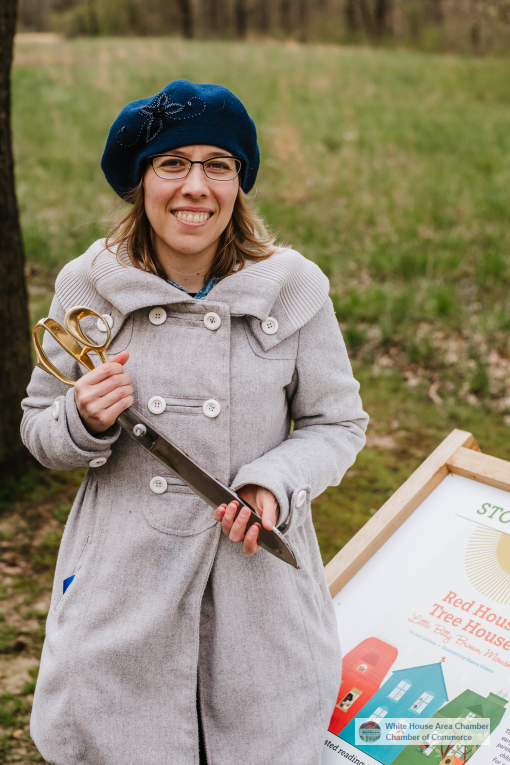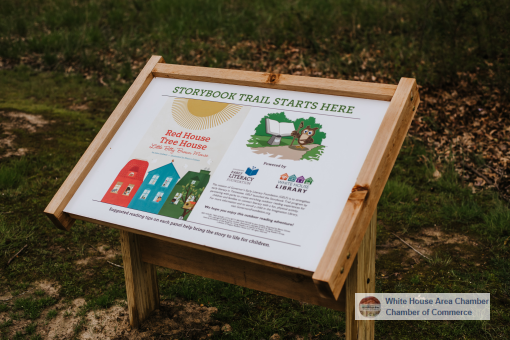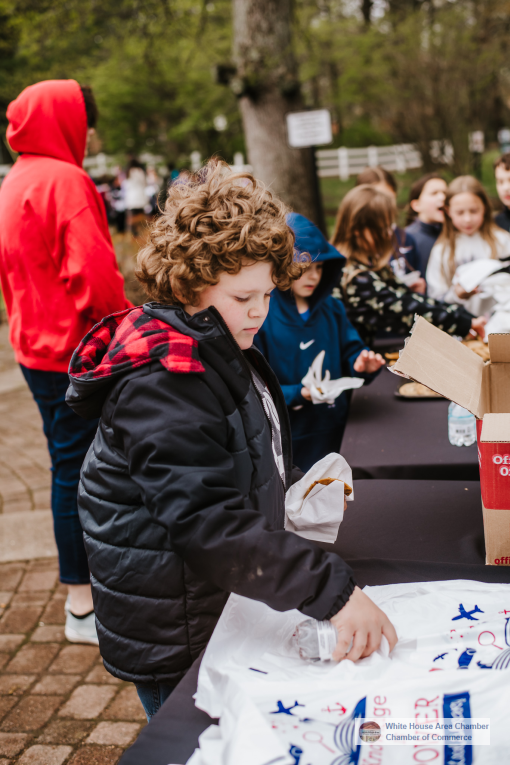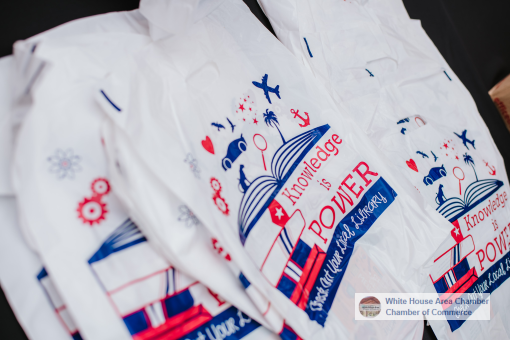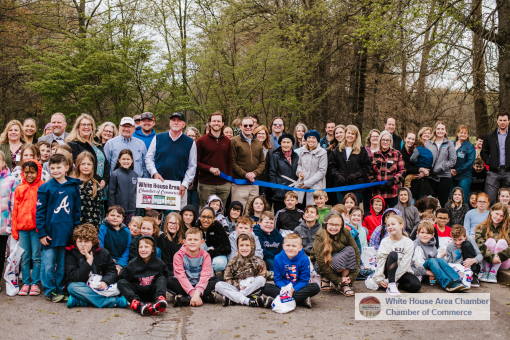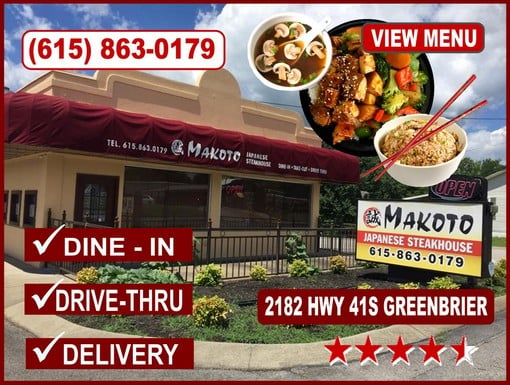 City of White House, TN- Police Department – We want to thank Heritage High School for letting us come out and work with the senior ladies.
We wish all of you the best in whatever you do after graduation. Thank you, Sgt. Brisson and Officer Loveday for coming in on your day off to help with this course. Thank you for the continued help, Jasmine Jones, Annie Medley, Will, and William Petty. Thank you Deputy Baker.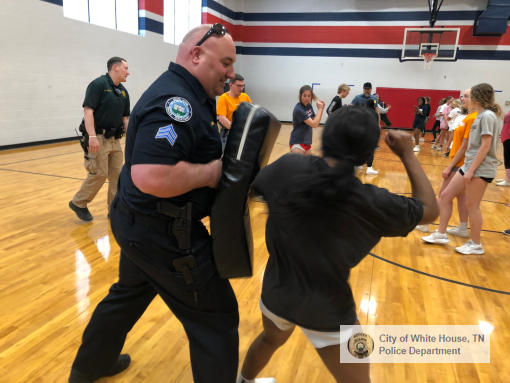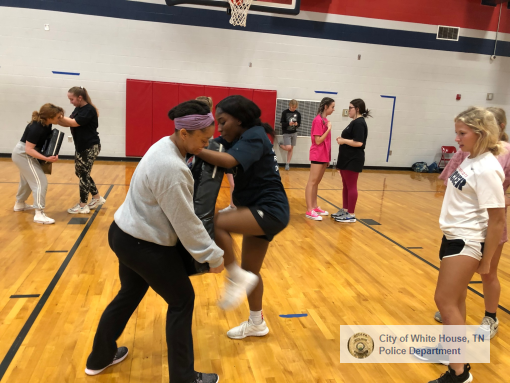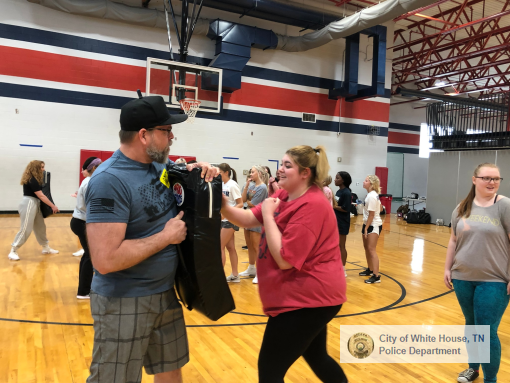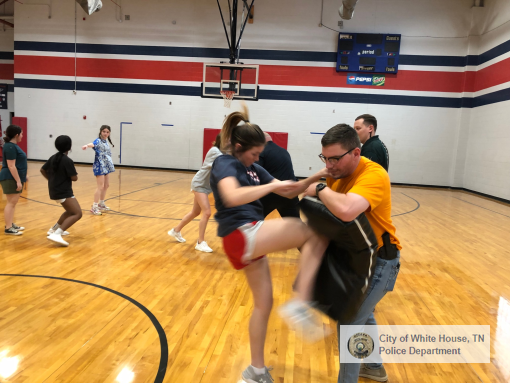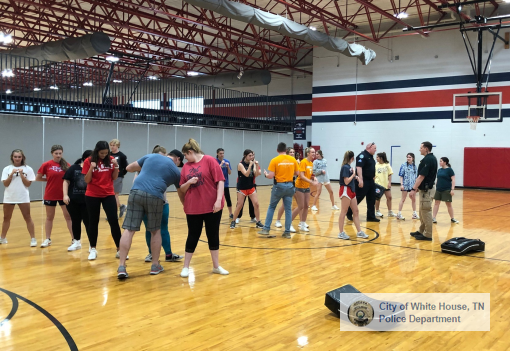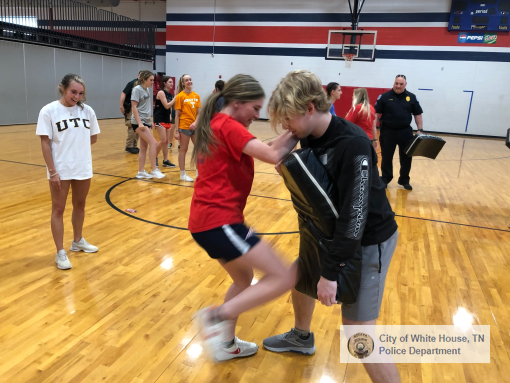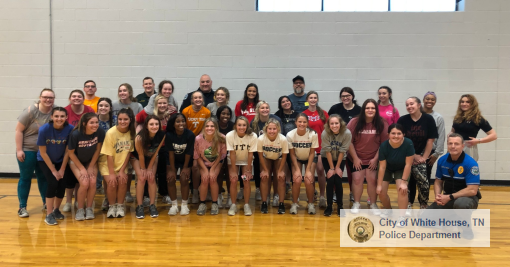 White House Police Dept Now Hiring
Police Officer
Type:
Full Time
Salary/Pay Rate:
$20.48/hr or $44,728.32 annually base
Take home vehicle policy
Four weeks vacation accrual first year
Tuition Assistance Program ($6,000 annually)
Overtime opportunities
Specialized unites including C.I.D., Bike Patrol, County Swat Team
Three-day weekend with every other weekend off
Applications may be obtained by clicking here or by calling Human Resources at 615-672-4350, ext. 2109 or by emailing [email protected]
Applications may be returned by email [email protected], by fax at 615-616-1058 or by mail at City of White House, Attn: Human Resources, 105 College Street, White House, TN 37188.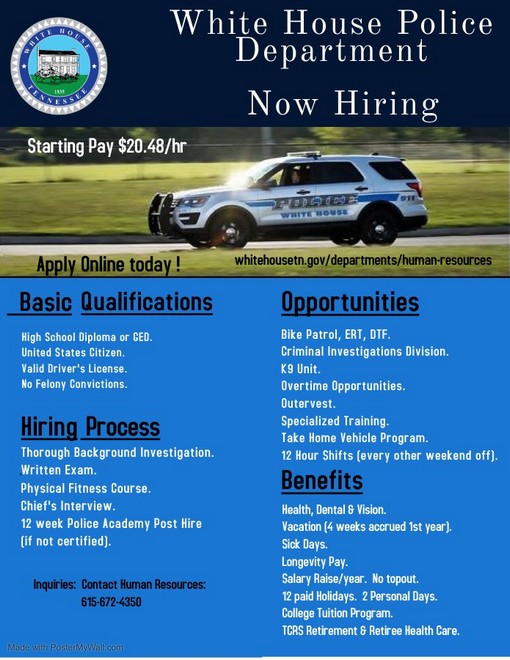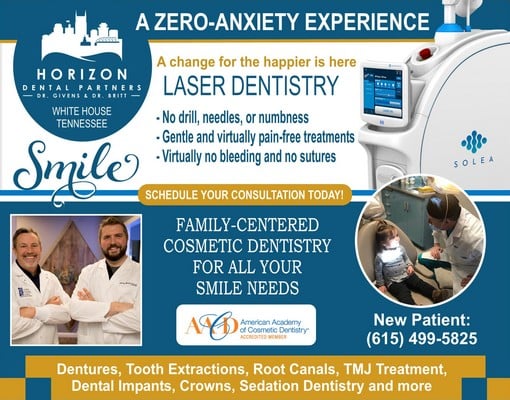 (Robertson County, TN)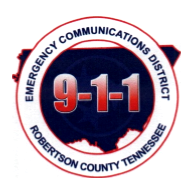 Robertson County 911 –  National Public Safety Telecommunicators Week was April 10-16, 2022.
We would just like to thank everyone for all the food, calls, cards and love shown to us this week!
"We truly appreciate you all.  Telecommunicator Week 2022 was a success and so much fun!!"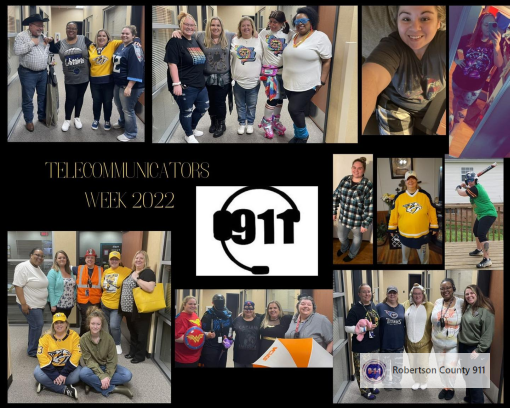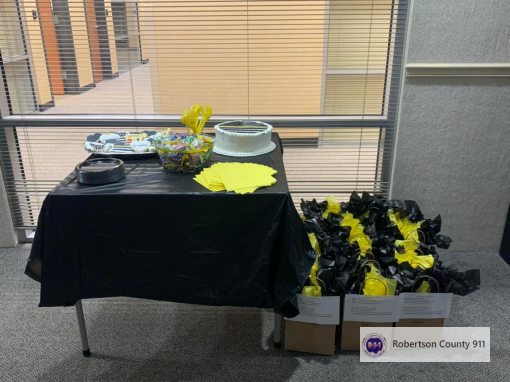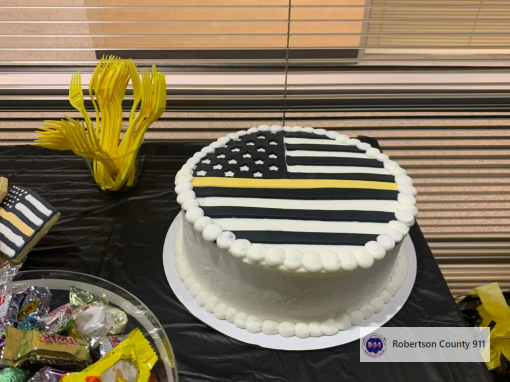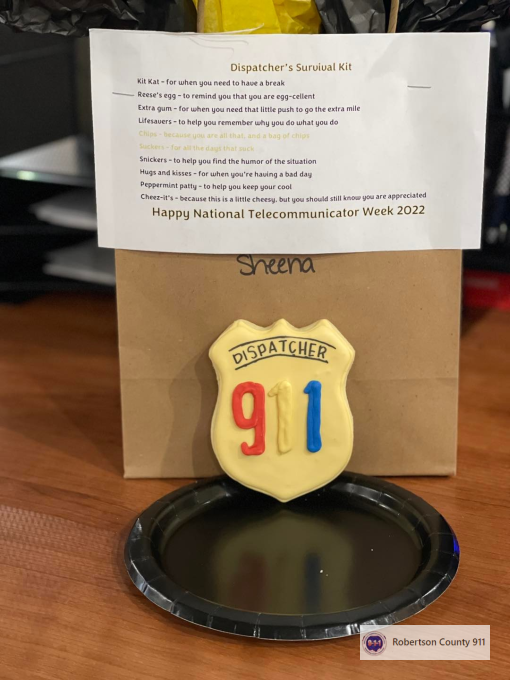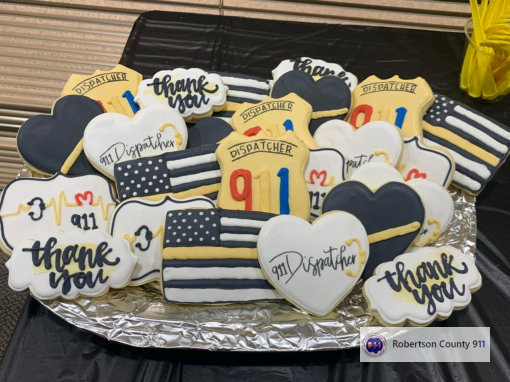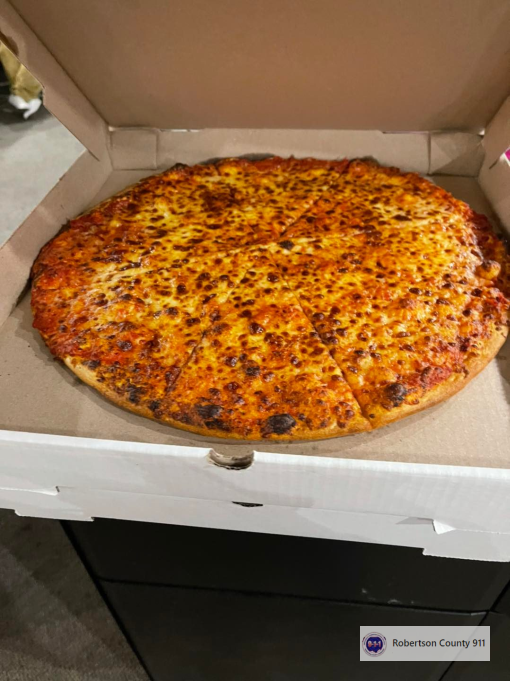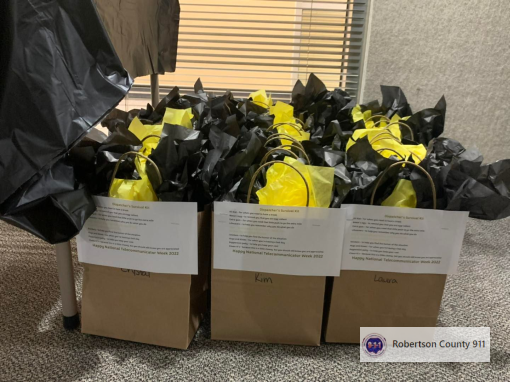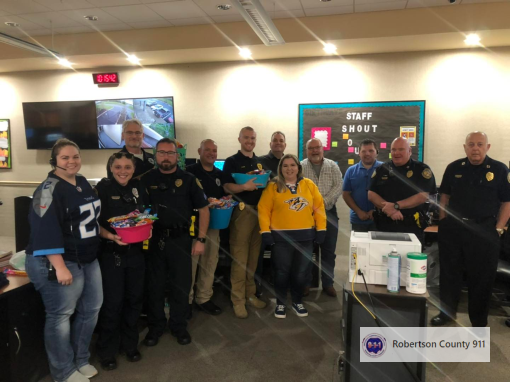 Robertson County 911 – We are hiring!
Have you ever dreamed of having a career where you feel like you make a difference and are able help people? Do you want to be involved in emergency services, but don't care for the face-to-face contact each day? Do you enjoy working in a fast-paced environment and having a job that offers a challenge and is never boring? Then, this is the job for you!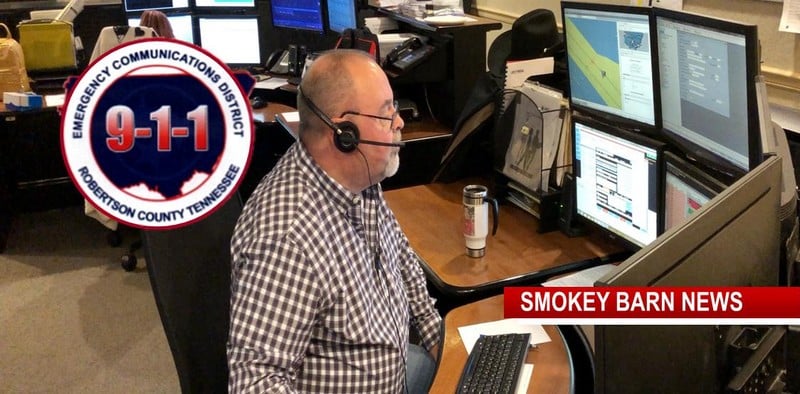 911 Dispatchers are responsible for answering emergency and non-emergency calls in Robertson County and dispatching the appropriate agencies for assistance. We are the comforting voice at the other end of the line when someone has an emergency.
Qualifications include:
• Be at least 18 years of age
• High School Diploma or GED
• No felony convictions
All training and certifications needed are acquired on the job. We have a lengthy training program, so you are not immediately expected to be able to answer emergency calls.
Benefits:
• Health, dental, vision insurance
• Life, Disability, other insurance plans available
• Paid vacation and sick leave
• Paid holidays
• Tennessee Consolidated Retirement, paid by the employer
• Yearly raises (salary range 16.97 – 23.12 per hour)
We will be setting up interviews in a couple of weeks. If you are interested, please apply Here



(Adams, TN)
City of Adams, TN – All of us at City Hall hope that everyone had a wonderful Easter!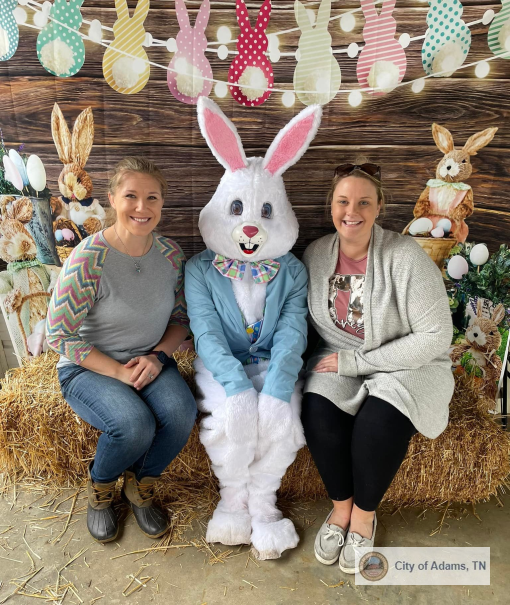 So many smiling faces out hunting eggs! Thank you to everyone who came and made our Easter Egg Hunt a success!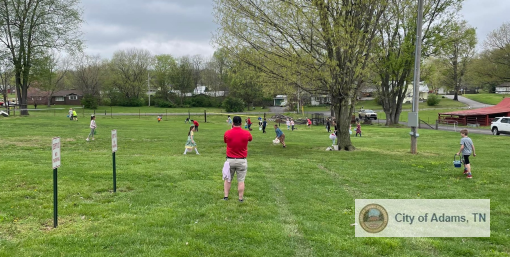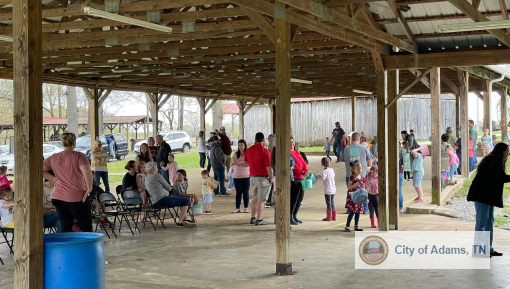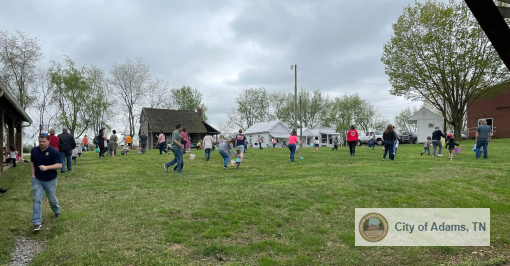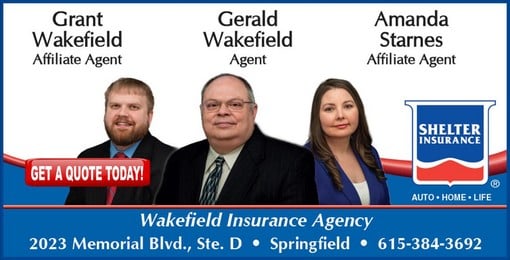 (Cedar Hill, TN)
JoByrns FFA Greenhouse Sale Thanks to everyone who came out to the Cedar Hill Farmer's Market!
Your local Future Farmers really enjoyed seeing everyone!
The Cedar Hill Farmers & Community Market is scheduled to run the Third Thursday of each month from thru September  with shopping, produce, food trucks, face painting and live music!
Learn more here.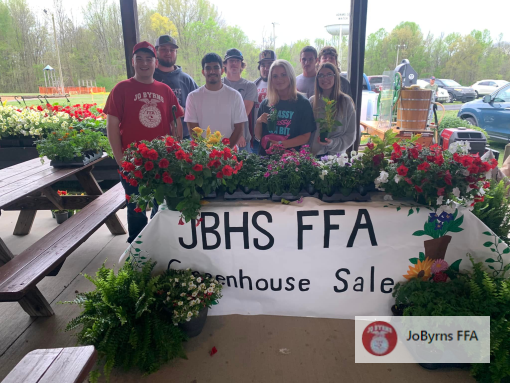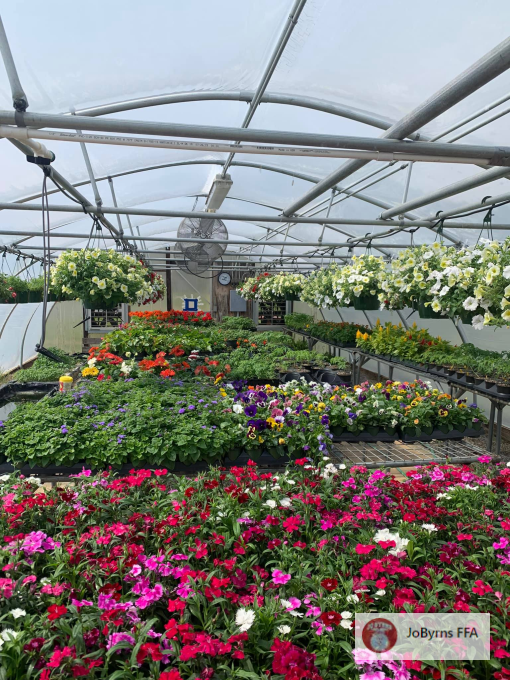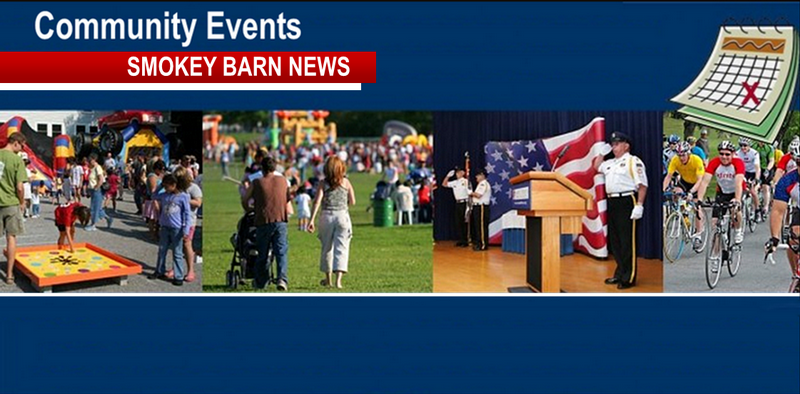 Community Events & Announcements 
ROBERTSON COUNTY & SURROUNDING MIDDLE TENNESSEE
COMMUNITY EVENTS & ANNOUNCEMENTS

EARLY VOTING THRU APRIL 28!
Early voting is taking place now for the Republican Democratic Primary through April 28 at the County Election Office, 513 S. Brown Street, Springfield, TN.
Understanding the current Primary Ballot…
To simplify it Smokey Barn News recruited former Robertson County Mayor Howard Bradley (a man who never lost a political run in his career) and well-known Robertson County Historian and former election official Bill Jones. The two do a great job covering the important facts you'll need to know if you plan on voting in the upcoming election.  Below our interview with Bill and Howard, we have added who's running and for what.
See who's running and what positions are open for re-election. READ MORE

Public Announcement: The Long Term Care Ombudsman program in middle TN is getting ready for volunteer certification training.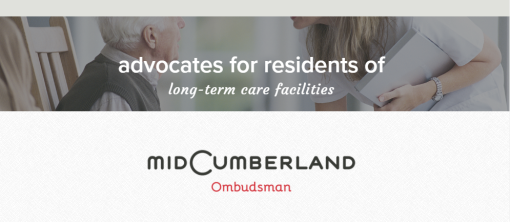 Our program provides advocacy for residents in long-term care facilities, which includes nursing homes, assisted living facilities, and homes for the aged. There are over 185 long-term care facilities in our 13 county district and we rely very heavily on volunteers. We need volunteers in Robertson County and would greatly appreciate your assistance in spreading the word about our upcoming volunteer certification training by running the following in the public service section of your newspaper. We would appreciate having it run until April 22, 2022.
Volunteers Needed for Robertson County
Mid-Cumberland Human Resource Agency's Long-Term Care Ombudsman program advocates for the rights of thousands of residents in nursing homes, assisted-living facilities, and homes for the aged in Robertson County and 12 additional counties in Middle TN. The Long Term Care Ombudsman Program is a partner agency with the United Way of Robertson County. Ombudsman staff consists of two District Ombudsmen, an Ombudsman Assistant, and 15 trained volunteers. Trained, certified Ombudsman volunteers pay regular visits to these facilities where they spend time with residents, monitor conditions, investigate complaints, educate regarding abuse and neglect and protect residents' rights. The program offers mediation, complaint resolution, and public education for residents and their families. Covid restrictions and resulting isolation have resulted in a greater need for independent, objective observation and reporting.
The Long Term Care Ombudsman Program is actively recruiting for volunteers in the Robertson County area. Volunteer applicants must pass a background check and attend a 16 hour classroom training. The next training session will be held May 4th and 5th.
Those interested in assisting have until Monday, April 25 to contact the program by sending an email to [email protected] or by calling 615-850-3918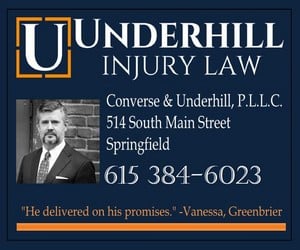 Greenbrier Spring Turkey Shoot – American Legion Riders Post 45
Thru April 30 Saturday's 8AM to Noon or no more shooters
Well…it is almost time! Spring Turkey shoot starts in just 4 days! April 2nd – April 30! American Legion Riders Post 45 will host the 2nd annual Spring event! Come out to support your local Veterans!
Stock Guns Only. No Custom Guns or Barrels over 36″
Prizes Include but not limited to: Summer Grilling Meat which
could include Boston butts, bacon, ham, ribs etc.
This is a family friendly event! All ages are welcomed!
All Proceeds are used to assist our local veterans!
IN HONOR OF VETERANS!
*Hot and Cold Refreshments Available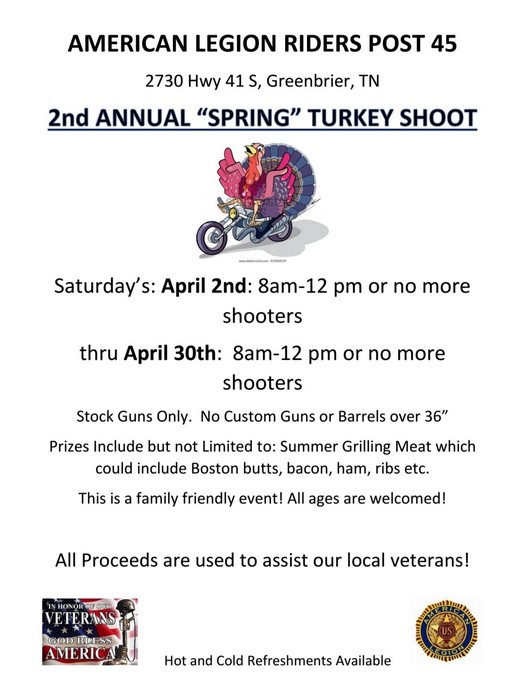 April 22-23 – Hope for the Journey Conference
White House General Baptist Church
4012 Highway 31 W
Cottontown, TN 37048
Join us for our upcoming Hope for the Journey Conference.
April 22 5:30pm to 8pm
April 23 9am to 3pm
The Hope for the Journey conference is not only for foster families but for those working with children from a hard place. Do you work in the school system? Day Cares? Teach in the church? Or just want to better understand how to love those children well? Join us in April!
For more information: click here
To sign up: click here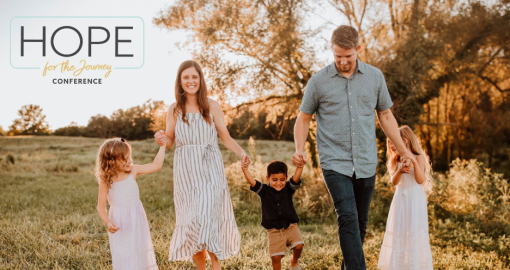 The adoption journey does not end on the day a child is welcomed home; in fact, the journey is just beginning. Children impacted by adoption and/or foster care have often experienced early attachment injuries related to loss, abuse, trauma, and/or neglect. There is hope and help, though. Whether you are in the adoption process, have welcomed a child home through adoption, or are loving and serving well children through foster care, you are not alone…Read more
April 23 – Orlinda: Spring Chili Cook-Off Fundraiser for the Byrum Porter Senior Center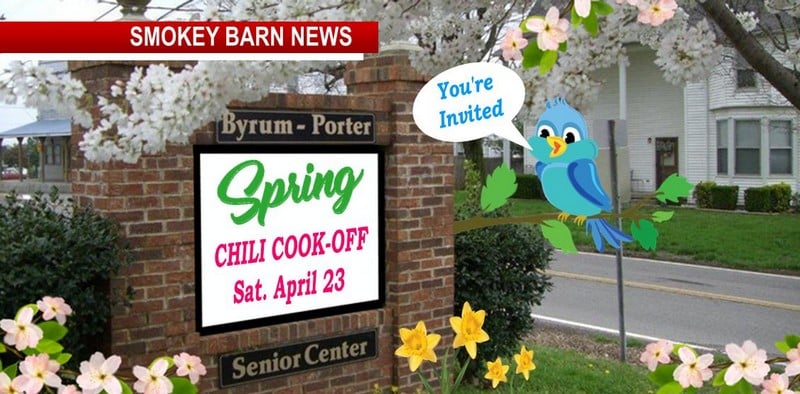 Make plans to attend the Spring Chili Cook-Off Fundraiser at the Byrum Porter Senior Center located at 9123 Hwy 49 East in Orlinda, TN on Saturday, April 23, 2022 beginning at Noon.
Bring a pot of your special chili for judging/sharing. It will be $10 for a bottomless bowl plus dessert and tea.
Event from Noon to 2:30PM
Please call if you can donate.
We hope to have some excellent entries and prizes will be awarded.
Call 615-654-3161 for more information.
Donations are always welcome to help the center continue to provide classes, exercises, games, fun trips, health education and entertainment for our seniors and community friends.
Follow us on FaceBook or check out our website for upcoming classes, trips and events!
Everyone is invited to be a part of this fun afternoon.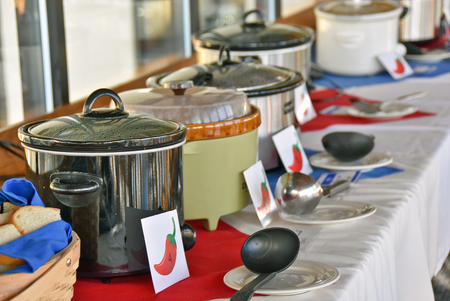 April 27 thru October 26: Classic Tin Cruise In – Springfield, TN
Located in the parking lot next to the Waffle House in Springfield. Every Wednesday night from 5-9PM. For more info call Shlby Horner at 615-336-2257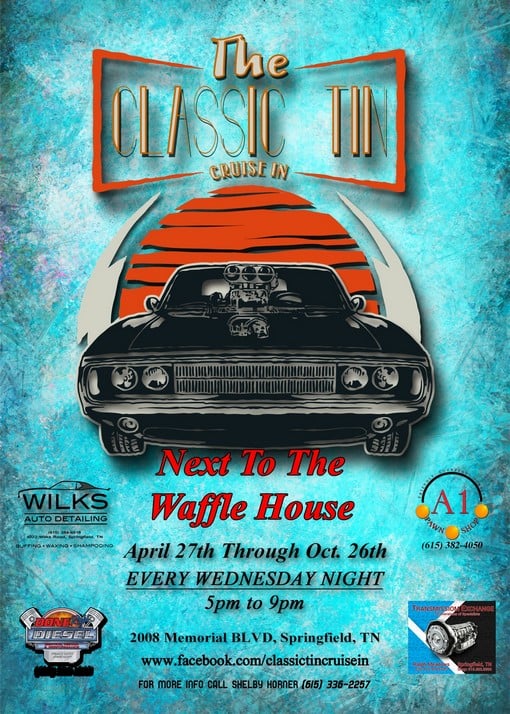 April 29: Free Food GiveAway – Mobile Pantry by United Ministries
United Ministries Food Bank will be having a Mobile Pantry on Friday, April 29th. It will be behind Springfield Baptist Church on Main Street (in their back parking lots).
The food will be given out between 9:00AM until 11:00 AM. Anyone can recieve food but will be required to show an ID.
Please have your trunk empty so we can place the food inside.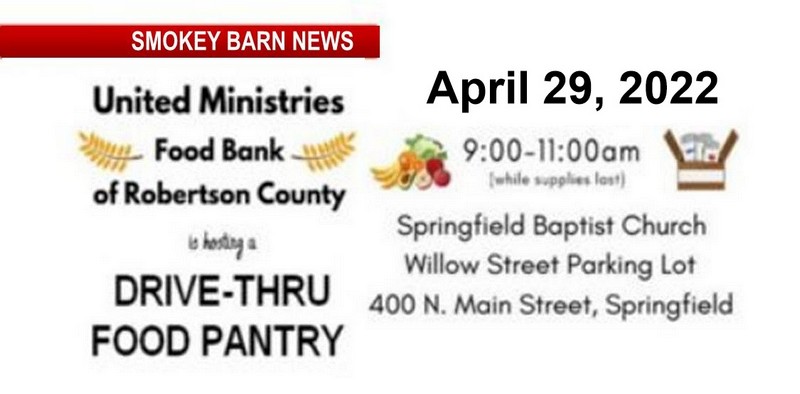 April 30: Drug Take-Back IN White House, TN
City of White House, TN- Police Department – We will be partnering with Kroger in White House on April 30th from 10am-2am for the National Prescription Drug TakeBack Day by the U.S. Drug Enforcement Administration (DEA).
This will be an opportunity for the public to prevent pill abuse and theft by ridding their homes of potentially dangerous expired, unused, and unwanted prescription drugs for safe disposal.
This initiative addresses a vital public safety and public health issue. Prescription drugs are being misused and abused at alarming rates in the United States. More Americans currently abuse prescription drugs than the number of those using cocaine, hallucinogens, and heroin COMBINED. Many Americans are not aware that medicines that languish in home cabinets are highly susceptible to diversion, misuse, and abuse.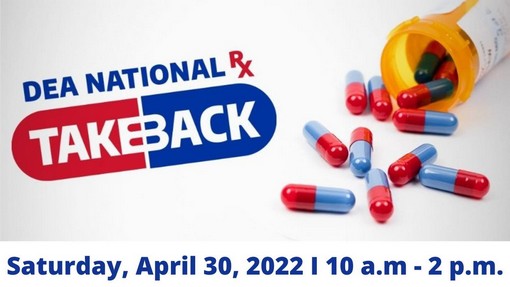 These Prescription Medications Will Be Accepted:
• Prescribed narcotic drugs (Vi- codin, Oxycontin, etc.)
• Prescription medications
• Over the counter medications
• Medication samples
• Pet medications
• Medicated ointments/ lotions
• Vitamins
• Inhalers
• EpiPens (unopened)
These Prescription Drugs Will Not Be Accepted:
• Personal care items
• Hydrogen peroxide
• Aerosol cans
• EpiPens (used)
• Mercury products
• Iodine products
• Radioactives
• Business waste
• Empty containers or "sharps" (needles)
• Liquid medications/ cough syrups
May 6: Starts The Friday Night Markets in downtown Springfield
(Springfield, TN) Fun On The Square Returns With Live Music, Food, Classic Cars & More In '1st Friday Night Markets'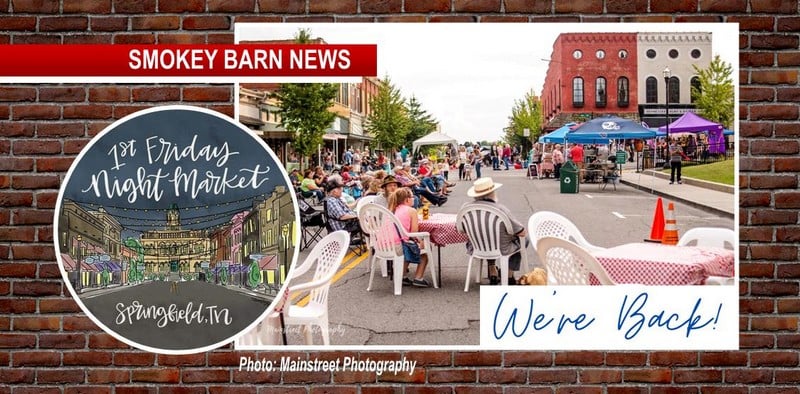 Back by popular demand, the 1st Friday Night Markets on the square in Springfield, TN are scheduled to return May 6, 2022 and run the 1st Friday each month through September 2021 from 6-9pm. (June 3, July 1, August 5, September 2)
The Historic Springfield Event Coordinators will be hosting classic cars, vendor booths of farmers, makers, crafters, artisans, etc., [no MLM], Kids zone and food trucks.
This is a FREE event and family/pet friendly!
Event Time: 6:00pm to 9:00pm
The 1st Friday Night Markets team will also be partnering with Springfield's Parks & Recreation Dept. again this year to bring you the "Summer Concert Series" with foot-tapping, head bobbin', movin' & groovin' live music during the event.
The series will feature five concerts each beginning at 6:30 p.m. and ending at 8:30 p.m.
This year's live music lineup includes:
May 6: The Fortunate Sons on
June 3: Four on the Floor
July 1: High Road
August 5: Ten Year Town
September 2: Jimmy Church Band
May 7th: White House Splash Pad Opens!
White House Area Chamber of Commerce – This warm weather has us all thinking about the splash pad!
Take note of the hours and when it will be opening for everyone to enjoy a cooldown! #DiscoverWhiteHouse
💦 SPLASH PAD SCHEDULE💦
The Splash Pad will be open weekends only in May starting May 7th and will be open seven (7) days a week with the hours below starting Memorial Day through Labor Day. The Splash Pad will be open weekends only in September. The last day of the season will be September 25th!
Schedule Memorial Day through Labor Day:
▪️Monday: 9am-8pm
▪️Tuesday: (Maintenance Day) 2pm- 8pm
▪️Wednesday-Saturday: 9am- 8pm
▪️Sunday: 11am- 6pm
Schedule from Labor Day through September 25th:
▪️Monday – Friday: CLOSED
▪️Saturday: OPEN 9am – 8pm
▪️Sunday: OPEN 11am – 6pm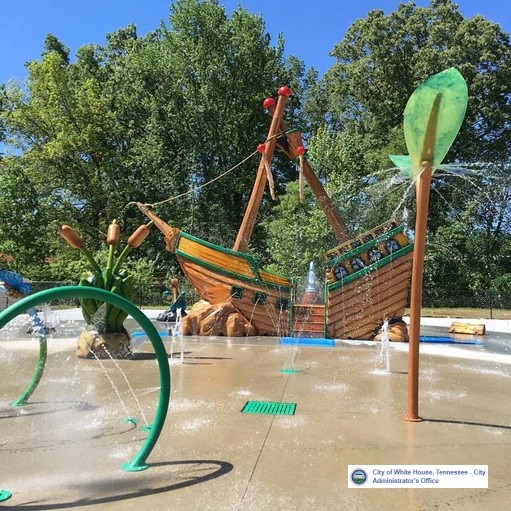 May 9: All DuPont Retirees…
2nd Annual Dupont Retiree Reunion
All DuPont Retirees and Former Employees are invited to attend the second annual reunion at the Old Hickory Church of Christ located at 1001 Hadley Ave on Monday May 9 from 9 am to Noon.

May 10: Sew Fun Class at the White House Library
Don't forget to join us on May 10 for Sew Fun from 4:30pm to 5:30pm!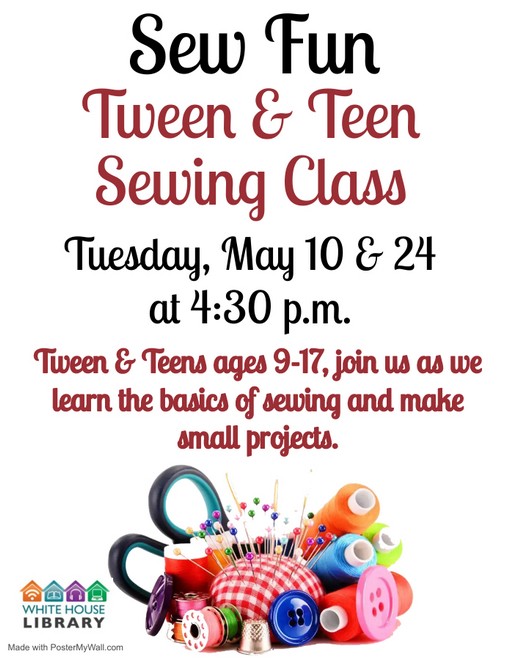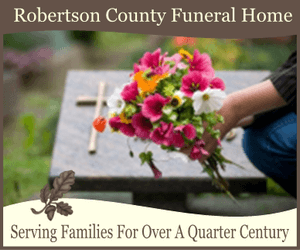 Saturday, May 21, 2022: MT. SHARON CP CHURCH YARD SALE
COME JOIN US AND FIND SOME TREASURES from 8AM-1PM
Mt. Sharon CP Church is located at 4634 Mt. Sharon Church
Road in Greenbrier, TN 37073.
We are just south of Springfield on Highway 431, near the Hinkle Chair company.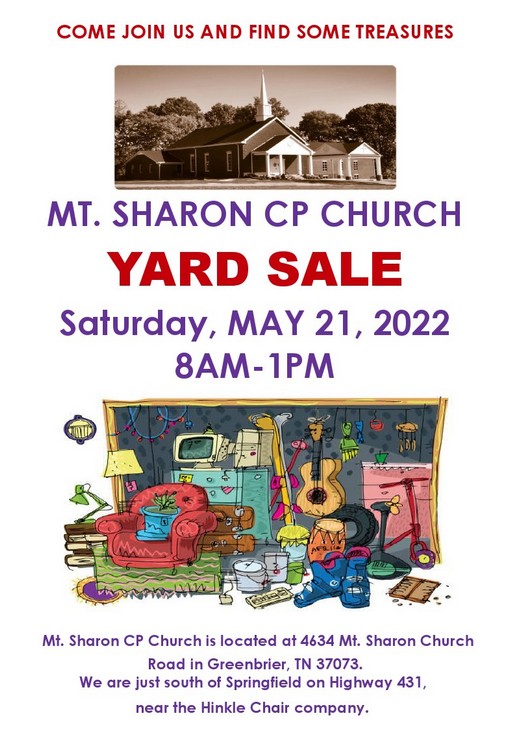 Starting May 21:CRUISE'N N GROOVE'N in Pleasant View, Tn
SATURDAY, MAY 21, 2022 AT 5 PM – 9 PM
2501 Pleasant View Rd, Pleasant View, TN 37146-8040, United States
**********NEW LOCATION************
Cruise'n N Groove'n cruise-in at the Pleasant View Community Park, 2501 Pleasant View Road, Pleasant View, TN.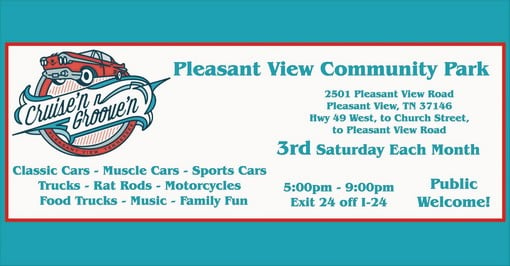 It Starts May 21st thru October 15th. Times: 5pm – 9pm (or when the participants leave). We have DJ music, Food Trucks, "Pick of the Month" sponsored by O'Reilly Auto Parts.
At the October event, we will have our annual Trunk N Treat for the kiddos. For more info, contact 615-746-0600 or Jim Hutchens 615-517-1423 or Larry Rediker 615-419-5214.

June 11: Springfield Parks & Rec Free Youth Fishing Rodeo at J Travis Price Park
SATURDAY, JUNE 11, 2022 AT 6:30 AM – 11 AM
Springfield Parks and Recreation in partnership with Tennessee Wildlife Resources Agency (TWRA) hosts a Free Fishing Rodeo for children 14 years of age and under at J. Travis Price Park to celebrate National Fishing Month.
Participants must bring all fishing gear and bait – (no artificial lures allowed). TWRA stocks the pond with catfish, bream, sunfish, and other small fish for the event.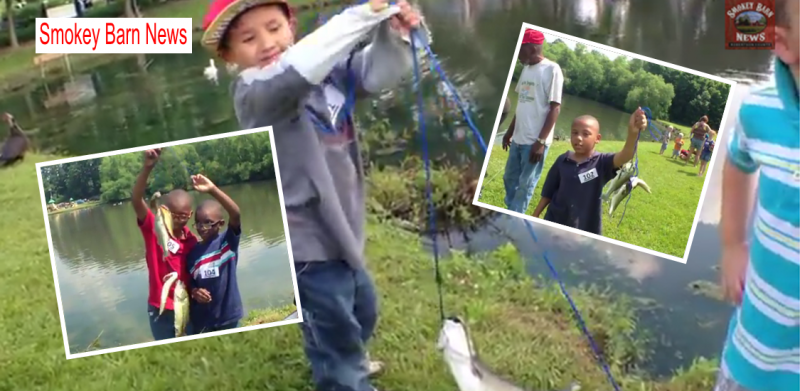 Registration begins at 6:30 AM. Help youth begin an activity of a lifetime. Prizes will be awarded.
Springfield's Parks & Rec Director Terry Martin is always out in the community working to bring more fun family events. Stay tuned!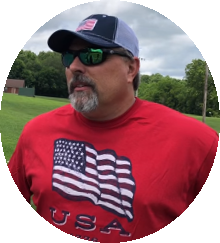 Terry has been with the Parks and Recreation Department since 1995. He started in grounds maintenance and rose through the ranks to become Director of Parks and Recreation in April of 2016. Terry has more than 21 years of experience in all aspects of parks and facilities maintenance, as well as recreational programming and athletic league administration. Terry is a member of the Tennessee Parks and Recreation Association (TRPA) and received TRPA certification in Maintenance Management. He has served as the Dixie Softball District Director since 2013.
Springfield's Splash Pad To Open Memorial Day May 28th
Saturday, Memorial Day  – August 1st, 10 am to 8:00 pm
August 9th- October 1st, 10:00 am to 7:00 pm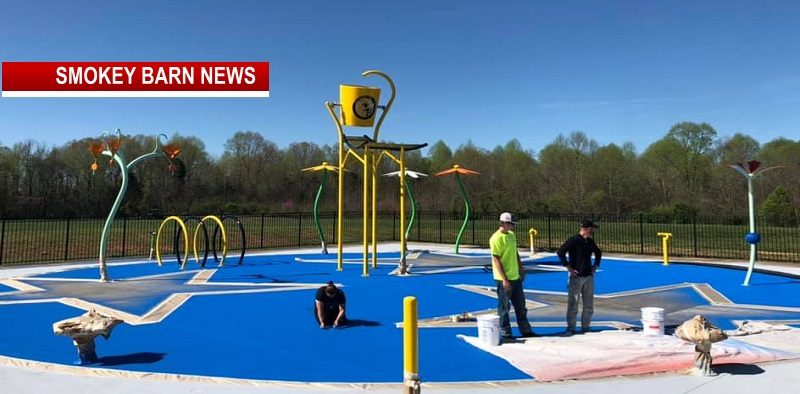 There is an activator at the splash pad. In order for the water to come on, you will simply touch the activator, which is in the shape of a flower and located to the left of the splash pad as you enter.
Picnic Shelter (adjacent to Splash Pad) available on a first-come, first-serve basis.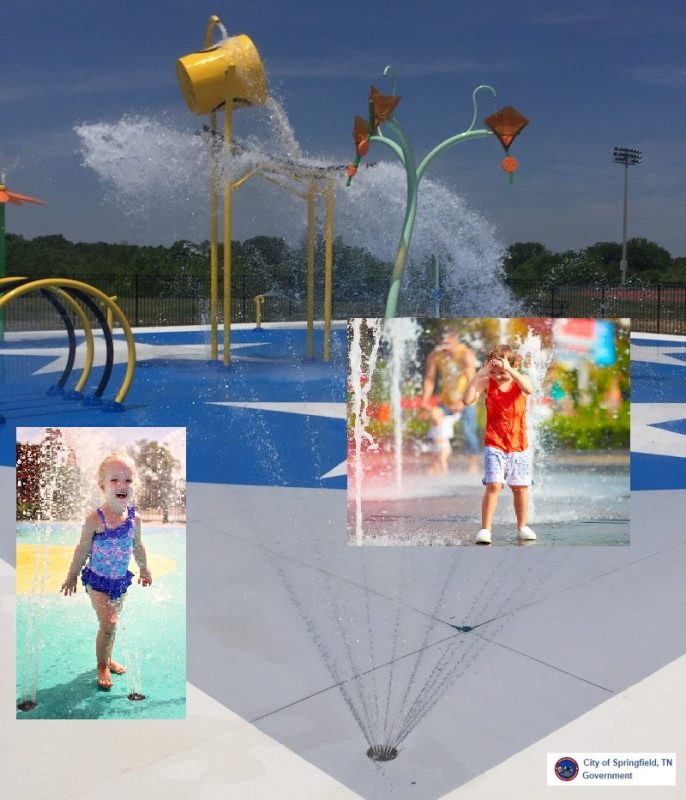 – The splash pad is an unsupervised facility. Use at your own risk.
– All children must have adult supervision at all times.
-Children under the age of ten (10) must be accompanied by an adult 18 years of age or older at all times
-All participants must conduct themselves in a courteous, safe and family-oriented manner
-No food or drink permitted on the splash pad
-No glass containers are permitted in the park area
-Climbing on splash pad features are strictly prohibited
-No pets are allowed on the splash pad
-Non-toilet trained children must wear swim diapers
-Roughhousing or violent play is prohibited
-Be mindful of inclement weather. Remember, "lightning Kills"
-Splash pad shall be vacated at the first sign of thunder or lightning
-Splash pad may be closed occasionally due to weather, maintenance or other operational concerns
-No water balloons permitted in the park
-Do not enter the splash pad area if you have a communicable disease or an open wound
-No skateboards, rollerblades, bicycles, scooters, or other wheeled toys are allowed on the splash pad
-No diaper changing within the splash pad area. Use changing tables in restrooms
-The splash pad is for recreational use only. No bathing allowed
-Water shoes or sandals are recommended
-Toys are not permitted on the splash pad
-Do not drink the splash pad water
-Surveillance cameras recording at all times
ANY PERSON VIOLATING ANY OF THE INSTRUCTIONS WILL BE EVICTED FROM THE PARK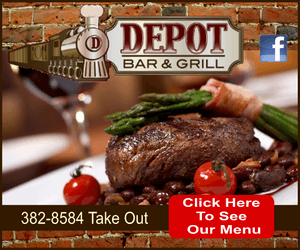 The Third Thursday of Every Month! —-Live Music, Food & Fun Kicks off the Cedar Hill Farmers Market Season 2022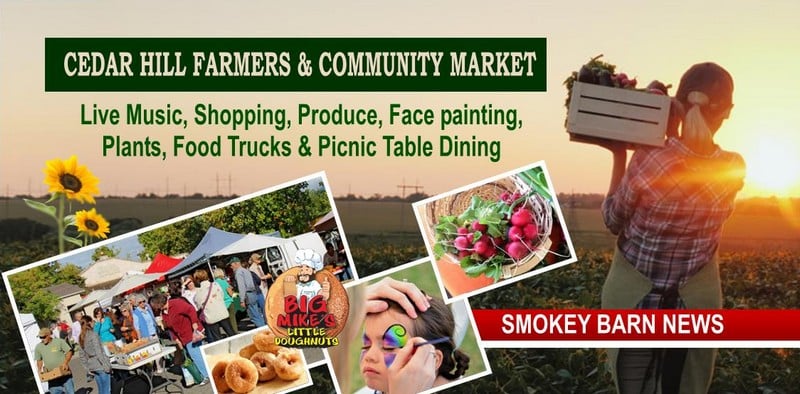 CEDAR HILL TENNESSEE: (Smokey Barn News) –The Cedar Hill Farmers & Community Market of 2022 opens Thursday, April 21 with shopping, produce, food trucks, face painting and live music!
When: Thursday, April 21, 2022 from 5 PM CDT – 8 PM CDT
Where: Located behind Cedar Hill City Hall: 290 S Main St Cedar Hill, TN 37032
The Cedar Hill Farmers & Community Market is scheduled to run the Third Thursday of each month from April 21 thru September.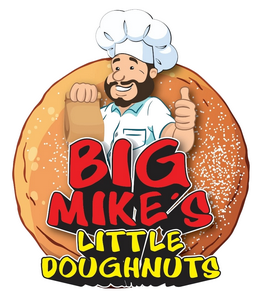 Many local vendors will be selling produce, clothing, plants, leather products, jewelry, baked goods, candles, decor, flowers and more.
Delicious food can be purchased from the Santa Fe Food Truck, Taco Azteca and Retro Monkey shaved ice.
Big Mikes Little Doughnuts will be there for the perfect snack or dessert. Picnic tables will be placed near the food trucks to allow patrons to eat onsite if they'd like.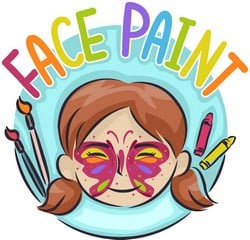 *Live music will be provided by Joel Nulty*
We work tirelessly to try and bring you, local vendors, with local products.
If you are interested in being a vendor, please send a message (see info below).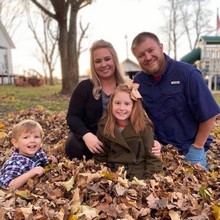 Outside vendors are welcome, but priority will be set on local availability, range of products, etc.
If you would like to become a vendor, contact City Commissioner/ Vice Mayor John Edwards by email at: [email protected] or call (615)585-5756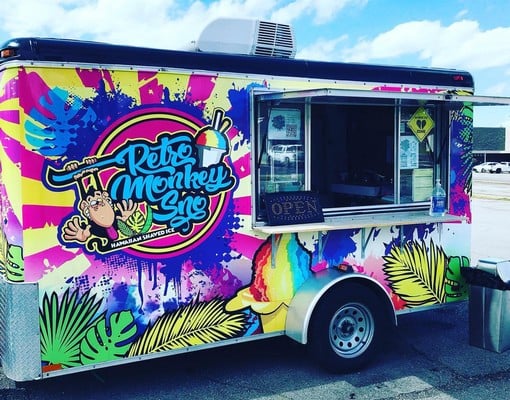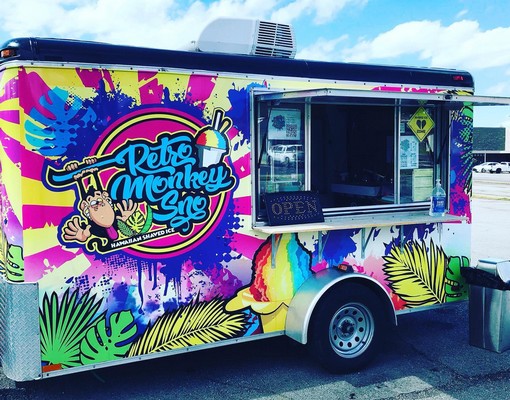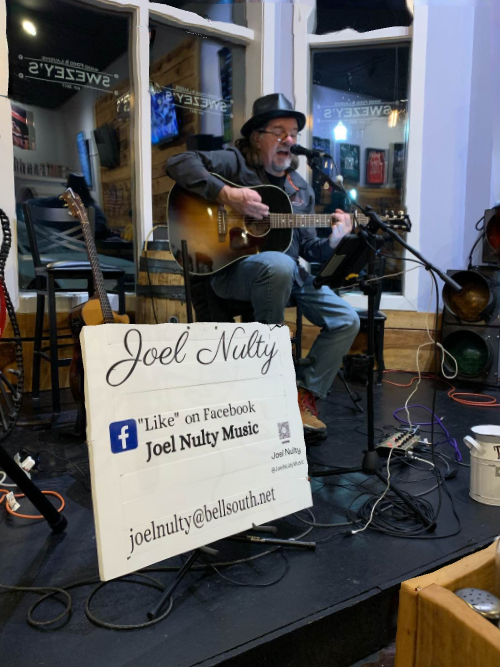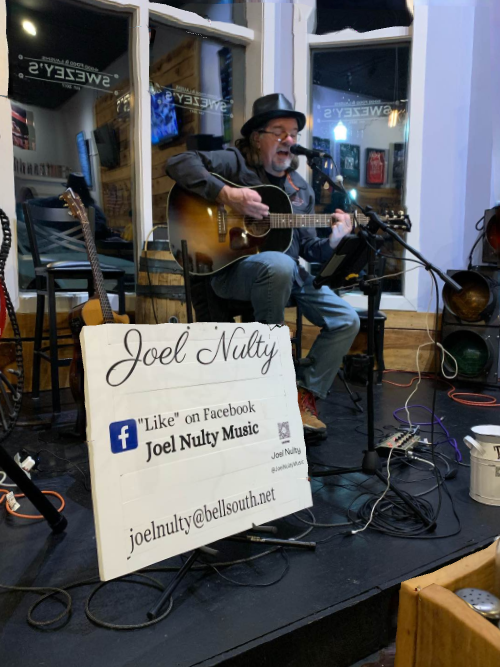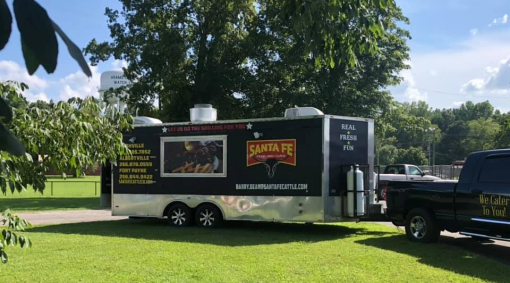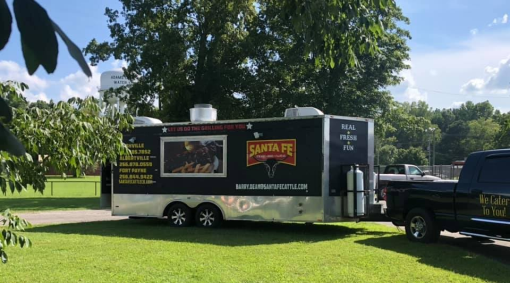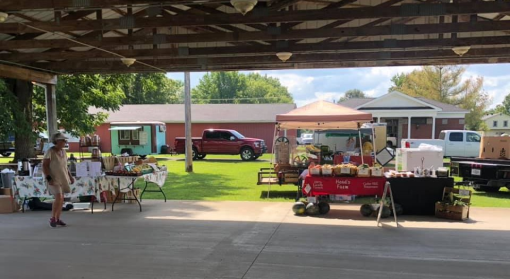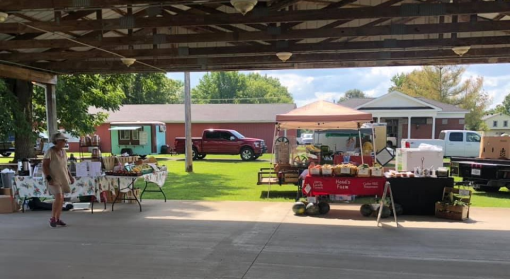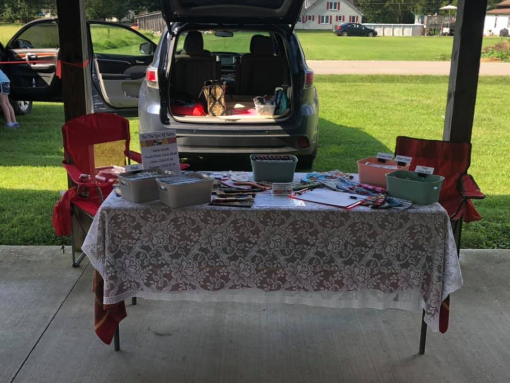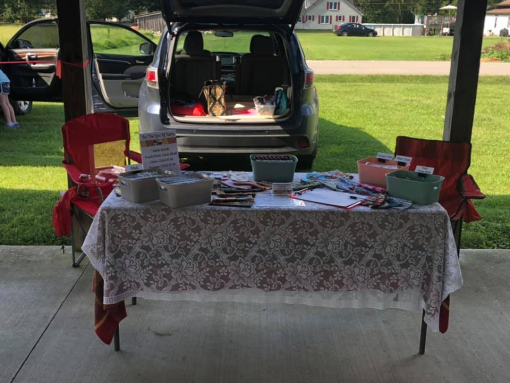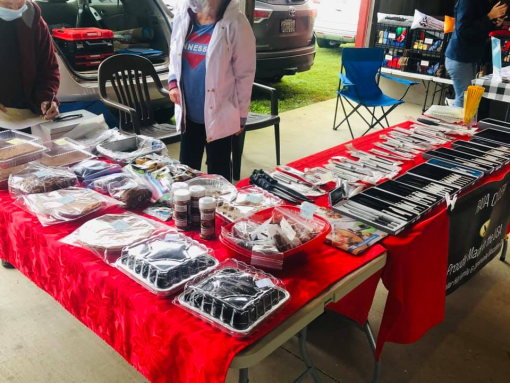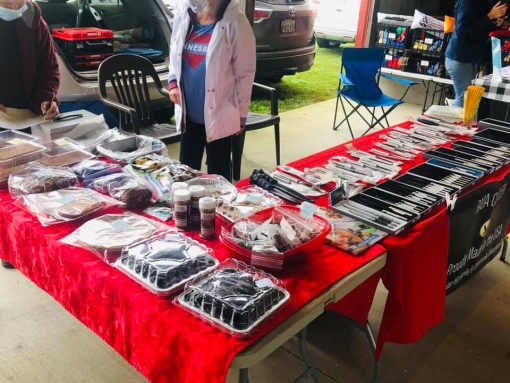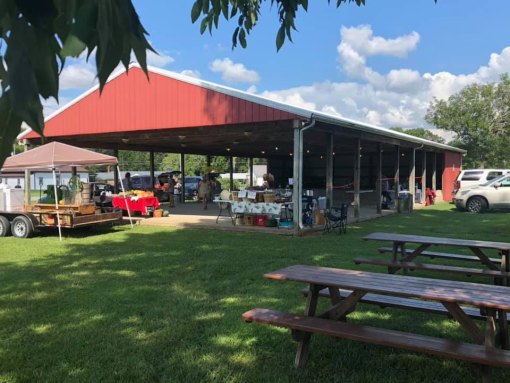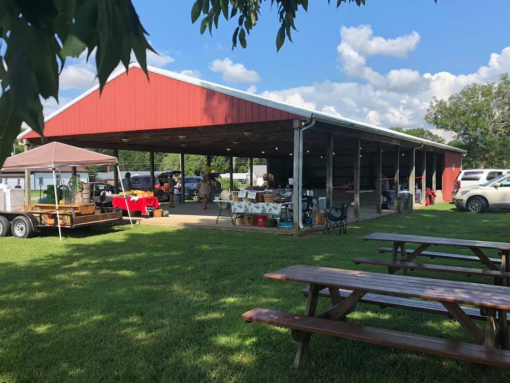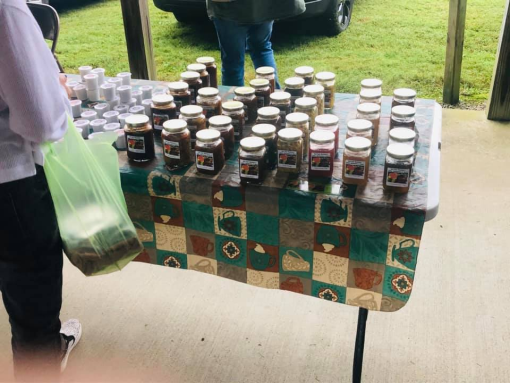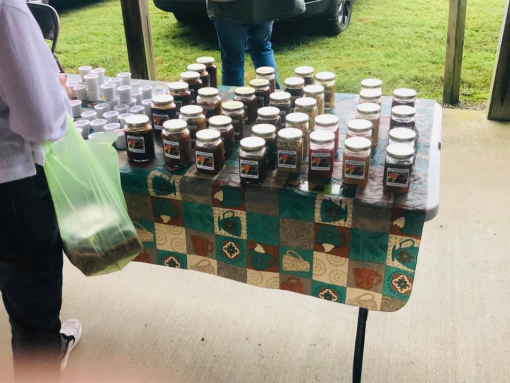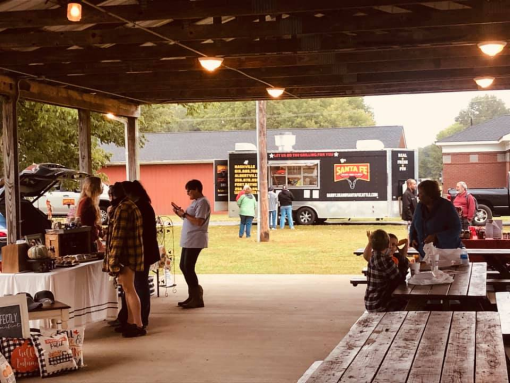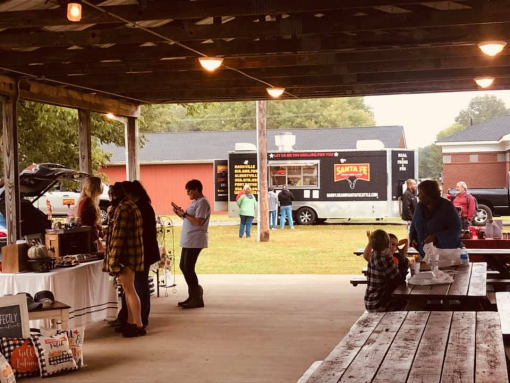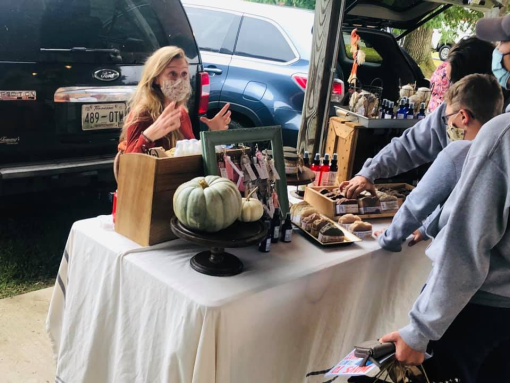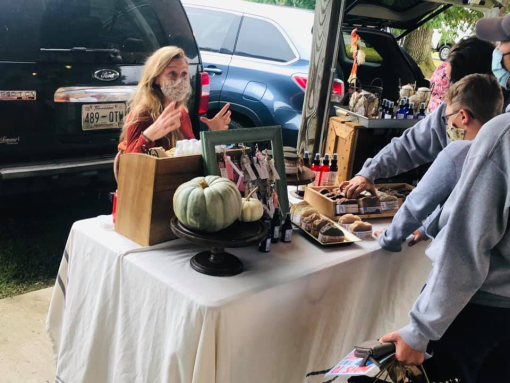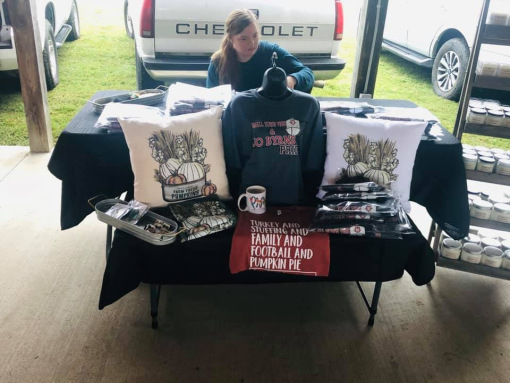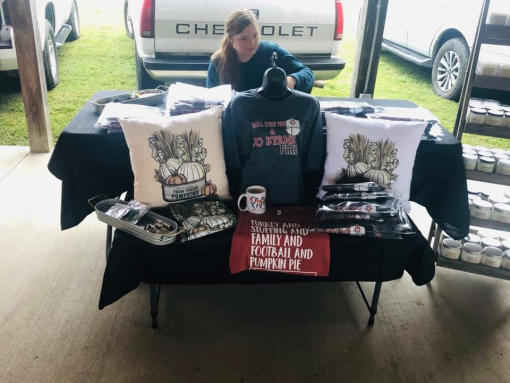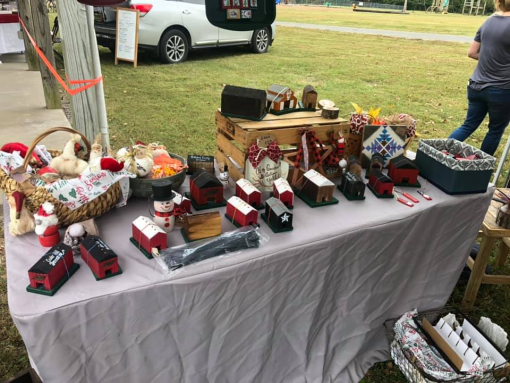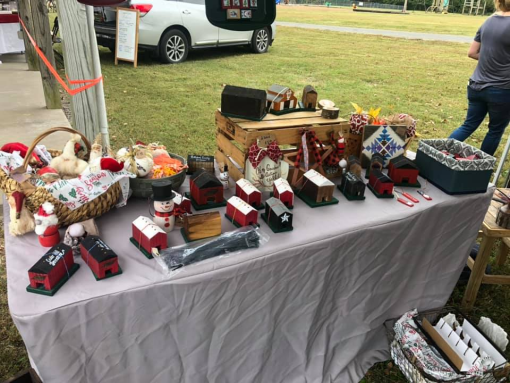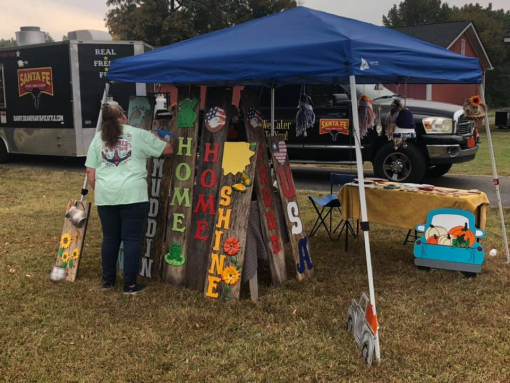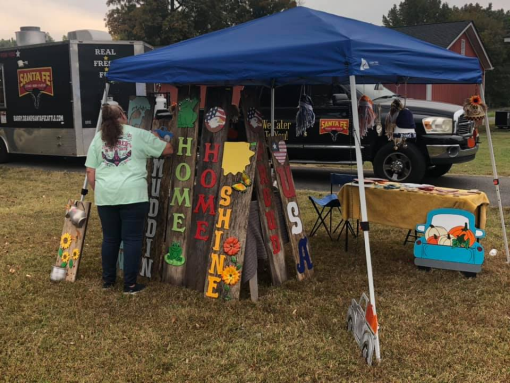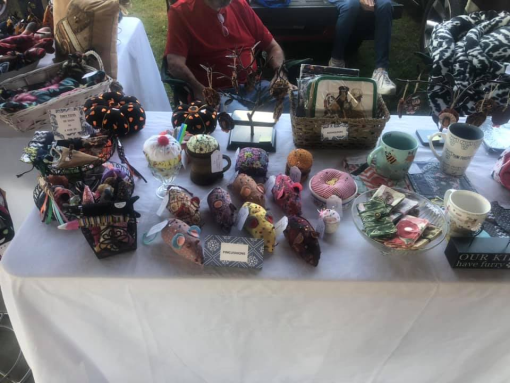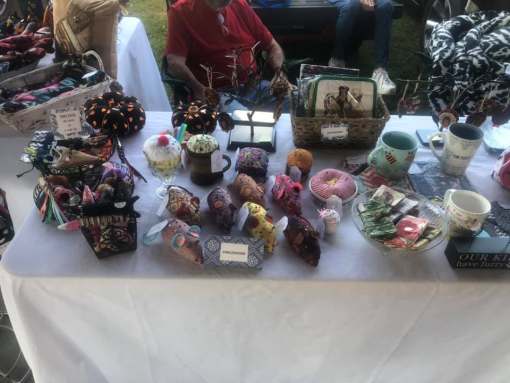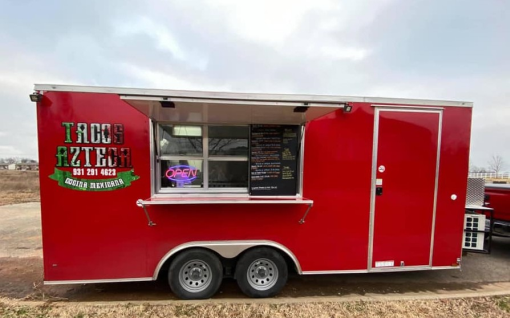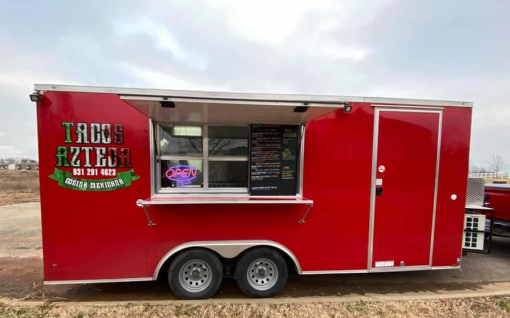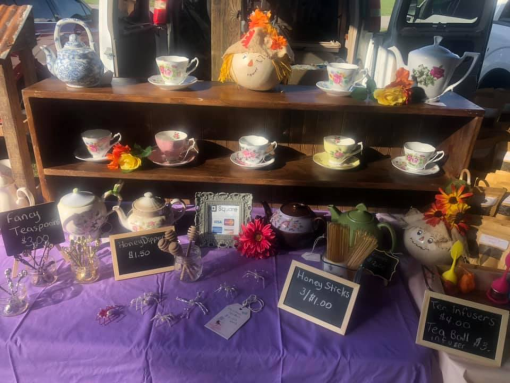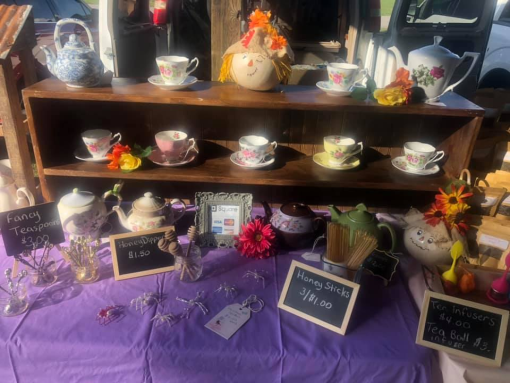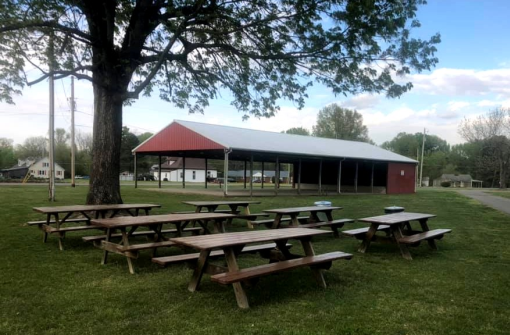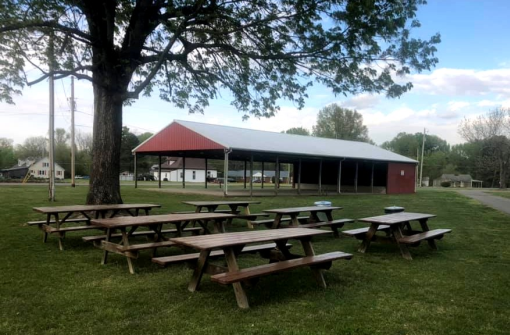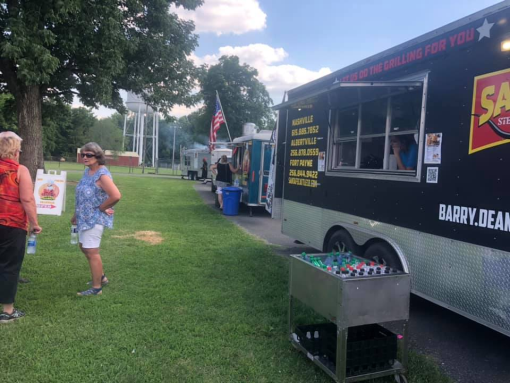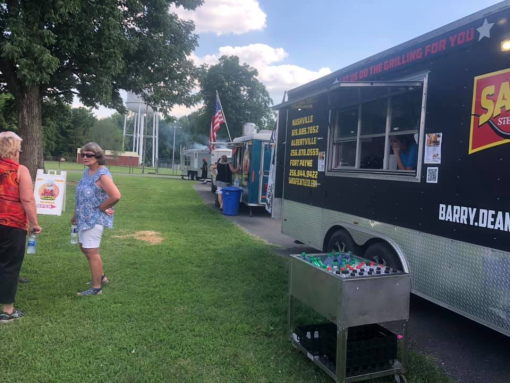 Photos: John Edwards – Cedar Hill Farmers & Community Market

Robertson County Senior Center In Springfield, TN
Lots of fun events every month, sign up for the newsletter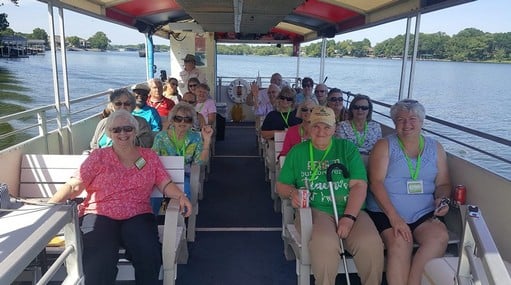 Our Operating hours will remain from 9:30am- 2:30pm. This allows adequate time to sanitize and prepare for activities.
We plan to add many activities in May like, our Harmonica class, another exercise class, etc. We also plan to start our "Out & About trips again!
WOO Hoo! Things are really looking up!
Can't wait to see your smiling face!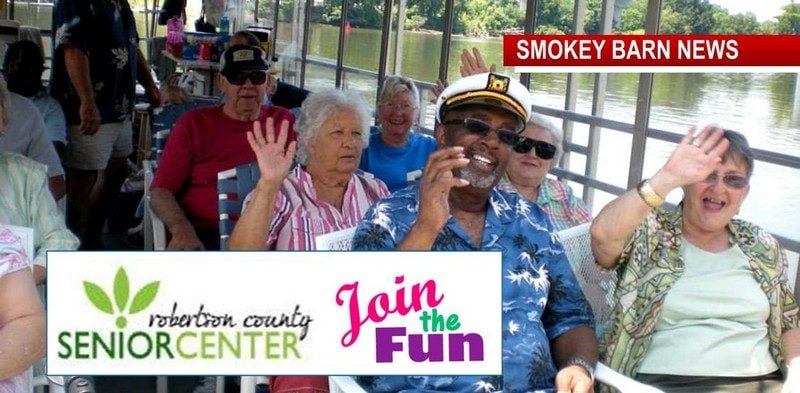 Check out the January, February 2022 Newsletter
Check out all the fun activities planned each month, Join us on FaceBook

(Robertson County, TN)
The Robertson County Animal Control is overwhelmed by the current overpopulation of pets in our county
We have been working diligently to improve the situation in our area and lower our euthanasia rates. This has only been possible with support from our commissioners and mayor, and leadership of our Director Kevin Clinard. We promote spay and neuter. Please contact our office for information on low cost spay and neuter or to schedule to have your pet fixed.
Robertson County Animal Control
2900 W. County Farm Rd.
Springfield, TN 37172
Email: [email protected]
Phone: 615-384-5611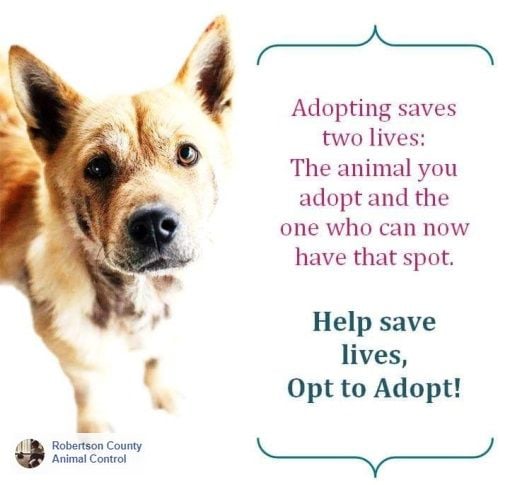 (Springfield, TN)
Orlinda, TN Byrum Porter Senior Center
ORLINDA TENNESSEE: (Smokey Barn News) – The Byrum Porter Senior Center in Orlinda, TN offers…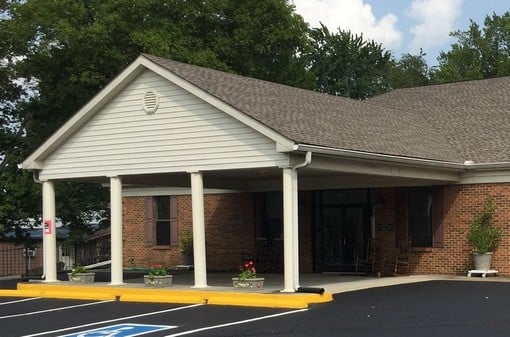 Byrum-Porter Senior Center in Orlinda, TN is open Monday – Friday from 8 am to 4 pm
We have everything from exercise classes, day trips, mystery lunches, extended trips, card games, dances and much, much more.
Checkout our newsletter to find out more about our dance themes, class times and trips on our website byrumporter.com or follow us on Facebook at Byrum-Porter Senior Center for all our fun activities.
Fitness after 50, Yoga & Tai Chi Exercise Classes, Dominoes, Canasta, Karaoke, Bridge, Shanghai Rummy, Footcare & Nail Appointments, massage appointments, paint classes and more. Request our monthly newsletter with all the details, just send an email to: [email protected]
Visit our exercise room
We have treadmills, stationary bikes, step climbers and a vibration training platform. If you can't get to our exercise classes or aren't comfortable in a group why not try this instead.
Thursday Night Dances: 
Come dance to the great tunes by The Good Time Charlie Band every Thursday night. Good Time Charlie Band rents the center on Thursday nights starting at 7 pm. Doors open at 6 pm. Limited menu available starting at 6 pm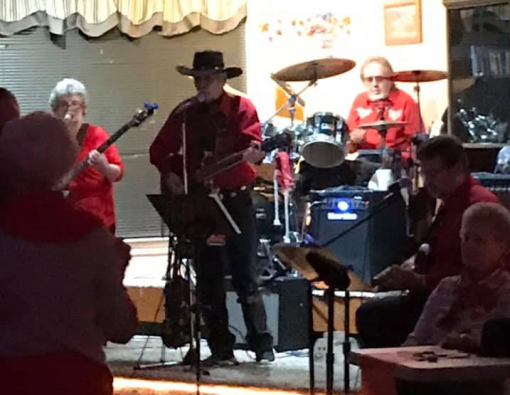 We love to Travel – Our 2021 Trips Collette Trips:
To view these trips, click here.
*All trips are subject to change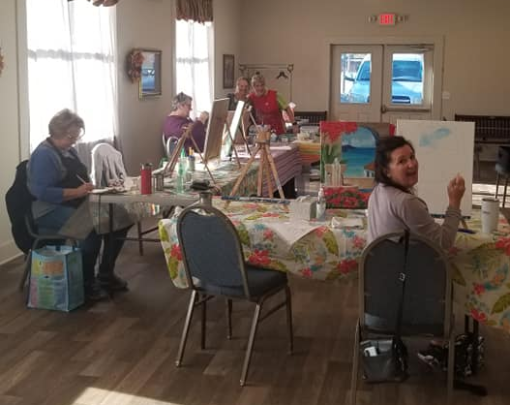 All events are subject to change. Changes will be posted on our Facebook page and our website.
Home Health supplies
We have walkers, canes, crutches, toilet risers, toilet bars, bed assist bars and a shower seat to loan if needed. We also have personal disposable hygiene items.
For updates call 615-654-3161
Location: 9123 Highway 49 E Orlinda, TN 37141
*The Center exists to make life more enjoyable for older adults, who reside in Orlinda and surrounding areas. Activities, Dances, Trips and much more.
*Coffee is always ready and waiting for you.

NOTICE: Food Assistance Available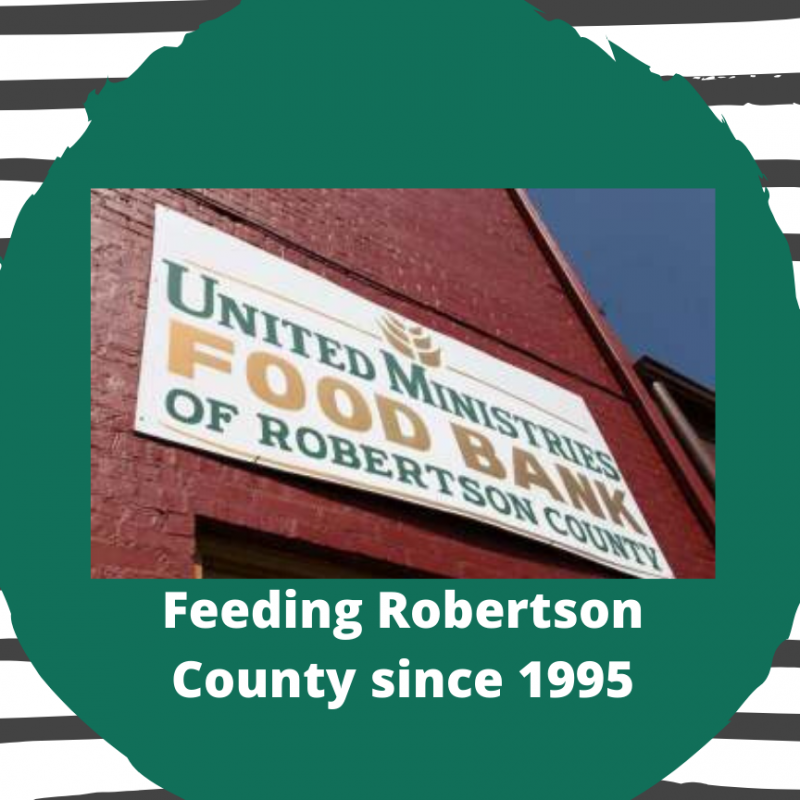 The United Ministries Food Bank would like to inform the residents of Robertson County that they are still helping with food needs.
If you are struggling to put food on your table they can help.
They are located at 808 S Main St. (beside Cope). Familes need to have ID's and Birthdays dates for all living at their residents.
Residents are welcome to come in monthly for assistance. If you have questions please call 615-384-8306.
Hours: Open Monday thru Thursday 10:30AM to 1:30 PM.

Notice: Food Pantry – Bethlehem Baptist Church Drive By Pantry 
Please drive up to Building A from the Hwy 76 entrance. Residents are asked to show proof of residence and an SSN# for each resident.
The drive-by pantry will be open on Wednesdays from 11am to 1pm.
NOTE: Beginning 9/2/2020 the pantry will be open 4:00-6:00 pm on the first and third Wednesday evenings of the month.
Bethlehem Baptist Church – 5081 Bethlehem Road – Springfield, TN. 615-643-0333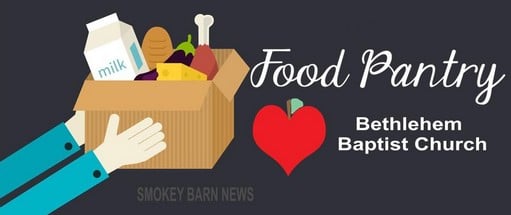 LOCAL LIBRARY EVENTS
Springfield, TN

Millersville, TN Library
Click the Banner below for the full calendar of events including Art ventures, storytimes, sign language and more!

White House, TN Library
Click the Banner below for the full calendar of events including sewing, storytimes, anime' drawing, chess club and more!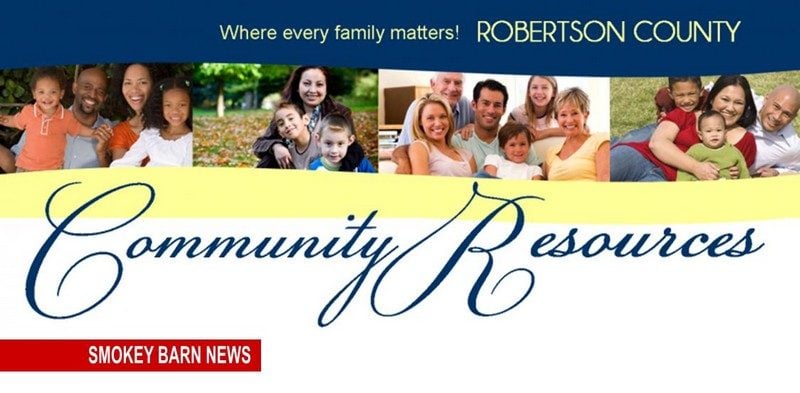 For A Full List of Family & Community Services, Resources & Meetings
Mobile: To See The Latest Stories or to share this article, scroll below