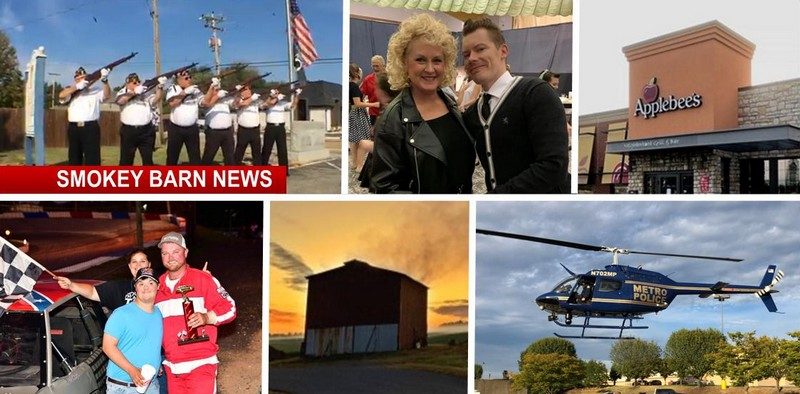 Smokey's People & Community News Across The County Sept. 26, 2019
ROBERTSON COUNTY TENNESSEE: (Smokey Barn News) – Welcome to Smokey's news in review. This week we have over 37 stories and events for you. It's a look back and forward covering news and events along with this week's top stories.
Don't be the only one around the watercooler this week that doesn't know what's going on. Smokey's People & Community News column comes out once a week with stories of people, events, charities and businesses that make Robertson County great!
Do you have a story you would like to submit? Smokey Barn News welcomes your community news and photos. Email your story ideas to our 24/7 news desk; [email protected]

In Robertson County News
(Robertson County, TN)  Captain P.R. West Announces Retirement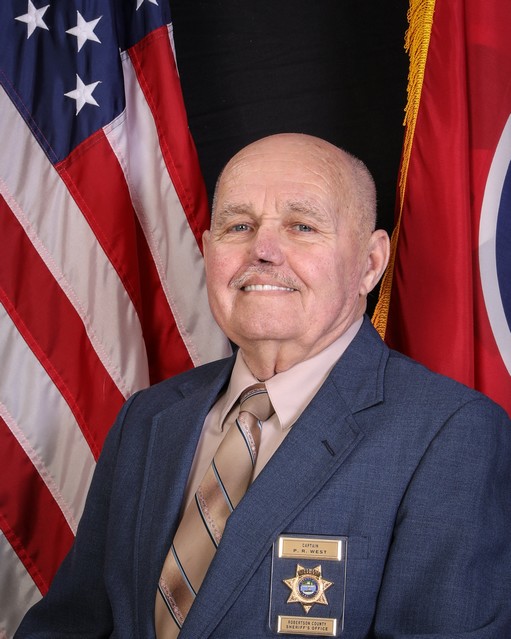 Captain P.R. West has announced his retirement as Administrative Division Commander for the Robertson County Sheriff's Office.
Captain West has served in Law Enforcement for over 45 years. His Law Enforcement service includes serving for the Greenbrier Police Department, Springfield Police Department, and the Robertson County Sheriff's Office. He started with the Robertson County Sheriff's Office in 1975. He has severed in several positions within the Sheriff's Office including a stint as Chief Deputy under Sheriff Ted Emery. Through his years of experience in Law Enforcement, Captain West has received special training in Vice Operations, Domestic Violence, Command Decisions, S.W.A.T., Advanced Crime Investigation, Drug Interdiction, and Instructor Development. Captain West will retire in December 2019.
"I started in Law Enforcement when we had 3 patrol cars, and that counted the Sheriff's car. We made $300 a month, and had to buy all our own equipment and uniforms. For the last 10-12 years there has been so many changes in the Robertson County Sheriff's Office that has benefited the employees and the citizens of this county. I have enjoyed my long run of serving this county, and it is time for me to enjoy my retirement and spend time with my family," stated Captain P.R. West.
"Captain West has had a long career in Law Enforcement, which is a rarity in our field today. With his extensive experience in many fields and loyalty to the Sheriff's Office, he has been a valuable asset to the Sheriff's Office team. He has trained generations of Deputies, and is instilled in the history of this Sheriff's Office," stated Sheriff Michael Van Dyke.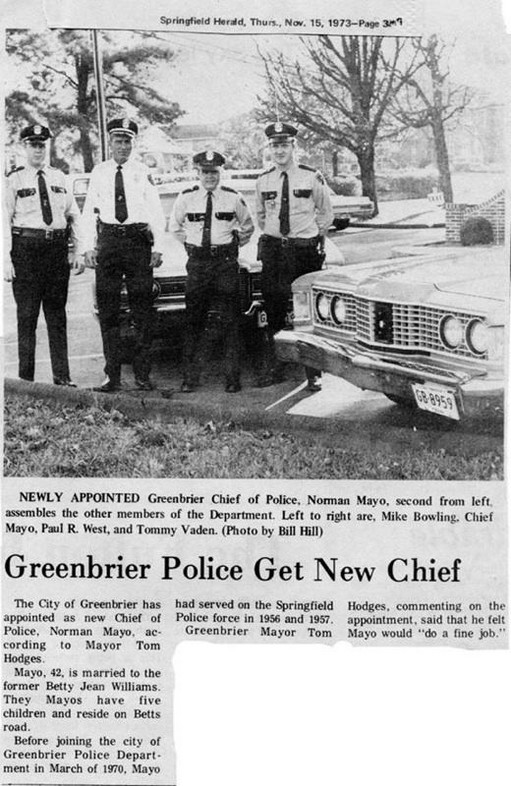 With the retirement of Captain P.R. West, Sheriff Michael Van Dyke has appointed Captain Brad Edwards as the new Administrative Division Commander. Captain Edwards has served with the Robertson County Sheriff's Office for over 14 years. He has served many roles within the Sheriff's Office including Corrections Officer, Patrol Deputy, Patrol Corporal, Training Officer, General Department Instructor, and Administrative Lieutenant. Additionally, Captain Edwards holds numerous instructor certifications to include; Firearms, Taser, Defensive Tactics, Active Shooter, and many others. Captain Edwards has a Bachelor of Science in Criminal Justice, and a Masters of Business Administration.
"It has been an honor and a privilege to work with someone as admirable as Captain P.R. West. He has been a great leader and mentor, not just to me – but to all of those in his command for over the last 40 years. Captain West may be small in stature, but he has a huge heart and I have some enormous shoes to fill. I am grateful to have this opportunity, and I appreciate all the help and support of my mentors at the Sheriff's Office over the last several years. I am looking forward to this new opportunity and the challenges that may come along with it." stated Captain Brad Edwards
"We are excited for the next chapter in Captain Edward's career with the Sheriff's Office. I believe that his experience, education, and specialized training will allow him to succeed in his new command," stated Sheriff Michael Van Dyke.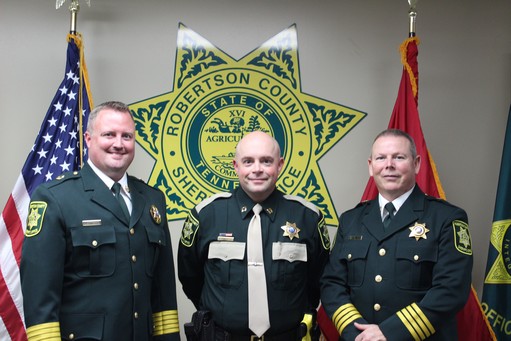 Mid-Cumberland Community Action Agency is accepting applications for the Low-Income Energy Assistance Program (LIHEAP) in Robertson County.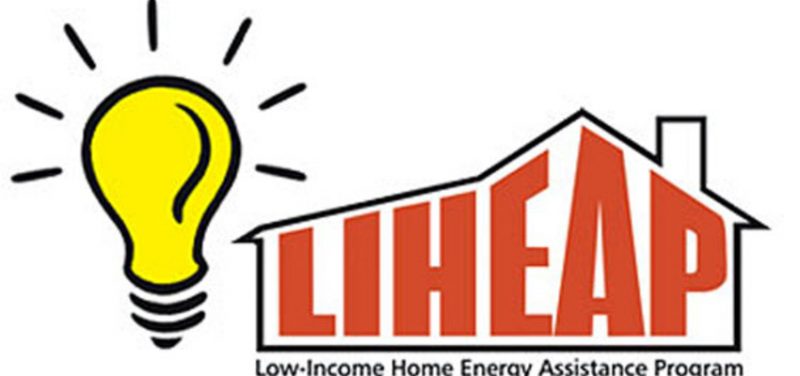 Qualified applicants may be eligible to receive a one-time payment on their home energy bill. The new program year begins on October 1, 2019.
Interested applicants should contact the MCCAA Robertson County outreach office for assistance, or call 615-384-1086 to have an application mailed to you.
Applicants must return applications, via mail or in-person to the following location:
MCCAA Robertson County
505 Hill Street
Springfield , TN
Phone: 615-384-1086
Required documentation includes proof of all household monthly income for 30 days from time of application, a 12-month history of your home energy bill, beginning with the most recent bill, social security cards for all household members, and a photo ID for the Head of Household. Failure to provide required documentation can result in the delay or denial of services. More information on the required documentation may be obtained at www.midcumberland.org.
For more information about the services provided by Mid-Cumberland Community Action Agency, contact your local outreach office:
The Low-Income Home Energy Assistance Program is funded under an agreement with the Tennessee Housing Development Agency

Smokey Barn News (Advertisement)

UT Extension-Robertson County – A look at our first Adventures in the Kitchen class with trail mix and storytime yoga! 


Four Local Libraries Receive Technology Grants
ROBERTSON COUNTY TENNESSEE: (Smokey Barn News) –Secretary of State Tre Hargett presented grants to several Middle Tennessee Libraries on Friday. Four of those libraries are located right here in Robertson County.
The technology grant from the Tennessee State Library and Archives is for public libraries to replace or purchase technology, including computers, software, networking hardware or peripherals. Read More…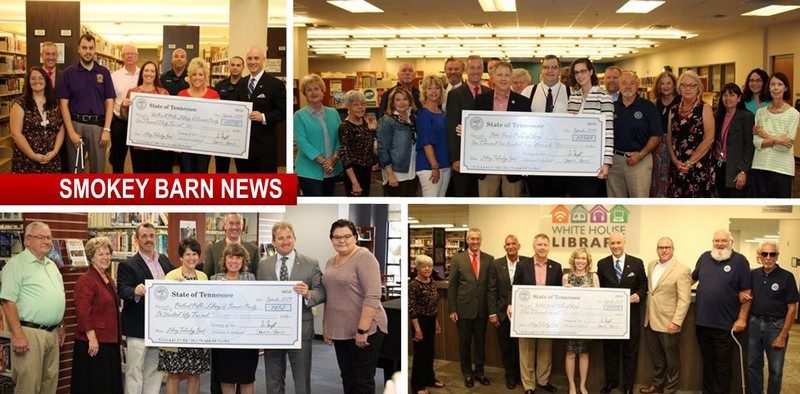 Robertson Education Initiative – ACT Achievers Rewarded With Special Day
Each year the Robertson Education Initiative rewards district high school seniors who scored above the benchmark on at least three of the four subjects included on the ACT college admission test.This year, 188 seniors qualified for the "ACT Counts," outing held at Honeysuckle Hill in Coopertown. That number is up from the 169 qualifiers last school year.
During the day, students enjoyed activities including rock-wall climbing, corn maze, zip line, corn hole, and numerous smaller activities and games.
After a lunch courtesy of county food and restaurant businesses, all students were awarded gifts courtesy of county businesses and individuals. Each student left with a prize valued at least $50 and several others were drawn for cash awards. Three students from each school received $250 and one was drawn from each school for a $500 prize.
Businesses and donors participating in, and facilitating the day included: the Robertson County School System, Sheriff Van Dyke, BathFitter, Reliant Bank, Community Bank and Trust, F&M Bank, Robertson County Chamber of Commerce, Mt. Carmel Baptist church, Zaxby's, Papa Johns, Sonic, The Depot, Chik Fil A, G.S. Moore and Son, Draughon Brothers, ABM, GearUp, Rotary Club of Springfield, APSU, Farmer's Bank, Volunteer State Community College, Trane, Sabi and Linda Kumar, the REdi Education Foundation and its Board, Roger Dorris, and Kendra Shelton.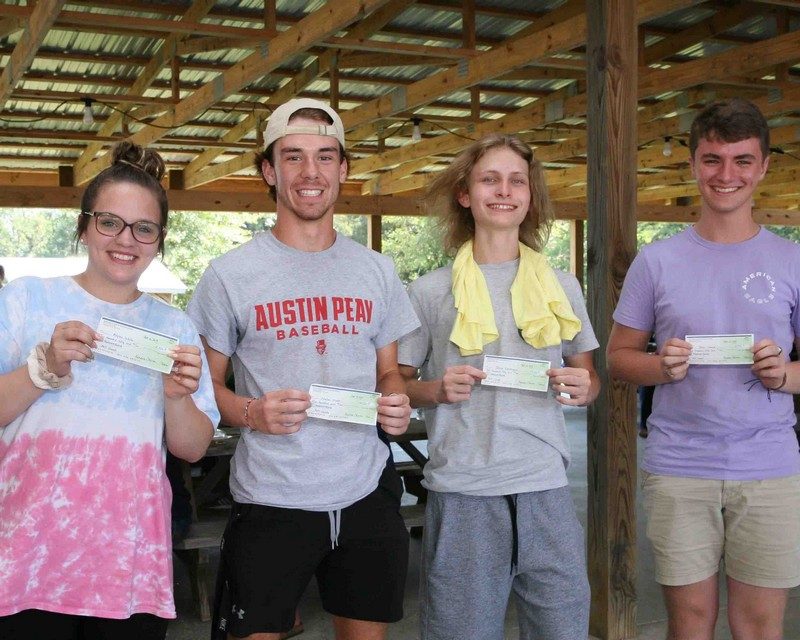 UT Extension has recently received the third 5-year 21st Century Learning Center grant to offer a free afterschool program to Springfield Middle School students. Next week a Fall Festival event is being hosted/sponsored by UT Extension-SMS Afterschool. The public is invited to come see what the students are doing, participate in the activities and "just have fun!" One of many activities include students building a catapult. Businesses and organizations are invited to partner with the program throughout the year.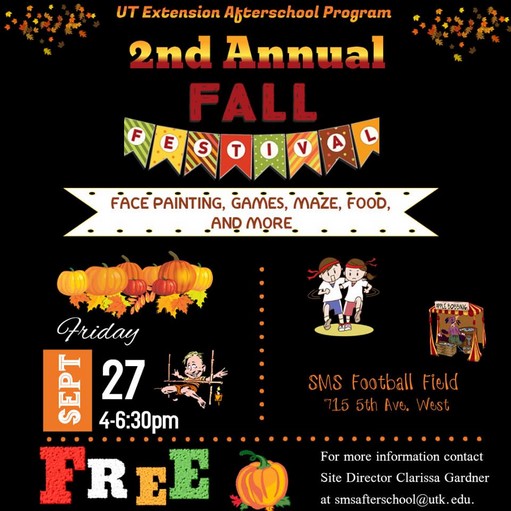 Volunteers Needed for Robertson County- The Long Term Care Ombudsman program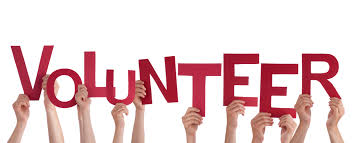 The Long Term Care Ombudsman program in middle TN is getting ready for volunteer certification training. Our program provides advocacy for residents in long-term care facilities, which includes nursing homes, assisted living facilities, and homes for the aged. There are over 140 long-term care facilities in our 13 county district and we rely very heavily on volunteers.
Mid-Cumberland Human Resource Agency's Long-Term Care Ombudsman program advocates for the rights of thousands of residents in nursing homes, assisted-living facilities, and homes for the aged in Robertson County and 12 additional counties in Middle TN. The Long Term Care Ombudsman Program is a partner agency with the United Way of Robertson County. Ombudsman staff consists of three full-time District Ombudsmen, an Ombudsman Assistant, and 35 trained volunteers. Trained, certified Ombudsman volunteers pay regular visits to these facilities where they spend time with residents, monitor conditions, investigate complaints, educate regarding abuse and neglect and protect residents' rights. The program offers mediation, complaint resolution, and public education for residents and their families.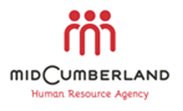 The Long Term Care Ombudsman Program is actively recruiting for volunteers in the Robertson County area. Volunteer applicants must pass a background check and attend a 16 hour in-house training. The next training session will be held November 6th and 7th in Nashville.
Those interested in assisting have until Monday, October 21 to contact the program by sending an email to [email protected] or by calling 615-850-3918.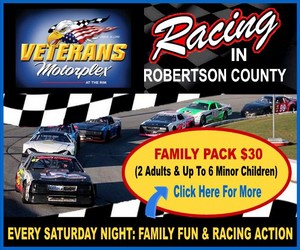 SAVE THE DATE… OCTOBER 15th
October 15: Community Band plans "Fall Fanfare" Concert

The Robertson County Community Band will present a "Fall Fanfare" concert on Tuesday, October 15th at the White House Senior Center located at 105 College Street in White House. The concert will begin at 7:00 pm and is free. Refreshments will be served during intermission.
The Community Band will perform well-known favorites including "The Planets", "Sea Songs", "Country Gardens", "An Irish Rhapsody", "The Sound of the Tijuana Brass", and a medley of songs made famous by Henry Mancini – including "Baby Elephant Walk".
The Robertson County Community Band, in its fourteenth season, is always looking for new members. For more information about the concert, joining the band, or sponsorship, please call Janet McClain at (615) 384-2015. McClain can also be contacted at [email protected]

We invite everyone in White House, Springfield and surrounding communities to come enjoy a "Fall Fanfare" with us! Check out our schedule of events online

Robertson County Goes Under Burn BanDeclaration of Ban on Open Air Burning-Robertson Co.ROBERTSON COUNTY TENNESSEE: (Smokey Barn News) – Due to dry conditions, the Tennesse Department Of Agriculture has placed Robertson County under an Open Air Burn Ban. Effective 9/24/19. The Open-air burn ban includes leaves, brush, construction debris, boards, plywood, decking, cardboard, campfires, cooking fires, grills……For the full list  –> Read More…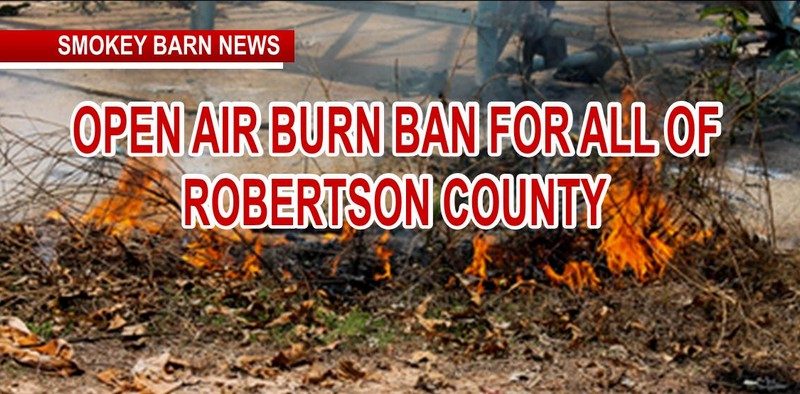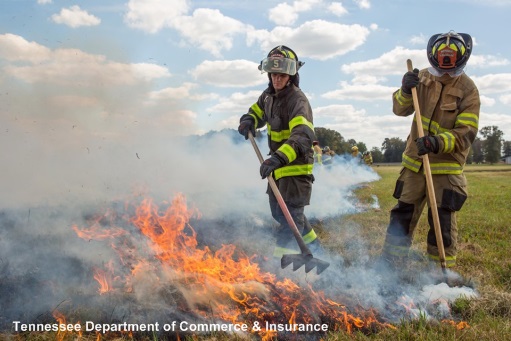 Smokey Barn News (Advertisement)

TNECD Announces Robertson County To Participate In New Property Evaluation Program (for infrastructure and other investments.) ROBERTSON COUNTY TENNESSEE: (Smokey Barn News) – The Tennessee Department of Economic and Community Development (TNECD) announced Thursday the counties selected to participate in the latest round of the Select Tennessee Property Evaluation Program (PEP).
The counties include Morgan, Robertson and Rutherford and White County.
According to TNECD Public Information Officer Scott Harrison, though subject to change, cities in Robertson County submitted include; Orlinda, Springfield, Ridgetop and Millersville. Some unincorporated areas will also be looked at. The final sites visited will be selected after Austin Consulting reviews the application. Read More…

SAVE THE DATE… SEPTEMBER 27
September 27: A message from the Robertson County Offers after Hours Passport Fair
The after Hours Passport fair is set for September 27 from 4:30 PM – 6:30 PM at 511 Brown St in Springfield. If you are looking to get your passport, but can't get to our office by closing time, this is your opportunity! Passports will be back in time for your Thanksgiving trip. For questions call 615-384-5895. Photos $10. Be sure you have a check or money order.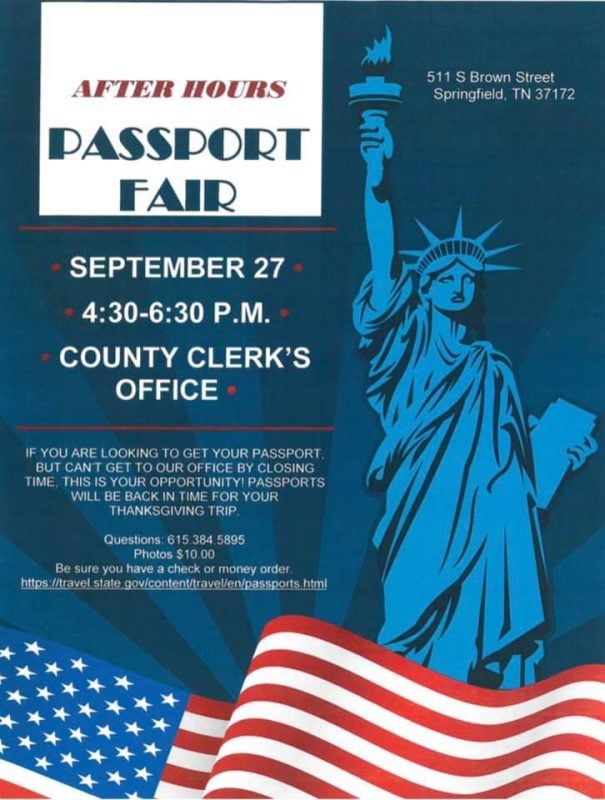 In Springfield News
Airtech In Springfield To Expand Investing $13 Mil
SPRINGFIELD TENNESSEE: (Smokey Barn News) – Tennessee Gov. Bill Lee, Department of Economic and Community Development Commissioner Bob Rolfe and Airtech Advanced Materials Group announced today that the company will expand in Robertson County.
The vacuum bagging and composite tooling materials manufacturer will invest $13 million and create approximately 30 new jobs in Springfield over the next 5 years. Read More…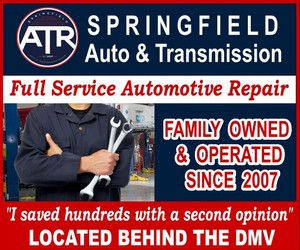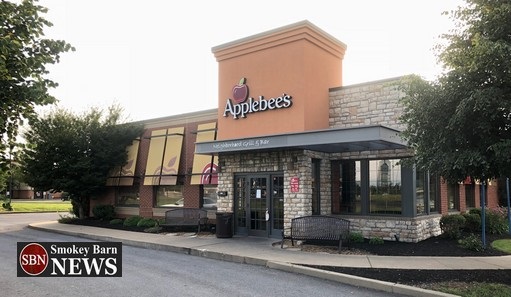 Springfield's Old Applebee's Building UPDATE
Applebee's in Springfield closed just about a year ago FULL STORY and since then Springfield has been waiting with great anticipation about the future of the building.
Well, perhaps the waiting is over, on Wednesday the owner of the property, G.S. Moore & Son Real Estate in Springfield, announced that someone is taking a hard look at the building.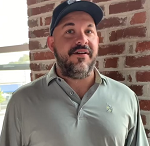 They're early in negotiations so the name of the company is still a big secret but Jim Moore at G.S. Moore & Son's is calling the firm; "An exciting tenant" and "A name everyone will recognize."
Smokey Barn News will, of course, keep in touch with G.S. Moore & Son for updates. As soon as they have something carved out in stone, we'll bring it to you. Make your guess on who you think it might be in comments at the bottom of this page.

(Springfield, TN) The Sock Hop benefit for future Bransford Community Center A Hit!
The sock hop was a blast! Thank you so much to Retro Lee Marie for hosting this fun benefit for our future center.
It was especially great to see some of our Bransford Pride families come out and show us their moves. Our kids can DANCE! Many of them didn't leave the dance floor the entire night.
What a great event to support Bransford Community Center!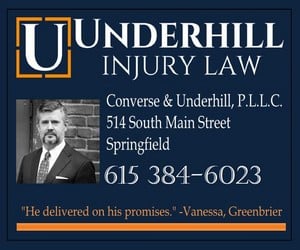 SAVE THE DATE October 2nd…
(Springfield, TN) Enjoy coffee and conversation with the Springfield Police Dept.
National Coffee with a Cop Day is set for Wednesday, October 2nd from 8 AM – 9 AM. The mission of Coffee with a Cop is to break down the barriers between police officers and the citizens they serve.
Building relationships. One cup at a time.
Coffee with a Cop brings police officers and the community members they serve together–over coffee–to discuss issues and learn more about each other.
Enjoy coffee and conversation with the Springfield Police Dept. at the McDonald's located 2113 Memorial Blvd & the Springfield Walmart location at 3360 Tom Austin Hwy.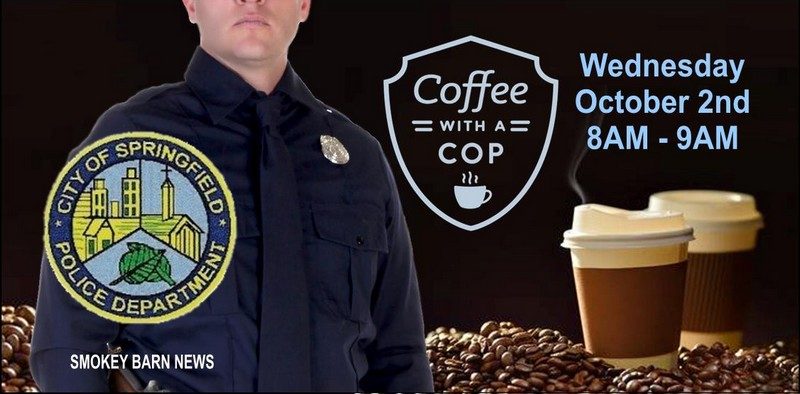 SAVE THE DATE October 4th…
(Springfield, TN) UT Extension-Robertson County – Drug Take-Back Day at the Extension Office will be Friday, October 4th from 4-6 PM!
It's time to go through your medicine cabinet and properly dispose of unused or expired prescription medications. Drop them off on Friday, October 4 from 4-6 pm. No questions asked!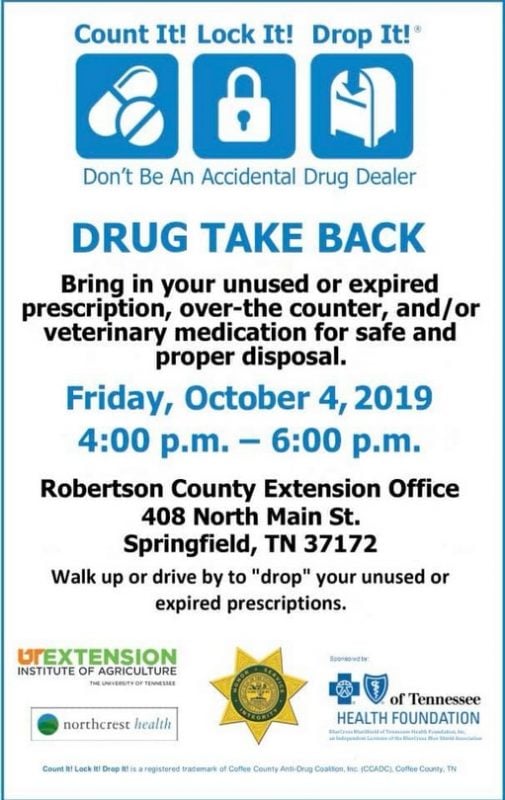 (Springfield, TN) NorthCrest Medical Center – Thank you Deryn, Chelsea and Todd! Congratulations on your HEART pin recognition.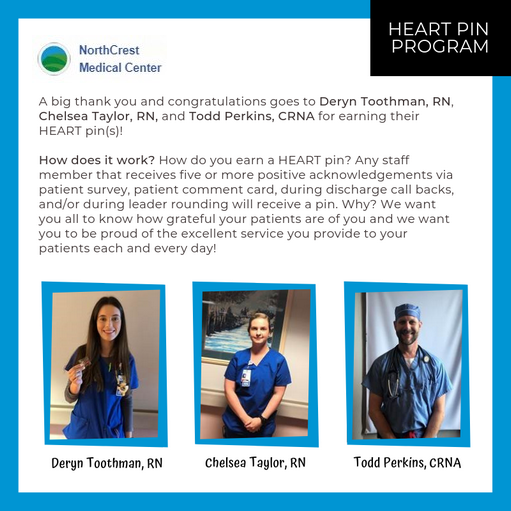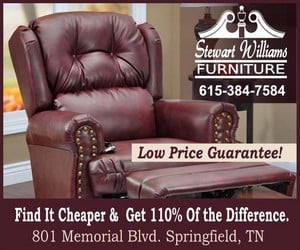 Payne Chevrolet is at Payne Chevrolet. – A new Tahoe for Mr. Davis, and a new Colorado for the Brown Family!
Congratulations y'all, and thank you so much for your business!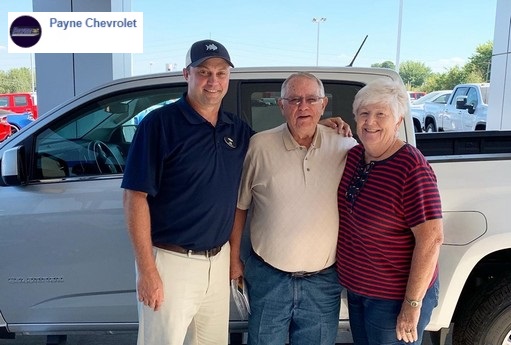 SAVE THE DATE October 31st…
October  31: Truck -N- Treat  Hosted by Payne Chevrolet
Thursday, October 31, 2019 at 5 PM – 7 PM at Payne Chevrolet: 2807 Memorial Blvd, Springfield, TN
IT'S ON AGAIN Y'ALL!
We are inviting ALL local businesses, churches, organizations, etc to come out and participate in our annual Truck -N- Treat! We had another successful year last year and we are hoping this one will be even better. As always, we will be supplying the trucks to our vendors to decorate and advertise, so y'all just bring the candy for the little ones!
If you would like to participate please call Alex at (615)384-5573 or send us a message on Facebook. We look forward to seeing y'all again this year!!
**VENDOR SETUP starts at 3pm the day of. Trick-or-Treating starts at 5pm**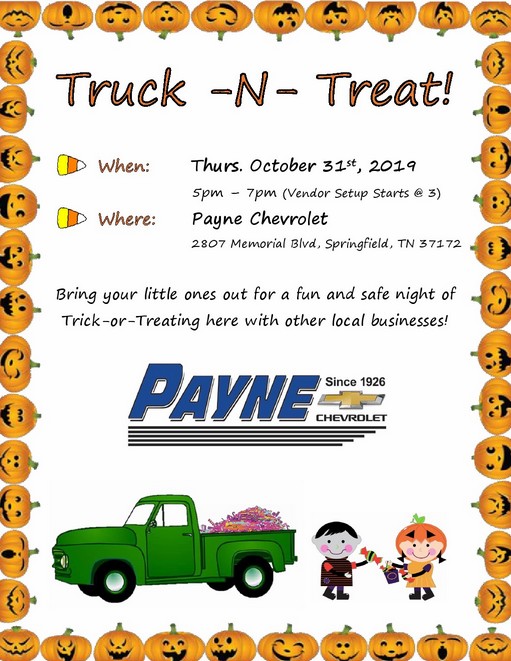 Adams, TN Photo Of The Week
 Adams Tennessee Tuesday morning… PHOTO: Alexis Davidson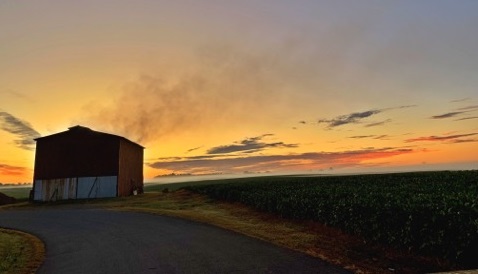 In White House, TN News
White House Area Chamber of Commerce ribbon cutting and reveal party for our friends at 672 Brew!
Yummy coffee and food, but even better company. ☕️ #DiscoverWhiteHouse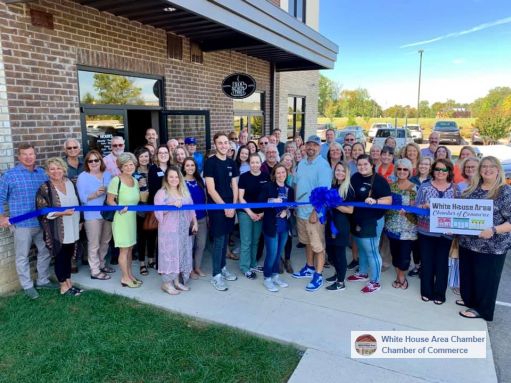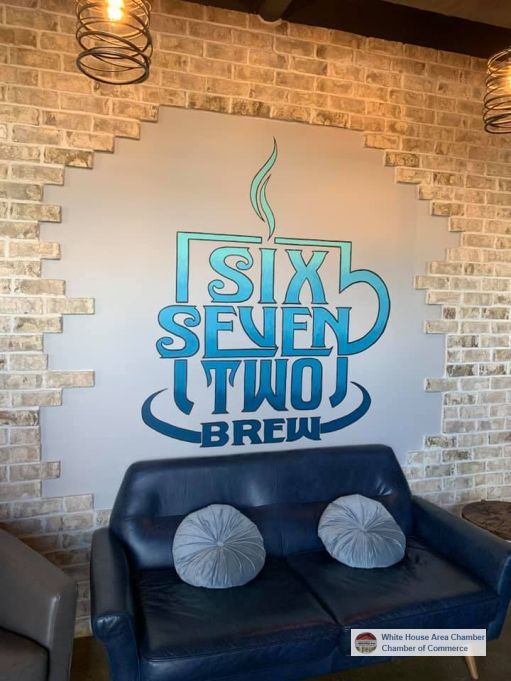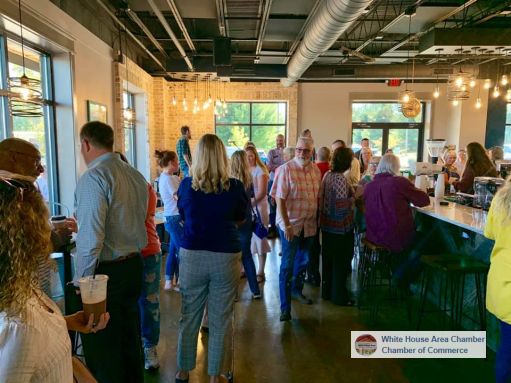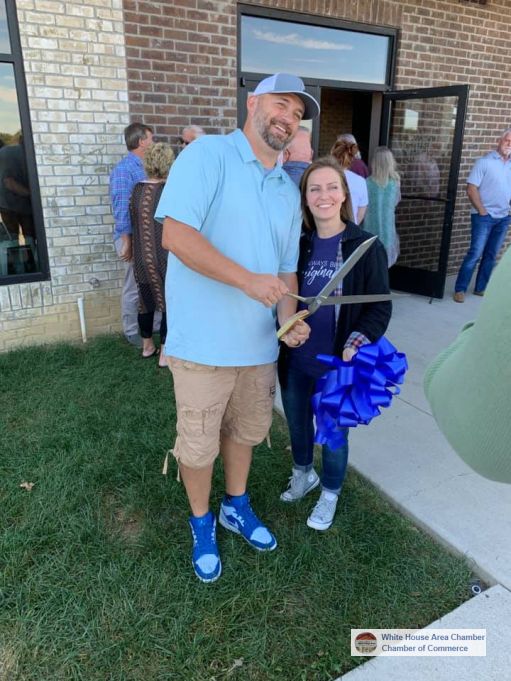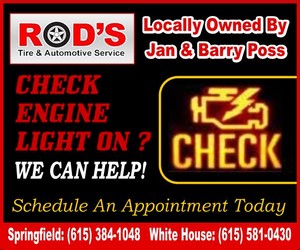 White House High School Band of Pride – Station Camp Marching Invitational. 1st place guard, 2nd place percussion and 2nd place band in Class C2. BEST OVERALL COLOR GUARD!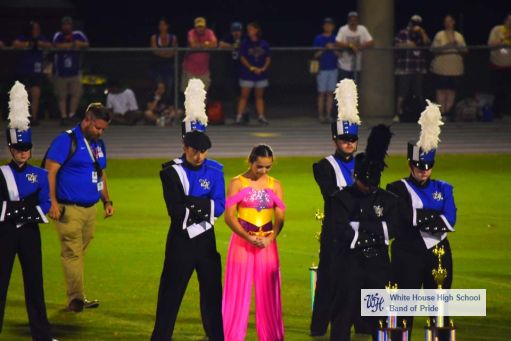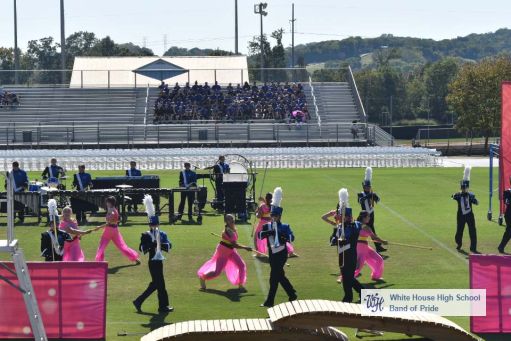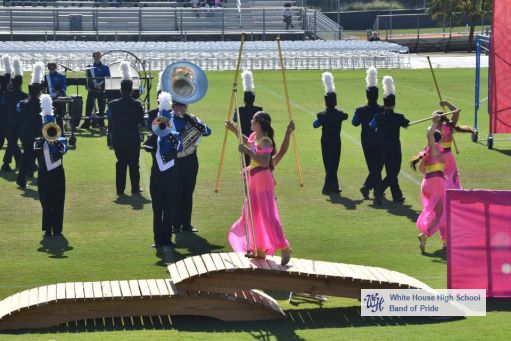 SAVE THE DATE… September 27
White House Area Chamber of Commerce – Don't forget about the bike parade at the 2019 Fall Family Block Party!
Registration for the bike parade begins at 5:00 PM in the roundabout located between White House City Hall and the Library. The actual parade will begin at 5:20 PM. There will even be prizes for the best decorated bikes! If you have any questions regarding the bike parade prior to parade day, please call the Parks and Recreation Department at 615-672-4350 EXT: 2114. #DiscoverWhiteHouse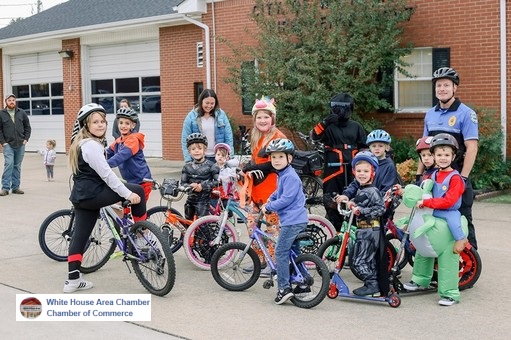 White House, TN – It's almost fall! Join us Friday, September 27th from 3:30 PM to 9:00 PM at 105 College Street White House, TN for our 2019 Fall Family Block Party.
Come and enjoy the fall farmers market, bike parade, vendors, a costume contest, vendors, inflatables where you can jump all night for just $5, food trucks and the showing of Hocus Pocus at dark at this FREE event.
Registration for the bike parade begins at 5:00 PM in the roundabout located between White House City Hall and the Library. The actual parade will begin at 5:20 PM.
There will even be prizes for the best-decorated bikes!
If you have any questions regarding the bike parade prior to parade day, please call the Parks and Recreation Department at 615-672-4350 EXT: 2114.
Costume Contest:
To get in the fall spirit even more, we will be having a costume contest again this year. This is for all ages and there will be prizes! Pre-judging will be at the Chamber tent with categories for children through adult. Come dressed in your favorite Halloween costume!
Bring your blankets, lawn chairs, friends and families and mark your calendars for this exciting fall event! We can't wait to see you there. For more information on the Fall Family Block Party contact the White House Area Chamber of Commerce at 615-672-3937.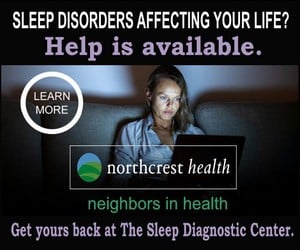 SAVE THE DATE…October 5th
October 5 "White House on Fire benefit Concert" For the White House Community Volunteer Fire Dept.
Saturday, October 5, 2019 at 11 AM – 11 PM at the WL Anderson Sports Complex
2760 Highway 31 W, White House, TN
Benefit Concert for White House, TN Volunteer Fire Department, and Salute to Military and Emergency Service Responders Everywhere!
(White House, TN)…On the heels of an exciting and successful 2018 event, White House On Fire (WHOF) returns Saturday, Oct. 5, 2019 with an even bigger stage, bigger venue, bigger lineup, and overall bigger event. WHOF 2019 will be held at the W.L. ANDERSON SPORTS COMPLEX, located at 2760 Old Hwy 31 in White House, TN.
Gates Open at 11am. Music begins at 12 noon, and concludes at 11pm with a newly added fireworks display to wrap up the all-day and night festivities. This year's fundraiser event culminates with the same great Rocktober Celebration concert as
last year with a 70's-rock tribute show by the Classic Rock Allstars , and the ultimate 80's hairband tribute show by Hollywood Blvd .
"Johnny you rosin up your bow and play your fiddle hard." – Charlie Daniels
…Another great item up for auction to help support the White House On Fire Rocktober Celebration – Thank you to fellow patriot, Charlie Daniels, and his great folks involved with The Journey Home Project.
In commemoration of the Benefit concert for White House Community Volunteer Fire Dept., this signed The Charlie Daniels Band fiddle will be up for bid at White House On Fire 2019: Until then, please send your bid and your contact details to [email protected] : Subject Title, Charlie Daniels Fiddle Bid. Min reserve bid applies.
About The Journey Home Project:
The Journey Home Project (TJHP) is a not-for-profit organization that assists other not-for-profits in securing funds to help causes that benefit veterans of the United States Armed Forces. The Journey Home Project
was founded in 2014 by country music legend Charlie Daniels and his manager, David Corlew. In 2018, Major General Terry "Max" Haston joined TJHP as the non-profit's newest board member. Conscious of the need to assist our nation's veterans, they have set out to partner with organizations that do the most good, with the least overhead. Working in tandem with these organizations, TJHP is making a difference in the lives of American patriots.
For more information, visit thejourneyhomeproject.org.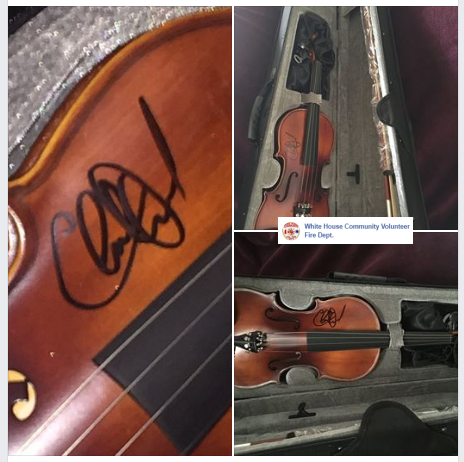 White House Trail of Treats – October 29 from 6 PM-9PM
Trail begins at the WH High School Greenway Trailhead @ 6 PM
*All children must provide their own bag/basket for candy
*For more information, please contact the WH Parks Dept: 615-672-4350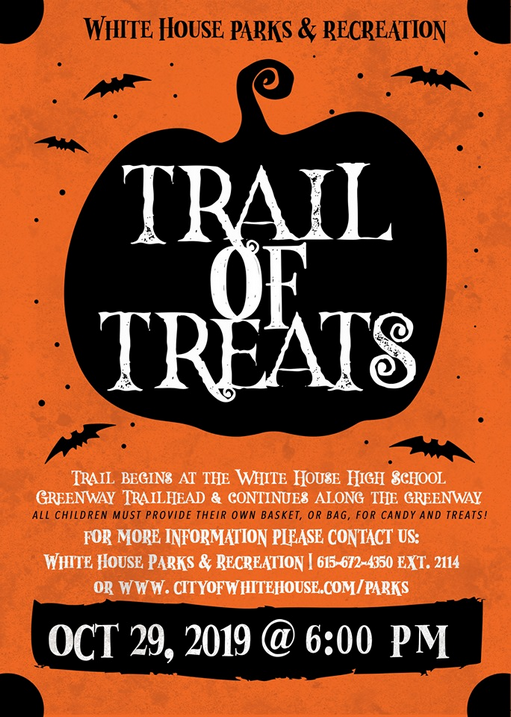 In Greenbrier News
Greenbrier High School Class of 1979 40th Year Reunion
On Saturday, September 21, 2019, the class of 1979 met at the Springfield Senior Center.
36 class members and guests gathered to celebrate friendships, families and memories.
The social time preceded a full dinner that was enjoyed by all. John Cordrey asked the blessing for the food and prayed over the gathering. Following dinner, three classmates that have passed on were memorialized Gail Blackburn, Ricky Gober and Carla Logan.
The entertainment was provided by the class members. Each classmate had the opportunity to give the group updates on employment, family, hobbies, bucket lists and tell a funny story on themselves. Many anecdotes were told and many stories were withheld to protect the parties involved.
The final activity was "if we could go back in time to 1979 and give ourselves advice, what would it be?" The responses were: to not stress over the small stuff; enjoy each day; love your family and friends and remember what is important.
A great time was had by all.
Greenbrier High School Class of 1979 40th Year Reunion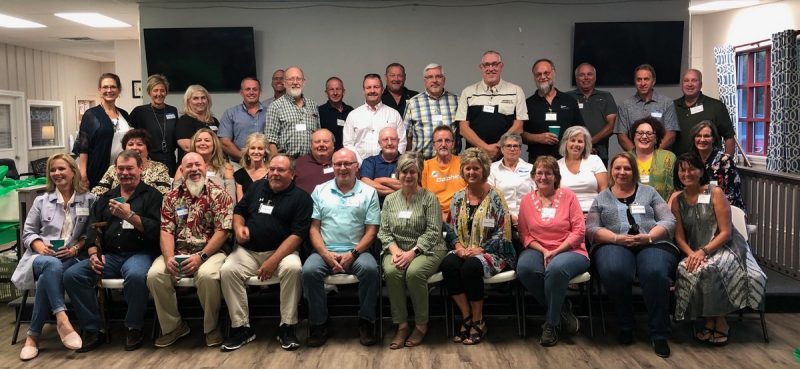 Pictured: Front Row L-R
Lynn Castleman Boone, Ronnie Wooden, David Porter, Kirk Williams, Ronald Martin Jr., Brenda Tolley Bellar, Tammie Kizer Williamson, Cindy Halley Hajdu, Jackie Hooper Howell and Robins Couts. Middle Row L-R Sandy Fite Biggs, Teresa Baggett Hudgens, Vikkie Biggs Barefoot, Ronald Clinard, Wesley Dorris, Steve Bryant, Tara Featherling, Sally Lassiter Duke, Robbie Jernigan Shearron and Cheryl Grace Beasley
Back Row L-R
Susan Robertson, Jolin Gay Wells McKoin, Cindy Weiger Thompson, Rickie Manners, Mike Hunter, David Frye, Tracy Johnson, Ray Hart, Ricky Green, John Cordrey, Billy Clark, Eric Crabtree, Jerry Nash, Joel Wilbur and Paul Fuqua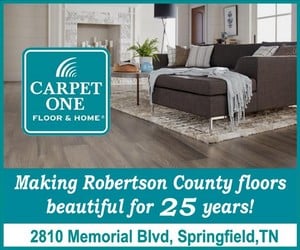 SAVE THE DATE…September 28th
Greenbrier Middle School PTO Mum Sale! Apparel Sale & Carwash!
This Saturday 8 am- 2pm. We will have 3 gallon mums for sale at GMS. Order forms were emailed to everyone last week, if you wanted to pre-order a certain color. We will also have apparel outside.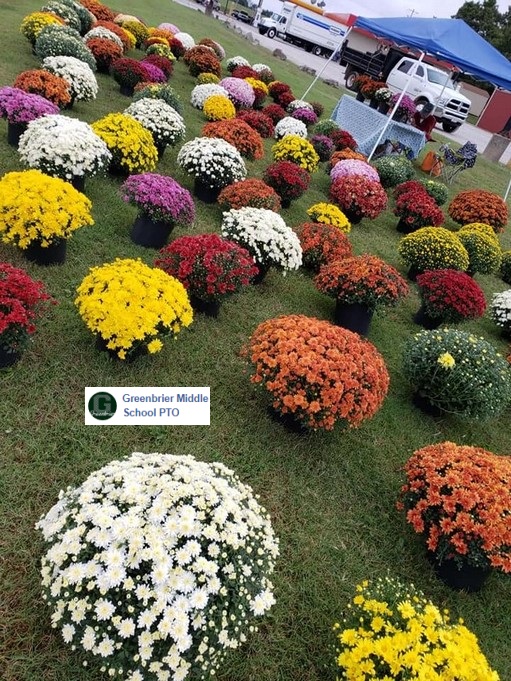 GMS girls basketball team will be holding a carwash also.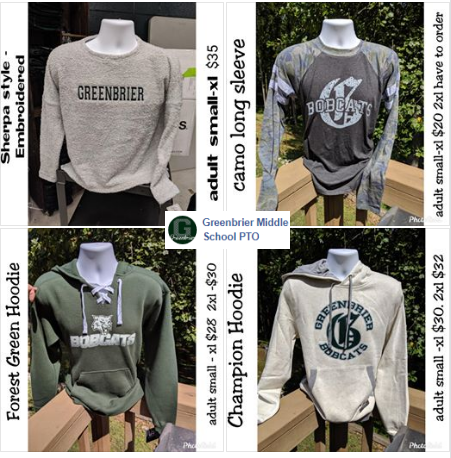 Greenbrier Middle School PTO – Congratulations to our girls JV Volleyball team – Champions!!! We are so proud of you!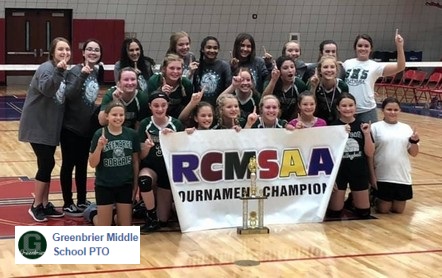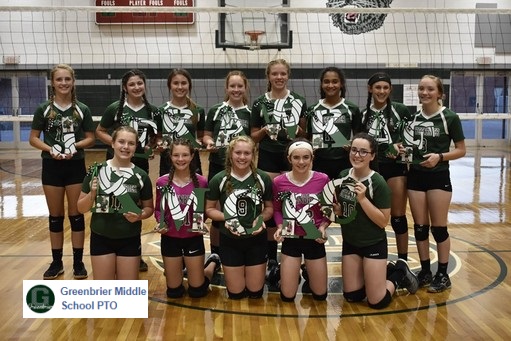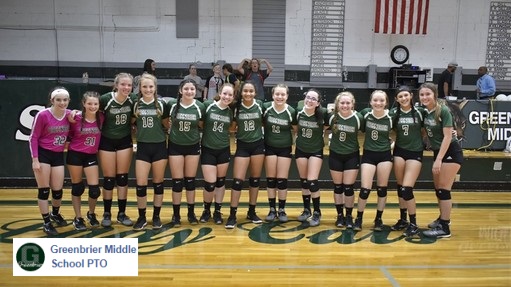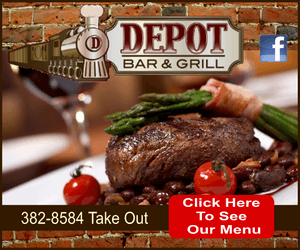 MIA's and POW's Honored in Greenbrier…
On September 20, 2019 The Greenbrier American Legion Post 45 honored MIA's and POW's with a rifle salute at liberty Square In Greenbrier. Smokey Barn News covered the event LIVE.
CLICK IMAGE TO SEE VIDEO COVERAGE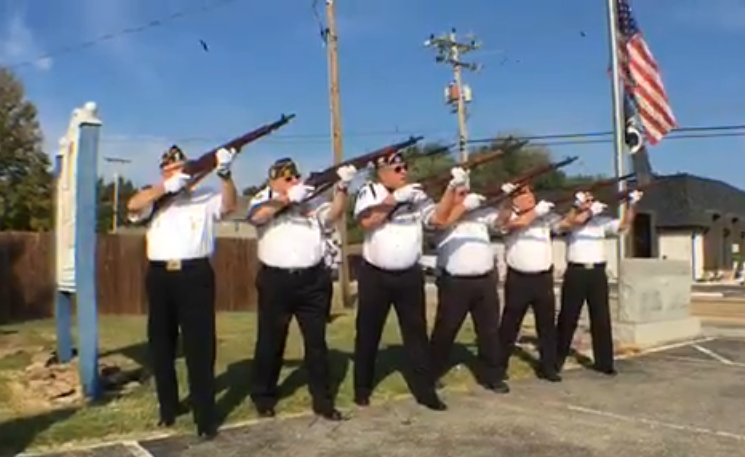 SAVE THE DATE…October 5th

(Greenbrier, TN) Race For Down Syndrome – Veterans Motorplex At The Rim
Jerry Criswell, Owner of Veterans Motorplex, is hosting a benefit race night, called "The Race to Include" on Saturday, October 5 at 6pm (gates opening at 4pm), and we hope you will be a part of this inaugural event! In addition to the race itself, there will be refreshments, a silent auction, games and much more.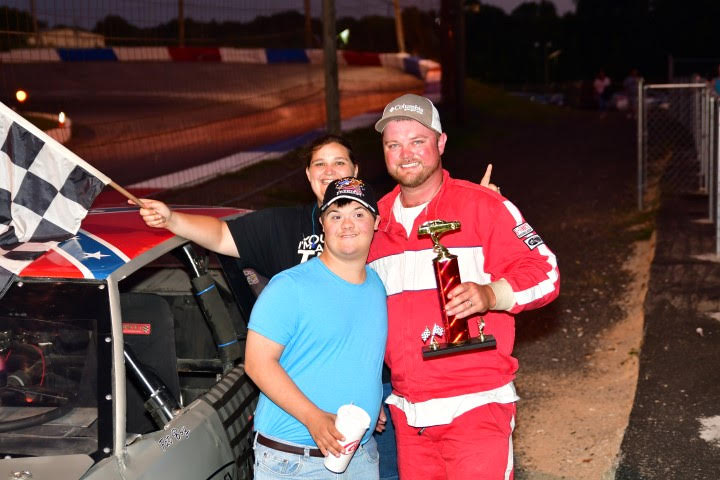 We all likely know of some individual with Down Syndrome. I have a single father that works for me that has a son named Jeremy that loves racing that has Down Syndrome. I have a family member Lucas Williams who is only two years old that is featured on this flyer on the right that has Down Syndrome. He is an absolutely awesome young man. I would like for the Veterans Motorplex nation to help raise awareness to include these individuals in our everyday activities.
This will be a fun night in which individuals with Down Syndrome will be given the opportunity to be included in staff positions at Veterans Motorplex such as the Official Flagman, Trophy Queen, Official Starter, Grand Marshall and be invited to get in the win photos with the teams and drivers.
All the Individuals will have an opportunity to sit in real race cars and get their photos taken with the winning drivers.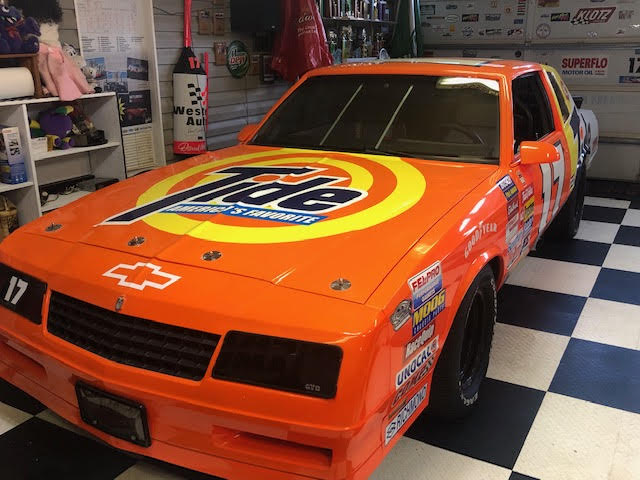 We have a Darrell Waltrip Show Car coming to give the individuals the ride of their life around the high banked 2/4 mile asphalt oval.
We need sponsors for the night, products, gift certificates, services etc that can be donated to be auctioned off for this great cause.
Donations are 100% tax deductible. Down Syndrome Association of Middle TN will receive 100% of all the money the auction generates!
Here Is a sample of some of the Items already donated for the auction:
• Autographed Guitar donated by country music artist Martina McBride
• Autographed Guitar donated by country music artist Luke Bryan
• $800 Cornwell Tool set
• $500 McGriff Tires gift Certificate
• $200 NAPA Gift Certificate Several nice Bibles O Custom Blankets
See more auction items —>> HERE
If you know of a young man or lady with Down Syndrome that might want to participate in the flagging or presenting trophies we still have a couple of spots left.
The young ladies (any age) will receive their own custom sash that says Miss Veterans Motorplex at The Rim plus a Tierra to carry home with them after the event.
As the event flyer shows… Together we can make a difference.. This photo was done at our shop and the children were great…. Our sport has some really talented driver, crew chiefs, car owners etc… and I know EVERYONE will want to jump on board and make this a huge deal.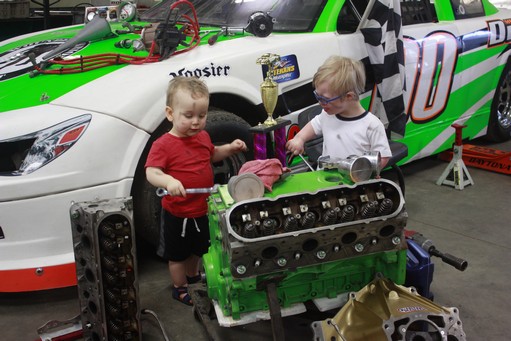 We will be giving a percentage of the front gate ticket sales to the Down Syndrome association "Dsamt " and 100% of all the money raised from the auctioned items will go directly to Dsamt and it is 100% Tax deductible.
We are setting ourselves a lofty goal for Veterans Motorplex of raising a minimum of $10,000 for the Down Syndrome on Oct. 5th. PLEASE HELP US help them.
Jer Criswell
Executive Director, DSAMT Owner, Veterans Motorplex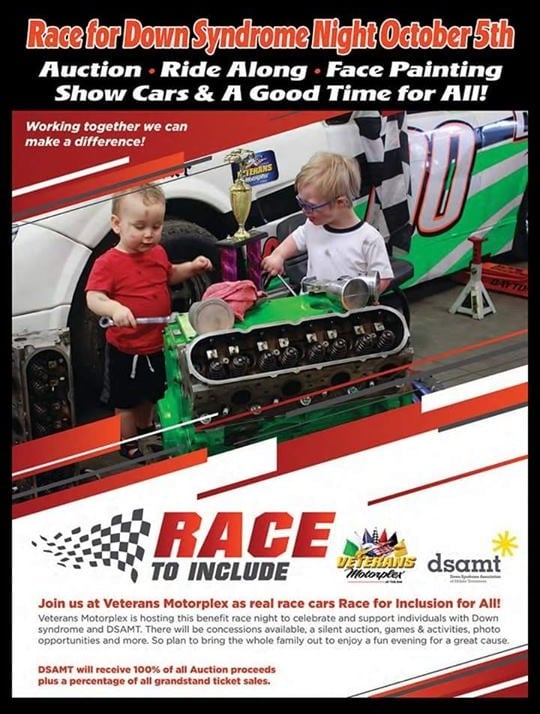 SAVE THE DATE…October 20
October 20: Free Community Event: Trunk-or-Treat/ Chili & Hot Dog Dinner – Hosted by Solid Rock Baptist Church of Greenbrier
Sunday, October 20, 2019 at 5 PM – 8 PM at the Solid Rock Baptist Church of Greenbrier located at 2327 Old Greenbrier Pike, Greenbrier, TN
Trunk-or-Treat is a FREE & Fun Family Event. We will be serving a Chili & Hot Dog Dinner from 5-7PM and the kids will be able to Trick-or-Treat from car trunks in our parking lot as well as games set up in our Sanctuary from 5-8PM.
This is a great event for your WHOLE Family as we don't charge for anything. We'd love to have you join us!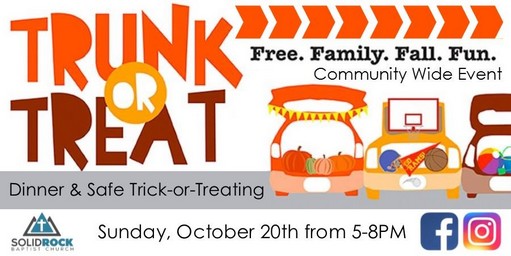 In Neighboring Madison/Goodlettsville News
(Goodlettsville/Madison, TN) "Taste of Madison, Touch-a-Truck, Business Fair 2019"
The RiverGate Mall and The Madison – Rivergate Area Chamber Of Commerce Held the Annual Free "Taste of Madison, Touch-a-Truck, Business Fair 2019" Tuesday, September 24, 2019. Food & fun for all ages. There were door prizes and a Tailgate Package, including a cooler stuffed with goodies! Kids and adults were encouraged to examine various Metro Nashville Police vehicles. Smokey Barn News was there when the Metro Police helicopter launched just feet from two Mounted police (horses) but you'll have to watch the video below to see what the horses thought of the flying machine.

SAVE THE DATE…September 28th
September 28: FREE Quilt Show – Mathews Memorial Methodist church
Approximately 125 quilts on display and quilt techniques will be demonstrated.
Mathews Memorial Methodist church on 300 Anderson Lane, Madison, TN will have a FREE quilt show on Saturday, September 28, 10:00 to 3:00.
Lunch is available for $6.00. For more information call (615) 417-1879.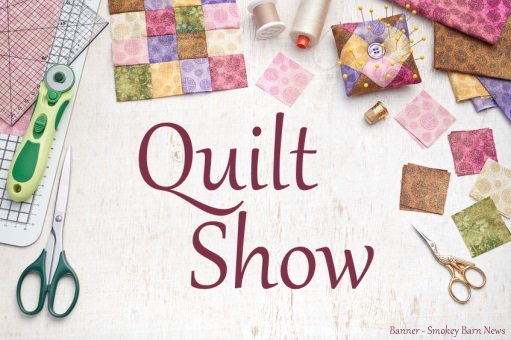 In Cross Plains, TN
Community Makes Good Use Of Kilgore Par
"It is safe to say, that when Kilgore Park was built, there were activities that Cross Plains could never imagine it would play host to. A prime example is Thursday, September 24, 2019"
"The day started with 2 Five-year-old soccer teams playing each other."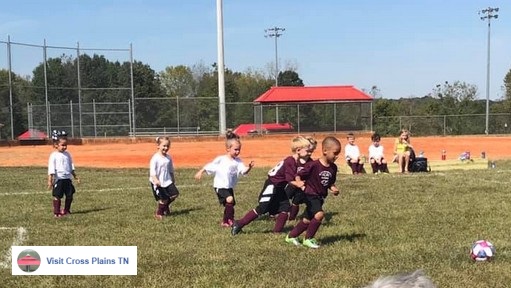 "Then at lunch a local group enjoying a L.A.R.P event (Live Action Role Play) and ends tonight with Williams Chapel Baptist Church hosting a music event!"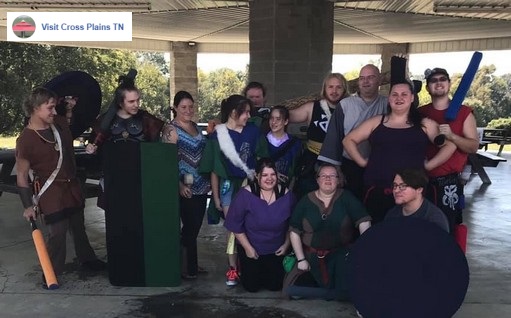 We love our diverse community and the opportunity to provide a place to fellowship for everyone!

East Robertson's Bobby's Buddies Kicked Off Thursday 
"Life is better when everyone gets to play! The inaugural game of Bobby's Buddies kicked off on Thursday. Goals were scored, cheers were loud and smiles were big! And that was before the popsicles were handed out."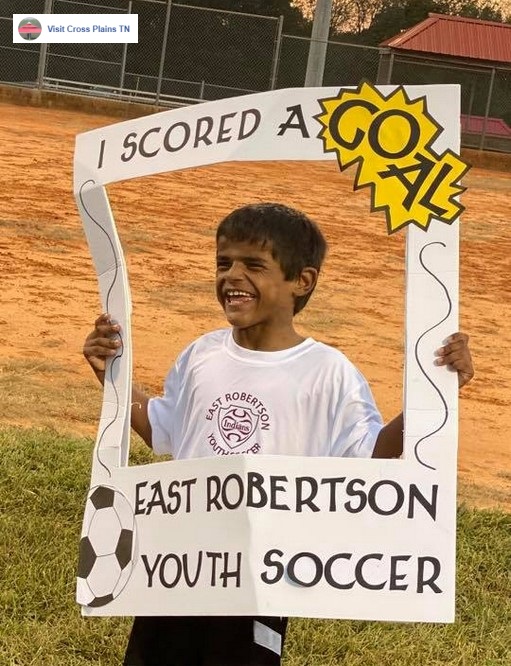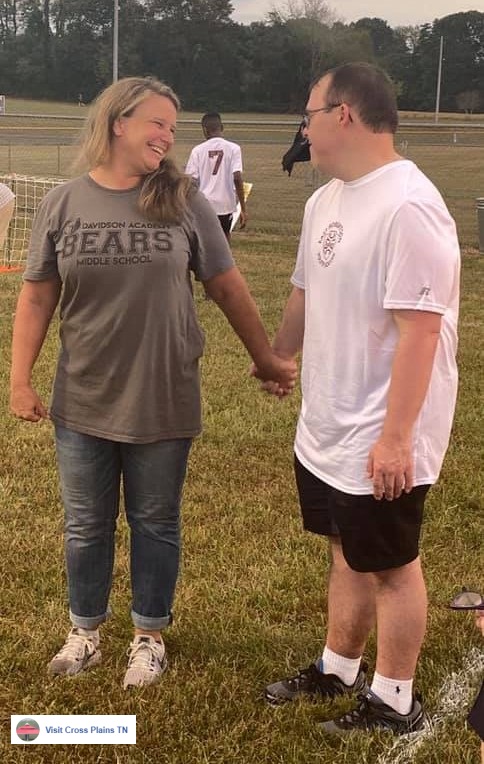 In Orlinda, TN News
SAVE THE DATE…OCTOBER 9th
Health Fair On October 9th from 10 am-2 pm at Byrum Porter Senior Center.
Free flu shots – Health Information – Door Prizes
Pneumonia shots also available.


SAVE THE DATE…OCTOBER 12th
Annual "October in Orlinda" Fall Festival – Saturday, October 12th
Saturday, October 12, 2019 at 10 AM – 2 PM at 7501 Highway 52, Orlinda, TN. A quintessential American fall festival with live music, lots of unique and delicious festival foods, a large car show, a beauty pageant, children's games and multiple inflatable play structures, retail vendor s selling a variety of items and more!
Come visit Byrum Porter Senior Center's concession stand.
We will also be selling Pecans as our fundraiser.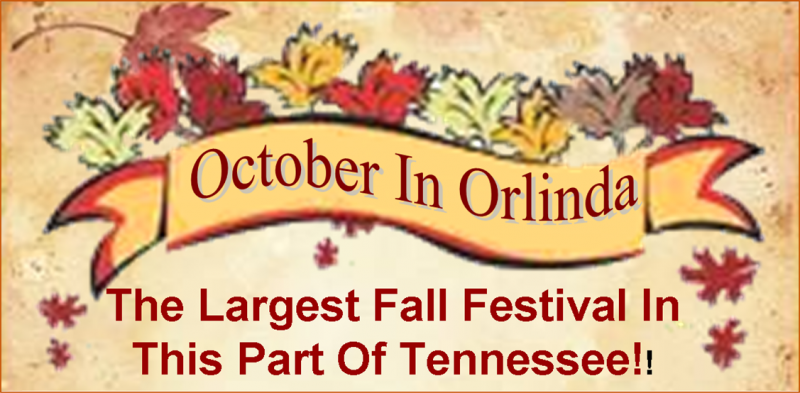 In Portland TN
City of Portland, Tennessee – Congratulations to officers Victoria Eye and Logan Stewart for receiving Champion of Valor awards today.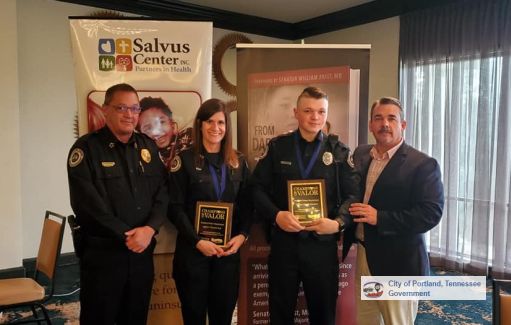 SAVE THE DATE…OCTOBER 1st
Big Hiring Event Planned For Dorman Products – Multiple Shifts!
PORTLAND TENNESSEE: (Smokey Barn News) – Dorman Products will be holding a Hiring event Tuesday, October 1, 2019 with 4 timeslots starting at 9:00AM, 1:00PM, 4:00PM, and 7:00PM at the new facility located at 1140 Vaughn Pkwy Portland, Tn 37148Offers will be made on-site if they qualify, etc.
For the past 10 years, Dorman Products has been an active part of the local community and we are seeking great people who possess an amazing attitude, exceptional work ethic, and a stellar attendance. Read More…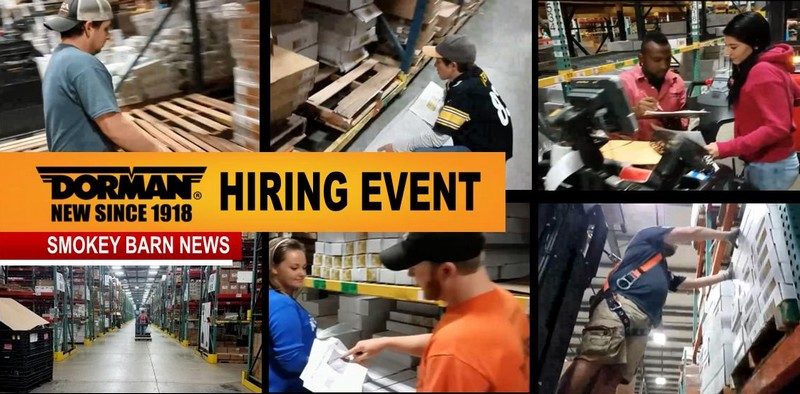 SAVE THE DATE…October 4th & 5th
(Portland, TN) Tennessee's Best Kept Secret – Portland's "Days Gone By Museum" & Annual Harvest Fest – Oct 4-5
Days Gone By Museum – 122 Davis Street, Portland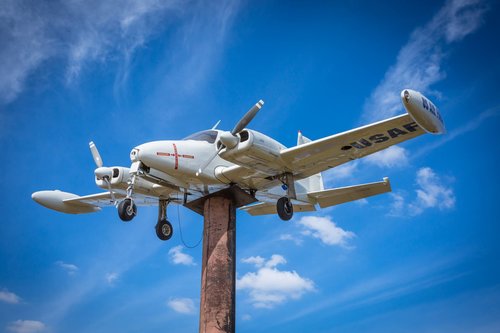 From the moment I first saw this fabulous Museum, my first thought was, "why haven't I heard of this special Treasure before?" I would say fully 80-90% of all Tennessean's, even locals, have never heard of "The DAYS GONE BY MUSEUM" let alone their ANNUAL HARVEST FEST!
Founded by Joey and Kathleen Collin's of Portland Tennessee, this Rare Gem of a Museum was and is their Dream. They wanted to build a collection that would epitomize the Ingenuity of Our Forefathers who through a great deal of "Blood, Sweat, and Tears" catapulted our Nation into the (114)Greatest
Country on Earth! Their Dream was to create an atmosphere for Children and Families to Learn, with Pride, of the sacrifices it took to give us the Blessings we have in our country today.
Their Museum emphasizes this throughout, beginning with the hand tools of the 1700s while highlighting, emphasizing, if you will, the great inventions of the Industrial Revolution and beyond!
Under One Roof!!!
You will find at least 100 working, rare, and pristine Antique Tractors. (including the rarest of all tractors) You will discover Antique Wagons, and Buggies, over 100 Antique Cars and Trucks including the very earliest made to the Classics (Ever see a 1931 Pierce Arrow or Cadillac Limousine? You will here!) Observe every piece of Farm Equipment from: Hand Tools, Antique Bailers, Threshing (Harvesting) Machines, Combines, even Antique Fire Engines and Beer Wagons! A Collection of every Maytag Engine and Washing Machine ever Made! Did you know that they even have Washers with attachments to make Homemade Ice Cream and Vacuum floors! Also featured are 1,000's of Antique Toys, including a working antique toy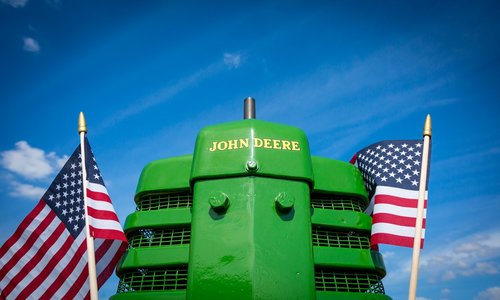 saw mill and Antique Playground Equipment! An Antique Photography Center is here, featuring many Field and other Antique Cameras plus a Developing Room where you can learn how the early glass plate negatives were developed. There are over 4,000 plate glass negatives here, many of the Civil War, and over 5,000 black and white photos of Tennessee from the mid-1800s to 1953. See Antique printing presses and theater projection equipment and Hundreds of other unique and one of a kind Antiques. Complete collections of everything imaginable is in this Museum, but it doesn't end inside, outside you will have a chance to see, and tour Vintage Aircraft from Private to WWII to Jet Airplanes.
In order to share together our Countries Bountiful Blessings, Joey and Kathleen initiated the HARVEST FEST in order to coincide with the ANNUAL ANTIQUE TRACTOR & THRESHING SHOW.
It will be a Fun-Filled Family Weekend Affair that allows you to learn about our History while enjoying Live Demonstrations, Family Participation Events, Live Entertainment, Arts & Crafts, Food Vendors, Produce and So Much More!
The HARVEST FEST will be held this 1st Weekend of October 2019 on Friday/Saturday, Oct 4th and 5th from 8 am to 8 pm each day. The FEST includes Tours of the Museum, Exhibitors with everything from Steam Engines, to an Antique Saw Mill. Watch while your kids participate in Apple Cider Pressing, Homemade Ice Cream making, Sorghum demonstrations, Corn Shelling and More!
Come and join in, enjoy the Festivities! Parking is Free * Admission is only $5 per person, 10yrs and under are Free!
You can find much more about these Festivities, including Pictures and a Schedule of Events by going to their Website —> Click Here 

ABB Raises Funds For Bikes 
ABB of Portland recently held an employee dinner to raise funds to purchase bicycles and bicycle safety helmets to be given away at Portland's Annual Health and Safety day. "We appreciate their help and continued support!"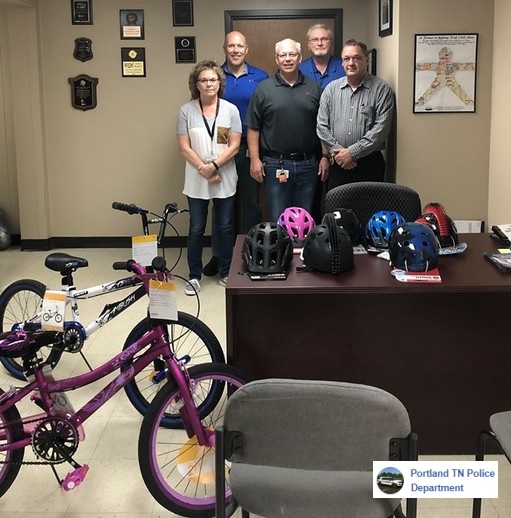 In Millersville, TN
Volunteer: Stream Cleanup – Slaters Creek – Millersville/Goodlettsville
When: Saturday, Oct 19th, 10:00am – 1:00pm
Where: [Map] 1181 Louisville Hwy, Millersville, TN 37072 (36.36928, -86.71026)
Description of activity: Volunteers will remove trash, tires, appliances, and other debris to beautify the community and reduce threats to wildlife. Volunteers can expect to walk in muddy areas with dense vegetation. All are welcome to participate in any capacity and are not expected to clean up any items or enter any areas they are uncomfortable with.
What to bring/wear: Bring a reusable water bottle. Closed-toe shoes are required, and boots are recommended. Some cleanup areas are in dense vegetation, so wear long pants and long sleeves. Please dress in clothes that you don't mind getting dirty.
What we provide: Work gloves, litter grabbers, trash bags, sunscreen, bug spray, water, t-shirts, and food will be provided.
This event would not be possible without the support of the City of Goodlettsville, Sumner County, the City of Millersville, and Bridgestone Americas Inc.
If you have any questions, please contact Gray Perry at 615-837-1151 or [email protected]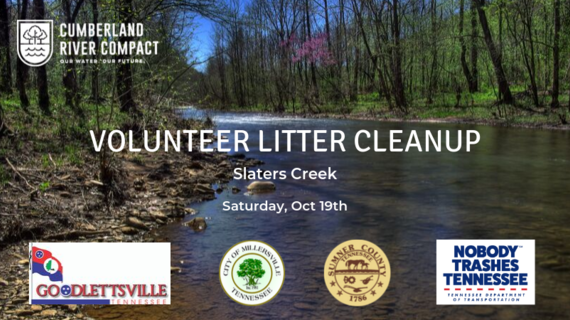 In Neighboring Montgomery County, TN News
Montgomery County Sheriff's Office Academy Graduation
CLARKSVILLE, TN – The Montgomery County Sheriff's Office would like to congratulate Devin Burkhart, Johnathan Acree, Richard Byers, Patricia Figueroa, Dante Turner, Danielle Prichard, Joshua Beck, and William Baker on their graduation from the East Tennessee Regional Law Enforcement Academy at Walters State Community College
The Academy prepares students to meet the standards for law enforcement officers established by the Tennessee Peace Officers Standards and Training Commission (POST). The curriculum includes firearms training, defensive and tactical driving, physical defense tactics, understanding terrorism, law enforcement procedures, and introduction to the legal process.
During the graduation ceremony, Deputy Beck received the Best Athlete Award and the Dr. Wade B. McCamey Leadership Award. He was also selected class president by his instructors.
Burkhart, Acree, Byers, Figueroa, Turner, Beck, and Baker are assigned to the Patrol Division. Prichard is assigned to the Criminal Warrants Unit.

Clarksville Police – Farewell to Police Service Dog – Solo
CLARKSVILLE, Tenn. – Officers surrounded Police Service Dog Solo today, as he peacefully passed on after faithfully serving the City of Clarksville and the Clarksville Police Department since 2011.
Solo was a 10 year old German Shepherd that was dual trained for patrol activities and narcotics detection. He was partnered with Sergeant Joey Scruggs, patrolling on a daily basis and deployed to well over 400 calls for service to locate narcotics, search buildings, track down bad guys, and perform public demonstrations to highlight the capabilities of K9s and their intrinsic value to a law enforcement agency.
Sergeant Joey Scruggs was the only partner Solo had since joining the department in 2011. Solo worked tirelessly in service to the community and was retired in May 2019, after experiencing debilitating medical problems.
Solo remained with Sergeant Scruggs and his family until his passing today.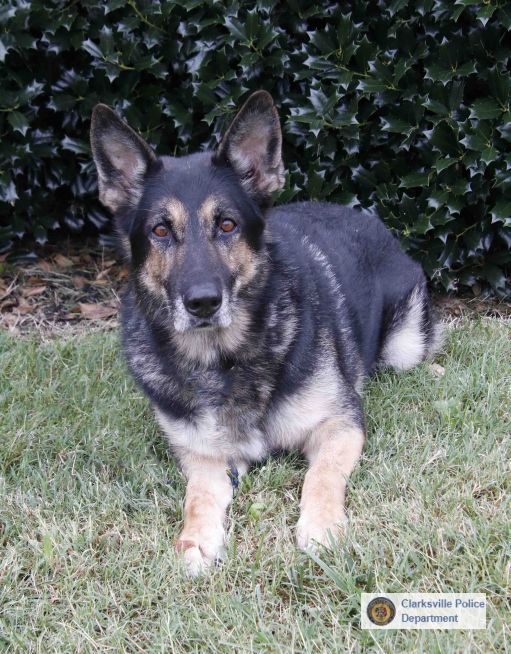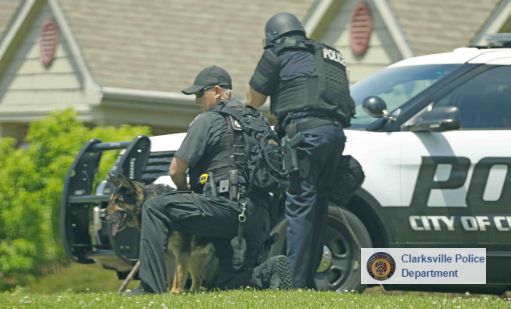 CLARKSVILLE, TN – The Montgomery County Sheriff's would like congratulate Denis Bowles and John Bushnell on their promotion to Corporal and Daniel Gagnon on his promotion to Sergeant.
Corporal Denis Bowles began his career with the MCSO in July 2012 as a Deputy in the Patrol Division. Prior to working full time for the Sheriff's Office, Bowles served as a MCSO Reserve Deputy from November 2010 to July 2012. Corporal Bowles brings nearly nine years of law enforcement experience to his new position.
Corporal John Bushnell began his career with the MCSO in August 2018 as a Deputy in the Patrol Division. Prior to working for the Sheriff's Office Bushnell worked for the Clarksville Police Department for eight years and the Cheatham County Sheriff's Office for two years. He is also a Veteran of the U.S. Army where he served as a Military Policeman for eight years of combined active and reserve duty service. Corporal Bushnell brings a total of 18 years of law enforcement experience to his new position.
Sergeant Gagnon began his career with the MCSO in May 2013 as a Deputy in the Patrol Division. In February 2016, he was promoted to Investigator and transferred to the Drug Task Force. Gagnon is a veteran of the U.S. Army and previously worked for Dover Police Department. He brings more than seven years of law enforcement experience to his new position.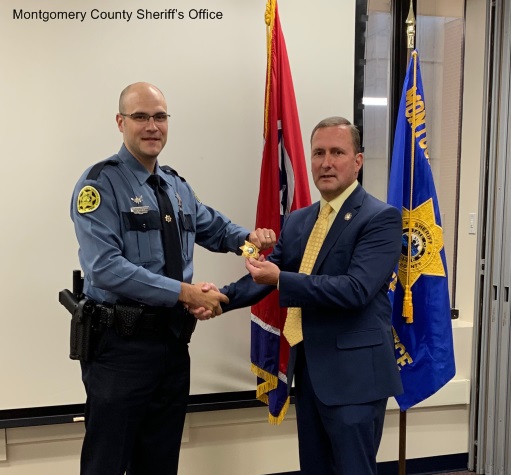 Clarksville-Montgomery County Traffic Safety Task Force Recognized
CLARKSVILLE, TN – The Clarksville-Montgomery County Traffic Safety Task Force was recently recognized by the Tennessee Highway Safety Office for their work in traffic safety.
The Task Force received the Directors Award at the Life Savers Conference on Thursday, September 5, 2019 in Murfreesboro, Tennessee.
The Directors Award is presented to an individual or group who exemplify an exceptional performance of passion and dedication to saving lives.
The Task Forces works to increase traffic safety awareness through education, enforcement, and engineering. During the past year they organized traffic safety awareness events at high schools and colleges; held car seat safety events; conducted distracted driving bus tours; and operated DUI checkpoints.
The Task Force is comprised of all First Responder Agencies in Montgomery County and Fort Campbell, along with Montgomery County Driver Safety.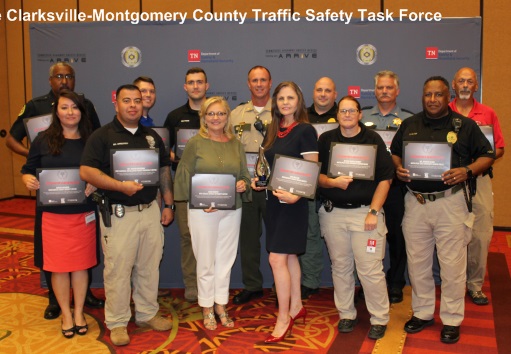 Here's a link to our last issue…
Smokey's People & Community News Across The County September 16, 2019

Smokey Barn News (Advertisement)

We bring you ALL the News in and surrounding Robertson County, Tennessee.