Springfield Area Home A Total Loss After Fire
SPRINGFIELD TENNESSEE: (Smokey Barn News) – A Springfield area home is a total loss following a fire that engulfed the building early Friday.
The home is located in the 3000 block of Old Greenbrier Pike which sits about halfway between Springfield and Greenbrier, the first call coming into 911 just after 4 am. LOCATION OF FIRE
According to officials, everyone made it out of the home safely and at last report, our first responders are chilly but otherwise OK. The frigid temperatures are playing havoc with firefighting equipment and navigation.
Chief Kyle Hamill with the Greenbrier Fire Department told Smokey Barn News that one person (a male) was home at the time of the fire. The home's smoke detectors woke the gentleman who escaped the fire without injury.
Chief Hamill asked Smokey Barn News to stress the importance of having working smoke detectors. "Check the batteries of your smoke detectors now," Hamill said. "They save lives." Chief Hamill added that citizens should use extra caution when using any kind of space heater. Please look over our safety list for portable heaters below and take the heater safety test.
The cause of the fire is still under investigation but Chief Hamill told Smokey Barn News that the fire appears to have started in the front area of the home.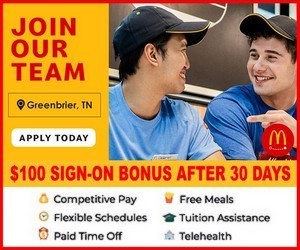 The Greenbrier Fire Department, the Ridgetop Fire Department the White House Community Volunteer Fire Department, the Springfield Fire Department, Robertson County EMS, the Emergency Management Agency, and the Robertson County Sheriff's Office all responded to the scene.
Many Home fires start every winter due to space heaters. Keep your home and family safe! Here is what you need to know:
• Keep space heaters at least three feet away from EVERYTHING! Space heaters placed too close to bedding and furniture are a major cause of house fires. THREE FEET!!!!
• Plug a space heater directly into a wall outlet. An extension cord can overheat and cause a fire. If you absolutely must use an extension chord, it must be able to sufficiently handle the wattage of the heater.
• Keep your space heaters out of high-traffic areas where a child or pet could knock them over.
• Turn off a space heater when you leave the room or go to bed.
TAKE THE TEST
How many things do you see wrong with the photo below? Most people will miss at least one. Look for the answers below. As the temp goes down, portable heater fires skyrocket in Robertson County.  If you are using any type of gas heater, officials highly recommend getting a carbon monoxide detector.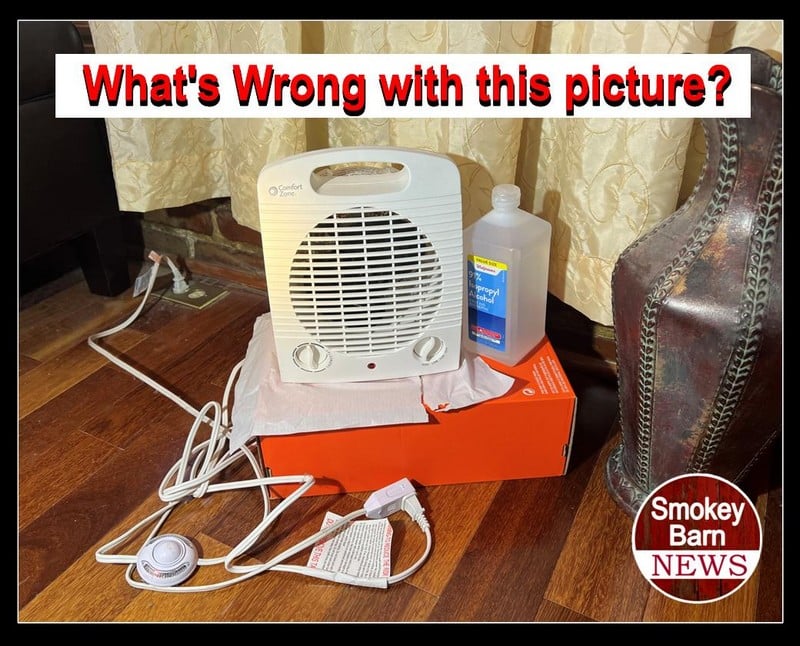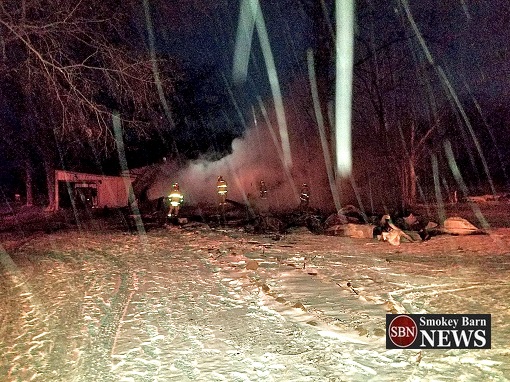 ANSWERS: Too close to the drapes. The wrong type of extension cord (WRONG GAUGE WIRE) and the cord has a switch. Ace Hardware Springfield will be happy to sell you the proper heavy gauge cord for your heater but no extension cord is best. Flammable substance near the heater. Sitting on flammable box and paper. Too close to the wall.